Now an established power, Roadrunners facing a new challenge: Staying on top
The only three teams among all FBS programs to win more games than UTSA since the start of 2021 are Georgia (29), Michigan (25), and Alabama (24). UTSA is 23-5 in that span, claiming the last two Conference USA titles. The Roadrunners are 13-1 at home and 15-1 in conference play over the past two seasons. And they don't plan on slowing down. Or becoming complacent.
"Our guys are so bought in that I don't have to worry about taking a step back," UTSA head coach Jeff Traylor said. "It doesn't mean we're going to win every game, but we're going to give them hell."
The Roadrunners graduated from Conference USA and are prepared to enter life as an American Athletic Conference member. They won't be without familiar faces since North Texas, Rice, and UAB are amid the same transition, but UTSA arrives with instant expectations.
Many of the same faces who helped build UTSA into a powerhouse return for another season in San Antonio, including star quarterback Frank Harris. He's one of 55 letterwinners and 18 starters back for the 2023 season. Traylor is 30-10 in three seasons as a collegiate head coach. He says the 2023 version of UTSA is the best yet, mostly because of a deeper offensive and defensive line.
Traylor enjoys a good motto. The East Texas Ted Lasso used "Don't eat the cheese" as a slogan in 2021 meant to remind his burgeoning program not to let growing expectations and hype become a trap. Last year's group used "Bull don't care" to remind each other that previous successes mean nothing to current obstacles. True to form, Traylor has a new phrase to keep his flock of Roadrunners on schedule.
"We went with 'Doesn't matter, get better,'" Traylor said. "We've won 30 games, a couple of conference championships, and went to three bowl games, but none of that matters. We're going to a conference with a better tradition and will be competing with schools that have a lot more history than we do. Our job is to be ready."
The older players on the roster such as safety Rashad Wisdom see the new challenges in the AAC as opportunities. The Roadrunners conquered Conference USA. Now it's time for fresh competition in fresh places. They travel to Houston and Tennessee in the non-conference portion of the schedule. The AAC slate includes road games against Temple and Tulane. A new carrot seems tasty.
"I'm excited to test ourselves against a new level of competition. We get to play some good teams in some cool places like Philadelphia and New Orleans," Wisdom said.
The Converse Judson native has helped turn the program around from a 4-8 record in 2019, the year before Traylor arrived.
"It's been a crazy ride," Wisdom said. "If we can conquer this next challenge, we've put the program on the doorstep of real national attention."
The expanded playoff in 2024 means that UTSA and other G5 programs can reach the highest peaks of the college football landscape. The club is open to the general public, and winning the AAC becomes an avenue to national championship contention. Maybe those are crazy notions for a program entering its 12th season of competition, but so were the accomplishments of the last two seasons before Traylor and his San Antonio tuxedo took San Antonio by storm.
DCTF'S TAKE
Bet against Jeff Traylor's Roadrunners at your own peril. Winner's win, and UTSA hopes an experienced roster that's claimed consecutive conference crowns can stroll into the American Athletic Conference and instantly compete for titles alongside the likes of Tulane and SMU. The Roadrunners can do just that if they navigate a tough non-conference schedule without any major injuries. The offense shouldn't struggle to score points against elevated competition. If the defense takes a step forward, another 10-win season is possible.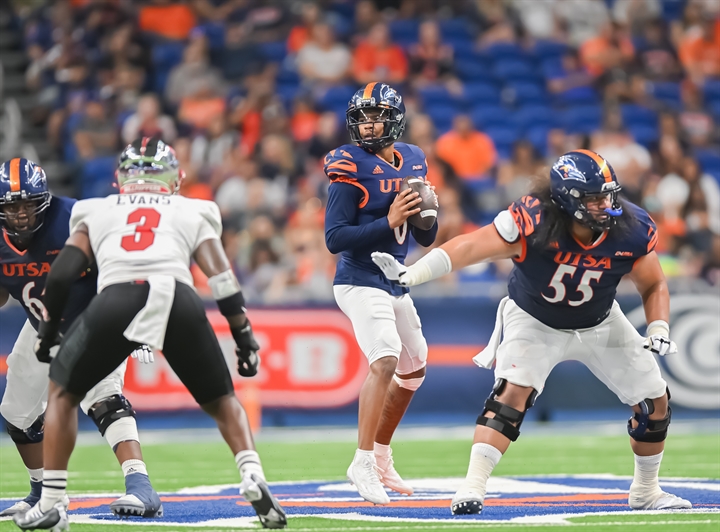 OFFENSIVE BREAKDOWN
Minus one, utsa's leaders run it back on offense in the aac
UTSA posted the 14th-best scoring offense in the country in 2022 by averaging 36.4 points per game. Even with the loss of offensive coordinator Will Stein to Oregon, the Roadrunners believe the return of 10 starters means they can be even more explosive.
"We can be better than the past two years," starting tight end Oscar Cardenas said about a passing offense that ranked 13th nationally in 2022 with 300.7 yards per game. "We clean up some of the little things and we can be scary."
Quarterback Frank Harris, who owns over 30 school records, returns for his seventh season on campus. Keeping Harris on campus was a statement of intent by the Roadrunners football program. The whole city came together for the quarterback's return announcement. Retaining star players, especially at that position, during the transfer portal era isn't easy.
"That was our way of showing that we're serious about competing at the highest level," Traylor said. "The love this city has for Frank, and the love Frank has for this city, is an amazing story that is true and authentic."
The receiver room took a hit when Zakhari Franklin entered the transfer portal. Still, the Roadrunners consider the unit a strength thanks to Joshua Cephus and a healthy JT Clark. Cardenas added 31 catches for 438 yards and a pair of scores atfrom the tight endd position.
"They've played a lot of football together," Traylor said. "Those guys know each other like the back of their hands, and they know what we want to do offensively. We have some new faces we're adding that will only make us better and more complete."
"They've played a lot of football together," Traylor said. "Those guys know each other like the back of their hands, and they know what we want to do offensively. We have some new faces we're adding that will only make us better and more complete."
The passing game is complemented by an emerging star at running back in sophomore Kevorian Barnes. The former three-star recruit from San Augustine High School broke onto the scene midway through 2022 , finishing with a team-high 845 yards despite only logging six total rushing attempts through the first five games of the season.
"We weren't surprised that Kevorian took off once he was healthy," Traylor said. "He stepped up when our other guys went down, and even played through the bowl game with a shoulder that needed surgery. Just a tough kid who will be big for us this year."
UTSA suffered through a rash of injuries along the offensive line in 2022 that created even more depth at the position for 2023. The group loses starters in center Ahofitu Maka and right guard Kevin Davis, but added depth and the return of healthy stalwarts such as Makai Hart, Ernesto Almaraz, and Terrell Haynes.
OFFENSIVE MVP
Frank Harris: Harris owns over 30 school records and continues to build on his legacy as the most impactful football player in the short history of the UTSA program.
KEEP AN EYE ON
The UTSA offense hit a new level when sophomore running back Kevorian Barnes emerged as the lead back in a Week 6 win over FIU. He ran for over 100 yards in five of the last eight outings, including a 175-yard performance in the C-USA championship game win over rival North Texas. But the loss of Brenden Brady means more bodies need to emerge at the position.
OFFENSIVE DEPTH CHART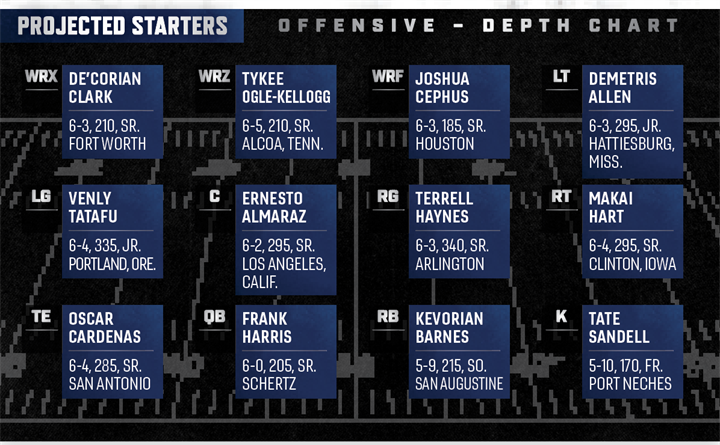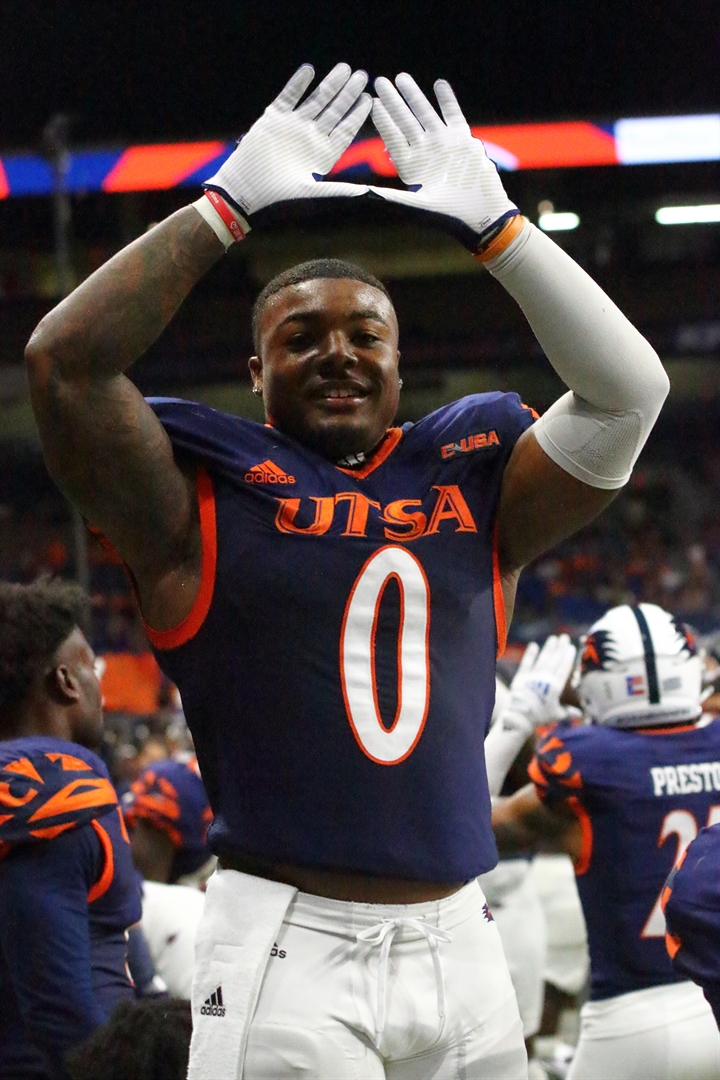 DEFENSIVE BREAKDOWN
wisdom leads a veteran group into new american conference
Seven defensive starters return for a unit that allowed 25.93 points per game, which was the third-best mark in Conference USA.
The strength of the defense in 2022 was in the front seven, and that should be true again in 2023 thanks to the return of multiple playmakers on the interior of the defensive line. Traylor calls it the best unit on the football team. Returning starters Brandon Brown and Asyrus Siimon headline the group, but UTSA sports a true two-deep at each spot. Joe Evans and Nick Booker-Brown are also difference-makers.
"We think the strength of our team is the depth of our defensive line," Traylor said. "The game is won in the trenches, and we're as deep as we've been on both sides of the ball up front and that's a good sign."
Trey Moore, who emerged as one of the best edge players at the G5 level by the end of the season, also returns to provide a pass rush. The sophomore from Smithson Valley led the team with eight sacks and 17 tackles for loss. No other player on the roster recorded more than three sacks or 6.5 tackles for loss. Moore recorded 6.5 sacks over the final eight contests.
"Sacks are big time and Trey is great at it," Traylor said. "He's a guy who had chances to jump in the portal, but he chose to stay and help us here because he loves being a part of this football team."
The second level loses three-year starter Trevor Harmanson as a middle linebacker. The good news is that the team's leading tackler – Jamal Ligon – is back for another year after registering 88 tackles. Martavius French, Avery Morris, and a few other players are in the mix for the other linebacker spot.
The secondary is bolstered by the return of safety Rashad Wisdom. The Converse Judson native has started since arriving on campus in 2019. He helped the team go from doormat to champion but was forced to miss the back half of the 2022 season with a shoulder injury. He'll be joined by starting safety Kelechi Nwachuku and cornerback Nicktroy Fortune. Dywan Griffin and Zah Frazier are other cornerbacks to watch.
"I'm excited for this defensive group," Wisdom said. "We have a great mixture of some older guys with a lot of experience in this defense with some new faces that are bringing even more athleticism and pushing people to get better."
The return of punter Lucas Dean should also help the defense by providing solid field position.
DEFENSIVE MVP
Rashad Wisdom: A crucial part of the Roadrunners' defense, the local product returns from injury that cost him the second half of the 2022 season.
KEEP AN EYE ON
The UTSA secondary lost key pieces in safety Clifford Chattman and cornerback Corey Mayfield. Even the loss of outside linebacker Dadrian Taylor impacts the Roadrunners' ability to cover receivers in space. The new-look AAC features multiple teams with strong passing attacks. UTSA needs new faces to emerge opposite of Nicktroy Fortune at cornerback and next to Rashad Wisdom at safety. UTSA had the 92nd-worst passing defense in the FBS last year despite winning 11 games and a C-USA crown.
DEFENSIVE DEPTH CHART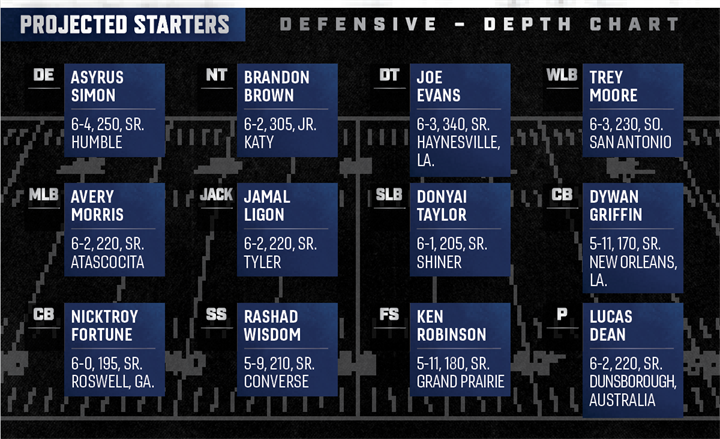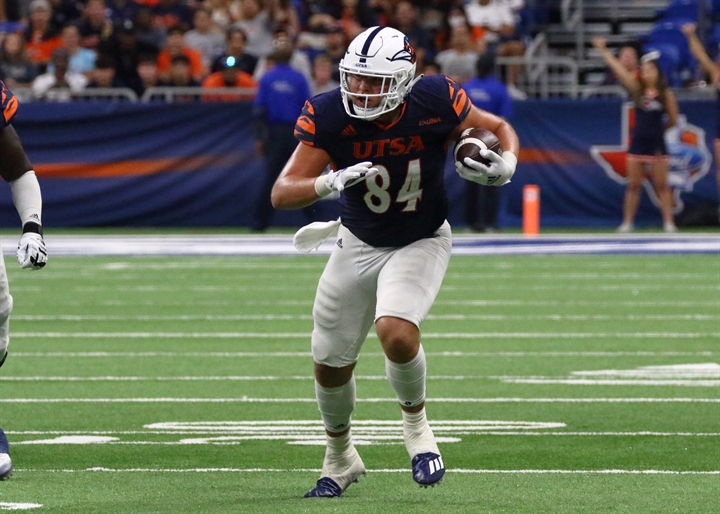 PLAYER SPOTLIGHT: OSCAR CARDENAS
Enough injuries along the offensive line mounted up on the Roadrunners in the 2022 campaign that head coach Jeff Traylor seriously considered moving tight end Oscar Cardenas – listed at 6-foot-4 and 285 pounds – to left tackle midway through the season. But "Mr. Clutch" was able to stay at his preferred position thanks to other options.
"If I really had to, I would've done it for the team, but I really like playing tight end and catching balls," Cardenas said. "Those injuries were very scary to have up front because we had some walk-ons play against Texas and in other big games."
Fear doesn't creep into Cardenas' mind often, especially on the football field. He caught the game-winning touchdown against UAB in 2021 that sent the Roadrunners to their first-ever conference championship game. He made a highlight-reel grab in a game-winning drive last year against rival North Texas. Even with three all-conference caliber wide receivers on the same field, his teammates trust the San Antonio native in the biggest moments.
"Besides Frank (Harris), he's probably the most clutch player on our team," said starting safety Rashad Wisdom. "I don't know why, but he's always the dude in those big moments. If we have at least a minute left on the clock and we need a score, I don't even worry about it anymore. Oscar and Frank got us."
Cardenas didn't grow up hearing much about UTSA despite living five minutes away. It wasn't until the football team started making noise as his career at Brandeis High School took off that Cardenas became interested in the nearby Roadrunners. Cardenas' dad started to watch more UTSA football games, and that eventually led to a visit.
He recorded 27 catches for 489 yards and five touchdowns during his senior season, garnering him attention from a few schools, and he eventually picked his hometown team in the 2019 cycle over offers from Air Force and Abilene Christian. Cardenas stayed home to remain close to family, and because local stars such as Wisdom, Harris, and Sincere McCormick were spurning other offers to stay home and build UTSA into a winner.
"Rashad was always up in my DMs telling me to commit," Cardenas remembered. "We wanted to build something at home; to be that next step for this school. I think we've done a good job of that so far. But we're not finished."
2023 AT A GLANCE
Some new and old foes await UTSA in its maiden voyage into the American Athletic Conference. That starts with non-conference games against Houston, Texas State, and Army. Rice, UAB, FAU, and North Texas await in conference play. A trip to Tennessee provides the Roadrunners with a chance to shock the nation. A season-finale trip to Tulane could decide one of the two spots in the AAC championship game.
PREDICTIONS
RECRUITING BREAKDOWN
The Expert's Take with DCTF Recruiting Analyst Greg Powers
Jeff Traylor's success at UTSA has fans ecstatic about the program's state, thanks to his staff's ability to evaluate and develop high school talent. The 2023 class is a testament to this. With a No. 1 conference rating, it is the best in UTSA's history. Fans eagerly anticipate future success as Traylor continues to make his mark on the football program.
3 KEY ADDITIONS:
RB Brandon High
UTSA scored a major coup in signing High, who has the talent of a Power 5 player. His chiseled physique is immediately noticeable, and his combination of strength and speed makes him a formidable runner.
WR Jamel Hardy
This three-sport high school athlete earned the nickname 'Jumpman' for his ability to seamlessly climb the ladder and pluck the ball out of the air over the top of defensive backs.
DL Vic Shaw
Despite holding offers from several P5 programs, Shaw decided to commit to UTSA, a testament to the Roadrunners' recruiting prowess. The big, athletic lineman prepped at one of East Texas' most renowned programs.
UNDER THE RADAR
WR David Amador
Amador is a hidden gem despite playing for a 6A powerhouse. He is known for taking over games, earning the nickname 'Touchdown Dave.' Amador's impressive stats include 77 receptions for 1,694 yards and 17 touchdowns, as well as 112 carries for 1,140 yards and 16 TDs.
DB Jakevian Rodgers
Explosive is a good descriptive word for Rodgers' game. The two-way high school standout was recruited to play defensive back in San Antonio, where he can use wide receiver skills to track down balls and create mayhem. His long, rangy frame accentuates his ball-tracking ability.
2023 UTSA RECRUITING
High School/Junior College (247Sports Rank:71st)
Player Pos. Ht. Wt. Previous school
David Amador WR 5'11 175 North Shore
Nnanna Anyanwu DL 6'5 240 Lovejoy
Jameian Buxton DL 6'1 290 Warren Easton (La.)
Jackson Gilkey QB 6'2 220 Ennis
Cory Godinet OL 6'5 355 Trinity Valley CC
Rodney Groce Jr. LB 6'2 235 Pleasant Grove
Jamel Hardy WR 6'3 180 Dallas Lincoln
Robert Henry RB 5'10 195 Jones College
Brandon High RB 5'10 210 Grand Oaks
Buffalo Kruize OL 6'6 300 City College of San Francisco
Davin Martin DB 6'2 165 Klein Cain
Willie McCoy WR 6'1 180 Kilgore College
Devin McCuin WR 5'11 180 Jacksonville
Daniel Ogundipe OL 6'5 285 Iowa Central CC
Patrick Overmyer TE 6'4 215 Kingwood Park
Jakevian Rodgers DB 6'0 160 Daingerfield
Etueni Ropati OL 6'4 285 Harker Heights
Devin Scura TE 6'5 240 Manor
Vic Shaw DL 6'3 240 Pleasant Grove
James Walley Jr. LB 6'2 220 Fort Bend Ridge Point
Marcellus Wilkerson DB 6'1 200 Garden City CC
Transfers (247Sports Rank: 22nd)
Player Pos. Ht. Wt. Previous School
Kameryn Alexander DB 6'0 185 Sam Houston
Elliott Davison DB 6'0 180 UIW
Rocko Griffin RB 5'10 200 Vanderbilt
Owen McCown QB 6'2 175 Colorado
Five Key Losses
Player Pos.
Zakhari Franklin WR
Ahofitu Maka OL
Trevor Harmanson LB
Corey Mayfield CB
Clifford Chattman DB
This article is available to our Digital Subscribers.
Click "Subscribe Now" to see a list of subscription offers.
Already a Subscriber? Sign In to access this content.