In the face of doubters, Miners head into 2023 with a sense of urgency and confidence
UTEP heads into Year 6 of the Dana Dimel era with a familiar friend on its shoulder – a chip. Dimel resurrected a program from a winless 2017 to reach a bowl game in 2021 with seven regular season wins.
The 2022 squad was supposed to match that effort and reach back-to-back bowl games for only the second time in school history, but the downside of expectations is the added weight it adds to the back. The Miners fell short in a 5-7 season that included inconsistencies from a group that played down to its competition.
"Handling prosperity can be harder than handling adversity," Dimel said. "Our guys didn't do a great job of handling the prosperity and expectations for them. Losing that North Texas game in Week 0 stunned us, and it took us a while to get back into our groove because we had high expectations for the season."
The 2023 version of the Miners hopes to recapture the underdog mentality that allowed them to surprise Conference USA in 2021. Dimel believes this is a team with the right mix of familiar leadership and new blood.
"This is a team that has the intangibles that we want," he said. "I can push them harder because we're in Year 6. We're a tougher group. And we feel like we have something to prove."
He also calls it the most athletic team of his tenure. While the rest of the country seemingly ditched traditional recruiting in the high school and JUCO ranks in favor of the transfer portal, Dimel, a protegee of Bill Snyder, stayed the course and believes he's seeing an uptick in talent at those levels. UTEP brought in over 20 JUCO players compared to only two transfers in the 2023 class. The school signed around 10 players from the high school level.
"The portal is changing recruiting, and that's helped us in a lot of ways because we still attack the JUCO level," Dimel said. "The high school and JUCO players are slipping through the cracks, and that allows us to sign the best class we've ever put together here at UTEP."
Optimism should be high in El Paso. The Miners return a quarterback with nearly 30 collegiate starts in Gavin Hardison. The running back room still features El Paso native Deion Hankins, and wide receiver Tyrin Smith returned after spending the spring semester at Texas A&M. The offensive line returns four of five starters, and the tight end position is stacked. Leaders such as defensive end Praise Amaewhule, linebacker Tyrice Knight, and safety Kobe Hylton return to lead a defense that Dimel calls the most athletic and deep that he's had in El Paso.
UTEP isn't one of the five FBS teams in Texas playing in a different conference this season, but that doesn't mean the Miners recognize all the teams on the schedule. They start the season with a Week 0 trip to FBS newcomer Jacksonville State. The in-conference schedule includes four mid-week games.
"Each and every game will be a competitive game for us in this new conference," Dimel said. "Last year, UTSA was the team. There is a lot of parity now. Liberty might be the outlier because of the resources they have, but after that, everyone else except Western Kentucky looks even. We'll need to bring it every week."
DCTF'S TAKE
Dana Dimel does his best work as an underdog. The Miners didn't handle expectations well in 2022, but that might be to the team's benefit in 2023. That chip on the shoulder is back in El Paso, and the Miners plan to capitalize on a new-look Conference USA to reach a bowl game and achieve a winning record for the second time in three years. A big year from quarterback Gavin Hardison puts UTEP in contention for seven or eight wins.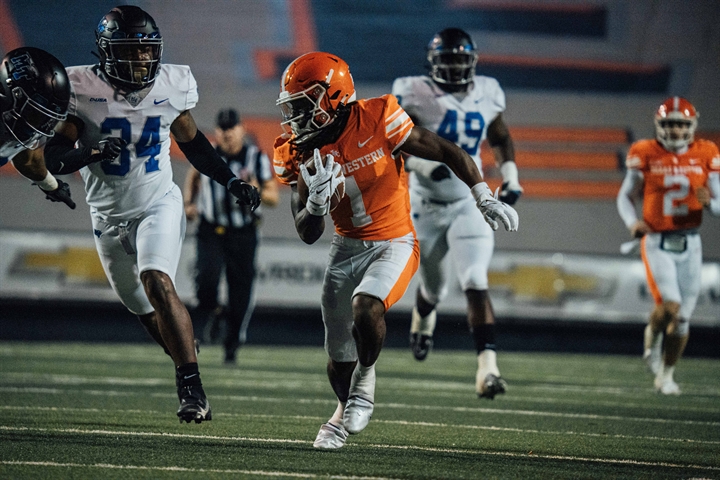 OFFENSIVE BREAKDOWN
Run-pass balance and an intriguing group of skill stars could boost Miners' attack
UTEP head coach Dana Dimel doubles as the play caller for the Miners. He admits the challenges of resurrecting a program that went winless in 2017 – the year before Dimel's arrival – distracted him from the work required to lead a strong quarterback room. He's fixing that heading into the 2023 season.
"Through the first five years, I was establishing the program and probably didn't spend as much time with the quarterbacks as I should've as the play caller," Dimel admits. "They're hearing my voice more now in meetings and on the field."
The passing game regressed in 2022 without star receivers Jacob Cowing and Justin Garrett, even with the emergence of Tyrin Smith. Quarterback Gavin Hardison, who enters his third year as the clear-cut starter for the Miners, led the offense to 24.4 points per game, which ranked 91st nationally. The trio of Jake McNamara, Kevin Hurley, and Cade McConnell are competing for the backup spot.
The Miners averaged 161.2 yards a game on the ground in 2022, which was in the top-half of the FBS. El Paso native Deion Hankins returns to lead UTEP's rushing attack. He was second on the team last season in rushing behind the departing Ronald Awatt. The Miners brought in Mike Franklin, a one-time Washington commit, to build depth behind Hankins. Torrance Burgess is a JUCO signee who can play running back and wide receiver in a similar fashion to former Miner Reynaldo Flores.
"I like to have a heavy complement of running backs," Dimel said. "All three of those guys will get carries."
The return of Smith at wide receiver is a relief for a Miners squad that was forced to replace Cowing and Garrett after a successful 2021 season. Emari White arrived late last year and never made his way into the rotation, but he's expected to start this season. Kelly Akharaiyi and Jeremiah Ballard provide size on the outside.
The tight end position loses a starter from last year, but Dimel brought in three JUCO players to compete with returner Zach Fryar, who is expected to start.
"The weapons are there for Gavin to have a real breakout season," Dimel said. "We've got some real depth and talent at all the skill positions."
That's also true for an offensive line that returns four of the five starters from last season. Zuri Henry returns from injury to replace Jeremiah Byers, an all-conference player who transferred to Florida State after the season. Senior Andrew Meyer anchors the front line from his center position.
OFFENSIVE MVP
Tyrin Smith led the state of Texas at the FBS ranks with 86.6 receiving yards per game. He returns after a brief stint at Texas A&M.
KEEP AN EYE ON
The loss of place kicker Gavin Baechle creates a problem for a UTEP offense that struggled mightily in the red zone last season. The Miners were 123rd out of 131 teams in the FBS in red zone touchdown percentage at 45 percent. Head coach Dana Dimel says his team must be more aggressive inside the 20 this season because Baechle isn't there to bail them out of mistakes. Mark Ramos and Buzz Flabiano return as options to replace Baechle.
OFFENSIVE DEPTH CHART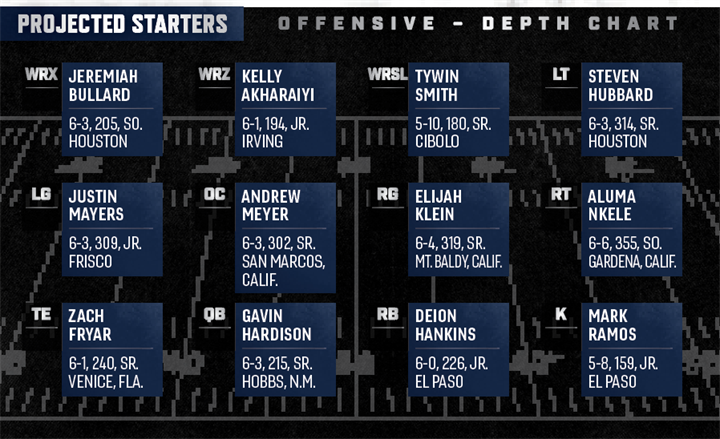 DEFENSIVE BREAKDOWN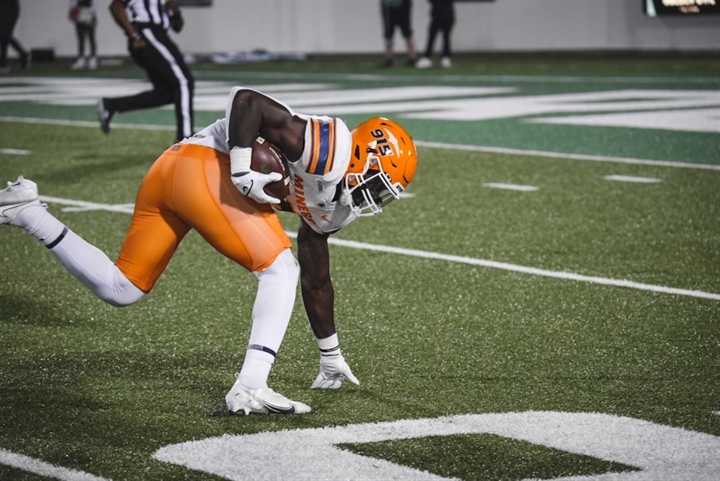 Strength up front and question marks in the back, Miners hope young faces emerge on defense
Defensive success for the Miners begins with a talented and deep group of linemen. Even the loss of star defensive end Jadrian Taylor, who led the team in sacks last year, won't keep UTEP from fielding one of the top defensive fronts in the new-look Conference USA.
"I feel like this will be our best defensive line yet because we're deeper and just as talented," head coach Dana Dimel said.
That begins with defensive end Praise Amaewhule, who Dimel expects to have a bounce back season after a drop off in production as a junior. Maurice Westmoreland, a Kilgore College product, is expected to replace Taylor at the other defensive end position. Bryton Thompson and a few fresh faces from the JUCO ranks are expected to provide depth on the edge.
The Miners are four-deep at defensive tackle with the return of Keenan Stewart and a healthy Tevita Tafuna leading the charge. Stewart is entering his senior campaign as a multiple-time all-conference honorable mention selection. Tafuna is completely back from an ACL tear that he wasn't fully recovered from during the 2022 season.
Senior linebacker Tyrice Knight returns for his third year as a starter in the middle of the Miners defense. He led them in tackles last year with 95 stops after finishing second on the team in that category the previous two seasons. Dimel calls Knight, "the best I've ever coached at the position." He'll be flanked by James Neal, who elected to redshirt in 2022.
"We're much deeper at linebacker than we were last season," Dimel said. "We added four guys from JUCO to provide some depth and push our frontline guys. Kenny Byrd and Nate Dyman are the primary backups as of the spring."
UTEP struggled at the cornerback position in 2022 as injuries forced inexperienced players into major roles. The Miners should benefit from those growing pains this year because of the depth that those hardships created. Torey Richardson is back from injury as the team's top cover corner. UTEP added New Mexico transfer AJ Odums to the position group. Latrez Shelton and Ilijah Johnson provide depth.
If not for a stacked defensive line unit, the safety position would be the strength of the entire football team. Kobe Hylton, an enforcer entering his junior season, is an all-conference caliber talent who was third on the team in tackles last season behind Knight and the departing Cal Wallerstedt. McKel Broussard returns for his junior campaign as the starter at boundary safety. Josiah Allen is moving from cornerback to nickel to replace Dennis Barnes.
DEFENSIVE MVP
Linebacker Tyrice Knight tied for the team lead in tackles last season with 95. He's a multiple-year starter who Dana Dimel calls "the best I've coached at the position."
KEEP AN EYE ON
The secret weapon of any great defense is a solid punter. One of the reasons the Miners enjoy so much success on the defensive side of the ball is because of the great field position provided by returning punter Joshua Sloan. The Australian averaged 44.4 yards per punt in 2022, which was 19th in the nation and most in the FBS ranks in the Lone Star State. He pinned opponents inside their 20 on 15 different occasions with 11 punts traveling over 50 yards.
DEFENSIVE DEPTH CHART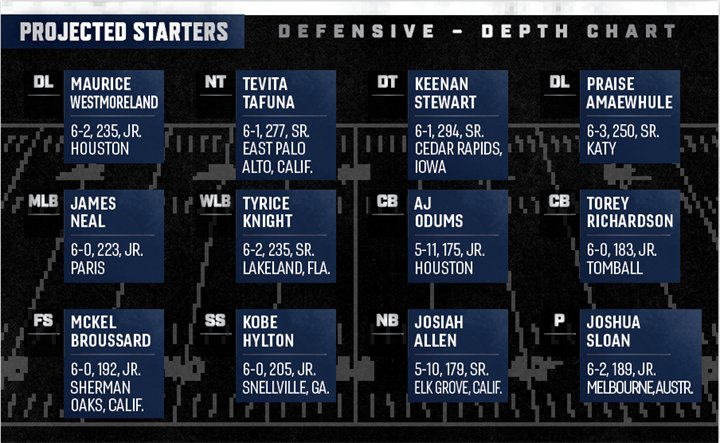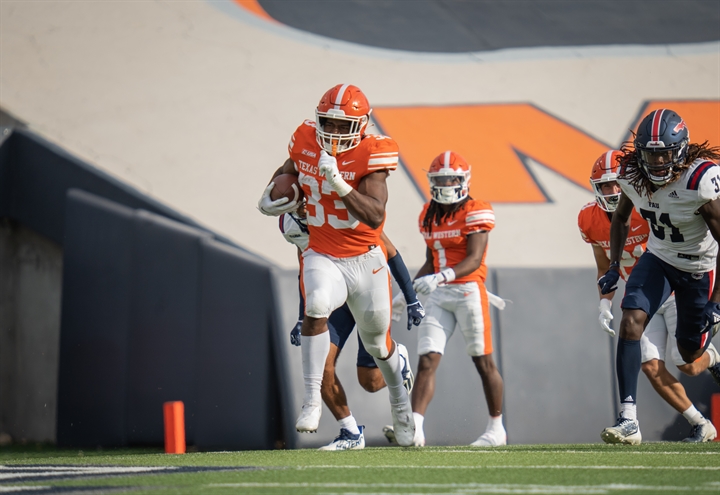 PLAYER SPOTLIGHT: DEION HANKINS
UTEP running back Deion Hankins was a late arriver to the football field, beginning his career in the seventh grade. The El Paso native immediately began to make up for lost time, however, playing through a fractured forearm in his first year. Hankins gravitated to running back and linebacker, though he admits to enjoying the freedom of defense more than the thrill of touchdowns early in his journey.
He starred at his middle school and for a city-league team called the Northeast Raiders at the same time in the eighth grade. He'd play at least two games a week, sometimes three times a week for a full fall. His middle school coaches advised against it, but Hankins was hooked on football by the time he arrived at El Paso Parkland High School.
"We won the championship, so I was happy," Hankins joked about his eighth-grade gauntlet. "It is hard enough to play once a week these days. I couldn't imagine trying to do that again."
Hankins became a hometown hero during his four years at Parkland. He finished his prep career with a city-best 7,491 rushing yards and 78 touchdowns. He was a multiple-time all-state and all-district selection while rushing for over 2,000 yards in each of his last three seasons. Hankins was voted the 2018 El Paso All-City Football MVP.
But colleges didn't bang down his door with scholarship offers. Such is life as a football star in El Paso. The programs that did offer Hankins didn't have room for his national letter of intent come crunch time. Except one.
"I didn't have anywhere else to go," Hankins said about choosing UTEP in the 2019 cycle.
The Miners were 1-23 in the two seasons before his arrival as the program transitioned from Sean Kugler to Dana Dimel.
"I knew God closed those doors so I could be here," he said. "Ultimately, it was the right decision."
Hankins appeared in two games as a true freshman in 2019 before sustaining a concussion. He emerged as a lead back in 2020, earning three starts and a spot on the Conference USA All-Freshman Team after setting school records in yards (592) and touchdowns (9) for a freshman. Hankins finished second on the team in rushing behind Ronald Awatt the last two seasons.
With Awatt gone, Hankins is in charge of leading the running back room.
"I see the running back room as a brotherhood," he said. "I need to be the example to the younger players to show them the way."
2023 AT A GLANCE
Dana Dimel's Miners hope a new-look Conference USA leads to more consistent success. UTEP starts 2023 with a Week 0 conference contest against Jax State. A chance to start 2-0 is in the cards thanks to a Week 1 home game against FCS Incarnate Word. Four of UTEP's 12 games occur outside of Saturday, including three in a row on a Wednesday night starting Oct. 11.
PREDICTIONS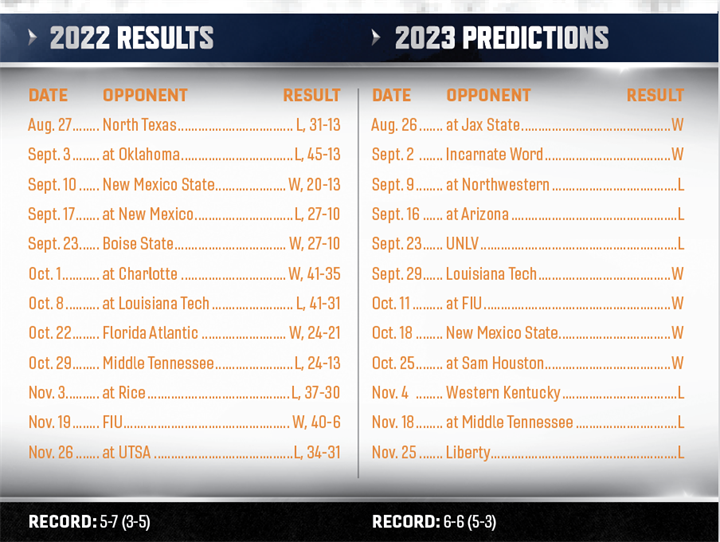 RECRUITING BREAKDOWN
The Expert's Take with DCTF Recruiting Analyst Greg Powers
Dana Dimel and his staff in El Paso continue to follow Bill Snyder's roadmap of prioritizing junior college transfers. UTEP fell one win shy of a bowl game last season but is bringing in enough college-ready talent to compete for a spot in the postseason in 2023. Additionally, UTEP signed 11 high school prospects, doubling its 2022 prep efforts.
3 KEY ADDITIONS:
RB Ezell Jolly
UTEP landed Jolly down the recruiting homestretch to give the team its highest-rated prep signing. He is a dependable back who thrives on runs between the tackles, with enough juice to make explosive plays as a runner or receiver.
OL Tyrone McDuffie
Despite receiving interest from Colorado, McDuffie chose to stay in El Paso. The three-star offensive lineman is a physical presence on the field, with an impressive 82.75 wingspan. He showcases excellent strength.
WR Dre Spriggs
The transfer from UTSA is highly talented but was a depth chart casualty. He is a game-breaking talent with the speed, athleticism, and ball skills to make an immediate impact in El Paso.
UNDER THE RADAR
S Oscar Moore
A physical presence in the defensive secondary, Moore was a standout at Haslet Eaton who decided to go the JUCO route out of high school to improve his college stock, a gamble that paid off. Despite having a Division I skill set, he did not have an online recruiting profile and was not rated.
QB Seth Mouser
Despite his team's 2-8 finish, Mouser's senior season was a breakout one. The big-framed thrower proved to be a pocket passer with excellent accuracy and arm talent, carving up defenses with relative ease. Mouser's ability to put up points consistently is a testament to his skillset and football IQ.
2023 UTEP RECRUITING
High School/Junior College (247Sports Rank: 131st)
Player Pos. Ht. Wt. Previous school
Dashawn Adams WR 5'11 175 Brookshire Royal
Jalile Bost WR 5'11 155 El Paso Pebble Hills
Elijah Boyd TE 6'4 250 Contra Costa College
Torrance Burgess Jr. RB 5'6 160 Tyler J.C.
Joshua Dye RB 5'11 200 Williams Field (Ariz.)
Josiah Dye DB 6'1 185 Williams Field (Ariz.)
Nate Dyman LB 6'2 220 Blinn College
Judah Ezinwa TE 6'3 240 Mt. San Antonio College
Mike Franklin RB 6'2 225 Contra Costa College
Qu'Ran Gossett RB 6'0 210 Bishop Garcia Diego (Cali.)
Kadarion Johnson DL 6'1 300 Kilgore JC
Ezell Jolly RB 6'0 175 Fort Bend Ridge Point
Joey Lightfoot DL 6'3 300 A&M Consolidated
Dimitri Madden DL 6'2 300 New Mexico Military Institute
Tyrone McDuffie OL 6'3 305 Parkland
Oscar Moore DB 6'1 210 Kilgore JC
Seth Mouser QB 6'5 200 Bastrop
Joshua Phillips LB 6'3 190 Mississippi Gulf Coast C.C.
TangiTangi Pongia OL 6'2 315 Cisco College
Viontay Robinson DL 6'1 260 Navarro College
Lantz Russell DB 6'3 220 Mt. San Antonio College
RaQuan Thompson DL 6'3 270 Blinn College
Jaquan Toney OL 6'4 290 Northeast Mississippi C.C
Jake Utley OL 6'5 315 College Station
Marcus Vinson TE 6'4 250 Kilgore JC
Matt Wann LB 6'2 235 Santa Ana College
Jackson Weng WR 6'2 210 Orange Lutheran (Calif.)
Transfers
Player Pos. Ht. Wt. Previous School
AJ Odums DB 5'11 155 New Mexico
Dre Spriggs WR 6'2 175 UTSA
Five Key Losses
Player Pos.
Jadrian Taylor DE
Jeremiah Byers OL
Gavin Baechele K
Cal Wallerstedt LB
Dennis Barnes DB
This article is available to our Digital Subscribers.
Click "Subscribe Now" to see a list of subscription offers.
Already a Subscriber? Sign In to access this content.