Don't blink — Lashlee's makeover on The Hilltop is fast, brash and, above all else, exciting
A person who fell asleep in the SMU locker room the day Rhett Lashlee took over in December 2021 would awake to an unrecognizable roster. Lashlee and his staff overhauled the roster in a way that was impossible before and might be again soon. The transfer portal, NIL, and the ability to sign as many recruits as needed in one cycle allowed the Mustangs to remake their roster in the new coach's image.
Over 65 of the 85 scholarship players dressing out on The Hilltop this season weren't on campus when Lashlee arrived. Over half of the starters on both sides of the ball were brought in this offseason as SMU signed 17 transfers for the second straight cycle. And that's not counting any players that the program signs in the second window.
"We've basically done a roster flip in 18 months, which is remarkable," SMU offensive coordinator Casey Woods said back in the spring. He was at UAB when the Blazers returned from football and started from scratch. "UAB was about stockpiling. Here, we've done something that was impossible to do a few years ago."
Expectations are back in Dallas. Most college football fans are familiar with the story of SMU and the Death Penalty. The Mustangs were a top 15 team for the four years spanning from 1981 to 1984, claiming two national titles and a 41-5-1 record. They won at least 10 games in each of those seasons. That mark wasn't reached again until 2019 when Lashlee was an offensive coordinator.
Sonny Dykes, who hired Lashlee, helped SMU right the ship and get back into contention. His tenure was defined by quick starts and tough finishes. The new-look AAC, and the expanded playoffs in 2024, provide SMU a real route back to national prominence. The best G5 in the land is guaranteed one of the 12 spots in the playoff, and the winner of the AAC would qualify for that often. A talented roster and a favorable schedule have the Mustangs ready for 2023.
"Being around SMU my whole life, it has felt like we're right on the cusp for four or five years now," said quarterback Preston Stone, a Dallas native and former four-star prospect who is ready to take the reins of Lashlee's high-powered offense. "This year, it might be teed up more than ever. We have every piece we need. There is a sense of poise in this building. We feel ready to take on any expectations."
SMU is 32-16 over the last four seasons, including a 7-6 mark last year in Lashlee's first season as a head coach. The program has won at least seven games in five of its last six seasons. SMU didn't achieve a seven-win season between 1985 and 2009. Older fans remember the Mustangs as conference favorites competing on the national stage, but the pressure and expectations of being the hunted rather than the hunter are new for the players on the current roster.
"The expectations are new. You want to start out each year like that, but it is new," Lashlee admitted. "We've got enough maturity in the locker room from the returning players, and the new guys don't know what the expectations were or weren't in the past. They just know that they expect to do well."
DCTF'S TAKE
The roster turnover for SMU in the first 18 months under Rhett Lashlee is unprecedented in college football, and the Mustangs' success - or failure - will serve as a tremendous case study for team management in the transfer portal age. A new-look AAC feels like a winnable track for the Mustangs, and a 10-win season appears possible, but can a team cobbled together in that short of a span gel enough to overcome the natural adversity created by the sport?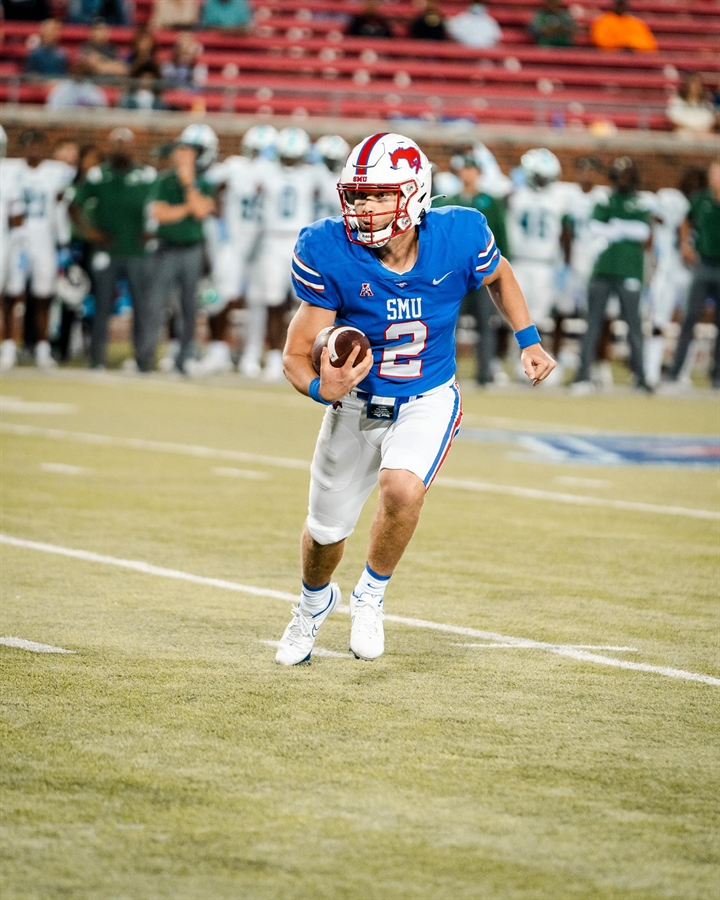 OFFENSIVE BREAKDOWN
Even without NFL-bound stars, Ponies bullish on keeping the offensive train rolling
Hopes are high that a more balanced attack offensively will create as many points, if not more, than the 2022 offense despite losing quarterback Tanner Mordecai and NFL draft pick Rashee Rice at wide receiver. SMU scored 37.2 points per game last season, good for 12th-best in the country and second in the state behind national runner-up TCU. Rice led the nation with 112.9 receiving yards per game.
"Whether or not we have the big names, I think we have a chance to be a better overall unit," head coach, and play caller, Rhett Lashlee said. "I think we've upgraded the size and depth on the offensive line. We're deeper at wide out and we've definitely improved the running back room. At tight end, we're more experienced and could add another piece there. At quarterback, we love the talent of our young guys."
The optimism begins with new starting quarterback Preston Stone, who was injured in his first collegiate start in 2022. The local star chose SMU over a host of Power Five offers, and then had to wait his turn for two seasons behind Mordecai. Stone says those two years were a humbling experience that prepared him for this moment.
"We are a lot further ahead right now than we were last year," Stone said. "It comes down to consistency. If we perfect the mundane, we can do anything."
SMU wants more explosive plays from the running game and brought in a pair of playmakers from the P5 ranks in the offseason. Jaylan Knighton was one of the Miami transfers that joined the ranks. Former Texas A&M Aggie LJ Johnson also transferred in. The pair joins the likes of Camar Wheaton, Velton Gardner, and Tyler Lavine.
Expect a more diverse passing attack without Rice on campus to gobble up most of the targets. Players such as Jordan Kerley, Moochie Dixon, and Jake Bailey are back and ready for bigger roles. Romello Brinson and Key'Shawn Smith transferred in from Miami. Roderick Daniels is a swiss-army knife that Lashlee compared to Deebo Samuel. RJ Maryland is back at tight end after a breakout freshman campaign. Lashlee says that Maryland might be the best pure pass catcher on the team.
SMU also believes the depth and talent is improved along the offensive line. Marcus Bryant and Missouri transfer Hyrin White are expected to start at the tackle positions. Justin Osborne is the team's best interior lineman. Guard Jakai Clark arrives this summer from Miami with over 40 career starts. Branson Hickman is also back.
OFFENSIVE MVP
WR Jordan Kerley: Kerley is the odds-on favorite to replace Rashee Rice as SMU's top target. In Rhett Lashlee's offense, that means big numbers.
KEEP AN EYE ON
SMU played three quarterbacks in 2022 due to injury. The same thing happened at Miami in Rhett Lashlee's last season as offensive coordinator in 2021. That means quality backups are invaluable. Only two of the 12 FBS teams last year in Texas started the same quarterback in every game. The good news for the Mustangs is that South Oak Cliff product Kevin Jennings looked great as a true freshman in 2022. He'll be the primary backup for Preston Stone this season.
OFFENSIVE DEPTH CHART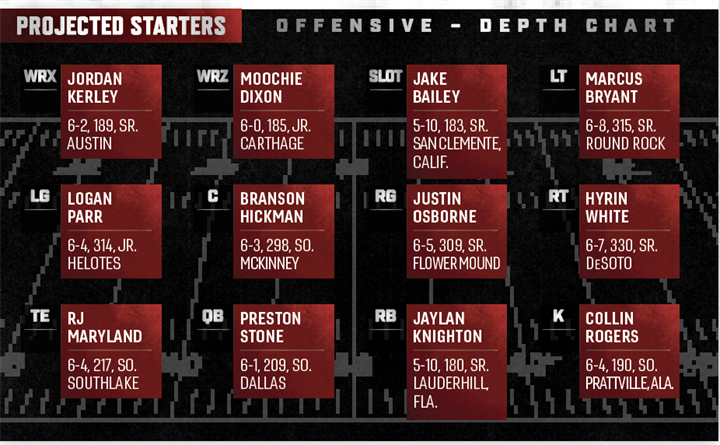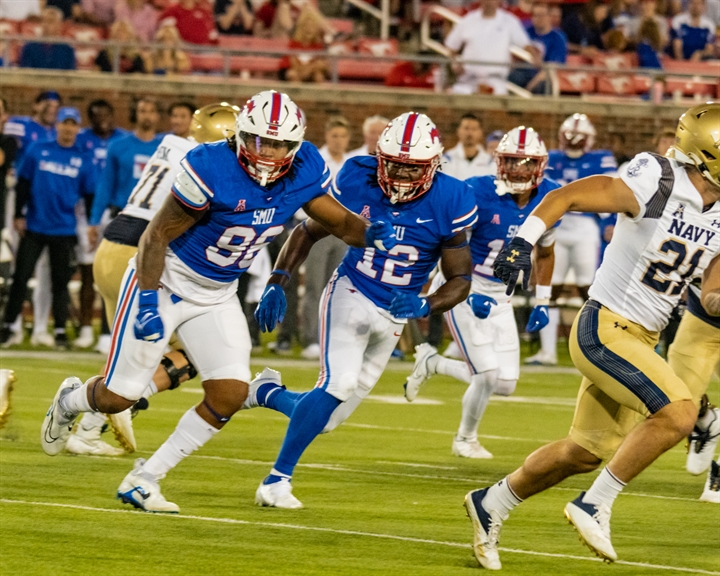 DEFENSIVE BREAKDOWN
With a heavy influx of transfer portal talent, Mustangs determined to overhaul the defense
Playing championship-level defense is the next step in the evolutionary chain for the SMU football program. The Mustangs always score points, but they also give up a ton. They ranked 119th in scoring defense in 2022 by allowing 33.8 points per game. The rushing defense ranked 120th in yards allowed per game. The pass defense was 70th.
"We've not had a championship level defense here for a long time," Lashlee said. "We're scoring points and we're exciting to watch, but you can't always outscore them. We're excited about the guys we've got back and the new pieces we added to the roster."
Even SMU fans might not recognize the starting lineup for the Mustangs defense in Week 1. Over half of the expected starters were brought in from the transfer portal, including Miami defensive tackles Jordan Miller and Elijah Roberts. They'll link up with returning defensive linemen such as Elijah Chatman and DeVere Levelston to form a potent group up front, especially if players such as Jayden Jones, Je'lin Samuels, and David Abiara can take the next step.
"Instead of practice being one-sided most of the time, we were back and forth and that raises everyone's level," Chatman said about the defense's success in spring ball. "For about six or seven days, we shut them down. We're getting better on that side of the ball."
The biggest losses from the 2022 team defensively came at the linebacker position as the Mustangs must replace starters Jimmy Phillips and Isaac Slade-Matauita in defensive coordinator Scott Symons' 4-2-5 attack. Symons, who was the DC at Liberty before moving to The Hilltop, brought in Ahmad Walker from his old stomping grounds to start at Mike linebacker. The hope is that JaQwondis Burns and/or Kamryn Farrar start reaching their potential in their second year in the system. True freshman Alex Kilgore arrived in the spring and immediately turned heads. Former safety Chris Adimora was moved to linebacker during the offseason.
SMU completely rehauled the secondary through the portal. The most important addition has been safety Jonathan McGill, a DFW native who was a team captain at Stanford. The 5-10, 180-pound senior was a stabilizing force during the spring and is already considered one of the leaders of the team. Bryan Massey and Brandon Crossley are back at safety. Fresno State transfer Cale Sanders was moved to nickel.
At corner, the arrivals of Charles Woods and Chris Megginson transformed the room. Jahari Rogers and AJ Davis are also back. LSU transfer Jaelyn Davis-Robinson possesses untapped potential.
"I'm comfortable with our backend because I know what we have at receiver and we're not just running by them anymore in practice," Lashlee said.
DEFENSIVE MVP
DB Jonathan McGill: SMU desperately need leadership and poise from the safety position and the Stanford transfer and a Coppell native, has that.
KEEP AN EYE ON
Forming a cohesive unit on a defense that expects over half of its starters to be first-year transfers is a new challenge in college football, and SMU's success, or failure, in 2023 might determine the perception of the practice. The Mustangs brought in four potential starters in the secondary, one at middle linebacker, and a pair of talented defensive linemen from Miami. How quickly can those players not only learn the system, but each other?
DEFENSIVE DEPTH CHART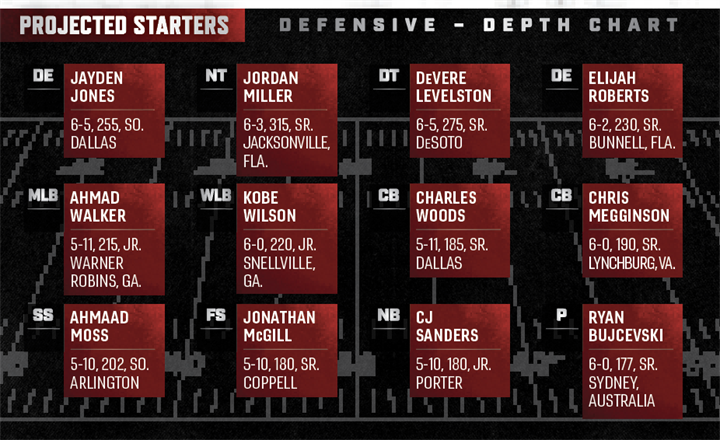 PLAYER SPOTLIGHT: ELIJAH CHAPMAN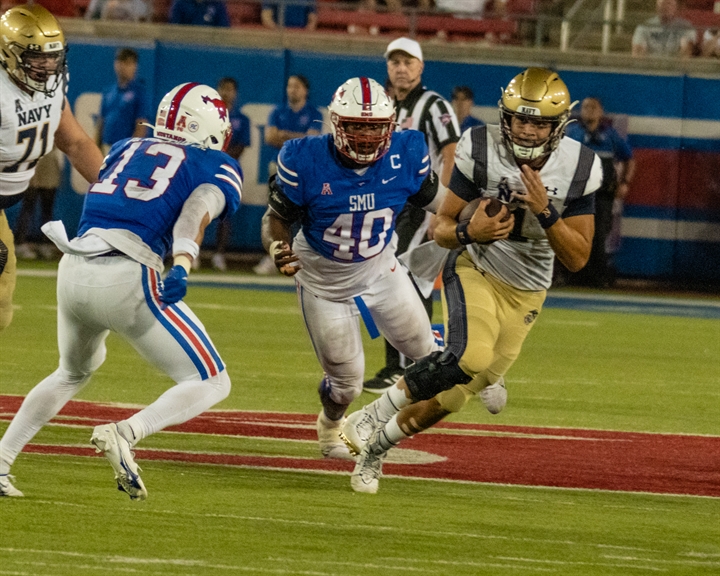 Elijah Chatman knew he was freakishly strong by the seventh grade when the current SMU defensive tackle benched 215 pounds while his closest in-grade competitor was stuck at 175. The 6-0, 291-pound wrecking ball from Louisiana now squats 705 pounds and bench presses 500, though he thinks he could've put up 515 on the bench in spring if not for a slight touch by an assistant coach.
Chatman's goal is to break the record for most bench press reps at next year's NFL Combine. That record was set in 1999 by Eastern Kentucky defensive tackle Justin Ernest, who raised the 225-pound bar 51 times. Chatman's reached 42 reps before and believes 50 is in reach after the 2023 season.
His superhuman strength caused problems for opponents early in his life. Chatman was forced to play against older kids in youth football. When he was eight, his teammates and opponents were 10 or 11. He was practicing with the high school team in eighth grade and became a starter at the prestigious Evangel Christian Academy in Shreveport as a freshman.
"The transition to college was easier because I was used to facing older guys," he said. "The pace of play was the only real difference."
Chatman arrived on The Hilltop in 2019 and became a starter in 2020. He started 21 of the 22 games played by SMU from 2020 through 2021, earning all-conference honorable mention nods along the way. When a coaching change took place after the 2021 season, Chatman seriously considered utilizing the transfer portal.
"There were heavy thoughts about hitting the transfer portal, but SMU is where I ultimately wanted to be," Chatman said. "I wanted to finish up here. The opportunities were there, but this is my home."
And the Mustangs are glad he stayed. Chatman earned second-team All-AAC honors in 2022 after registering 39 tackles, including four tackles for loss and three sacks, during 11 starts. He'll return to anchor the defensive line, but he's also brought back an old trick of the trade from his early days – playing fullback. Chatman played there some early in his college career in goal line situations, and he was back there some during spring practices.
"It is fun playing fullback," he said with a grin. "You get to obliterate people, and I love that. That's who I am, I like to destroy things. That's why I started playing football at age five."
2023 AT A GLANCE
The AAC schedule sets up perfectly for Rhett Lashlee's Mustangs. Anything less than a 10-win season will feel like a disappointment because SMU avoids regular season contests against fellow conference favorites UTSA and Tulane. The non-conference schedule is a horse-of-a-different-color. Trips to Oklahoma and TCU won't be fun. The good news is that SMU should be favored in each of the other 10 games on the slate.
PREDICTIONS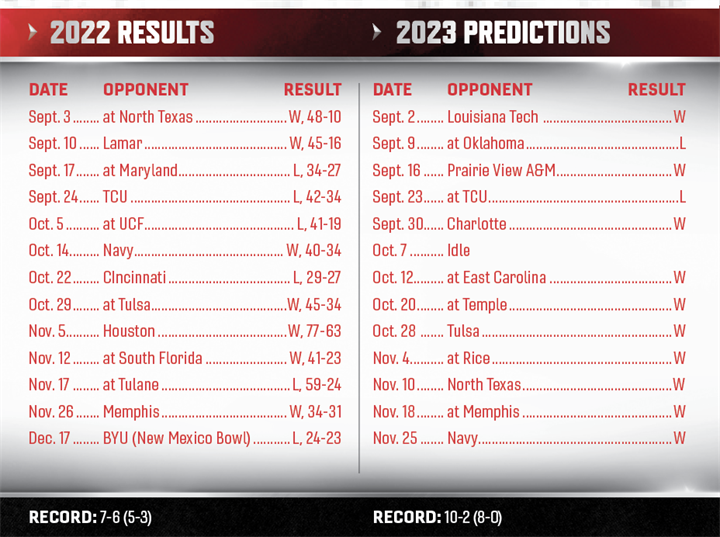 RECRUITING BREAKDOWN
The Expert's Take with DCTF Recruiting Analyst Greg Powers
SMU has been active in the Transfer Portal, which has paid off as it added 14 new players from Power Five programs. This depth was crucial as the Mustangs lost significant talent to the portal, including starting quarterback Tanner Mordecai. SMU did an impressive job with its high school signings, particularly on the defensive side of the ball where they brought in athletic specimens with ideal size. Overall, the Mustangs are looking well-prepared for the future.
3 KEY ADDITIONS:
RB LJ Johnson
Johnson was the No. 2 rated running back in Texas and a DCTF four-star when he signed with Texas A&M in the Class of 2021. With his low center of gravity and stout build, Johnson is a tough player to bring down.
LB Alex Kilgore
It won't be long before Kilgore is on the linebacker two-deep and pushing for a starting position. He had a tremendous senior season, showcasing a bulked-up frame, quickness to the ball, and sure tackling abilities.
DB Jonathan McGill
Not only is McGill a talented player on the field, but he's also the total package off the field. At Stanford, his peers voted him a team captain, a testament to his leadership and dedication.
UNDER THE RADAR
WR Jamarion Carroll
Carroll was an absolute steal for SMU. He's a receiver with a long frame and breakaway speed. He uses his hands well when jammed and exhibits body control through traffic. Carroll has the potential to expand his route tree. He shows good short-area quickness with the ball in his hands after the catch.
OL PJ Williams
Williams was the No. 1 rated center in Texas and a DCTF four-star when he signed with Texas A&M in 2022. Williams is agile and boasts a 7-foot wingspan. He ran into trouble in College Station as he was kicked off the team for violating team rules and arrested for marijuana possession, so a career reset was needed.
2023 SMU RECRUITING
High school/Junior College (247Sports Rank: 47th)
Player Pos. Ht. Wt. Previous school
Kevin Allen DL 6'3 280 Everman
Jamarion Carroll WR 6'1 180 Wichita Fallas Hirschi
Braeden Flowers DL 6'3 250 San Antonio Central Catholic
Reagan Gill OT 6'5 315 Jersey Village
Lonnie Johnson TE 6'3 205 Keller Timber Creek
Alex Kilgore LB 6'1 215 Katy Paetow
Jaxson Lavender WR 5'9 165 Lovejoy
Keldric Luster QB 5'10 225 McKinney
Brandon Miyazono LB 6'1 205 Frisco
Adam Moore TE 6'2 220 Miami Northwestern (Fla.)
Abdul Muhammad DB 5'9 190 South Oak Cliff
Randy Reece WR 5'9 175 South Oak Cliff
Tripp Riordan TE 6'4 245 Frisco Wakeland
Sean Scott OL 6'7 265 West Ranch (Cali.)
Lamodrick Spencer DB 6'1 175 Duncanville
Daemian Wimberly DL 6'4 245 Vandegrift
Alex Woods OL 6'5 275 Treasure Coast (Fla.)
Transfers (247Sports Rank: 11th)
Player Pos. Ht. Wt. Previous school
Romello Brinson WR 6'2 185 Miami (FL)
Kyron Chambers CB 6'0 195 TCU
Jakai Clark OL 6'3 305 Miami (FL)
Jaelyn Davis-Robinson DB 5'11 175 LSU
Micah Hilts TE 6'5 200 Texas State
Jordan Hudson WR 6'1 190 TCU
Caleb Johnson OT 6'7 295 Notre Dame
LJ Johnson RB 5'10 205 Texas A&M
Jaylan Knighton RB 5'10 190 Miami (FL)
Jonathan McGill DB 5'9 175 Stanford
Chris Megginson DB 6'0 180 Liberty
Jordan Miller DL 6'4 320 Miami (FL)
Keyshon Mills CB 6'0 190 Colorado
Alex Padilla QB 6'1 190 Iowa
Logan Parr OL 6'4 300 Texas
Elijah Roberts DL 6'4 275 Miami (FL)
Cam Robertson Edge 6'4 230 North Texas
Cale Sanders DB 5'10 170 Fresno State
Key'Shawn Smith WR 6'1 180 Miami (FL)
Ahmad Walker LB 6'0 215 Liberty
Kobe Wilson LB 6'0 220 Temple
Hyrin White OL 6'7 290 Missouri
PJ Williams OL 6'4 285 Texas A&M
Charles Woods DB 6'1 175 West Virginia
Five Key Losses
Player Pos.
Rashee Rice WR
Tanner Mordecai QB
Jimmy Phillips LB
Isaac Slade-Matautia LB
Nick Roberts S
This article is available to our Digital Subscribers.
Click "Subscribe Now" to see a list of subscription offers.
Already a Subscriber? Sign In to access this content.