Step-by-step, the Owls are improving — is a conference change what sparks a leap?
The first five years of the Mike Bloomgren era at Rice were defined by small steps forward. Take away the COVID-shortened 2020 campaign and the Owls increased their win total by one each year from 2018 through 2022. Thanks to a high APR score last season, the five-win Owls reached a bowl game for the first time since 2014.
The next step in the evolution of the program requires a giant leap. The Owls are moving from Conference USA to the American Athletic Conference alongside in-state rivals North Texas and UTSA. Rice feels ready thanks to a roster that is 100 percent composed of players Bloomgren and his staff signed.
"It's fun to have toys to play with," Bloomgren said. "The old adage of making chicken salad out of chicken shit is a hard recipe. We've got good players that we're putting in good positions. The next part is to improve the depth and get everyone on the roster ready to play a role on Saturdays in the fall."
Bloomgren sees the challenges ahead as an opportunity. The Owls open with non-conference games against Texas and Houston. The inaugural AAC slate includes games against conference favorites Tulane, SMU, and UTSA. The road back to a bowl bid isn't without potholes. But that's not something a program that brands itself as "intellectual brutality" concerns itself with. They're too smart to worry about the uncontrollable.
"We're jumping up a level, there is no question, but we took a lot of steps forward last year and that should continue this year," Bloomgren said. "If we can take away the turnovers, do we win two or three more games last year? With the growth at other places, if we can hold onto the freaking ball, we'll be a really good team."
No FBS team has started more quarterbacks since the start of 2018 than Bloomgren's Owls. Injuries and inconsistencies at the position handicapped Rice. The quarterbacks combined to throw 20 interceptions in 2022. That shouldn't be an issue in 2023 with the addition of former five-star recruit JT Daniels. Bloomgren, who was at Stanford when Daniels was a local star in high school, first offered his new quarterback when the West Virginia transfer was in ninth grade.
"We've started a lot of quarterbacks in my tenure, and I sure hope we don't this year because this kid is remarkable," Bloomgren said about his new quarterback. "He's mature. He's obsessed with football. His preparation and approach to football rubs off on the rest of the guys."
A balanced offense is exactly what Bloomgren craves. His best teams at Stanford thrived on play-action and the run game. The pieces are there for an explosive offense, especially with the return of wide receivers Luke McCaffrey and Bradley Rozner. The running back and offensive line groups are also filled with experience.
Bloomgren secured help in the coaching ranks to help improve the defense. He hired Galena Park North Shore head coach Jon Kay to lead the linebacker room. Former college head coach Derek Mason also joined as a defensive consultant.
"He's had some uncomfortable conversations with me and challenged me on some things, and that is awesome," Bloomgren said about Mason. "He's helping us pare our defense down to be simpler because missed assignments are what killed us last year."
DCTF'S TAKE
Fixing the quarterback position was atop Rice's priority list this offseason and, at least on paper, the arrival of JT Daniels solves that riddle. The Owls are more talented than they've been in nearly a decade. The skill positions on offense are explosive, the secondary should be improved, and Josh Pearcy is a legit pass-rushing weapon off the edge. Still, a jump up in competition means a tough path to bowl eligibility and a winning record.
OFFENSIVE BREAKDOWN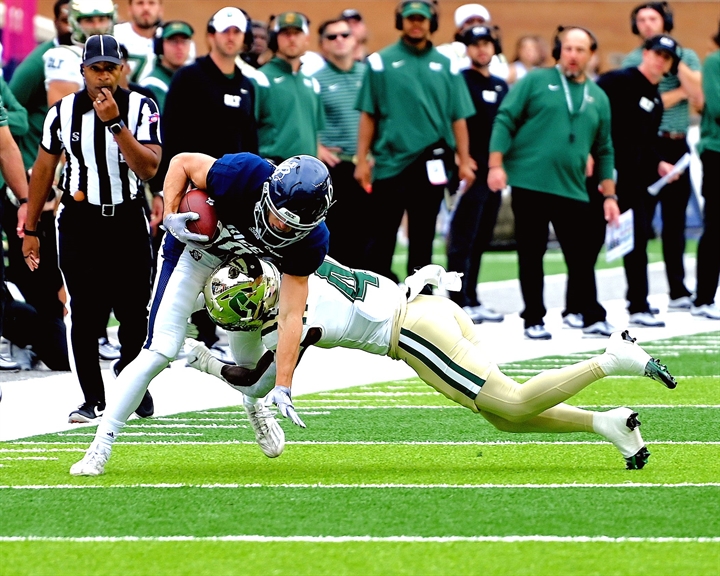 The weapons are in place for Rice — now, have they found their long-elusive quarterback?
Ask Rice head coach Mike Bloomgren about his quarterback position heading into 2023 and his face lights up with unmistakable joy. He finally has West Virginia transfer JT Daniels in his program, and hopes he'll put a stop to the revolving door at the position; no FBS program in the country has started more quarterbacks than the Owls since Bloomgren took over.
"I've recruited the kid since he was a ninth grader," Bloomgren said about Daniels, who started 29 times across stops at USC, Georgia, and West Virginia. "He's in the building all day like he's a coach. That's forced everyone to commit more to the program."
The wide receiver duo of Luke McCaffrey and Bradley Rozner return to help Daniels adjust to life in Space City. A healthy Cedric Patterson III bolsters the room. Slot receivers Kobie Campbell and former FCS standout Tyson Thompson are potential playmakers for offensive coordinator Marques Tuiasosopo. UCLA transfer Matt Sykes provides the team with another big body on the outside.
Tight end is an important position in the Owls' offense. Jack Bradley is a multiple-year starter who Bloomgren says is ready to take the next step as a pass catcher, especially in the red zone. Junior Boden Groen, a California native like Daniels, had a big spring and formed an instant connection with his new quarterback.
Running back Dean Connors ran a team-best laser-timed 4.44 in the spring. Expect the Hawaii native's role to grow as a junior in his second year on campus. Juma Otoviano was a bright spot in spring camp and is poised to be a breakout star after averaging 5.7 yards per carry on 71 attempts last season. Ari Broussard also returns. Fullbacks Micah Barnett and Geron Hargon should also be featured in the pro-style attack.
"We've got the ability to be a balanced offense," Bloomgren said. "When we've been good at my stops, that's what we've done. We have a quarterback who can take advantage of a defense with play-action when defenses get too close to our line of scrimmage."
The biggest hole to fill on the offensive side of the football is at center where Shea Baker played over 3,600 snaps in a storied career for the Owls. Junior Braedon Nutter is tasked with replacing Baker as the quarterback of the offensive line, and Bloomgren admits that there were a few failed exchanges during live practice in the spring.
The good news is that left tackle Clay Servin and right tackle Ethan Onianwa return. John Long, Lavel Dumont, and Brant Banks are in the mix at guard.
OFFENSIVE MVP
WR Luke McCaffrey: A former quarterback, McCaffrey led the team in receptions during his first season as a wide receiver.
KEEP AN EYE ON
No one emerged as a lead back in 2022 for the Owls and the offense suffered. Improved quarterback play is great, but Rice wants to run the football and establish the brand of "intellectual brutality." Last year's leading rusher Cam Montgomery is gone. No player on the team registered 100 rushes. Redshirt senior Juma Otoviano might be on the cusp of emerging as that guy. The 5-10, 192-pound Arlington native needs more touches to prove he can handle the workload.
OFFENSIVE DEPTH CHART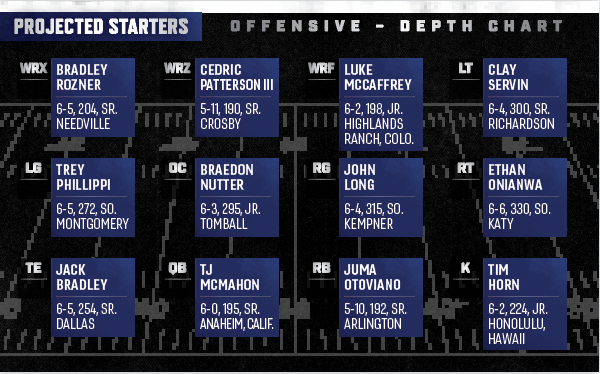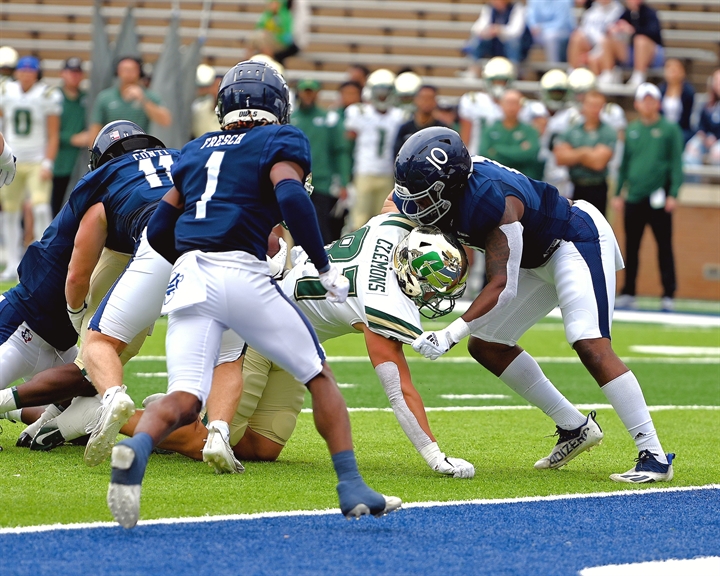 DEFENSIVE BREAKDOWN
With reinforcements on the roster and coaching staff, Owls' defense ready to fly
Rice head coach Mike Bloomgren shuffled the coaching deck on the defensive side of the football after his Owls allowed the 121st most points per game (34.2) and the 114th most plays over 20 yards (72) in 2022. There are only 131 teams in the FBS ranks.
The biggest addition might not show up on the coaching page of the Rice team website, however. An old friend of Bloomgren – Derek Mason – joined as a consultant, much like Gary Patterson did at Texas last season. Mason helped Rice pare down its defense in the spring, and even challenged Bloomgren on a few of his beliefs.
High school fans across the state will also recognize the name of Rice's new linebacker coach as Galena Park North Shore legend Jon Kay moves up to the college ranks after winning multiple Class 6A state titles not too far from the Rice campus.
Edge rusher Josh Pearcy is the star of the defense, and the junior will be the focal point of opponents thanks to the departure of defensive lineman Ikenna Enechukwu to the NFL. Pearcy led the Owls in tackles for loss and sacks last season.
"He wants the challenge of being the guy other teams are game-planning for," Bloomgren said. "He helps our secondary because we all know that pass rush and coverage work together. He can get home and be a finisher."
Colgate transfer Coleman Coco is a player with potential at defensive end. Bloomgren knows one player can't replace Enechukwu's production on the inside of the line. He'll count on a three-man rotation of Izeya Floyd, De'Braylon Carroll, and Blake Boenisch. Carroll received an offer from Rice years ago thanks to the recommendation of Kay, who faced his Duncanville squad in a state championship game.
The Owls return both starters at linebacker. Chris Conti led the team with 75 tackles in his first season on campus after transferring in from Rutgers. Junior Myron Morrison was second on the team with 73 tackles. He'll man the middle with plenty of experience. A healthy DJ Arkansas would bolster the ranks. Andrew Awe and Chibby Nwajuaku provide depth.
Cornerback might be the strength of the defense with Lamont Narcisse and Sean Fresch returning. Jordan Dunbar can play multiple spots. The equation at safety isn't as solvable and the Owls might dip into the transfer portal this summer to add more bodies to help returning starter Gabe Taylor. Marcus Williams and Plae Wyatt hope to earn starting spots. Former wide receiver Peyton Stevenson moved to safety in the spring.
DEFENSIVE MVP
DE
@mccaffrey_luke
: Pearcy led the Owls with 10 tackles for loss and 6.5 sacks. He's the star of the defense now that Ikenna Enechukwu is off to the NFL.
KEEP AN EYE ON
Once a strength of the program, Rice's special team units have faltered over the last few years. They'll need to be excellent in the third phase of the game to help win close games. Bloomgren reached into his past to hire former Stanford assistant Pete Alamar as special teams coordinator and associate head coach. In 2022, Stanford kicker Joshua Karty was a finalist for the Lou Groza Award.
DEFENSIVE DEPTH CHART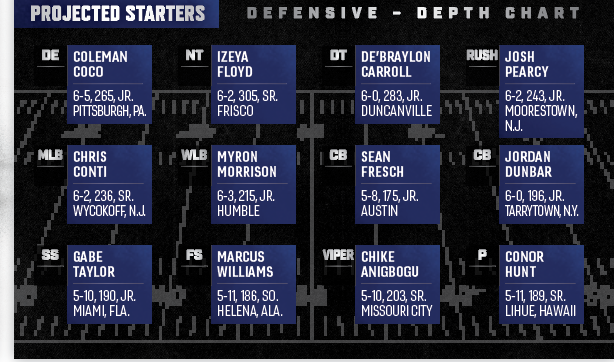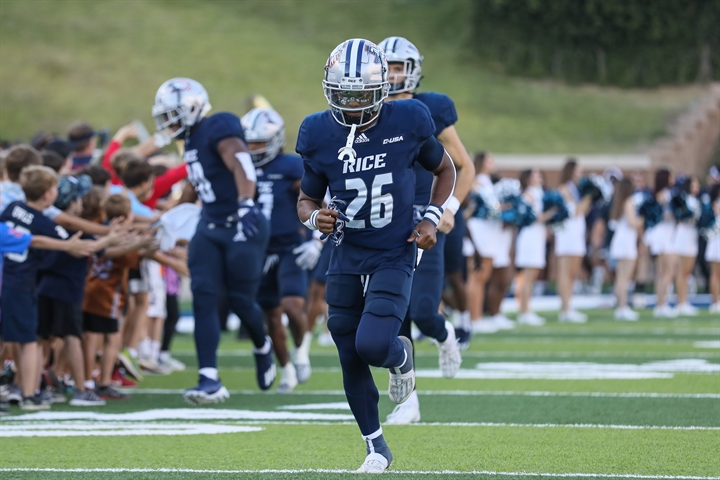 PLAYER SPOTLIGHT: GABE TAYLOR
Rice safety Gabe Taylor didn't receive much recruiting attention on the gridiron despite a famous last name. The 5-10, 190-pound junior shelved football for basketball after his first three years at Gulliver Prep in Miami. That doesn't mean he's given up basketball, at least not completely. After all, he was nominated for the 2020 McDonald's All-American Game, even recording a quadruple double as a prep player.
"I'm a hooper so I'd average at least 20 points if I played college basketball at Rice," Taylor said. "My teammates would say I'm the best basketball player on the team, so I might as well just say me."
Taylor returned to the football field as a senior, playing his home games on the field named after his late, great brother Sean. He became the highest-rated recruit signed by the Owls in the 247 era after picking off 10 passes and returning five of those for touchdowns as a senior. But that didn't mean he had a lot of choices.
"I wasn't focused on football, so I wasn't going on visits or returning a bunch of phone calls and texts," Taylor remembered. "When it came down to picking a school, it was down to Rice or Coastal Carolina."
Taylor wears No. 26 for the Owls, but he wore 21 early in his life to honor his brother. Sean was an All-American at Miami and a Pro Bowler in the NFL en route to the Hall of Fame before he was murdered in a home invasion in 2007. Gabe wasn't even in elementary school yet when it happened, but he still carries around the giant expectations of his older brother's shadow.
"I live with it every day and I carry myself to a high standard to live up to those expectations," Gabe said. "There is always good and bad that comes with things. He left a tremendous legacy."
Gabe started building his own legacy at Rice in 2021 when he led the team with 44 unassisted tackles and was second on the team with three interceptions. He was third on the team with 60 tackles last year, recording team-highs with two interceptions and two forced fumbles. He enters 2023 as the unquestioned leader of the safety group.
"We're starting to see him build his own reputation," Rice head coach Mike Bloomgren said. "His instincts are real. It is in his DNA."
2023 AT A GLANCE
Reaching six wins and bowl eligibility is always a challenge for Rice based on difficult non-conference games to start the year. The Owls begin 2023 with a trip to Texas in Week 1 and a home game against Houston in Week 2. A three-week span starting Oct. 28 against Tulane, SMU, and UTSA could derail any momentum. The final two games are winnable against Charlotte and FAU.
PREDICTIONS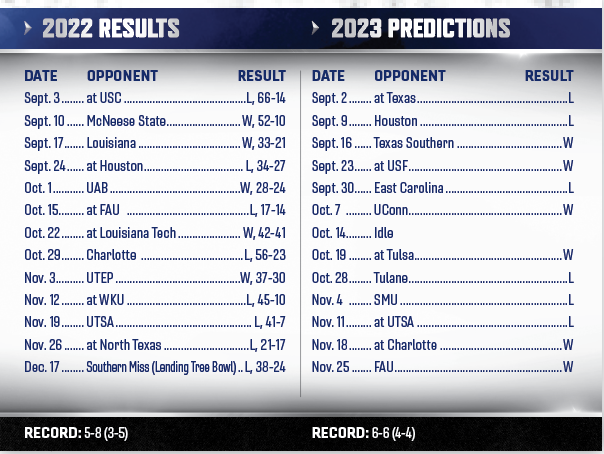 RECRUITING BREAKDOWN
The Expert's Take with DCTF Recruiting Analyst Greg Powers
The Owls signed an excellent recruiting class, finishing with their highest ranking in the recruiting website era. The program has done a great job of making a Rice offer mean something special, and it resonates with student-athletes. The class includes former five-star quarterback JT Daniels, whose decision to play at Rice made national headlines. Additionally, two experienced offensive linemen were brought in to protect him.
3 KEY ADDITIONS:
QB JT Daniels
The former five-star quarterback comes to Rice with plenty of college experience, having spent time at USC, Georgia and West Virginia. He's an experienced quarterback with NFL potential.
OL Lavel Dumont
Dumont is a graduate transfer with plenty of playing experience, and he was a three-star when he signed with Toledo in the Class of 2018. If he can stay healthy, he projects as an integral piece of the offense.
S Ty Morris
Morris is the Owls' most highly decorated prep recruit in the 2023 class. His ability to patrol from sideline to sideline and deliver booming hits will help him see the field early at the 'Viper' position in Brian Smith's defensive scheme.
UNDER THE RADAR
OL Brant Banks
The former three-star from Westbury Christian returns home for his final year of college ball. Banks is an experienced blocker who played in 26 games at Nebraska, where he was the 14th true freshman in school history to play on the offensive line when he made his debut in 2019.
WR Drayden Dickmann
Speed is the name of Dickmann's game, and he has plenty of it, as his 10.43 100-meter dash at the Texas Relays confirms. His speed also translates into production. Dickmann caught 79 passes for 1,299 yards and 13 touchdowns as a senior. More people should be talking about him, and they might be soon enough.
2023 RICE RECRUITING
High school/Junior College (247Sports Rank: 87th)
Player Pos. Ht. Wt. Previous School
Daelen Alexander RB 5'9 200 Pflugerville Weiss
Beau Barton LB 6'2 200 Van
Nate Bledsoe OL 6'4 285 Briarcrest Christian (Tenn.)
Jordan Campbell DL 6'3 240 Nassau C.C.
Jamarion Clark CB 6'0 160 South Oak Cliff
Chris Clark DL 6'2 250 Houston Furr
Drayden Dickmann WR 5'11 170 Georgetown
James Falk TE 6'6 235 Haverford School (Penn.)
Peyton Farmer OL 6'6 265 Fort Bend Ridge Point
Wyatt Freeman LS 5'10 200 Naval Academy Prep
Phillip Gallegos OL 6'6 300 Somerset
Chase Jenkins QB 6'0 185 Alief Taylor
Reese Keeney P 5'11 175 Farragut (Tenn.)
Ty Morris DB 6'1 195 Spring DeKaney
Joseph Mutombo DL 6'5 240 Keller Central
Luke Needham OL 6'5 300 Houston (Tenn.)
Ashton Ojiaku DB 6'0 195 Foster
Hudson Perroni OL 6'4 280 Houston Stratford
Ethan Powell TE 6'5 215 Southwestern College
Landon Ransom WR 6'0 170 Byron Nelson
AJ Stephens DB 5'11 175 Aldine MacArthur
Patrick Valent OL 6'4 290 Warren Kennedy (Ohio)
Justin Williams WR 6'3 180 Aldine MacArthur
Transfers (247Sports Rank: 98th)
Player Pos. Ht. Wt. Previous School
Brant Banks OL 6'7 300 Nebraska
Coleman Coco DL 6'5 265 Colgate
JT Daniels QB 6'3 210 West Virginia
Lavel Dumont OL 6'4 315 Toledo
Jerry Johnson III RB 6'1 240 Texas A&M
Matt Sykes WR 6'4 200 UCLA
Five Key Losses
Player Pos.
Ikenna Enechukwu DL
Shea Baker C
George Nyakwol S
Treshawn Chamberlain S
Aiden Siano LB
This article is available to our Digital Subscribers.
Click "Subscribe Now" to see a list of subscription offers.
Already a Subscriber? Sign In to access this content.