The Mean Green Morris era kicks off — just one of the many changes in Denton.
Change was the only constant for the North Texas athletic department as 2022 rolled into 2023.
The Mean Green hired Jared Mosley to replace Wren Baker as athletic director while relieving head coach Seth Littrell of his duties following a trip to the Conference USA championship. He was replaced by former Incarnate Word head coach and Washington State offensive coordinator Eric Morris.
The school also enters the 2023-24 athletic calendar with a new men's and women's basketball coach. Oh, and North Texas is ditching C-USA for the greener pastures of the American Athletic Conference.
Morris inherits a squad that went 7-7 in 2022 and that's reached a bowl game in six out of the last seven years despite a 21-28 record over the last four seasons. With the playoff expanding to 12 teams in 2024 with an automatic spot for the top G5 team, the Mean Green feel poised to compete thanks to location, resources, and a fresh face in charge of the football program.
"We're trying to win the American," starting safety Logan Wilson said. "That and a bowl game. I know we're stepping into a new conference, but I think we'll surprise some people."
Morris knows how to elevate a program. He took over an Incarnate Word program that started in 2009 and was 30-67 prior to his arrival in 2018. The Cardinals went 14-22 in his first three years before a 10-3 record and a postseason run catapulted the former Texas Tech wide receiver to the offensive coordinator job at Washington State.
Incarnate Word went 12-2 last year and made it all the way to the FCS semifinals with a roster mostly constructed by Morris and his staff. UIW was one of the worst college football jobs in the Lone Star State prior to Morris. It is now one of the best at the non-FBS level thanks to him.
North Texas is in a much better starting position. Morris was forced to help with laundry, nutrition, and field maintenance while at UIW. In Denton, he has a full staff on and off the field with great facilities and an administration firmly behind the team.
"There's almost too much help here," Morris joked. "It is important for me to make sure everyone is working towards the same goal. I divvy out the roles and trust them to do that job. My job is to get the most out of everybody."
Morris can't tell the future. He doesn't know how many wins the Mean Green secure in Year 1. He doesn't know if North Texas is a conference contender, or how long it'll take to get there. What he does know is that his current squad is bought in to the new messaging brought in by his coaching staff. He can tell by how consistently his program does the little stuff.
"Buy in is measured by the details," Morris explained. "Be on time. Go to class. Don't miss rehab or the weight room. Those are all things within our control and this team is taking that to heart."
It's a start. The road ahead is challenging. The AAC is a jump forward and the Mean Green must navigate a schedule that includes Memphis, SMU, UTSA, and Tulane in a four-week span starting in late October.
DCTF'S TAKE
Success in Eric Morris' first year at North Texas hinges on quarterback play. The Mean Green rotated through four different options throughout spring ball, and that competition likely rolls into the fall. Depth at the skill positions and at every spot except linebacker on defense provides hope of a smooth transition into a new conference under a new regime. Depth along the offensive line, especially at the tackle positions, is cause for some concern. Morris' offensive acumen might conceal a few of those blemishes.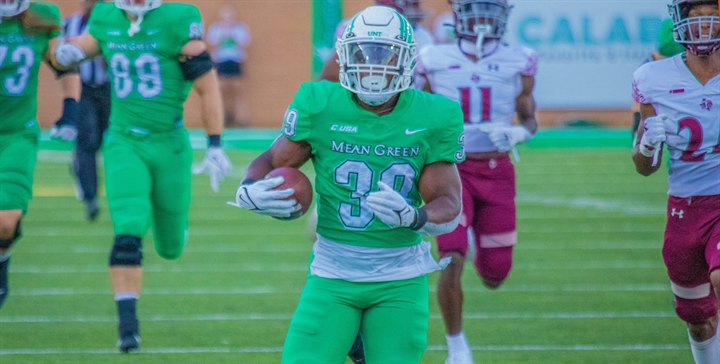 OFFENSIVE BREAKDOWN
Sound the Alarm: The Air Raid is coming to Denton, and there's weaponry to make it work.
New head coach Eric Morris brings an updated version of the Air-Raid and a reputation as getting the most out of his quarterback to Denton, America. That's good news because the quarterback position might be the biggest question mark on the entire team after an up-and-down spring session.
The duo of the returning Jace Ruder and Louisiana-Monroe transfer Chandler Rogers battled all spring alongside JD Head and Stone Earle. Ruder spent three seasons at North Carolina prior to joining the Mean Green in 2021. He lost the quarterback battle to Austin Aune that season and served as the primary backup in 2022.
Rogers, a Mansfield native, returned to Texas after two seasons in the Sun Belt where he started 18 times and threw for 3,704 yards and 24 touchdowns to just 10 interceptions. He's also a solid runner, and that skill was hidden during spring practices.
"We put a lot on our quarterback operationally," Morris said. "We need to protect the ball better. Turned the ball over more times than I'd like in the spring."
The starting quarterback won't lack receiving options. Roderic Burns returns after leading the Mean Green with 40 catches and 676 receiving yards. Morris is excited about the skill sets of Ja'Mori Maclin and Kaylon Horton. The 6-foot-4 Trey Cleveland transferred in from Texas Tech after spending four seasons in Lubbock. Tommy Bush is also an option if the former four-star recruit who began his career at Georgia can stay healthy.
"Top to bottom, there are eight guys I'm comfortable putting out there," Morris said. "That breeds competition. If you play hard and perform during the week, you'll get plenty of touches."
North Texas has built a reputation as one of the best rushing teams in Conference USA and Morris won't abandon the ground game thanks to a stable of experienced running backs. The Mean Green field five players with extensive experience and success, including Ayo Adeyi, Ikaika Ragsdale, and Oscar Adaway III. Each of them logged over 100 carries in 2022. Adeyi averaged 7.2 yards a carry. Isaiah Johnson and Qualon Farrar are also options.
The group must run behind a new-look offensive line that lost over 60 starts at center with the graduation of Manase Mose. Morris likes the interior of his offensive line, especially once Arkansas State transfer center Ethan Miner arrives over the summer. Returners Gabe Blair, Febechi Nwaiwu, and Jett Duncan provide experience.
OFFENSIVE MVP:
WR Roderic Burns: Burns rose from walk-on to leading receiver during his career. He led UNT in receptions the past two seasons.
KEEP AN EYE ON
The depth along the offensive line is an issue for Morris in his first season at North Texas. He moved Jett Duncan from offensive tackle to center in the spring. The hope is that transfer Ethan Miner stabilizes that position. The concern is outside because North Texas doesn't have a ton of length. Febechi Nwaiwu moved to tackle from guard in the spring. Kaci Moreka exited spring as the left tackle. Daizion Carroll has a ton of potential.
OFFENSIVE DEPTH CHART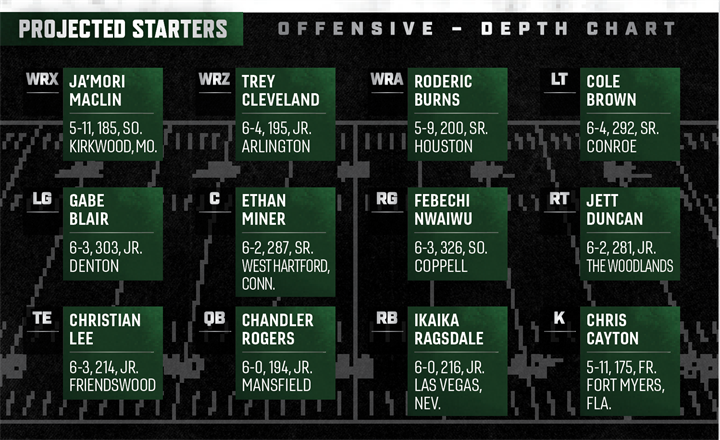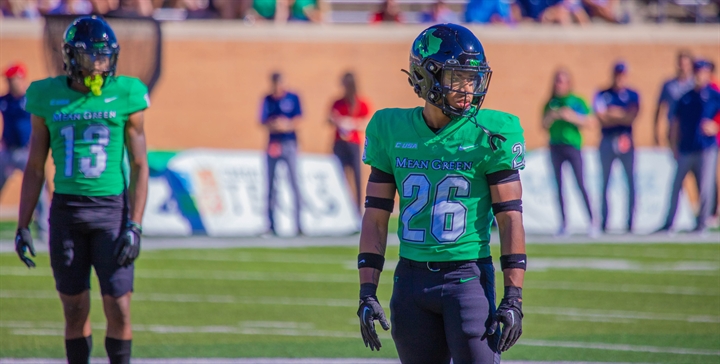 DEFENSIVE BREAKDOWN
Mean Green defense is under construction, but upside gives hope for an immediate boost.
Eric Morris hired Matt Caponi as defensive coordinator to implement the 3-3-5 made famous at Iowa State. Caponi spent the last four seasons coaching cornerbacks in Ames, and Morris has spent most of his career frustrated by that type of defense. True to form, the offensive coach hired a guy who runs a defense he hates to face.
"We wanted a defense that marries up with our offensive philosophy," Morris said. "We're going to play fast. We're going to play with tempo. Our defense is going to play a few more possessions than normal and he's okay with that."
The first job for Caponi is to replace the leadership, and production, lost at linebacker with the departing KD Davis, who left Denton as the program's leading tackler (428). His 139 tackles in 2022 were the most in Conference USA and the fifth-most nationally. Larry Nixon III, who was second on the team last year with 105 tackles, returns alongside Kevin Wood to replace Davis' production.
The defensive line is under construction as the program transitions from a four-man to an odd-man front. That requires bigger bodies. More scholarships will be used on linebackers and safeties in the future as Morris expects the team to drop from 15 or 16 scholarship defensive linemen to 10 or 11 in a process that he expects to take two years.
Defensive tackle Roderick Brown is the staple up front. He'll be flanked by Fatafehi Vailea and edge rusher Mazin Richards, who led the Mean Green with 7.5 sacks and 12.5 tackles for loss last season. He'll play more inside in the new three-man front. Richards missed the spring with injury but has added weight to help with his new demands.
"With his skillset in this defense, he'll be an elite guy for us at defensive end," Morris said about Richards. "He does everything the right way. I wish I had 20 Mazin Richards on the team because of his energy and how he plays the game."
Safety Logan Wilson and cornerback Ridge Texada return to headline the secondary. Wilson recorded 50 tackles, two interceptions, and a forced fumble a year ago. Texada led the team with three interceptions and 15 pass breakups, which also led C-USA. Morris and his staff also brought in a handful of transfer and high school defensive backs to compete for starting spots and provide depth, including Taylor Starling at cornerback from South Oak Cliff and UNLV transfer Phillip Hill. John Davis was provided a medical redshirt and will return at cornerback.
DEFENSIVE MVP
CB Ridge Texada: Texada led the Mean Green with three sacks and 15 pass breakups in 2022.
KEEP AN EYE ON
All three phases of the game at North Texas are undergoing major changes, including special teams. The Mean Green lost their kicker and punter from last year. New head coach Eric Morris brought in former Texas high school coach Drew Svoboda, who was most recently at Alabama, to be the special teams coordinator. Baylor transfer Noah Rauschenberg is expected to take over the place-kicking duties if he can beat out Chris Cayton. Sawyer Evans is penciled in as the starting punter.
DEFENSIVE DEPTH CHART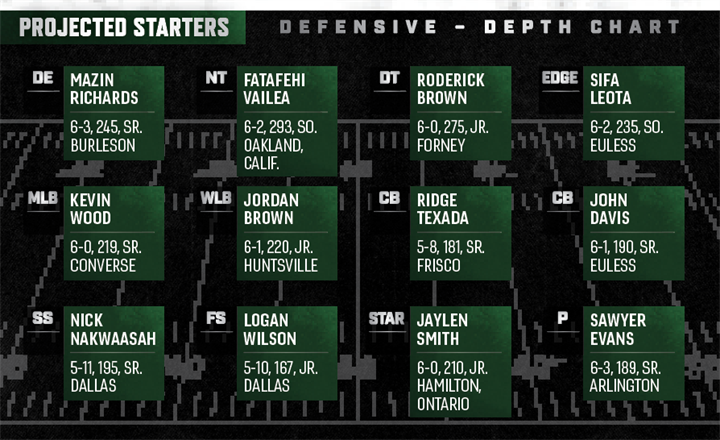 PLAYER SPOTLIGHT: AYO ADEYI
It is not often that an FBS running back who averaged 7.2 yards per rush and led his team in rushing must debate with his family over who the best current athlete is in the family. But that's life for North Texas running back Ayo Adeyi.
The sophomore from Mansfield Legacy has two brothers who also play college football. His older brother, Ife, is an All-WAC wide receiver at Sam Houston, and his younger brother, Ore, is a linebacker at Northwestern who's played in 12 games over two seasons in the Big 10.
"We're a very competitive family," Ayo said. "We have a big backyard, so we did 1-on-1s every weekend and every morning. It got physical some days. I don't want to say who won most of them, but it was a lot of fun and it made us all better as athletes."
The competition didn't dissolve when the three brothers moved away from home and stopped practicing against each other in the family's backyard. If Ife scores a receiving touchdown at Sam Houston, Ayo wants to score two at North Texas. Ayo says he's the best athlete in the family because, "I can do what they can do, but I don't think they could get in the backfield and take those hits like me."
The only people the competition puts a strain on is their parents. Ayo says that his mom and dad are never home on the weekends during football season. They rotate trips between Huntsville, Denton, and Chicago in hopes of watching their boys as much as possible until their playing days are over.
"God bless my parents," Ayo said. "They raised us right."
Ayo spent the 2020 season at Division II Harding University in Arkansas before transferring to North Texas prior to the 2021 season. He was named to the C-USA All-Freshman Team in 2021 when he rushed for 496 yards and six touchdowns in 10 games. He led the program with 807 yards rushing last year, finishing seventh in Division I with 7.2 yards a carry. He occupies a loaded backfield in Denton that includes multiple players who've rushed for over 1,000 yards in their career.
"There is no fall off in our running back room," he said. "We don't miss a beat no matter who is on the field. It pushes you to keep your spot."
2023 AT A GLANCE
North Texas must take advantage of opportunities early in the season to reach bowl eligibility in Eric Morris' first season. The Week 1 home game against Cal is followed by five winnable contests. The Mean Green then face a four-week window with matchups against Tulane, Memphis, UTSA, and SMU. Games against Tulsa and UAB to end the regular season could determine success in the first year as AAC members.
PREDICTIONS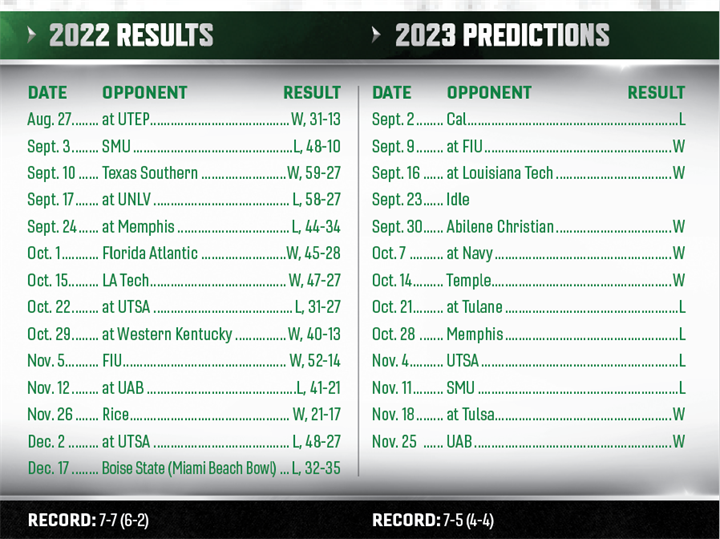 RECRUITING BREAKDOWN
The Expert's Take with DCTF Recruiting Analyst Greg Powers
North Texas took a cautious approach to new roster additions with a coaching change late in the cycle. Still, it did pull in some significant commitments down the stretch, signaling that Eric Morris and his staff will be aggressive. Look for UNT to be more active in recruiting the state's top-rated players, as early relationships are essential in the Transfer Portal era.
3 KEY ADDITIONS:
S Jayven Anderson
North Texas landed one of its highest-rated prospects in recent memory with Anderson, a hybrid outside linebacker/safety. He gained invaluable experience at North Shore against top-level competition.
WR Trey Cleveland
Cleveland is a significant addition to the offense. He steps on campus after a productive year at Texas Tech. He had 22 receptions for 344 yards and played 433 offensive snaps—a true outside receiver with the size and vertical playmaking ability.
OL Paula Vaipulu
Vaipulu is an interior offensive lineman who plays with passion on every snap; he possesses a real mean streak. He's sustained success at the Power Five level at Georgia Tech, where he saw action in 18 games and earned nine starts.
UNDER THE RADAR
WR Landon Sides
Sides was often overlooked, but North Texas recognized his potential and landed a productive receiver. He excels in the deep passing game and has a variety of routes in his repertoire. Sides' natural pass-catching ability and playmaking skills could prove valuable for the Mean Green.
DB Taylor Starling
Starling helped lead South Oak Cliff to back-to-back state titles and played in a defensive secondary with multiple Power Five signings, so he was sometimes overlooked. That said, he was highly regarded in his own right, and North Texas got a steal in the versatile defender who could play safety or cornerback.
2023 NORTH TEXAS RECRUITING
High School/Junior College (247Sports Rank: 100th)
Player Pos. Ht. Wt. Previous school
Jayven Anderson DB 6'0 205 North Shore
Evan Jackson DB 5'11 170 North Shore
Kollin Lewis WR 5'11 170 Gladewater
Desmond Magiya OL 6'4 270 McKinney
Marcus Moore DL 6'1 295 The Colony
Dietrich Moore LB 6'0 205 Broken Arrow (Okla.)
Matthew Moore LB 6'2 210 Killeen Ellison
Brian Nelson DB 6'0 180 Shadow Creek
Landon Sides WR 6'0 180 Denton Guyer
Keith Smith DL 6'2 280 South Oak Cliff
Joshua Smith TE 6'2 230 College of the Canyons
Isaac Sohn OL 6'5 280 Aledo
Taylor Starling DB 5'11 170 South Oak Cliff
Transfers (247Sports Rank: 98th)
Player Pos. Ht. Wt. Previous school
Trey Cleveland WR 6'3 175 Texas Tech
Blair Conwright WR 5'10 176 TCU
Phillip Hill DB 6'0 185 UNLV
Ethan Miner OL 6'3 285 Arkansas State
Larry Moore OL 6'5 275 Texas Tech
Noah Rauschenberg K 6'2 185 Baylor
Chandler Rogers QB 6'0 195 ULM
Paula Vaipulu OL 6'3 305 Georgia Tech
Damon Youngblood DB 5'10 180 Louisiana
Five Key Losses
Player Pos.
KD Davis LB
Austin Aune QB
Var'Keyes Gumms TE
Larry Nixon III LB
Jyaire Shorter WR
This article is available to our Digital Subscribers.
Click "Subscribe Now" to see a list of subscription offers.
Already a Subscriber? Sign In to access this content.