DeSoto 2024 CB Mario Buford (6'0, 170) is still riding a high following the Eagles' 6A Division II state title win at AT&T Stadium.
"When we came back from the state tile game to the city, it was like everyone was in love with us," Buford said. "The whole city was definitely turnt up."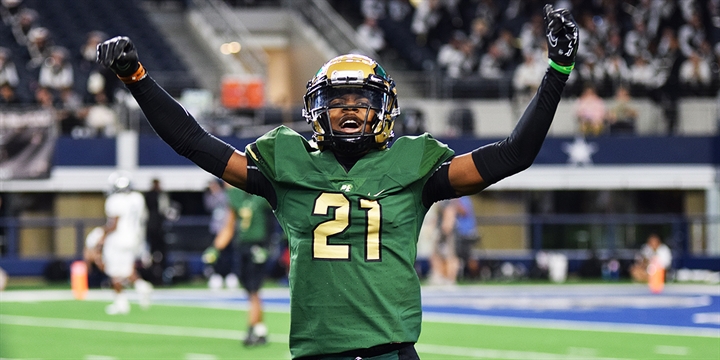 On the recruiting front, Buford has over 20 scholarship offers and has yet to release a favorites list, so we specifically asked him about Penn State, Michigan State, Nebraska, Washington and Oregon.
Penn State: "They're actually my latest offer. Since I've gotten the offer, I have got to speak to a lot of the coaching staff. The atmosphere and the fans, they really love Penn State."
Michigan State: "I am trying to get out there to their spring game. They are all really cool and they definitely want to win."
Nebraska: "With Nebraska, since my freshman year, Nebraska has been recruiting me the hardest out of any school. Mainly, because my brother (Marques Buford) is the starting safety there."
Washington: "Washington is definitely a great school for DBs to get developed and make it to the next level, which is where I want to be."
Oregon: "Oregon for me, as a defensive player. Dan Lanning. He literally just won a natty at Georgia as the defensive coordinator and he is the head coach at Oregon."
In His Words - DeSoto CB Mario Buford:
This article is available to our Digital Subscribers.
Click "Subscribe Now" to see a list of subscription offers.
Already a Subscriber? Sign In to access this content.