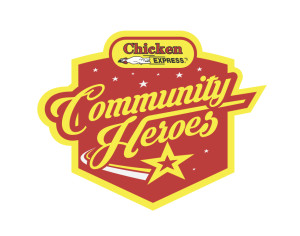 Chicken Express and Dave Campbell's Texas Football are partnering to honor the heroes in your community. Male and female student-athletes that lead by example on the field of play and in the classroom can be honored as Chicken Express Community Heroes and receive scholarship money to continue their education beyond high school. Athletes can be nominated at TexasFootball.com/ChickenExpress.
---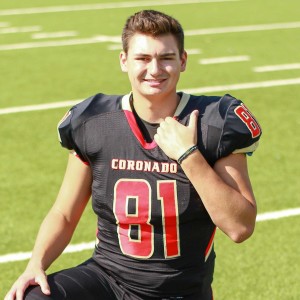 ZACH STEPP
Lubbock Coronado High School
It's probably a good thing that Zach Stepp's time at Coronado High is coming to an end – as there is no more room on the sleeves of his letter jacket to hold the patches of his numerous accomplishments.
Utilizing his 6-foot-5, 240-pound frame and precise route-running, Zach earned 1
st
Team All-District honors on the gridiron as a tight end for the Mustangs his junior and senior seasons. Instead of taking time off after the season, he followed up each of those campaigns by earning 2
nd
Team All-District honors playing forward for the Coronado basketball team.
None of this athletic success has been a surprise to current Coronado football head coach Seth Parr, who said Zach's leadership helped the coach's transition into the Coronado program after coming over from Amarillo Caprock. Coach Parr also mentioned that Zach's team-first mentality and preparation are a reflection on his upbringing.
That dedication to preparation extended into the classroom as well, where Zach's studiousness has earned him membership in the National Honor Society and 1
st
Team Academic All-State honors in both football and basketball this season.
After graduation, Zach plans to stay in Lubbock and attend Texas Tech, where he will major in Kinesiology with the intent to attend medical school. Coach Parr said that he expects that Zach will continue earning high academic marks into college, and that he has a suspicion he'll be a standout on the Tech intramural fields as well.
---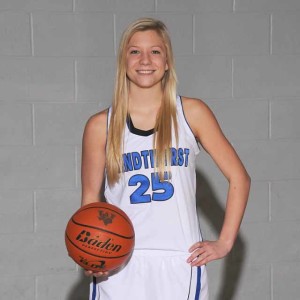 BREANN SCHREIBER
Windthorst High School
Windthorst senior Breann Schreiber has no shortage of teams to play on. During her time in Windthorst, she has participated in volleyball, basketball, track and softball. As an outside hitter in volleyball, she helped lead the team to two state tournaments, leading the team in kills and blocks this season. As a post player for the basketball team, she helped the team reach the regional tournament the last two years, three straight district titles, and was the team's third-leading scorer and leading rebounder this season. On the track, she's a hurdler — qualifying for the regionals in the 100-meter hurdles the past three years — and a triple-jumper. And in softball, she played first base for a regional finalist.
But Schreiber is more than just a multi-sport star; she's also a star in the classroom and community. She was named to the TABC and TGCA academic all-state teams. She is an active member of her local church and helps others out as much as she can. Breann's coach in three sports, Heather Starks, believes that Breann's involvement in the community and leadership make her a standout at Windthorst.
Schreiber intends to play volleyball for Midland College.
This article is available to our Digital Subscribers.
Click "Subscribe Now" to see a list of subscription offers.
Already a Subscriber? Sign In to access this content.