This story is published in the 2018 summer edition of Dave Campbell's Texas Football.
•••
Marathon, Texas, is not a ghost town.
That's a common misconception about this part of the world, the Big Bend of Texas. And to be fair, there are some bona fide ghost towns out this way, like Terlingua and Castolon, long abandoned outposts surrounding Big Bend National Park, one of the nation's least-visited such protectorate.
Marathon is not a ghost town, because Marathon is very much alive for the 430-or-so people that call this isolated place— at the junction of US-90 and US-385, about 30 miles east of Alpine — home. There's the public library, a humble structure open five hours a day, five days a week that boasts "INTERNET" on its sign. There's the Gage Hotel, standing where it's stood since 1927, famous for its West Texas luxury from a bygone era.
But that's not to say there aren't ghosts here. Head to the northern edge of this tiny town, at the corner of Avenue D and 7th Street. Stand on this patch of long-browned grass, under the shadow of these ancient goalposts, gazing past the tiny worn grandstands toward the Glass Mountains to the north. The past will find you.
"When you walk on that field, you can feel it," said Jeff Caffey, now the defensive coordinator for the Class 3A Slaton Tigers. "You can feel it in the locker room. It was a very special and unique place."
There's no plaque or statue or even a sign marking this field — an unmarked grave in the desert. But here lie the Marathon Mustangs, Texas high school football's lost dynasty.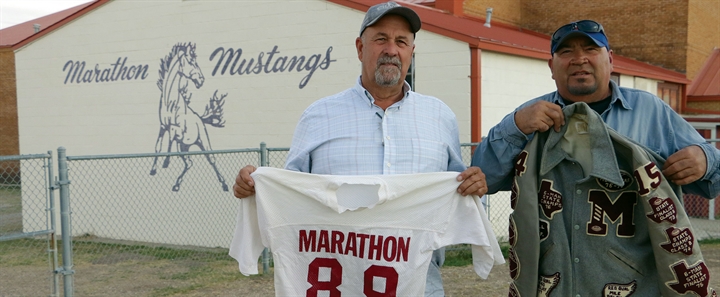 Nobody comes to Marathon by accident.
Walk around town and you'll quickly discover that everyone has a story of how — and why — they landed in this speck on a map in an unremembered part of the Texas landscape.
Ben Ramirez, Cary Shackelford and Vance Jones all arrived here in 1960. Jones came here in 1960, at the age of 14, when his father took the job as Marathon superintendent.
"It was a wonderful place to grow up," Jones recalled. "I'm thankful that my parents moved there because the people are so warm and caring. And I got a great foundation for what I wanted to do in my life."
Ramirez and Shackelford were born that year and raised here, just like their parents.
"We didn't have much radio, and we didn't keep up with the times very well, because we were always behind on the movies," Shackelford remembers. "But we made our own fun and we had a great time. I'd go back there anytime."
For all three, the experience of growing up in a tiny town in the Big Bend of Texas was similar — bike rides to the swimming hole south of town, exploration of the vast frontier that surrounds the town, and football.
For a long time, football was just something that happened in Marathon, as it does in countless other towns across the state. The town would gather at that tiny stadium at Avenue D and 7th Street — right next to the school — on a few Friday nights a year and watch the local six-man football team. There was a district title scattered hither and yon, maybe a playoff win, but the Marathon Mustangs were largely categorized as Just Another Texas High School Football Team.
For Jones, though, the move to Marathon meant much more than a new town.
"We'd lived in Alpine the last three years, so I started playing football in sixth grade at Alpine, playing 11-man," Jones said. "So moving to Marathon and learning to play six-man was awesome. I got to really grow as an athlete there."
So, too, did the Marathon program grow in the early '60s. Jones' senior season in 1964 snapped a five-year drought of losing seasons for the Mustangs, which is the kind of accomplishment that resonates in a town of, at that time, about 500 residents.
"So I look back and think, well, we helped kind of get things rolling that took place after that," Jones said.

Paul Pasqua's name already had plenty of gravitas in the Big Bend region before 1966.
Originally from Dallas, Pasqua was a two-sport superstar at Sul Ross State in Alpine – in football, he earned both offensive and defensive player of the year honors in the Lone Star Conference in 1963 and 1964, and set the school record for longest field goal at 42 yards; in baseball, he led the Lobos' team in batting three consecutive seasons.
After finishing up his master's degree in 1966, Pasqua made his way 30 miles east on US-90 to Marathon. He immediately won over the community on the field, guiding the Mustangs to an 8-2-1 record and their first district championship since 1959.
That was the beginning of one of the most remarkable stretches in Texas high school football history, and in many respects, numbers don't do it justice. From 1967 to 1976, the Mustangs amassed a staggering 100-6 record, highlighted by a 42-game winning streak that stretched from October 1968 until November 1971.
The trophy case at Marathon High School quickly began to swell. Six-man football did not recognize a state champion until 1972, but the Mustangs took home the regional championship — the highest honor attainable — for the first time in 1968, and then again in 1969 and 1970. Six-man football historians believe that Marathon would've been favored to win a hypothetical state championship in at least two of those three years.
The blistering success on the gridiron — the kind that made people from all across the region, from as far as Pecos and Van Horn, make the drive to watch the Mustangs — transformed the town and the lives of those playing.
"It was unreal. We were like celebrities," said Ramirez, who starred for the team from 1973-76. "The whole town would shut down on Friday night. The fans would rent charter buses to travel to our games. Of course, they would take the charter bus, but we would have to take the old school bus."
It didn't matter who was at the controls, either: the Mustangs saw four coaching changes during that time, including two different stints for Pasqua from 1966-67 and 1972-74. Whoever was coaching, the results were the same — wins, and lots of them.
After the UIL finally sanctioned a six-man state championship in 1972, the Mustangs' dominance was able to take another, bigger step. Marathon went to five straight state championships from 1973 to 1977, winning two of them. To this day, Marathon remains one of just six programs to make five consecutive title games, a list that includes old-school powers like Waco High and modern-day dynasties like Lake Travis and Southlake Carroll.
But for all the success over the course of a decade, the Marathon legacy can be boiled down to 1976 — the most remarkable season in Texas high school football history.

After a playing career at Tarleton State, Vance Jones got into coaching, taking his first gig as an assistant at Millsap. Soon enough, though, his hometown came calling. They needed a football coach.
"My parents had already moved by that time, so I didn't have any relatives there," Jones recalled with a chuckle. "It's hard to come back as a young coach to your hometown because of all the relatives."
It was the summer of 1975. The 29-year-old Vance Jones had his first head coaching job, inheriting a Marathon team fresh off its first state championship the year before. Jones guided the Mustangs to a third straight title game — a loss to longtime nemesis Cherokee — in his first season, then turned his eyes toward a promising 1976 campaign.
Enter the UIL.
As the state prepared for the biennial district realignment, a wrench got thrown into Marathon's plan. The UIL eliminated eight-man football, forcing teams with more than 75 students in school to play 11-man football. That didn't apply to Marathon, which remained comfortably under the 75-student threshold, but bumped many of its relatively local rivals to play with a more crowded field. This left the Mustangs even more isolated in the Texas high school football landscape.
The UIL's solution: Marathon was put into a one-team district for the first and only time in state history.
"There was nobody for us to play," Jones said. "We tried to petition to get in a district out west with Christoval, Mertzon and all of them. Of course, those teams didn't want that. They had been beaten by Marathon for so long."
The advantage of playing in your own district: you're the district champion. The problem with playing in your own district: you still have to find teams to play, and after years of dominating the area, there were few takers.
"So, the only games I could get were 11-man games," Jones said.
And so, the 1976 Marathon Mustangs — all 24 of them — played seven games against 11-man teams, putting five extra players on the field. To complicate matters even further, Marathon had to play all of its games as the visitor, as Mustang Stadium's field could not be converted to the larger 100 yards-by-50 yards dimensions necessary.
"We just wanted to play football," Ramirez, the team's star spreadback, said. "We were pretty naïve. We knew we had a great coach, and that he would get us ready."
Jones called his friend Walter Groth, a former Baylor star who passed up a contract with the New York Jets to become a rancher, to help with the linemen. Even in playing an entirely different form of football than they'd signed up for, the Mustangs found a way to utilize their strengths.
"We ran an unbalanced formation, with two tackles on one side, guard and a tight end on the other," Shackelford, a senior fullback in 1976, said. "That would be like our formation in six-man. We'd run option plays to the right side, away from the strong side."
Marathon won all seven 11-man games it played. When the playoffs rolled around, the Mustangs had played just one six-man game — a victory over Loop, whose coach had scheduled the game as a favor to his friend Jones.
The inexperience hardly mattered.
"The greatest feeling was that when we took the field, we knew we were going to win," Shackelford said. "It was an attitude we had. The goal at the beginning of the season was a state championship, not just to play well."
Marathon beat Blackwell by 45-point mercy rule in the first round. They routed Harrold in the state semifinals, despite losing their equipment on the road to the game. And in the state championship game — the team's fourth consecutive appearance — Marathon throttled previously unbeaten May, 62-16.
An undefeated season. A second state championship. And, for some, validation.
"For so long, Marathon had been winning in six-man, and so many of the schools around them didn't understand the game," Jones said. "They'd say, 'Oh, if you played real football, you wouldn't be any good'. They took this as a challenge that we can play your game just as well as we can play our own."
The Mustangs hooped and hollered their way across the Permian Basin on their five-hour bus ride home from Brownwood, the trophy riding shotgun. Marathon was the center of the six-man football world, the most dominant power in Texas high school football, and at that moment, it sure felt like it would last forever.

Karl Kitto came to Marathon as the Mustangs' head coach in 2000, opting to stay in the six-man game when the Midland Trinity program he'd just led to a state championship opted to move to 11-man ball. He'd coached against Marathon, knew a couple of people in that remote part of the world — it seemed like a good fit.
At a six-man coaching clinic that summer, he ran into Vance Jones, then the head coach at rival Sanderson down the road.
"We're real good friends, and he took me to lunch," Kitto recalled. "When I told him that I took the job at Marathon, he looked at me and said, 'Oh no. Get away from it.'"
The once-proud program was nearly unrecognizable from that iconic 1976 season.
Jones left at the end of that school year, and while the Mustangs attempted a repeat the next season — complete with a slew of 11-man contests — and made a fifth consecutive title game, it spelled the beginning of the end.
Over the course of the next two decades, Marathon went from powerhouse to also-ran to cellar-dweller. There were sparks here and there, like a 1984 run to the state semifinals, but they were now the exception. After once winning 42 consecutive games, the Mustangs won just 29 total games between 1986 and 2008.
There's no one reason for the program's precipitous decline, and it largely depends on who you ask.
For Jeff Caffey, who coached the team for a season in 2002, the burden of the past played a factor.
"That place, with that tradition that they had way back when, many of the kids I coached, their dads or uncles were the guys who won those titles," Caffey said. "The kids were outstanding, but the pressure on them at home was the biggest contender I had. They were trying too hard to chase the tradition."
For Kitto, who remained at Marathon for just a single year, it was a fundamental issue.
"It had a new coach every year for five years when I arrived," Kitto said. "It was not really organized. There was great talent, but they'd never really been taught the game."
For Ramirez, who moved his family back to his hometown after finding the big-city living of Odessa unappealing, it was the coaches themselves.
"We never did get a real coach after Mr. Jones left," Ramirez contended. "The high school never really did try to get a coach that knew anything about six-man football."
But undoubtedly, the Mustangs' biggest problem was a math one. Like so many West Texas outposts, Marathon was shrinking, and fast. After topping out in population at nearly 1,000 in the late 1960s, the town began hemorrhaging residents, a decline exacerbated by the closing of the local fluorite plant in the 1990s.
"They just didn't have any people," Kitto said. "We had 11 or 12 on the team when I was there, and we had to be very careful so that nobody got hurt."
Two years later, the situation was even direr for Caffey, who agonized through a winless season.
"Our junior high team, we played with eight kids," Caffey recalled. "That's sixth, seventh and eighth grade. Even though we went 0-10, the effort was there. We had a couple of opportunities to win, and I wanted it so bad for them, but we just didn't have the legs."
It soon became clear to the community that the football program was terminal. The Mustangs slogged through one-win seasons in 2004 and 2005, and began forfeiting games due to lack of players.
On October 19, 2007, Marathon lost to Sanderson, 64-0. The next week, the Mustangs forfeited their scheduled game with Balmorhea. They haven't taken the field since.
"It's heartbreaking," Shackelford said. "That's one of the things that kept the town together, that got everyone excited about Friday nights. It takes the heart out of the community."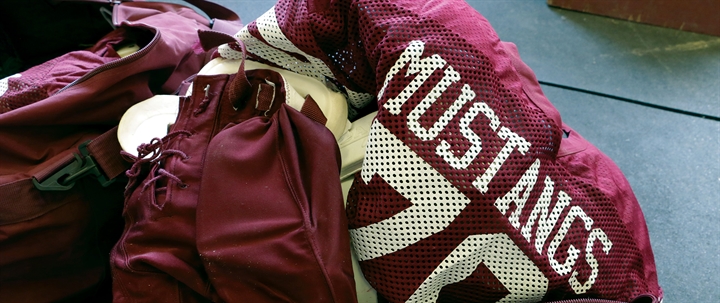 In a building on the southern edge of the long-forgotten football stadium, Lowell Bishop picks up two maroon bags.
He's the athletic director today at Marathon High School — enrollment: 14. The Mustangs have found new ways to achieve without football: it's become an early college high school, and Marathon ISD is a district-wide STEM academy. Not to mention, Bishop's track team placed four athletes — 28 percent of its student body — in the regional track meet.
He still speaks often with his friend Vance Jones, one of six-man football's godfathers, accumulating a 243-53 record over his career. After leaving Marathon, he guided Sanderson to a state runner-up finish, won consecutive championships at Garden City and, most recently, guided a once-woeful Balmorhea program to consecutive title game appearances.
Jones still gets misty-eyed thinking about his hometown, and the football team that put this tiny place on the map. But he knows that it's probably gone for good.
"I don't think they'll ever have the numbers again," Jones said. "In fact, it amazes me how they keep the doors open. I hope they do, because once you don't have a school, then the town will die."
Bishop drops the maroon bags on the cement floor with a thud. Inside are jerseys, helmets and shoulder pads, sporting the same grass stains they've had since October 19, 2007.
During a recent campus clean-up, Bishop was asked to toss out the maroon bags. He refused.
"I can't do it," he said. "There's too much in there."
This article is available to our Digital Subscribers.
Click "Subscribe Now" to see a list of subscription offers.
Already a Subscriber? Sign In to access this content.