Story written by Stephen Garcia | Lubbock Avalanche-Journal
Sonny Chavez just wanted his daughter to stop asking.
Day after day, a young and determined Aaliyah Chavez posed the same question: Will you sign me up for basketball?
The persistent noes weren't enough to deter her. What would it take for Aaliyah to give it a rest?
Sonny hatched a plan.
"We're going probably two weeks straight she's begging me to sign her up," Sonny said. "And I kept telling her no. I really wanted her to quit asking me. So I kind of put her through a little workout: wall-sits and defensive slides, sprints. We didn't even have a basketball at the time. I was really trying to get her to just quit asking me, quit bugging me for the $125."
There's no way a second-grade Aaliyah would make it through the grueling training, let alone want to continue pursuing basketball afterward.
Right?
"She did it, and she did it every day for like the next two or three weeks," Sonny said. "So I told her if she could handle the workouts I would sign her up. She did it, never complained. Obviously she cried because some of the workouts were kind of tough, but she kept working.
"That's where it started for us."
That was the launch pad, and the trajectory continues to climb for Aaliyah Chavez. The Lubbock Monterey junior has used the same no-quit mentality to reach national prominence. And the No. 1-rated recruit has no plans of slowing down.
Even if the number is dwindling, she's still got doubters to silence.
"If I see someone that doubts me, then I'm gonna go harder," Aaliyah said. "That's just my mindset. Someone doesn't believe in me, I'm going to prove to them that I can do something, whatever it is. … I think they kind of learned, like, she actually can do all this that we said she couldn't do."
Like the naysayers, the aspects of Chavez's game that require improvement are shrinking. But don't tell her that. Despite her mesmerizing ball-handling, basketball smarts and scoring prowess, Aaliyah is training almost 365 days a year to refine her skills.
"I work on everything," Aaliyah said, "just because anybody can get better. You can't be perfect at anything."
Most of that work comes with her dad, a Muleshoe native who admittedly didn't put much effort into basketball growing up. Sonny never expected to be a trainer either, despite his high school coaches prophesizing he had a knack to follow in their footsteps.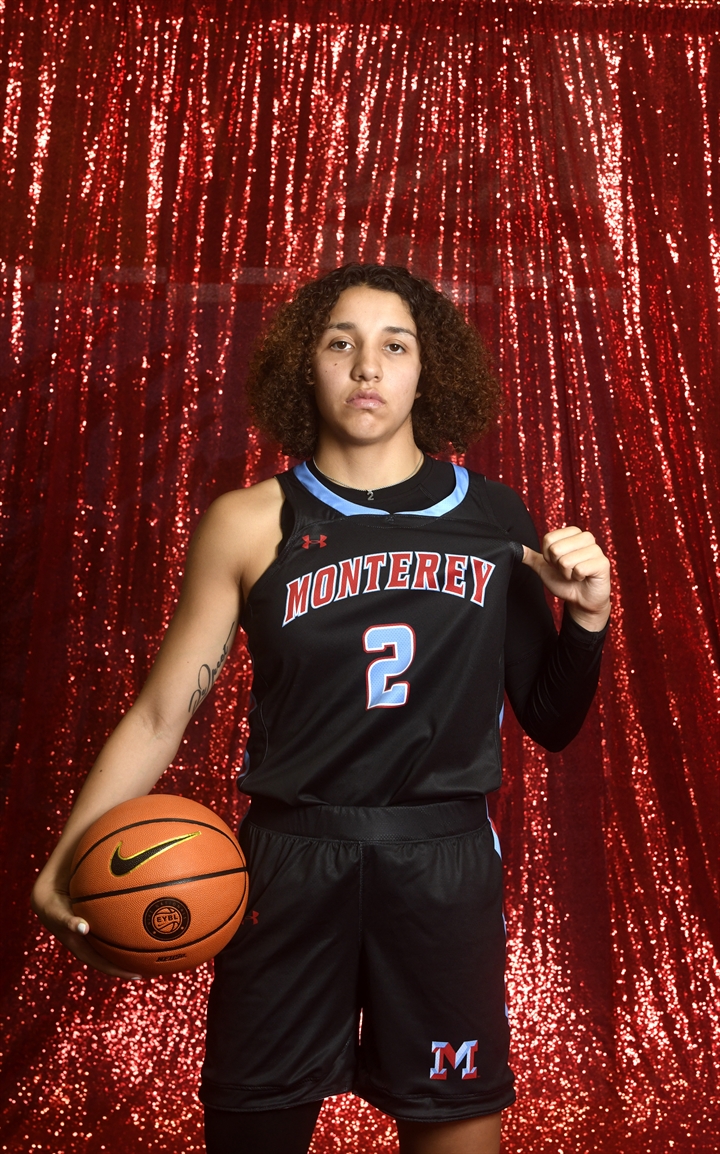 But seeing Aaliyah in those initial workouts changed a lot. Sonny did sign her up, finally adding a basketball to the equation days before her first game and teaching her where to stand to bank in a shot.
Aaliyah scored 26 points in her debut.
"Just waiting at halfcourt, stealing the little kids' ball," Sonny recalled. "By halftime them little kids would get there crying; they knew she was going to steal the ball. I kind of knew at that point maybe we had something a little bit different."
Even before the talent developed, Aaliyah made up for it with desire. Sonny said his second-grader "wasn't very athletic," but the fundamentals he passed on set a solid foundation.
Chelsea Hunter, a 2017 Monterey grad and Wayland Baptist women's basketball assistant coach, saw it firsthand. She met Sonny when the two were coaching separate youth teams. Sonny wanted Aaliyah to practice with Hunter's squad of fifth-grade boys, and the young Chavez fit right in.
Even then Aaliyah's work ethic stood out.
"I wouldn't say like skill-wise, but I would say (she was) advanced in her mentality," Hunter said. "I think you could tell that she had a goal and that she was gonna accomplish it. Just seeing the way she worked out, I mean honestly she was beating my fifth-grade boys in every workout, running, you name it.
"Just the extra time that she put in, it was just different. You don't see third-graders doing that. You could tell that she was very driven, very motivated."
It didn't take long for Aaliyah to start playing on travel teams with older girls. The game took her to national tournaments reserved for the cream of the crop, introducing Sonny to a new fixation.
"It just became an addiction, you know what I mean?" Sonny said. "I think that first tournament we played against, at the time, some of the top 10 players in the country in fourth grade. I'd seen where she was with all them, and so it just became like an addiction of, 'Let's see how far we can take it.'"
Aaliyah said basketball transformed from a hobby to a year-round commitment around the time she entered the seventh grade. By then she had already built a reputation as an exceptional talent.
Sonny said the quest to reach the top never ceased. The eighth-grader with 25-plus college offers wasn't satisfied, using her father's guidance to keep pushing.
"People used to tell me I was hard on her, she wasn't gonna love the game," Sonny said. "But it's gotten her to this point. I see a lot of people that coddle their kids and baby them, and that's cool if that's what you want to do. But she told me early on she wanted to be the best, and this is what my thought of making the best looked like.
"And it's working so far."
Aaliyah said it was a surreal experience learning she was ESPN's top-ranked recruit in the Class of 2025. So much so, after seeing the news on her dad's social media, she had to excuse herself from class while she tried to figure out how to react.
"I remember being so shocked," Aaliyah said, "like I had to ask to go to the restroom and I didn't know what to do. … It's definitely a blessing, just because you don't think (of) any girl from West Texas being ranked No. 1 on ESPN. So (I'm) definitely coming out playing as hard as I can every game, because I know some girl's gonna try to take it from me every time we play."
Representing Lubbock is a point of pride for Aaliyah. She has brought more eyes on West Texas, showing what can be done outside major metros. Hunter said that's helped others from the area get recognized, too.
"People know where Monterey High School is because of Aaliyah," Monterey coach Jill Schneider said, "and more than just local, I'm talking all around the country. They know what her school colors are, they know what her number is and that she's from Lubbock. She's representing us really proudly.
"She's done on this high-school level what (Patrick) Mahomes did for Lubbock and Texas Tech at the collegiate level … We can all enjoy that for a little while."
The national recognition has its pros and cons. The cons are quite visible online.
Aaliyah said there are still detractors behind the screen, but she does her best to ignore them. Sonny, on the other hand, sees it all.
"I think the hardest part as a parent to having a kid like this is having to deal with the negative part of grown people," Sonny said. "Kids are kids, right? But grown people saying things or doing things that they wouldn't be OK with me doing it to their kid. But because she is the No. 1 player, they think it's OK for them to say these things and we should accept it."
Aaliyah calls the social media landscape a blessing and a curse. After all, where would she be without a little motivation from the outside?
"A lot of the stuff that we do has been fueled by negativity," Sonny said. "Whether it was her being the underclassman getting more playing time. Her being the West Texas kid playing on a city team getting more playing time. Everything that we've been through throughout this journey has kind of helped fuel the fire and keep it burning."
That includes dealing with the perception of Hispanic athletes.
"She's never gonna be fast enough, she's never going to be athletic enough. We've heard everything under the sun," Sonny said. "I used to try to say, 'We're gonna be just as fast' … At the end of the day, what I realized is she can only be her. One thing that I tell her when we go across the country, when we play this basketball is, 'Be you.' If you fail being you, you can live with that."
Schneider, for one, said the discourse is especially wrong when attacking Aaliyah's character. Those who don't know her can confuse her on-court swagger and flashiness as cockiness, Schneider said. That's not the person her coach knows.
"Somebody last year on social media said she was like a bad person, a bad teammate, poor sport and all that," Schneider said. "They don't even know her and they're saying these things. She's a great person. She's very humble. Her carriage on the court doesn't reveal the humility that she actually has as a young lady, because she's just real confident and she just gets after people."
The flip side, Aaliyah said, is the support from fans across the country. Not surprisingly, the young star – who became Monterey's all-time leading scorer as a sophomore – draws a crowd. Whether it's tournaments in the Dallas-Fort Worth Metroplex or packing Monterey's gym to the gills, hardly is there an open seat when Aaliyah takes the court.
Her work isn't finished at the buzzer, either. Like professional athletes, Aaliyah regularly has a crowd of starstruck youngsters following her.
"She gets swamped after games, and she'll just stand there and sign autographs as long as people will ask her," Schneider said. "… Aaliyah just always has a throng around her, and she's good to people. She's never rude or ugly or acts like she doesn't have time for them or like it bothers her in any way."
Aaliyah said she lost count of her offers when she stopped announcing them on social media. She initially posted them to show she had them, but she now reserves that for close family. She's glad it will be a "mystery" when she announces her top schools – which she said are still to be determined.
"I'm just out here actually having fun," Aaliyah said. "I'm not worried about college right now. I'm just worried about playing basketball right now."
With her résumé, it's hard to believe Aaliyah has two more seasons in high school.
"If she stopped today, if she got hurt or she just quit basketball, she's done things in her 16 years of life that only we could dream of," Sonny said. "She'll always be able to mentor someone and tell them what the journey looked like, even if it stopped bouncing today. … I don't think there's ever been someone like her come through West Texas. …
"We're getting to witness something that we've never seen before. And I think because it's different, people don't like it. Or they're scared of it. For us, I know for a fact that we've changed West Texas basketball."
And it all started with some wall-sits and defensive slides. As someone who has experienced a Sonny Chavez workout, Hunter knows those years of work will pay off at the next level.
"Mental toughness … it's like a secret weapon," Hunter said. "You can have the skills, you can have all of those other attributes, but if you don't have mental toughness, I honestly think college is gonna be hard or you probably won't make it through. That's one of the biggest challenges in college basketball.
"So with her having that, plus her skill, there is no limit."
This article is available to our Digital Subscribers.
Click "Subscribe Now" to see a list of subscription offers.
Already a Subscriber? Sign In to access this content.