With the SEC on the horizon, Texas' time to strike — and prove it belongs — is now
Texas won the last Southwest Conference title in 1995 en route to 10 wins and a berth into the Sugar Bowl. The Longhorns hope history repeats itself in 2023 as they prepare for the last ride as a member of the Big 12.
Expectations are always high in Austin, but those might also be reasonable this year given the returning talent on The 40 Acres in Year 3 under Steve Sarkisian.
"Big 12 championship. National championship," said wide receiver Jordan Whittington. "We need to lock in, not get complacent, and worry about playing our game."
That confidence was forged by fire. Forgive Texas fans, and everyone else on the outside, if they take a wait-and-see approach with the growing aspirations of the 2023 squad. Texas is 13-12 overall and 9-9 in Big 12 play through two seasons with Sarkisian. The program has only won 10 games once since 2009. The phrase "Texas is back" causes more eyerolls than excitement.
But maybe not anymore. Texas ranks 19th in returning production, according to ESPN. The Longhorns return 85 percent of their production on offense (3rd best), including all five offensive line starters who've combined for 101 career starts. The biggest holes to fill are at running back with the departures of Bijan Robinson and Roschon Johnson.
The defense isn't far behind. Jaylan Ford is back at linebacker, as are Barryn Sorrell, T'Vondre Sweat, and Byron Murphy up front. Jerrin Thompson returns at safety with Ryan Watts and Jahdae Barron at corner and nickel, respectively. Even the punter and kicker possess experience.
"The talent on our team is crazy," Ford said. "We're so promising with the talent we have in this building. We've gone through the lows and stuck through the hard times. I've seen it come full circle."
No one needs to tell the burnt orange faithful that talent and promise doesn't always result in success. Texas reached the BCS Championship Game after a 13-win season that included a perfect 8-0 record in the Big 12 back in 2009. The program is 61-55 in conference play since that year despite signing the best, or second-best, recruiting class in the Big 12 each cycle.
The difference now, according to Sarkisian, is maturity and buy-in. He inherited a team in 2021 that couldn't even play a spring game because of the lack of scholarship offensive linemen. Now, that's one of the strengths of the team. That same type of growth is true across every position unit. Sarkisian wants a three-deep at every spot, and while his program isn't quite there yet, it is a whole lot closer to SEC ready than it was upon his arrival.
"Now, we've got a group of guys who were recruited to play in this system, and the ones who remain are guys who are truly bought into what we're doing here in Year 3," Sarkisian said. "Inevitably, our culture is strong. We have a tight knit team. And we have a team that looks the part."
The table is set. Texas possesses a nice blend of returning players and talented fresh faces. The Longhorns only leave the state of Texas twice and should be favored in at least 10 of the 12 regular season matchups. In a wide-open Big 12, Texas just might be the favorite. Again.
DCTF'S TAKE
The only thing that can stop Texas in 2023 is Texas. And maybe Alabama. The Longhorns are the most talented team in the Big 12, and maybe the most experienced. The latter is an important distinction for Steve Sarkisian's crew. Winning a conference crown before heading to the SEC would taste sweet, but excuse outsiders if the burnt orange Kool-Aid tastes the same as it has for over a decade. Anything short of the conference championship game is a disappointment and a missed opportunity.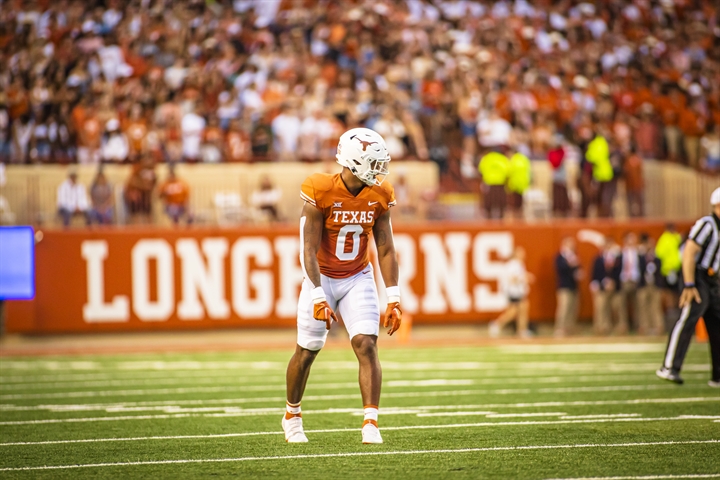 OFFENSIVE BREAKDOWN
With a veteran offensive line and a skill position bouquet, Horns are ready to roll
The optimism for the Texas Longhorns in 2023 begins with the dry-aged beef along the offensive line. Steve Sarkisian's crew returns all five starters who average 20.2 starts each. Left tackle Kelvin Banks Jr. established himself as the best offensive lineman in Texas as a true freshman in 2022. Christian Jones possesses over 30 career starts and is back at right tackle.
The interior of the line is also loaded. Center Jake Majors enters 2023 with 27 career starts. Left guard Hayden Conner and right guard Cole Hutson each started all 13 games last campaign. And they might not even keep their jobs with talented youngsters such as DJ Campbell and Cameron Williams emerging in the spring. Add in names such as Neto Umeozulu and Connor Robertson and there is no wonder that a Big 12 title is the expectation.
"Depth is critical," Sarkisian said. "Depth allows us to have a true next-man-up mentality. The goal is to have a three-deep here that we can count on."
Quinn Ewers started 10 games last season and emerged from spring as the clear-cut starter. He's already in Year 3 as a collegiate quarterback after reclassifying at Southlake Carroll, and Sarkisian complimented the former five-star recruit on his growth on and off the field throughout the spring. Maalik Murphy and Arch Manning round out arguably the most-talented quarterback room in college football.
The weapons at Ewers' disposal are talented and plentiful. Xavier Worthy, who played half of 2022 with a broken hand, returns for his junior season after leading the Longhorns in receiving in each of his first two years on The 40 Acres. Jordan Whittington returned for another season after finally remaining healthy for a full campaign a year ago. Texas added Georgia wideout AD Mitchell in the transfer portal and expects a healthy Isaiah Neyor by the start of fall camp.
"We have so many different weapons," Whittington said. "We're all different players and that gives us a lot of potential on offense. I'm excited to see it in its full form this fall."
If there is a concern, it's at running back where the Longhorns must replace future NFL starters in Bijan Robinson and Roschon Johnson. Jonathon Brooks is a former Mr. Texas Football who showed flashes of big-play potential in limited opportunities last season. Jaydon Blue is a former four-star recruit with a lot of potential. Texas also returns third-down specialist Keilan Robinson. Five-star true freshman CJ Baxter arrived in the spring and looks like a future star.
"We need to continue to run the football because our offense is at its best when we have balance," Sarkisian said.
OFFENSIVE MVP
Tight End JT Sanders: The former five-star recruit from Denton Ryan is on the verge of becoming a first round NFL draft pick with another big season at tight end for the Longhorns.
KEEP AN EYE ON
The phrase "positionless football" is now part of the lexicon and Texas is in on the fad. The player most representative of the movement is Savion Red, who moved to running back from wide receiver in the spring. The 5-10 sophomore from Grand Prairie figures to be a Swiss-Army knife for Steve Sarkisian's unit in 2023. Red played in nine games last year, catching six passes for 34 yards. He'll be used creatively this season.
OFFENSIVE DEPTH CHART
DEFENSIVE BREAKDOWN
2022 was a step in the right direction; Can 2023 be the defensive leap for the Horns?
The Texas defense took a giant step forward in 2022. After all, there wasn't much room to go backwards after a historically poor performance in 2021. Head coach Steve Sarkisian attributes the growth to staff cohesion, and that same group of assistants enters Year 3 intact.
Texas lowered its points allowed totals from 31.1 to 21.6 last year. Teams averaged over 1.5 yards less a carry and over a yard less per play. The players worried less about learning the system, and more about perfecting it in the spring. Returning linebacker Jaylan Ford, who led the Longhorns in tackles, interceptions, and forced fumbles a year ago, believes another evolutionary step is ahead in Austin.
"We have a lot of guys coming back going into Year 2 or 3 with the same coaches," he said. "That allows us to do less thinking and more playing. I'm excited to see what the young guys can add to the mix."
Even Ford, a leading contender for 2023 Big 12 Defensive Player of the Year, knows it starts up front. The Longhorns must replace Keondre Coburn and Moro Ojomo. They return T'Vondre Sweat and Byron Murphy to lead the way. Alfred Collins and Vernon Broughton are also back. Texas added Minnesota transfer Trill Carter through the transfer portal.
"The interior guys for me are just like the offensive line for a quarterback," Ford said. "Without them, I'm not making any plays."
Texas hopes to convert a high-pressure rate in 2022 into more sacks in 2023. Barryn Sorrell returns on the edge after leading the team last year with 5.5 sacks. True freshman Anthony Hill Jr., a five-star recruit from Denton Ryan, emerged as an option off the edge in the spring. Ford's two sacks are the next-best behind Sorrell in terms of returners.
Ford is the only known commodity at linebacker. Hill is an option, as are seniors David Gbenda and Jett Bush. The Longhorns are excited about the future of young linebackers Liona Lefau and Derion Gullette, who wasn't a full participant in the spring.
The safety room is stacked thanks to the returns of Jerrin Thompson and Kitan Crawford. The addition of Arkansas transfer Jalen Catalon adds dynamism if the native Texan can remain healthy. Jahdae Barron returns as the team's best nickel, and he'll be pushed by Jaylon Guilbeau. The starting cornerbacks figure to be Ryan Watts and Terrance Brooks. Wake Forest transfer Gavin Holmes, sophomore Austin Jordan, and true freshman Malik Muhammad provide depth.
"We want to maximize our potential," Ford said. "We're comfortable in the system now, so it comes down to effort."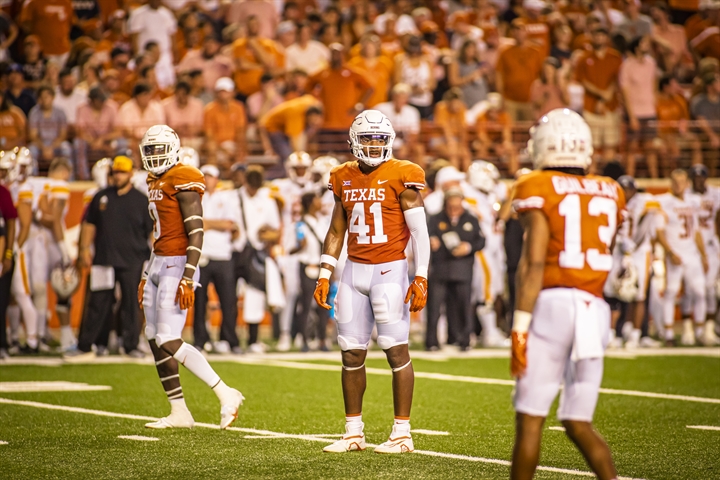 DEFENSIVE MVP
LB Jaylan Ford: Ford finished second in Big 12 Defensive Player of the Year voting after a breakout 2022 campaign. He led the Longhorns in tackles, interceptions, and forced fumbles.
KEEP AN EYE ON
The weakest link on the football team might be the linebacker position opposite of Jaylan Ford. The Longhorns are undoubtedly talented enough to replace DeMarvion Overshown, but none of the players on the roster are proven at the collegiate level. Senior David Gbenda reportedly emerged in the spring. Jett Bush is a reliable option. But the true talent rests in 2023 signees like Anthony Hill, Liona Lefa and Derion Gullette. If one of those three emerges, watch out.
DEFENSIVE DEPTH CHART
PLAYER SPOTLIGHT: JORDAN WHITTINGTON
Jordan Whittington loaded the bus and slept for most of the 300-mile trip from AT&T Stadium in Arlington back to his hometown of Cuero. It was December 2018 and not even Santa Claus could fathom Whittington's usage rate in the Class 4A Division II state championship win over Texarkana Pleasant Grove.
Whittington's 334 rushing yards eclipsed Eric Dickerson's Class 4A record and Johnathan Gray's record for most in a state title game. Whittington accounted for 377 total yards and six touchdowns, five on the ground. He also recorded 11 tackles on defense and was named Offensive and Defensive MVP in his last ever prep game.
What else was there to do other than sleep?
"That was the sorest I've ever been in my life," Whittington chuckled.
He's now a slot receiver at Texas in his final season on The 40 Acres.
"It is crazy what adrenaline does for you in those moments because I didn't feel it until I got to the bus and everything slowed down," he said."I was exhausted."
The road didn't get easier for Whittington. He was recruited out of Cuero by Texas' safeties coach before moving to running back right before his arrival on campus. He eventually landed at wide receiver. The position changes weren't even the hardest adjustment. The injury bug plagued Whittington early in his career. Maybe all those bumps playing both ways for Cuero took a toll. Maybe not.
"Running back was fun, I'm not going to lie," Whittington said. "But I like where I'm at now."
The 2022 season served as a reminder that Whittington is a star. He caught 50 passes for 652 yards in 12 starts. He played in all 13 games after appearing in only 14 combined over the previous three seasons. He trimmed down and started eating differently. He also settled into a position for the first time in his career.
Whittington feels like the Texas program is about to turn a corner back towards the glory days. He'll need to be one of the leaders who fills the void left by Bijan Robinson and Roschon Johnson. The former Cuero great never had it easy, and that adversity is what he hopes allows him to leave a legacy.
"I'm someone of perseverance," he said. "I stick through stuff because I know there is a better story on the other side of the journey. I kept my belief in this program, and I think everyone is going to see a change this year."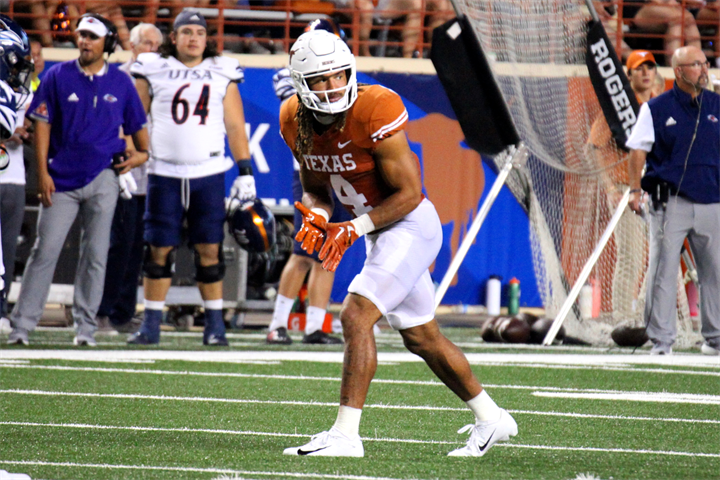 2023 AT A GLANCE
The Longhorns should be favored in at least 10 of the 12 games on the 2023 schedule, setting Texas up for its first real run at a Big 12 crown for most of the players on the current roster. A trip to Alabama in Week 2 is a strong litmus test. Steve Sarkisian's squad only leaves Texas twice, including just once in Big 12 play with a Nov. 18 visit to Iowa State.
PREDICTIONS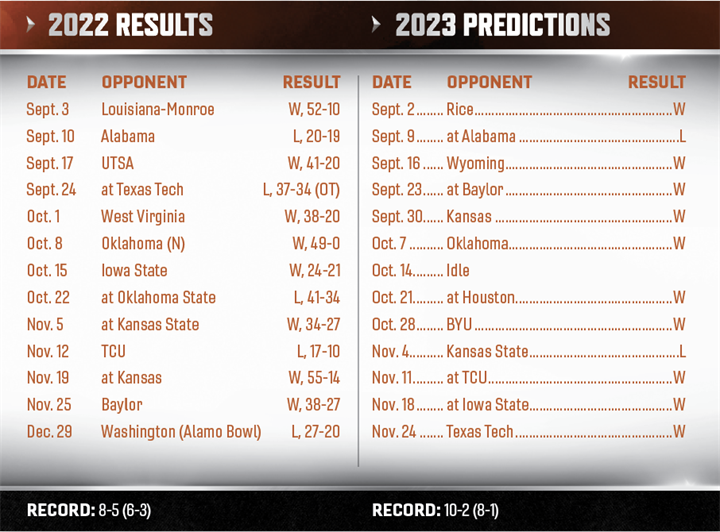 RECRUITING BREAKDOWN
The Expert's Take with DCTF Recruiting Analyst Greg Powers
Texas signed an elite class in 2023, finishing at No. 3 in the national rankings. Arch Manning's commitment made waves because he was the No. 1 QB in the country, but they also inked a five-star running back (Cedric Baxter Jr.), wide receiver (Johntay Cook II), and linebacker (Anthony Hill Jr.). In the transfer portal, the 'Horns were able to bolster their receiving unit with the addition of Adonai Mitchell, who caught a touchdown pass in the national championship game for Georgia.
3 KEY ADDITIONS:
RB Cedric Baxter Jr.
Baxter is the top-ranked running back in the nation and a five-star prospect signed to fill Bijan Robinson's shoes. Despite being a freshman, Baxter has the size, speed, and skillset to succeed.
LB Anthony Hill
The five-star linebacker prospect was rated as the No. 2 prospect in the state overall. Hill had a highly productive career at Denton Ryan. He recorded 303 tackles, 13 sacks, and nine forced fumbles.
QB Arch Manning
As the nephew of legendary quarterbacks Peyton and Eli Manning and the grandson of Archie Manning, the No. 1 quarterback prospect in the country enters the college football world with plenty of hype.
UNDER THE RADAR
DB Jalen Catalon
Catalon was a productive defensive back at Arkansas and had NFL Draft potential before an injury cut his 2022 season short. Now, the former four-star recruit from Mansfield Legacy is hitting the reset button at Texas, where he'll showcase his instincts and nose for the football.
DL Billy Walton
It's unfathomable to think of Walton as a sleeper, but he was one of the six three-star signings. Walton is an edge defender who helped lead South Oak Cliff to back-to-back 5A Division II state titles. He earned 5A All-State Defensive MVP honors after racking up 102 tackles, 33 tackles for loss and 18 sacks.
2023 TEXAS RECRUITING
High school/Junior college (247Sports Rank: 3rd)
Player Pos. Ht. Wt. Previous school
Tausili Akana LB 6'4 225 Skyridge (Utah)
Cedric Baxter Jr. RB 6'1 215 Orlando Edgewater (Fla.)
S'Maje Burrell LB 6'0 215 North Crowley
Jaydon Chatman OL 6'4 300 Harker Heights
Andre Cojoe OL 6'6 345 Mansfield Timberview
Johntay Cook II WR 6'0 175 DeSoto
Trevor Goosby OL 6'6 280 Melissa
Derion Gullette DL 6'2 220 Teague
Anthony Hill LB 6'2 225 Denton Ryan
Payton Kirkland OL 6'5 360 Orlando Dr. Phillips (Fla.)
Liona Lefau LB 6'1 210 Kahuku (HI)
Arch Manning QB 6'4 215 Isidore Newman (La.)
Jelani McDonald DB 6'2 200 Waco Connally
Sydir Mitchell DL 6'5 335 Oradell Catholic (N.J.)
DeAndre Moore Jr. WR 6'0 185 St. John Bosco (Cali.)
Malik Muhammad DB 6'0 175 South Oak Cliff
Ryan Niblett WR 5'10 170 Aldine Eisenhower
Will Randle TE 6'3 220 Isidore Newman (La.)
Warren Roberson DB 6'0 180 Red Oak
Spencer Shannon TE 6'7 240 Mater Dei (Cali.)
Connor Stroh OL 6'6 345 Frisco Wakeland
Colton Vasek DL 6'5 225 Austin Westlake
Billy Walton DL 6'3 215 South Oak Cliff
Derek Williams DB 6'2 185 Westgate (La.)
Tre Wisner RB 5'11 180 DeSoto
Transfers (247Sports Rank: 48th)
Player Pos. Ht. Wt. Previous school
Adonai Mitchell WR 6'4 190 Georgia
Jalen Catalon DB 5'10 200 Arkansas
Gavin Holmes DB 5'11 160 Wake Forest
Ryan Sanborn P 6'3 195 Stanford
Five Key Losses
Player Pos.
Bijan Robinson RB
Roschon Johnson RB
DeMarvion Overshown LB
Moro Ojomo DL
Keondre Coburn DL
This article is available to our Digital Subscribers.
Click "Subscribe Now" to see a list of subscription offers.
Already a Subscriber? Sign In to access this content.