New faces in the locker room and new attitude has Bears looking for a bounceback
Baylor head coach Dave Aranda is in the process of building a bridge in his mind between truth and love. Luckily for the Philosopher Coach, there are plenty of examples of bridge construction in Waco, Texas.
Aranda leans towards love. He's more Seneca than Saban. Aranda's goal for himself is to move towards truth. And the truth is, the Bears disappointed in 2022. Aranda blames himself.
"A lot of it is me, man," Aranda said when asked what needs to happen for his program to return to 2021 heights. "The truth without love can be weaponized and mobilized as shame or personal attacks. Love by itself is just a Disney movie, which I love, but this ain't a Disney movie, so you must live in both at the same time."
The first adjustment came in the transfer portal. Aranda, who prefers love, wanted to restock his depleted starting lineup with players already on the team. He felt that hitting the transfer portal was a betrayal of the players on the roster already sacrificing blood, sweat, and tears. The 2022 squad underperformed, finishing .500 in the regular season before dropping to 6-7 with a bowl loss to Air Force. It was the second losing season in three tries under Aranda. The other season – 2021 – resulted in 12 wins, a Big 12 championship, and a victory over Ole Miss in the Sugar Bowl.
"We showed some immaturity on the team and I didn't deal in truth enough to stop it," Aranda said. "For me, self-reflection is a big part of the job. Maybe that can be a bad thing sometimes. I overthought the portal."
The Bears shifted tactics entering the 2023 campaign, and the hopes are that the new faces brought in through the portal shore up a solid existing roster enough to push back towards the top of the Big 12 standings. Baylor brought in three players through the transfer portal in the 2022 cycle, and only Jaxon Player became a real contributor. That number grew to over a dozen in the 2023 cycle with over a handful cracking the starting lineup during spring ball.
Aranda was worried that the new faces would cause issues for the culture he's building. The reality is the opposite, according to the Baylor players. Newcomers such as linebacker Mike Smith Jr. and offensive lineman Clark Barrington are already emerging as leaders despite only spending a few months in Waco.
"Having older guys enter the program who can buy in and bring the young guys along is a blessing," defender Bryson Jackson said. "Competition makes us all better. We're a brotherhood here, and those guys are only improving our outlook as a team. We welcome that."
Aranda is an interesting cat in a college football landscape overpopulated by old dogs. He's an outlier. A thinker. A critic. An understated head coach who is vulnerable about his insecurities and faults. Some might see that as a weakness for a football coach because the world is used to the profession being ruled by wannabe military generals. Baylor players would disagree.
"Playing for Aranda is amazing," Jackson said. "His football mind is unmatched. He is very philosophical about the game and about life. He teaches us so much. He's authentic, so you know that he means everything that he says. In modern terms, he is Him."
DCTF'S TAKE
An improved defense and more consistent quarterback play puts the Bears right back into Big 12 contention. Continued regression at those spots means Baylor is fighting to get bowl eligible. Two losing seasons bookend a magical year that resulted in 12 wins, a Big 12 title, and a win in the Sugar Bowl. Which is more predictive of what Dave Aranda's squad looks like in Year 4? The recipe in 2021 was to keep opponents under 30 points while wearing down defenses with the run game.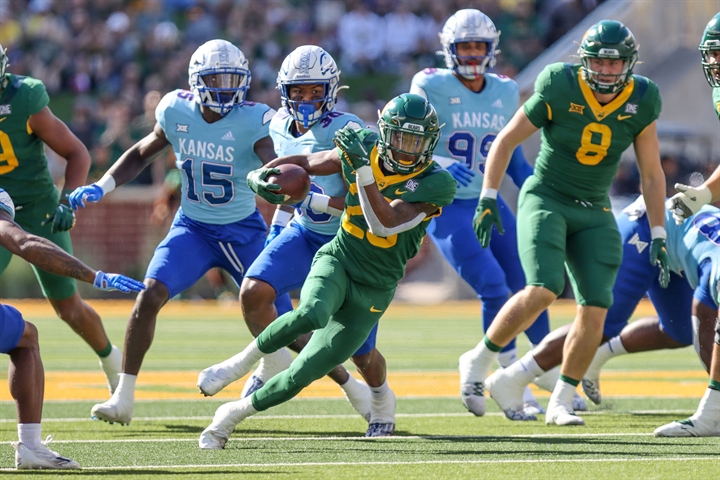 OFFENSIVE BREAKDOWN
Don't be deceived: the Bears' attack is on the rise, and could be in for a breakout 2023
For all the hand-wringing about Baylor's offensive attack in 2022, the Bears averaged more points (32.2) than they did a year earlier (31.6) during a 12-win season that culminated in a Big 12 championship and a win in the Sugar Bowl.
The difference was in the efficiency on the ground and explosion, or lack thereof, in the passing game. Baylor averaged nearly a yard less per carry last year and threw for fewer touchdowns and more interceptions than in 2021.
Blake Shapen is back at quarterback. The junior from Louisiana didn't live up to expectations last year while averaging 214.6 passing yards per game and a touchdown to interception ratio that was less than 2-to-1. Baylor brought in transfers Sawyer Robertson (Mississippi State) and RJ Martinez (Northern Arizona) to provide competition.
"Blake has a full year as a starter under his belt and that gives him, and his teammates, confidence that maybe wasn't there all the time last season," Baylor head coach Dave Aranda said. "That room is deeper and more talented. I think that's true at nearly every spot on our team."
Running back is no different. Richard Reese returns for his sophomore campaign after a breakout performance as a true freshman in 2021. The Bellville native was the Big 12 Offensive Freshman of the Year after setting a program record for rushing yards by a freshman with 972. His 14 rushing touchdowns were fourth-most in a season in program history.
Qualan Jones and Jordan Jenkins return to provide depth. Baylor added Oklahoma State transfer Dominic Richardson and freshman Bryson Washington, a state champion at nearby Franklin High School, to add more explosiveness to the run game.
Finding more weapons in the passing game was a priority for the Bears in the offseason. Arkansas transfer Ketron Jackson Jr., a Royse City native, started eight games in two years for the Razorbacks. He adds an outside presence with his 6-2 frame. The 5-9 Monaray Baldwin is one of the most explosive and productive slot receivers in the Big 12 when healthy. Hal Presley is likely the third receiver. Young talents such as Armani Winfield and Josh Cameron expect bigger roles and more targets.
Baylor brought in North Texas transfer Jake Roberts to help returner Drake Dabney replace the production of Ben Sims at tight end. The offensive line also received new blood in BYU transfers Clark and Campbell Barrington. Gavin Byers, Tate Williams, and Elijah Ellis are other front-line players in the trenches. Reserves include Alvin Ebosele, Ryan Lengyel, and Timothy Dawn.
OFFENSIVE MVP
RB Richard Reese: Reese was the best true freshman offensive player in Texas last season and he should only be better as a sophomore. The Bellville native runs bigger than his frame.
KEEP AN EYE ON
Wide receiver Josh Cameron decided to walk-on at Baylor over accepting opportunities to play sub-FBS football. He bet on himself, and if the spring was any indication, he's about to cash in during the 2023 season. The Cedar Park product is over 215 pounds and looks like a running back once the ball is in his hands. He started four games in 2022, finishing fourth on the team with 28 catches and second in yards with 386. Expect both numbers to rise in 2023.
OFFENSIVE DEPTH CHART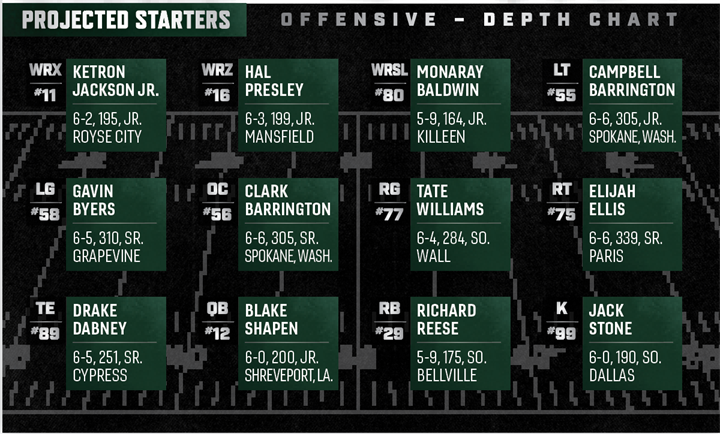 DEFENSIVE BREAKDOWN
Coming off an unexpected dip, Aranda's new-look Bears defense ready to bounce back
Changes were made to the Baylor defensive staff after the Bears allowed 30 or more points in six games during the six-win 2022 campaign. They never allowed more than 30 points in 14 contests during the Big 12 championship run in 2021. The Baylor defense allowed at least 29 points in each game during the four-game losing streak to close last season.
Head coach Dave Aranda replaced defensive coordinator Ron Roberts with Matt Powledge, a face many of the current players are familiar with following a previous stint as an assistant. Powledge, a Texas native, was the Bears' safeties coach and special teams coordinator in 2020 and 2021. He spent 2022 as the co-defensive coordinator and safeties coach at Oregon.
Baylor lost 49 percent of its defensive production from a season ago, which is 97th-most in college football, according to ESPN. That includes stars such as defensive lineman Siaki Ika, linebacker Dillon Doyle, and defensive back Al Walcott. Baylor dipped into the transfer portal for quick fixes to open wounds unlike in 2022 after losing names such as Terrel Bernard, Jalen Pitre, and JT Woods.
The Bears added Byron Vaughns (Utah State, Texas), Jerrell Boykins Jr., and Treven Ma'ae (Oregon) along the defensive line following spring ball. Mike Smith Jr. transferred in from Liberty and immediately won the Mike linebacker spot in the middle of the defense. Aranda called him a leader of the team after just three months on campus. The Bears also added Isaiah Dunson (Miami) at cornerback.
"We've immediately seen an improvement on the field and in our locker room with the additions through the portal," Aranda said. "Some of those guys are already our top leaders and that is way cool."
TJ Franklin and Gabe Hall return along the defensive line. Hall tied for the team lead with 4.5 sacks last season. Franklin is a physical force on the interior of the defensive line who tied with Hall in tackles for loss with 5.5 each. Garmon Randolph returns on the edge after posting a team-high seven tackles for loss and tying Franklin in sacks with 4.5.
Matt Jones and Smith Jr. are poised to start at linebacker. Jones's 65 tackles were the most by any returning defender on the squad. Bryson Jackson is at the STAR position. Dunson and Tevin Williams III figure to start at cornerback. Safety could be a real strength defensively with the returns of Devin Lemear and Devyn Bobby. Lemear, a Manor product, was fourth on the team in tackles while posting two picks in his first year as a starter.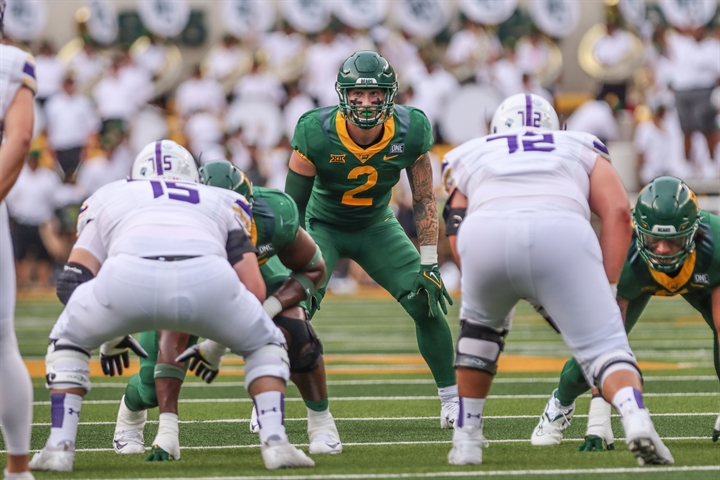 DEFENSIVE MVP
LB Matt Jones: The senior from Odessa Permian is the team's leading returning tackler after posting 65 last season. Baylor linebackers are always productive under Dave Aranda.
KEEP AN EYE ON
The massive hole left by nose tackle Siaki Ika won't be easy to fill. Baylor's defensive scheme requires a big-bodied interior on the defensive line that allows linebackers to flow freely and collect tackles. The Bears acquired JUCO transfer Jerrell Boykins from Hutchinson CC in Kansas to plug the middle and keep players such as Mike Smith and Matt Jones free. Boykins checks in at 6-3 and 341 pounds. He helped Hutchinson reach the NJCAA national championship game last year.
DEFENSIVE DEPTH CHART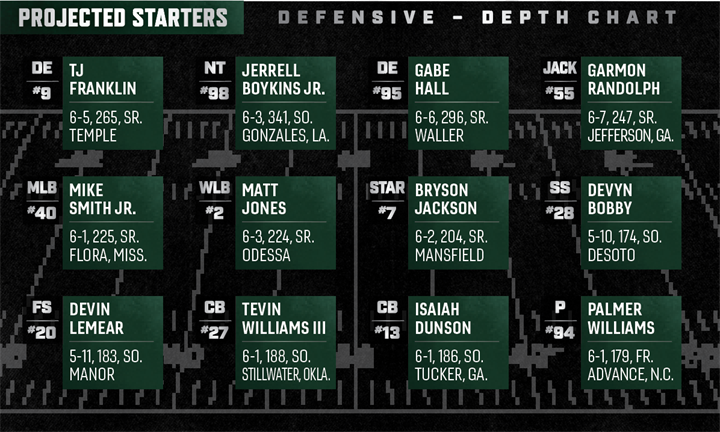 PLAYER SPOTLIGHT: BRYSON JACKSON
Bryson Jackson has seen it all heading into his seventh season at Baylor.
The two-time all-district linebacker at Mansfield Lake Ridge arrived in Waco back in 2017 and took a redshirt while the Bears went 1-11 in Matt Rhule's first season in charge. He was a special teams ace on the 2019 squad that reached the Big 12 championship game. Jackson then watched Rhule leave for the NFL and get replaced by Dave Aranda a few months before COVID-19 altered the college football experience.
But Jackson wasn't worried when Baylor went 2-7 in Year 1 under Aranda. After all, he witnessed Rhule's first year from the sidelines. Two years later that team won 11 games. One season after 2020, the Bears won a program-record 12 times, including victories in the Big 12 championship game and in the Sugar Bowl.
And the roller coaster wasn't over. Jackson started twice last season as a pass rushing specialist. He appeared in all 13 games as Baylor limped to the finish line with a 6-7 record, including four straight defeats to end the season. Baylor reached a bowl game, but the year stung more than previous failures.
"The 2022 season was hard for us," Jackson explained. "We were in new territory as the hunted rather than the hunters and I'm not sure we handled that role well."
Jackson faces a new challenge in 2023 – a position change. The former pass rusher is moving to the STAR position, which is where Jalen Pitre excelled as the Big 12 Defensive Player of the Year in 2021 before moving on to the Houston Texans. The 6-2, 204-pound Jackson knows those are big shoes to fill, but he's never backed away from a challenge in six years as a college player. Why start now?
"We know what it takes to be successful inside this locker room because we've done it before," he said. "We want to represent the words we preach in this locker room. We did that in 2021. It is up to the leaders like me to make sure we get back to that in 2023."
Jackson flashed his potential with four tackles, including two sacks, last September against Iowa State. His next goal is to reach that ceiling on a more consistent basis. And avoid injury. His teammates see the progression.
"He's a special player and one of our top leaders," tight end Drake Dabney said.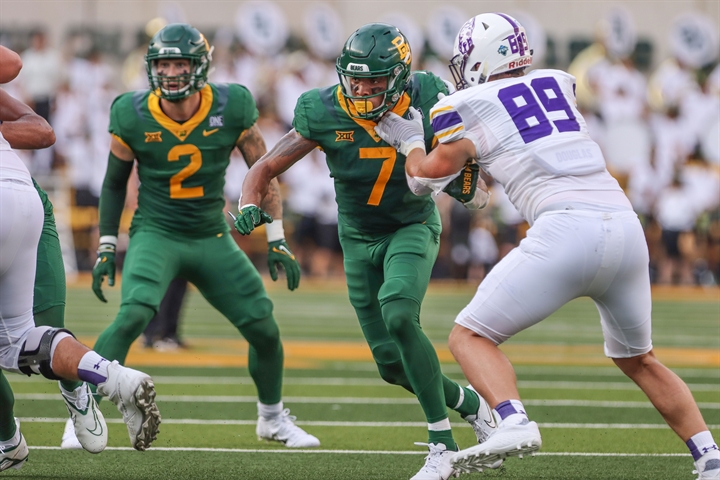 2023 AT A GLANCE
A home game against Utah in Week 2 provides Baylor with an opportunity to prove that the program is back in contention. The Bears don't wander away from Waco until a Sept. 30 visit to new Big 12 member UCF. Two of the last three games on the slate are trips to Kansas State and TCU – the two teams that played for a Big 12 title in 2022.
PREDICTIONS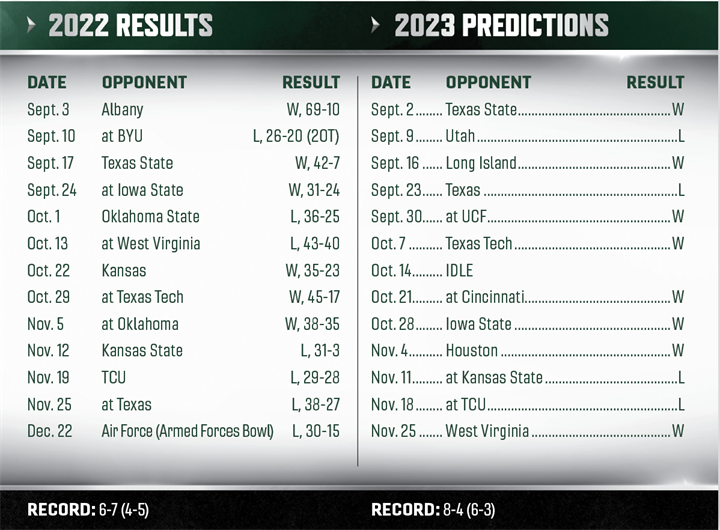 RECRUITING BREAKDOWN
The Expert's Take with DCTF Recruiting Analyst Greg Powers
Baylor mixed in some essential transfers in this class to help bolster a roster that needed competition and depth, especially on offense. Dave Aranda and his coaching staff prioritized recruiting talent from the Texas high school football ranks, inking the state's top-rated offensive tackle (Isaiah Robinson) and 16 more. With 31 new additions, this class will set up the program's future.
3 KEY ADDITIONS:
WR Ketron Jackson Jr.
With experience at the SEC level, Jackson Jr. enters Baylor as an immediate-impact player. The former four-star from Royse City caught 16 receptions for 277 yards and three touchdowns at Arkansas in 2022.
QB Sawyer Robertson
The former DCTF four-star from Lubbock Coronado will compete for the starting quarterback job. He is a highly accomplished thrower who threw for 11,302 yards and 135 touchdowns in his prep career.
OT Isaiah Robinson
Robinson is the top-rated offensive tackle in Texas high school football. He had an impressive offseason before his senior year,. He has an 84-inch wingspan and athletic potential that could make him an all-conference talent.
UNDER THE RADAR
RB Bryson Washington
Washington helped lead Franklin to back-to-back state title wins before heading to Waco. The three-star was a two-way standout in high school, but he looks to play running back at Baylor. He is hard to tackle as a runner because he is powerful, deceptively quick, and runs with a low center of gravity.
DL Trey Wilson
Despite receiving over 30 scholarship offers, the commitment of three-star defensive lineman Wilson to Baylor didn't receive the attention it deserved. Wilson, who had previously received looks at tight end, is a consistent pass-rush defensive end with a promising future on defense.
2023 BAYLOR RECRUITING
High school/Junior College (247Sports Rank: 34th)
Player, Pos. Ht. Wt. Previous school
Brendan Bett DL 6'4 295 Killeen Ellison
Jerrell Boykins Jr. DL 6'4 290 Hutchinson C.C.
DJ Coleman DB 6'0 190 Mesquite Horn
Micah Gifford WR 6'2 185 Pflugerville Weiss
Caden Jenkins DB 6'1 170 Lewisville
D.K. Kalu DL 6'2 270 Fort Bend Ridge Point
Corey Kelly LB 6'2 210 Clear Falls
Matthew Klopfenstein TE 6'5 225 Horizon (Ariz.)
Dawson Pendergrass RB 6'3 215 Mineola
Hawkins Polley TE 6'4 245 Houston Stratford
Isaiah Robinson OL 6'7 290 Arlington Lamar
Trent Thomas DL 6'3 235 Fort Bend Marshall
Sean Thompkins OL 6'4 330 Newton (Ga.)
LeVar Thornton Jr. WR 6'2 165 Keller Timber Creek
Wes Tucker OT 6'5 260 Argyle
Bryson Washington RB 5'11 200 Franklin
Palmer Williams P 6'3 190 Davie County (N.C.)
Carl Williams IV DB 5'11 170 Southern Lab (La.)
Tay'Shawn Wilson DB 5'9 175 Katy Mayde Creek
Trey Wilson DL 6'3 245 Garland Lakeview Centennial
Jaren Woods DL 6'4 265 La Grange
Transfers (247Sports Rank: 22nd)
Player, Pos. Ht. Wt. Previous School
Campbell Barrington OL 6'6 280 BYU
Clark Barrington OL 6'6 265 BYU
Isaiah Dunson DB 6'1 185 Miami (FL)
Ketron Jackson Jr. WR 6'2 205 Arkansas
RJ Martinez QB 6'0 185 Northern Arizona
Dominic Richardson RB 6'0 205 Oklahoma State
Jake Roberts TE 6'4 235 North Texas
Sawyer Robertson QB 6'4 200 Mississippi State
Mike Smith Jr. LB 6'1 225 Liberty
Jack Stone K 6'0 185 Michigan State
Byron Vaughns LB 6'4 225 Utah State
Five Key Losses
Player, Pos.
Dillon Doyle LB
Siaki Ika DT
Al Walcott DB
Connor Galvin OL
Jacob Gall OL
This article is available to our Digital Subscribers.
Click "Subscribe Now" to see a list of subscription offers.
Already a Subscriber? Sign In to access this content.