It's foggy outside. There is a mild wind, but subtle enough to hear the birds chirping. Oliver Miles wakes up at 6:00 a.m., eats a bowl of cereal, and makes his way for morning weights at El Campo High School.
The fighting Ricebirds are what the people in El Campo call them, and that's exactly what Miles portrays when he is on the football field. The 6-foot-2, 190-pound athlete is a generational talent that only comes through a small town once in a blue moon. He has all the talent and ability to become a household name.
"Miles' athletic ability is what makes him so special," El Campo head coach Chad Worrell said. "He glides when he runs, and nothing bothers him. He speaks with his actions and is a natural athlete. It does not matter what sport."
Miles, a junior, is a jack-of-all-trades. He's not only a star on the gridiron, but he also stars in baseball, basketball and track and field. That included a silver medal in the triple jump at the 4A state meet as a sophomore.
He was the starting quarterback this past season, while also playing cornerback for an El Campo team that won a district championship.
Miles has kept his head held high and only has grown into a more developed and hungry football player. He accounted for 743 rushing yards, six rushing touchdowns, 237 passing yards and three TD passes. He also had three interceptions.
He threw for 237 yards and had three touchdown passes. Further, Miles rushed for 743 yards and had six rushing touchdowns. On the defensive side of the ball, Miles had 3 interceptions.
"My IQ for the game has improved tremendously and will only continue to develop the more I progress in the game," Miles said.
The Ricebirds are known for their ground and pound game and that does not stop with Oliver at the helm. He is fast, shifty, and can make any defender miss in a heartbeat. His IQ is something that has developed tremendously since taking over as the starting quarterback. He is also coachable, responds under pressure, and makes other players around him better.
"Oliver is a natural born leader and there is no moment too big for him," Worrell said. "It doesn't matter if he is chasing after a ball in center field or dunking a basketball. He keeps his head above water and chases his goals."
When Oliver is not working on making himself a better football player, he spends time with family and friends, plays video games, and of course, watches football on Saturdays and Sundays. ­A few players Oliver looks up to are Ahmad "Sauce" Gardner and Cee Dee Lamb. These two players play with no fear, have great ability and lion like instincts. Any spectator who watches Miles play football will notice these same attributes.
"He is a playmaker who makes huge plays on offense and defense," Worrell said. "He is a great punt and kick returner too who has great field vision."
Miles is currently being recruited for track and field by Texas A&M and Army. He'll likely be recruited as an athlete in football, with a chance to play numerous positions in college.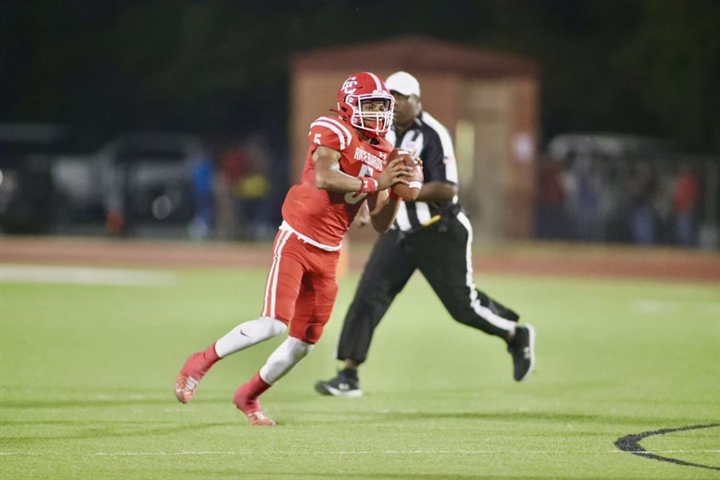 This article is available to our Digital Subscribers.
Click "Subscribe Now" to see a list of subscription offers.
Already a Subscriber? Sign In to access this content.