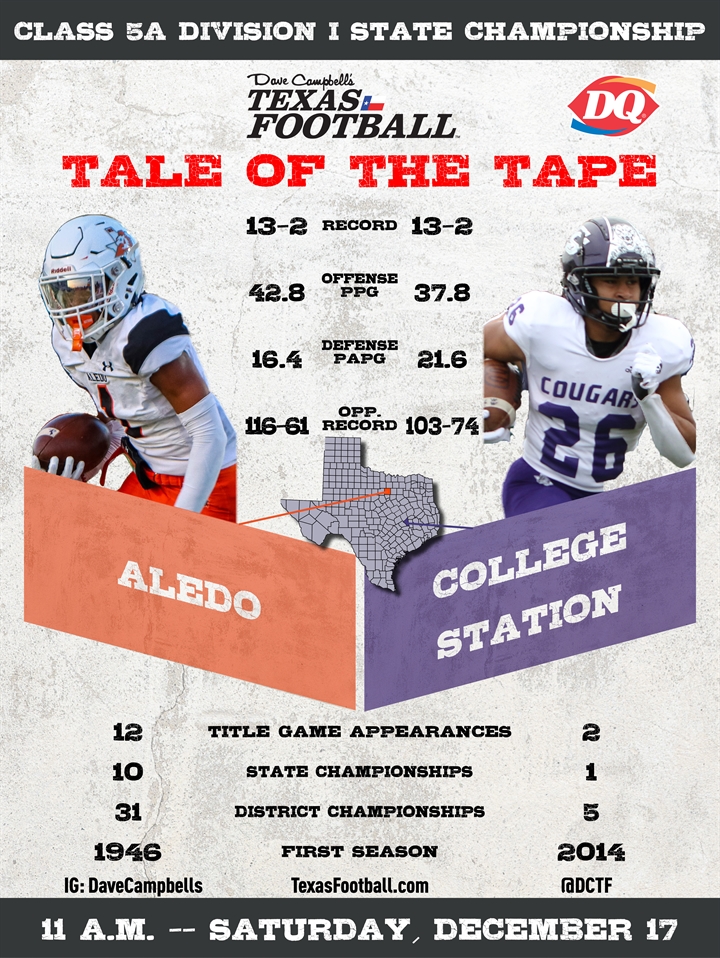 Aledo (13-2) vs. College Station (13-2), 11 a.m. Saturday at Arlington's AT&T Stadium
It's a rematch of the 2017 5A-Division II state title game as Aledo and College Station hook up for the Division I state title in 5A this time around.
Much like that meeting five years ago, Aledo comes into this game as a heavy favorite and why not? The Bearcats have rattled off 13 wins in a row, including a 17-14 slugfest win over the state's No. 1 team in Longview. Aledo's adjustment to Division I has been smooth and a big reason for that has been the play of QB Hauss Henjy and a balanced group of playmakers at the skill spots. But last week it was the Bearcats defense, most notably the defensive line that totally shut down a potent Longview ground game a week ago.
College Station's run to the title game has been a bit of a surprise this season, but the Cougars have gotten better each and every week and they'll get a shot at redemption this week after beating Corpus Christi Veterans Memorial, 33-7, at the Alamodome. A year ago, the Cougars fell in the state title game in overtime to Katy Paetow, 27-24.
College Station's defense was sensational in the win over Veterans Memorial as RB Aydan Martinez-Brown led the way rushing for 151 yards and two touchdowns and he added three catches for 83 yards and a touchdown reception. The real game-changer in this game was right before halftime; trailing 7-6 DB Tony Hamilton had a 33-yard interception return for a touchdown that sent College Station to the locker room up 13-7 and they never looked back.
Aledo is 14-1 all-time at AT&T Stadium with the one loss coming to College Station. Even though these players were in elementary and junior high when that game was played, it's still on the minds of the Aledo faithful and a win over College Station would definitely ease the pain of that loss. There's no upset this year as Aledo wins comfortably.
Stepp's Pick: Aledo by 17
PLAYERS TO WATCH
Aledo
QB Hauss Hejny - Hejny (pronounced HAY-nee) has really taken control of this Bearcat offense this season, becoming incredibly efficient in the RPO and speed option. If he gets the edge, he's likely not going to get caught, just as he proved with a 42-yard TD run to open the scoring in the regional final against Burleson Centennial. He's also proven more than capable of making the tough throw, and trusting his offensive line to keep him protected while routes develop.
TE Kaydon Finley - A freshman phenom, Finley has emerged as one of Hejny's top targets. The son of former NFL tight end Jermichael Finley, Kaydon caught two touchdowns in the regional final.
DL Ansel Din-Mbuh - A menace in the trenches, Din-Mbuh will take his talents to Washington State once he's finished wreaking havoc for the Bearcats. The 6-2, 265-pounder plays with great leverage, often resulting in the opposing line going the wrong direction.
College Station
QB Arrington Maiden - The 6-foot-3, 195-pound 2024 prospect has really come into his own this season, doing a fantastic job leading the Cougars offense in the absence of star RB Marquise Collins. He has full command of College Station's up-tempo offense.
DB A.J. Tisdell - A technican on the boundaries. Tisdell is the last person you want to be throwing at if you're looking for a comoletion. The 5-foot-11, 185-pound corner is committed to Wisconsin.
DB Harrison Robinson - You won't find too many defensive backs with 100 tackles during the regular season, but Robinson is one of them. None of them were bigger than the last second goal line stop he made against Smithson Valley in the regional finals that otherwise would have ended the Cougars' season.
- William Wilkerson
KEY MATCHUPS
College Station secondary vs. Aledo passing game
Stopping the Aledo rushing attack is hard enough. Adding a second dimension to the attack through the air makes the Bearcats unstoppable. While College Station loads the box to stop Hawk Patrick-Daniels and Hauss Henjy, the Cougars can't forget about coverage. Henjy averages over 18 yards a completion and has 18 touchdown passes on only 158 attempts. College Station is allowing 22 points a game in the playoffs. Tony Hamilton leads the back end for the Cougars.
College Station QB Arrington Maiden vs. Aledo linebackers
Balance is a key component to the College Station offense. Sure, the Cougars will spend plenty of time hoping to establish the ground game behind sophomore Aydan Martinez-Brown, who is over 2,000 yards rushing on the season. With seven or eight men in the box to stop the Cougars rushing attack, Maiden tends to get man-coverage on the outside for his receivers. If the junior can make those shots count, College Station can score enough points to potentially pull an upset.
- Mike Craven
PREDICTIONS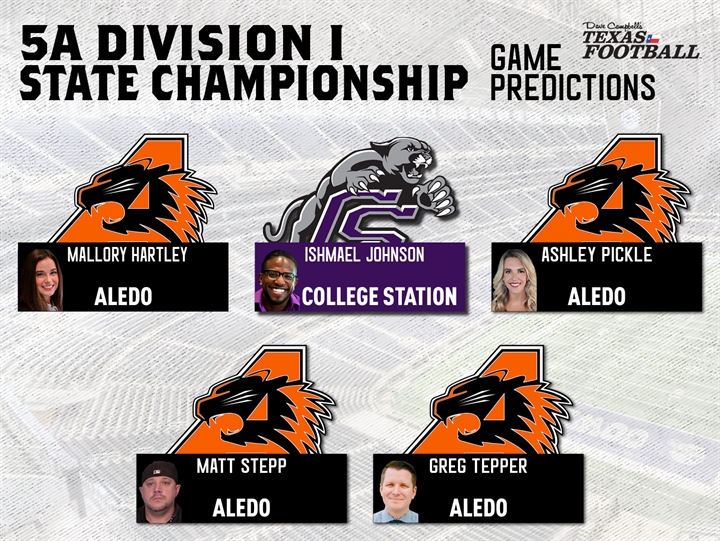 THE PICKS
This article is available to our Digital Subscribers.
Click "Subscribe Now" to see a list of subscription offers.
Already a Subscriber? Sign In to access this content.