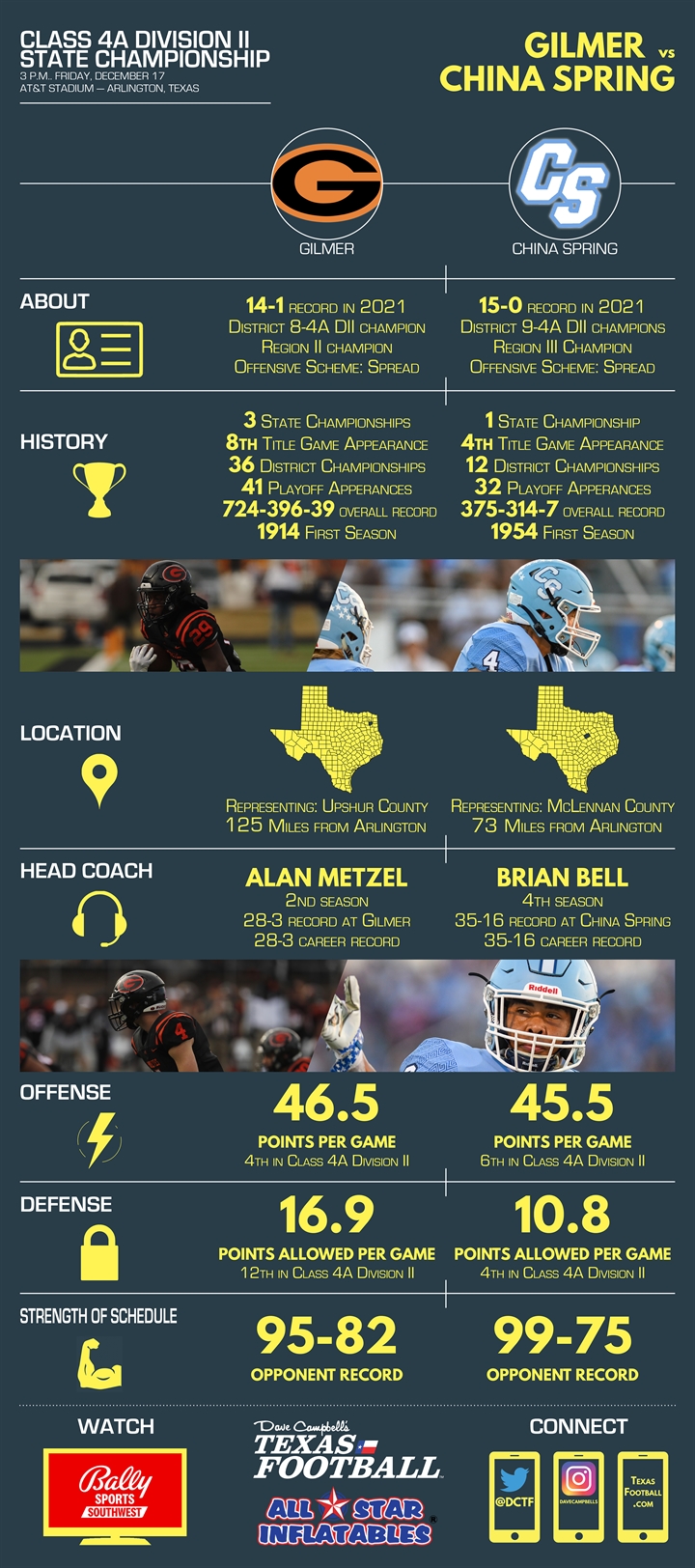 Gilmer (14-1) vs. China Spring (15-0), 3 p.m. Friday at Arlington's AT&T Stadium
Gilmer is back in the state title game and although many are thinking the Buckeyes are simply happy not to see Carthage after what happened a year ago, Gilmer gets to tangle with the team that ended Carthage's reign of terror in Class 4A, the unbeaten China Spring Cougars. Gilmer's offense led by UTSA commit QB Brandon Tennison generally grabs headlines, but last week in their 27-7 win over Celina, the Buckeyes defense rose to the forefront totally shutting down Celina's offense, which was averaging over 46 points per game. QB Tennison threw for 260 yards and a touchdown, while RB Ashton Haynes ran for a pair of touchdowns for the Buckeyes. China Spring had no trouble last week with Cuero, taking care of the Gobblers with ease 34-9. RB Isaiah Williams ran for 174 yards and a touchdown, QB Major Bowden, who ran for nearly 300 yards in the win over West Orange-Stark, only ran for 67 yards but he did find the end zone twice in the win. China Spring's defense also had one of their best games of the season as the Cougars held what had been a dynamic Cuero attack to just nine points. Despite both defenses playing their best games of the year last week, expect a shootout in this one with China Spring getting the slight edge in what looks to be a very evenly matched game.
Stepp's Pick: China Spring by 2
PLAYERS TO WATCH
China Spring
QB Major Bowden - The definition of "dual-threat," Bowden is more prone to put China Spring on the board with his legs rather than his arm. He'll call his own number a lot, and for good reason - he's very, rarely stopped for a minimal gain. If Gilmer wants to hand China Spring its first loss of the season, the Buckeyes will have to contain Bowden first and foremost.
DL Dawson Exline - One of the leaders of a defense that has held all but two opponents to less than 20 points and eight to single-digits.
RB Isaiah Williams - If Bowden isn't torching defenses, it's likely Williams, who is as solid a receiving back as you'll find. Linebackers better beware.
Gilmer
QB Brandon Tennison - There are few, if any, players in the state playing as well as Tennison this season. The UTSA commit displays pinpoint accuracy and an uncanny elusiveness in the pocket. He's the engine that makes Gilmer roll.
RB Ashton Haynes - A sparkplug alongside Tennison, he'll likely lead Gilmer in touches and can be a difference-maker as a receiver as well; had two receptions for 63 yards a week ago.
WR Rohan Fluellen - The junior hauled in nine receptions fir 186 yards and a touchdown last week as he continues to be Tennison's go-to receiver.
(William Wilkerson)
KEY MATCHUPS
China Spring's Major Bowden vs. Gilmer's Brandon Tennison
The best quarterback duel in a 2021 state championship game is likely between Bowden and Tennison. Tennison went 15-of-25 for 260 yards and a touchdown in Gilmer's semifinal win over Celina. Bowden, who was held in check with only 67 yards rushing against Cuero, did score twice. He almost rushed for 300 yards in a win over West Orange-Stark two weeks ago. Both quarterbacks are dangerous, and they will be the focal points for the opposing defense. The player with the biggest impact likely hoists a trophy.
China Spring offensive line vs. Gilmer's defensive line
China Spring is undefeated in 2021 thanks, in large part, to its ability to win battles in the trenches. Isaiah Williams rushed for 174 yards and a touchdown on 14 carries in the blowout win over Cuero. Bowden added 67 more rushing yards and a pair of touchdowns. As a team, the Cougars compiled more than 250 yards rushing in the first three quarters of their semifinal win. Gilmer must force China Spring into passing situations. The team that wins the line of scrimmage when China Spring is on offense might determine the outcome of the game.
Gilmer's Rohan Fluellen vs. China Spring's secondary
Fluellen is Tennison's favorite target in the high-powered Gilmer passing game. The junior caught nine passes for 185 yards and a touchdown in the semifinal win over Cuero. The rest of the Gilmer offense accounted for six receptions for 75 yards. The goal for China Spring is to take away Fluellen and force Tennison and the Gilmer offense to go to Plan B or C.
(Mike Craven)
PREDICTIONS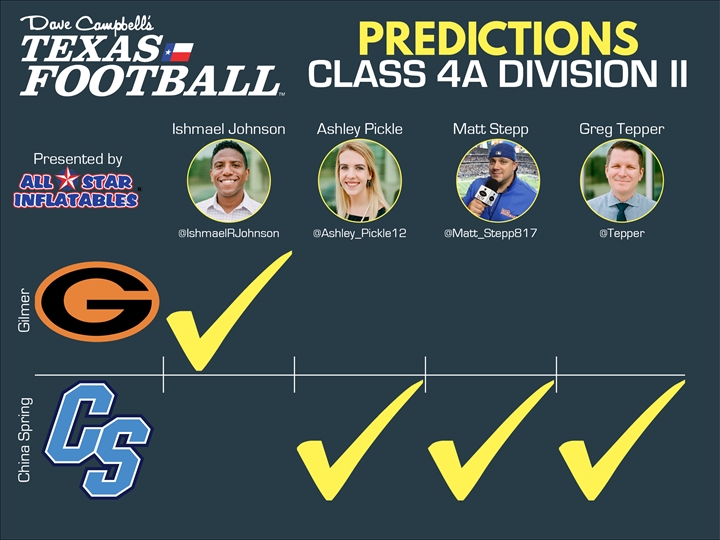 This article is available to our Digital Subscribers.
Click "Subscribe Now" to see a list of subscription offers.
Already a Subscriber? Sign In to access this content.