Dave Campbell's Texas Football awarded its offensive and defensive players of the year, as well as head coach of the year.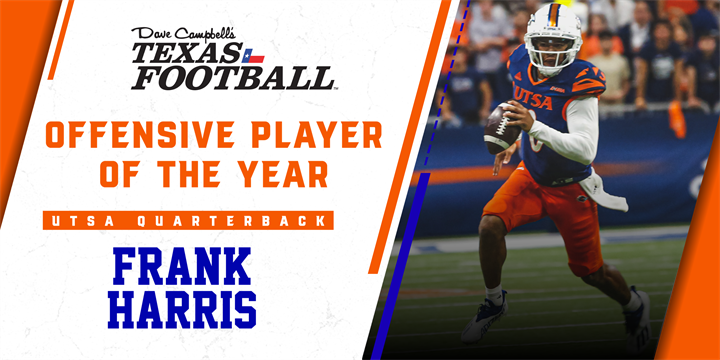 Offensive Player of the Year
Quarterback Frank Harris, UTSA, senior
Stats: 241 of 362 for 2,906 passing yards, 25 touchdowns, 5 interceptions; 105 rushing attempts for 565 yards, 6 touchdowns
Harris was the model of consistency and excellence for a UTSA offense that led the Roadrunners to a 12-1 record and a Conference USA championship. Harris completed 67.9 percent of his passes for 218 yards and two touchdowns to no interceptions, adding 81 yards and a score on the ground in the C-USA championship game win over Western Kentucky. It was a performance that epitomized the growth shown by Harris as a senior. He completed 66.5 percent of his passes on the year, threw four touchdowns for every one interception, and accounted for 31 total touchdowns on a team that set every record in the 11-season history of UTSA football.
The dual-threat quarterback from Schertz Clemens High School played winning football in nearly every game of the season for UTSA. He passed for more than 200 yards in eight of the 13 games. He completed over 60 percent of his passes in all but two contests. Harris accounted for more than 250 yards of offense eight times and over 300 yards six times. He only threw an interception in three of the 13 games in 2021.
Harris also came up big in the biggest moments. He threw for 349 yards and six touchdowns in a shootout win over Western Kentucky in the regular season and he engineered the last-minute drive to beat UAB and claim the West Division of C-USA in Week 12 that culminated in a one-yard touchdown pass. He set program records for completions, yards, and touchdowns in 2021. And he also set the single season mark for total yards by a Roadrunner with 3,471.
Runner-ups: SMU quarterback Tanner Mordecai, UTSA running back Sincere McCormick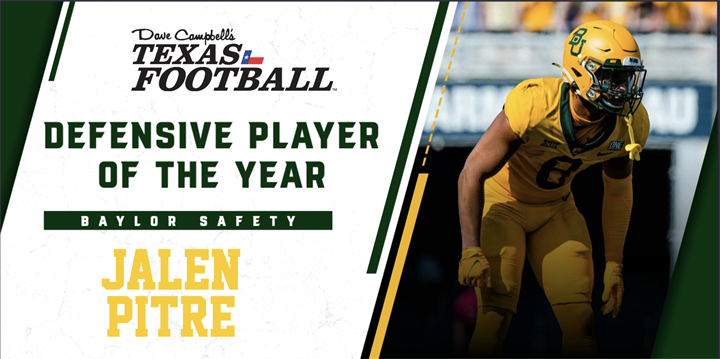 Defensive Player of the Year
Defensive back Jalen Pitre, Baylor, senior
Stats: 55 tackles (10.5 TFL), 2 sacks, 2 INT, 5 pass breakups, 3 fumble recoveries, 3 fumbles forced
Pitre is a folk hero in Waco for sticking with the program through the 2017 recruiting cycle. His play on the field earned him Big 12 Defensive Player of the Year honors in 2021 to culminate a historic career as a Baylor Bear. Pitre led the Big 12 in tackles for loss as a defensive back, which is an absurd feat. His versatility is amazing at 6-0 and 197 pounds. He recorded multiple sacks, interceptions, pass break ups, forced fumbles and fumble recoveries. Pitre is the third Baylor defender to win Big 12 Defensive Player of the Year.
Pitre performed well on the big stage. He recorded seven tackles, six solo, including two for loss in the Big 12 championship game win over Oklahoma State. He broke up a pass attempt on third down to force the fourth down that eventually failed to clinch a third Big 12 title for the Bears. The "One Who Stayed" had a season-high 10 tackles, including 2.5 for loss, and a sack against BYU. He also registered a sack in the win over Texas.
Pitre's career at Baylor spans five seasons. He recorded 190 tackles, including 24.5 for loss, and 4.5 sacks, during 51 games played.
Runner-ups: UTSA linebacker Clarence Hicks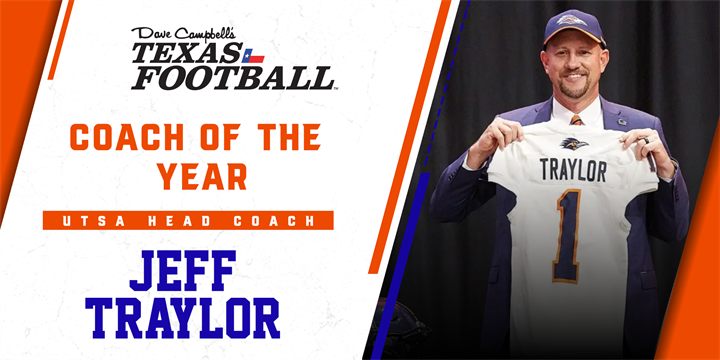 Head Coach of the Year
UTSA head coach Jeff Traylor
Team: 12-1, Conference USA champions
Traylor already has one stadium named after him thanks to his success coaching at Gilmer High School. He might add a statue on UTSA campus if he keeps winning conference championships for the Roadrunners. He led UTSA to an 11-0 start and the program's first ever ranking in the AP, Coach's, and College Football Playoff polls. Even with a Week 13 loss at North Texas, UTSA clinched the West Division of C-USA before clinching the conference title in a second shootout win over Western Kentucky. All in his second year coaching college football. Traylor inherited the Roadrunners prior to the 2020 and led UTSA to its second ever bowl game despite installing a new offense and a new defense amid a pandemic without spring ball. UTSA is 19-6 in two years under Traylor. The Roadrunners were 7-17 in the two seasons immediately prior to his arrival.
Runner-ups: UTEP head coach Dana Dimel, Baylor head coach Dave Aranda
This article is available to our Digital Subscribers.
Click "Subscribe Now" to see a list of subscription offers.
Already a Subscriber? Sign In to access this content.