Midland, Texas is a warm and inviting West Texas city, conveniently located on Interstate 20, halfway between Fort Worth and El Paso. Easily accessible, it boasts Midland International Air & Space Port, serviced daily by American, Southwest, and United Airlines and is the closest airport to Big Bend National Park. This is the perfect destination to begin a West Texas road trip, a tour of the Big Bend region, host your meeting, sporting event, or family reunion.
It's also home to some exciting Texas high school football! Throughout the season, Dave Campbell's Texas Football will spotlight some can't-miss Texas high school football matchups in the Midland area. Check back in this space for our preview of every matchup, and our thoughts on who will put on a show. And while you're here, make sure you see our picks for the best places to eat, shop and play!
2020 SPOTLIGHT GAMES
Nov. 20
Midland (1-6, 1-3) vs Midland Lee (6-1, 3-1)
The annual Tall City rivalry between Midland High and Midland Lee is one of those classic games where you can throw the records out the window as anything can happen Friday at beautiful Grande Communications Stadium. Adding an extra element to this game is Friday morning at Grande Communications Stadium an FBS college game will be played between UTEP and UAB. Despite the 1-6 record, Midland High is alive for a playoff spot, but the Bulldogs must win out to have a shot and it starts this week against Lee. MHS fell to Odessa Permian last week, 42-14, as the Bulldogs defense allowed nearly 600 yards of offense to Permian. MHS was led by RB Daniel Garcia, who ran for 85 yards and a touchdown and also hauled in a 64-yard touchdown pass in the fourth quarter. Since dropping their district opener to Odessa Permian, Midland Lee has been on absolute tear winning their next three games by an average margin of 39 points. Last week the Rebels trounced Odessa High to the tune of 46-0. The Midland Lee offense gets a lot of headlines, but the defense was sensational in holding OHS to just 82 yards. RB Makhilyn Young ran for 126 yards and four touchdowns, while QB Mikey Serrano threw for 261 yards and a touchdown as well. Midland Lee has their eyes on a showdown with San Angelo Central, but the Rebels can't afford to look ahead this week because Midland High would like nothing more than to spoil Lee's hopes of a district title. Look for Midland Lee to jump out on MHS quickly in this one as Coach Hartman's squad is fast starting; they'll put this one away in the second quarter and then the Rebels will work in several younger players as they hope to build depth before the postseason.
Stepp's Pick: Midland Lee by 28
Final: Midland Lee 63, Midland 40
Nov. 13
Midland Greenwood (5-3) vs Seminole (4-6)
7 p.m. Friday at Midland's King Memorial Stadium: Two old rivals meet up at Greenwood on Friday night with a lot on the line as Midland Greenwood hosts Seminole in a 4A Division II bi-district showdown in the Tall City. Greenwood has had their up's and down's this year with a relatively young team, but Rusty's Purser's squad is as healthy as they've been all year with two full weeks to rest up for the post-season. During last year's state semifinal run, the Rangers offense dazzled, but in 2020 it's been all about the defense for Greenwood as in their last two outings, (both four-point wins) Midland Greenwood has allowed just 23 points, those are the kind of numbers that will win playoff games. RB Trey Cross, the main offensive holdover from last year's team, was outstanding in their last outing, rushing from 207 yards and two touchdowns in the 17-14 overtime win over Snyder. Seminole was facing the end of their season last week as a loss and the wrong results in other games could have resulted in the end of the Indians season. But with a short-handed roster, including 14 JV call-ups, Seminole showed plenty of grit in a 49-48 win over Levelland. Versatile Nate Leyva accounted for 156 yards of offense and two touchdowns as the Indians rolled up 579 yards of offense in the shootout win. The Greenwood defense will be ready in this one, especially with the extra time to prepare and heal up, Seminole is gritty but playing such an emotional game last week and having to turn around quick and play a rested team is a tough ask for a young team.
Stepp's Pick: Midland Greenwood by 10
Final: Midland Greenwood 50, Seminole 20
Oct. 30
Abilene (1-3, 1-1) at Midland Lee (3-1, 0-1)
Abilene High heads west on Interstate 20 to the Tall City and the Eagles are flying high after stunning Odessa Permian a week ago, 27-25. Midland Lee, on the other hand, has to be smarting after their loss to Permian two weeks ago and having to sit and think about it for an entire week during their bye. Abilene's defense was the story last week in the win over Permian as the Eagles, after allowing 25 first half points, didn't yield a single point in the second half. QB Abel Ramirez threw for two touchdowns and ran for another score in the first half and Anthony Ramirez's two second half field goals proved to be the difference for Abilene, who thrust themselves right back into the district race in 2-6A. Midland Lee's offense, led by QB Mikey Serrano and a super-talented cast of offensive playmakers, has had no trouble putting up points all year, but the defense has been a sore spot. They had no answers in a 55-44 loss to Permian. There's zero doubt Clint Hartman's squad has a bad taste in their mouths; taking the field at beautiful Grande Communications Stadium will be just the medicine the Rebels need to erase that memory. Midland Lee's ability to stretch the field is a tough matchup for the Abilene defense that usually is strong against the run, but Serrano and a capable and deep group of receivers is a tough matchup. Abilene's improving but the Eagles don't have the offense to keep up with Lee's attack.
Stepp's Pick: Midland Lee by 12
Final: Midland Lee 51, Abilene 19
Oct. 16
Wolfforth Frenship (1-2) at Midland (0-3)
The great thing about starting up district play is that the slate is wiped clean, and that's a good thing for both Wolfforth Frenship and Midland High. With a combined 1-5 non-district record, both of these teams come into this Little Southwest Conference opener dripping with playoff implications as both teams feel like they are capable of being in that postseason discussion. Frenship comes to the Tall City with just a single win, but the Tigers non-district slate has been as tough as any in West Texas. Last week, the Tigers fell in a heart-breaker, 20-14, to Lubbock Cooper in front of a big crowd at Texas Tech. The Tigers, who fell behind 17-0 in the first quarter, were trailing 20-7 late in the third quarter when backup QB Corbin Gandy came in and sparked the offense with a touchdown pass to Klein Coker, but the Tigers wouldn't get any closer. Midland High's biggest issue in their 0-3 start to the season has been their defense, which is allowing 49 points per game. In last week's 56-28 loss to Lubbock Monterey, the Bulldogs fell behind 42-0 in the second quarter as the defense had no answers and the offense was plagued by miscues and were unable to get first downs to give the defense a break. There's no doubt head coach Tim Anusziewicz will have his team focused and playing with maximum effort after a performance that he called "embarrassing" last week. Frenship, however, is a bit too well rounded. After withstanding an early barrage from Midland, the Tigers escape beautiful Grande Communications Stadium with a district opening win.
Stepp's Pick: Wolfforth Frenship by 10
Final: Frenship 37, Midland 23
Sept. 25
Wall (3-1) at Midland Christian (0-0)
It's an odd set of circumstances that brings Wall into the Tall City to take on Midland Christian in the Mustangs season opener. Wall, a UIL 3A school, has already played four games this season, while Midland Christian, a TAPPS program ,had a delayed start to the season. That certainly is an advantage for Wall coming into this matchup as the Hawks are game prepped and in good physical condition, while the Mustangs are likely to see typical Week 1 sloppy play. Wall bounced back nicely from their loss to San Antonio Christian with a dominant win over Mason, 42-7, last week. The Hawks ran for 406 yards in the win and they had a pair of backs top 100 yards on the ground. Expect the Hawks to run a lot behind OL Tate Williams, who is one of the state's top offensive lineman and a Baylor commit. Midland Christian needs this early test as the Mustangs play in a brutally tough TAPPS district loaded with powerhouse teams from the DFW area. QB Ryver Rodriguez accounted for 20 total touchdowns as a sophomore and emerged as a real leader for the MCS offense. Don't be surprised if he is one of the Permian Basin's top playmakers by the end of the season. WR's Chris Brazzell and Tre Huber give Midland Christian weaponry on the outside, while LB Colton Wolfe (119 tackles in 2019) leads the defense. Wolfe is a big and quick linebacker who can cover the entire field and he sets the tone for the Mustangs. If both of these teams had played the same number of games, you'd give the edge to Midland Christian. But those four games under Wall's belt are huge and the Hawks use that experience this week to go into beautiful Midland and get a win.
Stepp's Pick: Wall by 6
Final: Midland Christian 41, Wall 6
Aug. 28
Lubbock Estacado at Midland Greenwood
It's a playoff rematch in the Tall City as Lubbock Estacado comes to beautiful Midland looking to get a measure of revenge against the defending Class 4A Division II Region I champions in Midland Greenwood. The Rangers ended the Matadors perfect 2019 run in the regional semifinals a year ago, but most of the offense has graduated. Expect the offensive load to be carried by RB Trey Cross, who dazzled as a junior with 2,891 yards and 35 touchdowns on the ground in 2019. The key matchup in this game may be an inexperienced Greenwood offensive line going against a ferocious defensive front of Estacado led by DL Jihad Lateef, who is emerging as one of the state's top prospects in the trenches in the Class of 2022. QB Jay'Lon Dobbins is back to lead the Estacado offense after throwing for 2,181 yards and 21 touchdowns a year ago. The Matadors will need to develop a new cast of running backs, but there are plenty of prospects in the pipeline for Joe Cluley's bunch. WR T.J. Steele is a North Texas commit and the top target in the Estacado passing game; his ability to stretch the field will be a major challenge for the veteran Greenwood defense, which returns eight starters from last season's state semifinalist. The two headliners for the Rangers defense are returning all-state performers LB Michael Gutierrez (160 tackles) and DL Connor McDonald (96 tackles). Greenwood's strong defense may have to carry the load early as teams will stack the box to slow RB Cross, and that could limit the Rangers offense early on. Expect a sloppy game as Week 1 contests typically are, but this will no doubt be an entertaining contest featuring two of the top 4A programs in West Texas. Look for Estacado to get a small measure of revenge this week and hand Greenwood its first loss in the regular season since Week 3 of the 2018 season.
Stepp's Pick: Lubbock Estacado by 6
Final: Midland Greenwood 28, Lubbock Estacado 12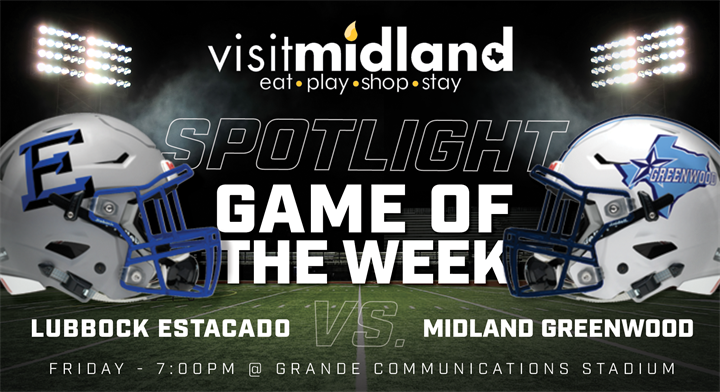 This article is available to our Digital Subscribers.
Click "Subscribe Now" to see a list of subscription offers.
Already a Subscriber? Sign In to access this content.