With one flick of the wrist on a dreary May evening, Sam Houston quarterback Eric Schmid sent the state of Texas into exclusive territory.
"The Throw" sent Sam Houston to a 23-21 win over South Dakota State for its first FCS national championship in program history. It also represented the first ever championship at the FCS level for the state of Texas.
Sam Houston's win means the state of Texas joins Georgia and Pennsylvania as the only states to win national championships at all four levels of college football. If you open it up to every level of college football – including junior college and NAIA ball – the state of Texas stands alone as the only one to win at every level.
Out of 96 players on Sam Houston's roster, 80 of them hailed from the state of Texas.
"It just means so much when you look at guys who you played with in high school or grew up with, to see them get an opportunity to showcase their skills on the national stage," Texas A&M-Commerce championship-winning DB Alex Shillow said. "It just showed you the caliber of football you played growing up here in Texas...it puts you in awe sometimes looking at it."
While the lion's share of attention is paid to the big-money programs, small college football in the state has quietly become among the best in the country. Over the past five seasons, the state has won four national championships: D-III Mary Hardin-Baylor in 2016 and 2018, D-II Texas A&M-Commerce in 2017 and Sam Houston during what will officially go down as the 2020 FCS season.
Across all classifications of college football, the state of Texas has won 43 national championships. Thirty-one of those have come at the sub-FBS level – including seven since the Texas Longhorns won the state's last FBS national championship in 2005.
"It was really special personally to me because I've coached my whole career in the great state of Texas," said Stephen F. Austin coach Colby Carthel, who led Texas A&M-Commerce to a Division II national championship. "My dad as well. We have just the utmost respect for the Texas high school coaches, and it was kind of fun to win one for them."
The appetite for small college football in the state has been so significant, in fact, that championship games at the FCS, D-II and D-III levels have been played in the state in recent years. Sam Houston won its national championship at Toyota Stadium in Frisco, which has served as the home of the FCS national championship for more than a decade. UMHB won its second national title at Woodforest Bank Stadium in Shenandoah.
AT&T Stadium also hosted the first College Football Playoff National Championship in 2014. NRG Stadium will host the game in 2023.
"There's so many youngsters across the state that love to play the game," Mary Hardin-Baylor coach Pete Fredenburg said. "It was really especially special to play this [2018] national championship in Texas. So many coaches came to the game, which was really rewarding for our university and our program to win a national championship in the heart of Texas."
Competing at the highest level across several classifications is tremendously difficult, and not just because of the recruiting talent it takes. Take Alabama for example. Every resource the state has goes into propping up Alabama and Auburn. In North Dakota, those resources go to the FCS ranks. In Minnesota, the D-IIs are well-represented. Ohio and Wisconsin do an strong job in non-scholarship Division III.
Texas features 12 FBS programs. No other state has more than seven. Texas has nine FCS programs. No other state has more than six. For a long time, the premier small college programs in the state all played in the NAIA ranks. What is now Texas A&M-Kingsville, for example, won seven NAIA national championships between 1959 and 1979. Sam Houston didn't move to the FCS ranks until 1986. Somehow, there is still enough talent and investment to go around for several national-caliber programs.
Nowhere has that been more true than the junior college ranks. Until recently, the NJCAA had caps on out-of-state players. Getting to pull from the Texas talent pool gave Texas JUCOs a massive advantage over their peers. Navarro and Blinn combined for three national championships between 2006 and 2010.
"There are so many kids who are overlooked in some of the small towns across the state of Texas," said Nick Bobeck, who coached Navarro to a championship in 2010. "Some of the best kids that we had at Navarro were kids who were not recruited at all."
Already, we are seeing the next wave of overlooked greats rise to the college level. One-time Georgetown star QB Cooper Bell led Cisco Junior College to an undefeated season, where the Wranglers were snubbed for a national title berth. Two-time Grandview state champion Dane Jentsch is heading to Lamar with Aledo DB DeMarco Roberts. Stephen F. Austin nabbed Mr. Texas Football finalist DT Ed Bobino, while the Nellor brothers at Mount Vernon are heading to Texas A&M-Commerce.
Everyone who watches Texas high school football knows how great these players are. The small college football world is about to learn soon – and they will come with a whole bunch of victories.
Said Fredenburg: "To see the accomplishments of the guys from Sam Houston – and obviously Coach Carthel – it's rewarding to share the benefits of being from such a great state that really plays football at a high level."
Every Texas college national football championship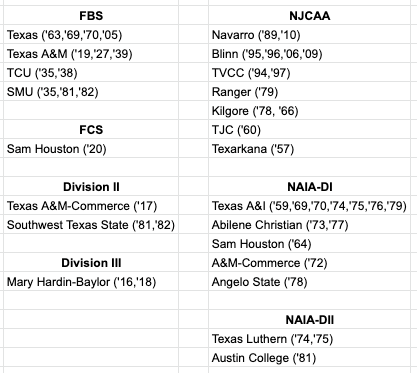 This article is available to our Digital Subscribers.
Click "Subscribe Now" to see a list of subscription offers.
Already a Subscriber? Sign In to access this content.