As the youngest of four future Division I athletes, Houston St. Thomas Eagles star quarterback Maddox Kopp is familiar with being overlooked.
But those days are long gone.
The rising senior has seen his stock soar in recent weeks thanks to a relentless work ethic and a cannon for a right arm.
The 6-foot-5, 210-pound Kopp was a relative unknown in the recruiting world as recent as a month ago. Heading into June, the signal-caller reported just six scholarship offers, headlined by Central Michigan and Cornell. Now, thanks in part to a strong performance at the Elite 11 in Murfreesboro, Tenn., from June 29 to July 1, Kopp is one of the hottest quarterback recruits in the nation.
The former AAU basketball player was one of 20 senior quarterbacks from around the country, including one of seven from the Lone Star State, to receive an invitation to the Elite 11 camp. There, Kopp rose to the occasion and proved his talent against some of the best in the United States, including the top QB recruit in the 2021 recruiting class and a quarterback that received Heisman Trophy votes this past December.
"On the first night, I competed in the Rails Shot Challenge, and it came down to me, Caleb Williams, and Justin Fields," Kopp explained. "All eyes were on us, and one miss meant that you were out. I ended up winning the competition."
Rivals ranked Kopp as one of the 10 best at the camp and an offer from the SEC's Ole Miss rolled in shortly afterwards. Although Kopp is not as highly ranked by recruiting services as some of the other prospects that were at the event, St. Thomas head coach Rich McGuire was anything but surprised that his quarterback stepped up to the challenge.
"He is an extremely hard worker," McGuire said. "He's always working, mentally and physically. His coachability is truly off the charts, and that competition showed that he belongs."
Prior to Kopp's trip to Tennessee, he picked up an offer from near-by Houston. The offer from Cougars head coach Dana Holgorsen, who has an extensive and proven track record of developing quarterbacks in his high-powered air raid scheme, caught Kopp's attention.
"The offer from Houston was big," Kopp said. "They offered before the Elite 11 and all of that kind of stuff, so it meant a lot to get that offer."
As Kopp's recruitment begins to heat up, he is fortunate to have family to lean on during the process. Kopp has three older brothers – two of which play Division 1 hoops at Northwestern and Lamar, while another is an offensive tackle at Vanderbilt – that know a thing or two about hearing from college coaches. Still, there are still some things that he has learned.
"Having brothers that have gone through the recruiting process definitely helps," Kopp said. "They have pushed me to work hard and help with any questions that I may have. But I have learned that being recruited to play quarterback is another story. They're recruiting you to be the leader of the program."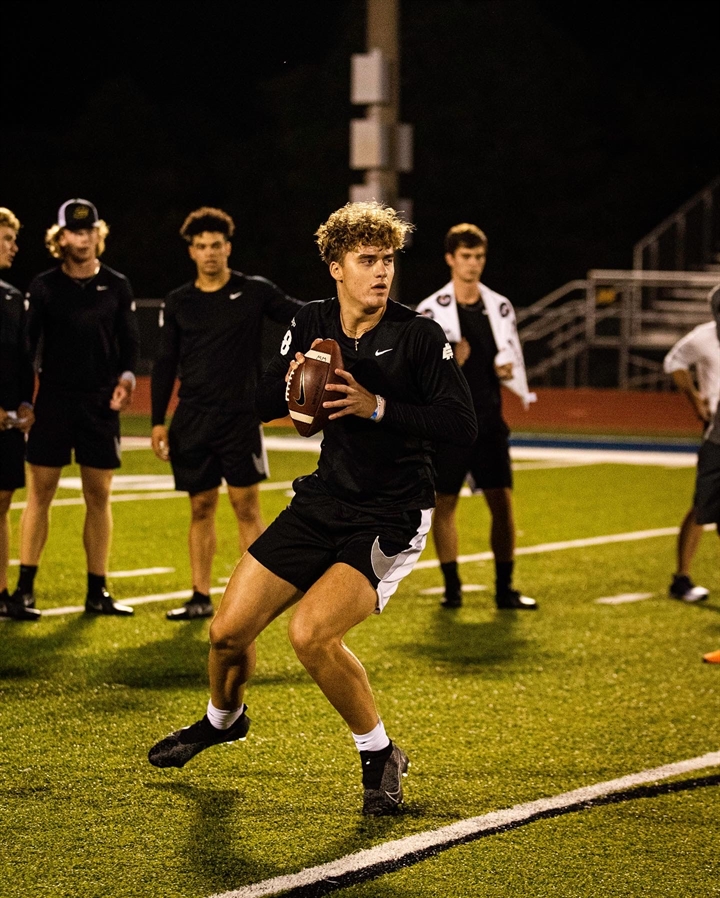 Kopp, who has multiple plays on his junior season highlight tape of him dunking a basketball, made the decision to shift his focus towards becoming a quarterback earlier in his high school career. McGuire has seen firsthand how Kopp has developed from an awkward 10th grader that could not hit a hitch route into a legitimate Division I prospect.
"Maddox was only 6-foot-1 and struggled to hit throws early on," McGuire explained. "He then grew a few inches and started studying film more and more. He worked with Jerrod Johnson, which really helped. His ability to throw the football, just physically, being able to throw the football is a testament to his work ethic."
Kopp sat and watched until his junior year, focusing on the mental aspect of the game and getting as many mental reps as possible before he took over as the starter in 2019. In his first season, Kopp led the Eagles to a 9-4 record and a berth in the TAPPS Division I state semifinals while passing for 3,076 yards and 28 touchdowns.
What really stands out to McGuire, though, is his quarterback's leadership ability and the hard work that Kopp consistently puts in on and off the field. McGuire explained that few understand the concept of mental repetitions that Kopp does and that it rubs off on the rest of the team.
"His junior year was his first time starting and playing significant time at quarterback," McGuire said. "The leadership aspect of being a quarterback just came natural to him. He put the work in and watched a lot of film. That sophomore year, having to sit and watch, he took advantage of that. His work ethic will take him wherever he wants to go."
Now, the St. Thomas product is receiving interest from programs such as Texas and USC. Though, Kopp is primarily focused on finishing his high school with a state title.
"A personal goal of mine is to break the school record for passing yards in a season, but the ultimate goal is to win state," Kopp said. "We have a ton of talent around me and have the team to do it. If I am able to break the record, that would be pretty cool. But I would rather have the state title."
McGuire is fully behind his starting quarterback, as he has watched him transform into a high-level signal-caller with the mental processing that the coach compared a little bit to former Texas high school football star – and reigning NFL MVP - Patrick Mahomes.
"Maddox wants to win it all this year," McGuire added. "He makes no bones about it."
This article is available to our Digital Subscribers.
Click "Subscribe Now" to see a list of subscription offers.
Already a Subscriber? Sign In to access this content.