SMU had already clinched its best start to a season in 30 years by the time the Mustangs pulled into Fort Worth for their clash with TCU on Sept. 21, 2019. The 40-mile trip west to Cowtown always means a little extra, though.
The Mustangs and Horned Frogs are technically bitter historic rivals that play for the Iron Skillet every year. Though, the rivalry has been decidedly lopsided in TCU's favor under Gary Patterson, with the Frogs having won 16 of 18 heading into 2019. Since joining the Big 12 in 2012, TCU was a cool 7-0 with wins by an average of four touchdowns.
"That's the game we need to come out and need to prove to ourselves that we can compete with the big dogs," SMU wide receiver Reggie Roberson said. "I never really got recruited by TCU either. I always had that chip on my shoulder against TCU."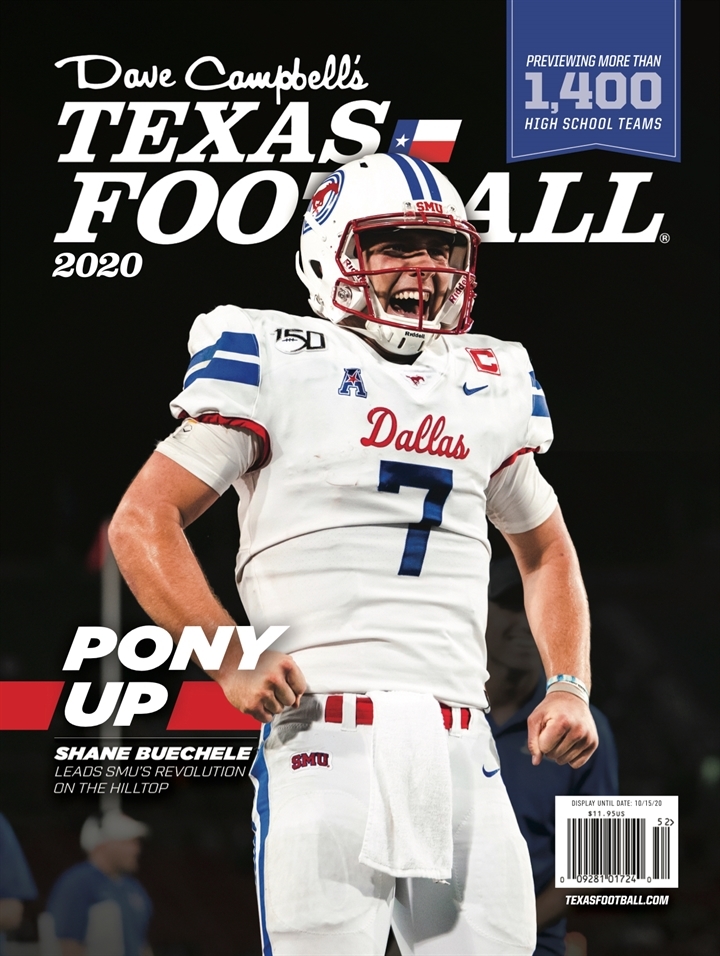 Shane Buechele played well in his first three games as an SMU Mustang, but TCU posed another challenge for the Tarrant County native and Longhorns transfer. In two starts against Patterson's defense at Texas, Buechele completed a pitiful 44 percent of his passes and led the offense to 16 combined points.
"I think it was a big game for our team, but for Shane too because he had a couple years of not great experiences at Texas," former SMU offensive coordinator Rhett Lashlee said. "It was kind of getting a monkey off his back."
Buechele's first pass went for nine yards. On the second play of the game, he handed the ball off to running back Xavier Jones, who swung it to receiver Myron Gailliard, who ran back around and tossed it back to Buechele, who ignored a defender running right at his face and found tight end Kylen Granson streaking up the sideline for a huge gain – a perfectly executed double flea flicker reverse. Once that play hit, nothing was the same.
Two drives later, SMU linebacker Richard McBryde popped TCU running back Sewo Olonilua, who fumbled within the TCU 5-yard line. Three plays later, the Mustangs were up 15-0. TCU made a late run to make it a one-score game with three minutes left, but the Mustangs made all the right plays in a huge 41-38 road victory.
"That was a turning point for us," Buechele said. "It was exciting to beat them and show that SMU's for real. I think after that win, we got put on the map."
Buechele changed the game. He completed 68 percent of his passes, threw for nearly 300 yards and added three touchdowns. The year before he got to the Hilltop against TCU, SMU posted a paltry 111 total passing yards in a 42-12 loss. Shane Buechele's Mustangs would be nothing like before.
"Man, he played lights out," Lashlee said. "He showed how tough he was, made a bunch of big throws down the field, had rushing touchdowns, kept drives alive, just showed what a competitor he was. I think from that point on, our guys knew that we were good enough to beat anyone we played."
As the Mustangs walked off the field at Amon G. Carter Stadium, it became apparent just how much the victory meant. After beating North Texas two weeks earlier and now the Frogs, SMU stood alone as kings of the Metroplex.
This was no longer the 5-7 team that tripped over its own feet to miss a bowl game in 2018. Something special was happening. And it started with No. 7.
__________
When Buechele's Texas and Sonny Dykes' Cal faced off in 2016 – a 50-43 shootout victory for the Golden Bears –, no one could have known that the pair would someday team up to raise one of Texas' lost powers from the ashes.
Two weeks earlier, Buechele's performance against Notre Dame earned him the title of the new golden boy of college football, and led Joe Tessitore to exclaim that "Texas is back!" He was the first Longhorns true freshman to start the opener since Hall of Famer Bobby Layne in 1944 and threw for more yards than any quarterback since Colt McCoy. His future seemed set.
But as the story guys, Charlie Strong was fired. Tom Herman was hired. And with Herman came highly-touted quarterback Sam Ehlinger, who had no intentions of sitting on the bench.
Even after losing the starting job before the 2018 season, Buechele was the perfect backup, a rarity for a blue-chip upperclassman. He helped Ehlinger – who calls Buechele "the best human I've ever met" – prepare for games both on and off the field. From the sideline, he stayed engaged.
Herman recalled a critical third down against Kansas State where Buechele jumped into the coach's feed and made a play call that iced the game. When Ehlinger went down against Iowa State, Buechele entered and completed 10 straight passes to win a tight game.
"Even when he wasn't the starter, he was all in," said former Texas offensive coordinator Tim Beck. "He was coaching hard. He won us games. Without him, we don't get to the Big 12 championship game. He was a huge part of the success of that program."
SMU started looking to the graduate transfer market as the 2018 season ended. It was an especially deep transfer QB year with Jalen Hurts, Nick Starkel and Quinton Dormady highlighting the Texans alone. But when rumblings started that Buechele might leave, he immediately rose to the top of the list. An impeccable Herman endorsement didn't hurt.
"My experience playing against him probably had as much to do with that as anything else because I got to see the intangible part of it," Dykes said. "I felt like we needed that kind of person and that kind of presence on our football team, especially at that position."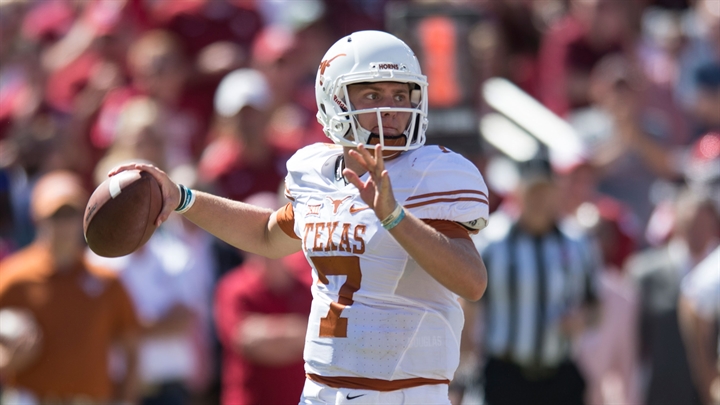 What the position needed was a leader, and Buechele was a perfect fit. He committed to SMU in February, but would have to wait until he graduated with his degree in sports management from UT and finished his three-day-a-week internship with the Round Rock Express before he could enroll in May.
Every week on Friday during spring camp, Buechele got in his car after his classes ended at noon and made the three-hour trek to Dallas. He'd watch practice to get comfortable with the format and then sit in on meetings.
"He wanted the guys to respect him before he started demanding things," running back Jones said. "Everyone probably thought that Shane would come in and start bossing people around, but Shane really felt his way around and started to lead by example. Everyone really rallied around him."
Instead of driving back to Austin, he spent the weekend getting to know his future teammates. On Saturdays, he would call up receivers James Proche, Myron Gailliard and Roberson to run routes and work on timing. Other times, he would go bowling or hang out at different apartments before making the drive to stay with his parents in Arlington.
"I think at the position of quarterback, you're a leader whenever you step in," Buechele said. "It was important to establish myself with them, hang out with them and pick their brains on what they get motivated by and how they play. When it was time to play, we knew each other and had good chemistry."
Proche was roommates with safety Rodney Clemons, and the pair had a mini basketball hoop hanging over the door. Proche, Clemons, Jones and Buechele would get into shooting contests around the apartment. Soon, it turned into 2-on-2 games. A handful of games turned into dozens lasting hours. No one wanted to be last to lose.
"Me, James and Rodney, we are super competitors, we compete at everything we do," Jones said. "It was like he filled in right away. That's kind of how we built our relationship."
___________
Landing Buechele helped bring attention to SMU's program, especially from the Longhorn faithful that still hold him in high regard. But after just a few practices, it became clear that there would soon be a moment.
Since he didn't arrive until the summer, SMU hosted an open quarterback competition in the fall between Buechele and capable underclassmen Will Brown and Terrance Gipson. There was no entitlement. Buechele went in and seized the job.
"It just comes out of his hand different," Lashlee said. "It was accurate. He had a good understanding of what we were trying to do offensively. The first time I saw him, I thought he had a chance to be special."
In the first scrimmage, SMU practiced a red zone package, and Buechele delivered two pinpoint passes that made teammates gasp. At another practice, Buechele handed the ball off to Jones and then leaked back into the play to serve as a lead blocker – not exactly a common occurrence for a star quarterback. That widened some eyes.
"He made all the right throws," Clemons said. "He only threw one interception the whole fall practice – and that was to me. He didn't make mistakes at all in practice."
The long trips on I-35 paid off, as Buechele stepped in with the first team and immediately had chemistry. The off-field relationships he built made enough of an impact that Buechele was named an SMU captain just two months after moving to the 214.
"When guys see that their quarterback is the leader of the team and when guys see their quarterbacks have that work ethic and that type of drive, it's infectious on everybody," Proche said. "It makes the guys that already have 'it' rise. A guy who doesn't gets an extra kick in his step. He just has that infectious attitude."
Outside of a fleeting window of success under June Jones, SMU hadn't won much of anything since the Death Penalty in 1987. The 7-6 campaign in 2017 was good enough to get Chad Morris an SEC job. Even at its worst, Dykes felt his team was poised to explode through that mark. It coincided perfectly with the release of the defining project of the Dykes era so far: The Dallas Project.
"We wanted to launch some of this stuff in Year 1, but we just didn't feel like we were ready to do it quite yet," Dykes said. "I remember going into the third week of fall camp and telling [SMU chief of staff] Anthony Crespino, let's go all in because this is going to have a chance to be a good football team."
SMU's quest to become the college football team of Dallas isn't new. It dates back generations to when the Ponies were the only show in town. Before the Cowboys even existed, there was Doak Walker, Forrest Gregg and "Dandy" Don Meredith playing at the legendary Cotton Bowl.
But as history goes, the Mustangs received the Death Penalty, the Cowboys sucked the air out of the room, the Southwest Conference folded, and everything was lost.
"It was kind of rough there for a bit," said three-time All-SWC quarterback Lance McIlhenny, the last Mustang to grace the cover of Dave Campbell's Texas Football in 1983. "It wasn't fun to hang out with SMU football being your main source of entertainment. But when you win a bunch of games, it feels good. Winning games cures a lot of problems."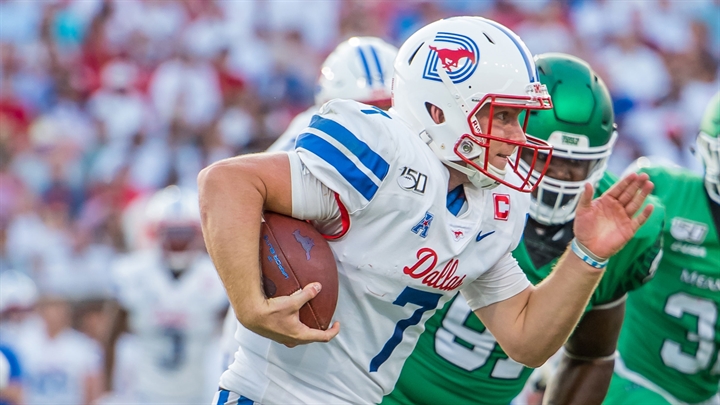 Drive around the Metroplex in 2020 and you might run into a billboard featuring a local student-athlete – DeSoto's Proche or Arlington Lamar's Buechele, for example. Travel into the city after a Mustangs win and the Omni Hotel often displays an "SMU" logo. Walk around campus and you might see the SMU Triple D logo that integrates the iconic pony into Dallas' logo, no place better than on the wildly popular Dallas jerseys.
The smaller gestures matter too. Players would go and visit kids in South Dallas elementary schools to read or have lunch. When the COVID-19 pandemic hit, Buechele helped raise $50,000 on GoFundMe for the city's emergency fund. Dallas Mayor Eric Johnson has helped the effort by building a strong relationship with the team, even making a mayor's bet with Fort Worth Mayor Betsy Price before the Iron Skillet tilt.
"I think the big thing people needed to see from SMU football was that we wanted to be Dallas' team," Dykes said. "We didn't want to be Highland Park's team. We didn't want to be Southlake's team. We wanted to be everyone's team. We were trying to make ourselves more accessible."
None of the gambles pay off without performances to match. Buechele threw for 292 yards and three touchdowns in a revenge spot against North Texas. He added 288 yards and three total scores against TCU and 203 yards and two touchdowns against Houston to sweep the in-state rivals. In performances against conference contenders Memphis and Temple, Buechele combined for 911 yards and nine touchdowns with no interceptions.
"It takes good branding, it takes good community outreach, it takes a lot of things," Dykes said. "But at the end of the day, it takes winning football games."
__________
Every week, the statistics got more absurd. First, the Iron Skillet returned to Dallas for the first time since 2011. Then, the Mustangs reached 8-0 for the best start since 1982. SMU went undefeated at home for the first time since 1968, when the team played at the Cotton Bowl.
Winning big at SMU is no longer theoretical. It's the new standard. And Shane Buechele is the face of the new era.
"At a point, we were telling kids that you could do this," Roberson said. "Now having Shane on our team, they're actually seeing it. We can come to SMU, be good, win games, stay in our city, get a good degree and make it to the NFL if that's our dream. It's actually happening."
That sales pitch is already paying off in a big way, especially in the Metroplex. The Mustangs have put together a top 25 national recruiting class; three of the four DCTF Top 100 players are from the Metroplex. The headliner, Parish Episcopal blue-chip quarterback Preston Stone, is an SMU legacy. Seeing Buechele's success changed everything.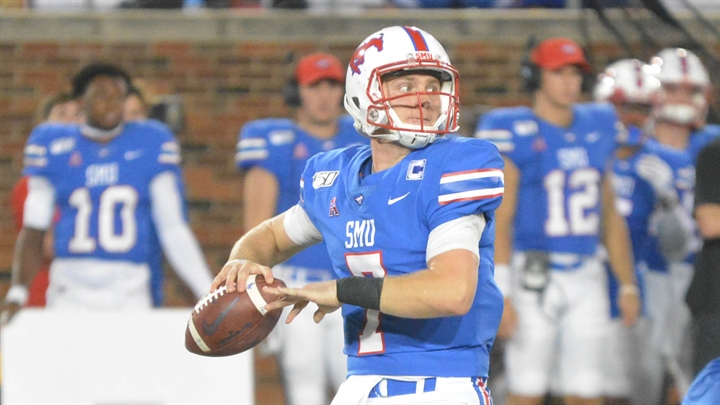 "He showed how dangerous SMU can be with a powerful offense and someone who knows how to operate and play at that level," Stone said. "Shane has been a huge role model to me through this whole process. To see how my favorite team growing up could be a top 20, top 15 school, that definitely means something to me."
The Transfer U pitch is hitting home too. Stanford graduate transfer defensive tackle Michael Williams, of Fort Worth, turned down SEC and Big 12 offers to play at SMU. Fellow Texans Ty DeArman (Oklahoma) and TQ Jackson (Arkansas) are also headed to the Hilltop.
"It was very big. It was very, very big," Williams said. "I've always liked SMU, but when you're coming out of high school, I wanted to go to a winning school, winning program, winning culture. They didn't have that. They offer that now."
When Dykes went to the transfer portal for a quarterback, getting a quarterback with multiple years of eligibility remaining was key. Now, he has a starter who has won games at the highest level. Even with Proche, Jones and Clemons off to the NFL, Buechele has another chance to help create a product that's built to last – and maybe even win a conference championship.
Said Lashlee: "I know that team going into next year is going to have confidence that they can beat anybody on that schedule because they've done it and won two games – and because they've got Shane Buechele."
This article is available to our Digital Subscribers.
Click "Subscribe Now" to see a list of subscription offers.
Already a Subscriber? Sign In to access this content.