For the first time in the 2019, Dave Campbell's Texas Football summer magazine conducted a wide-ranging high school coaches survey featuring more than 250 participants.
Texas Football asked coaches about a plethora of issues, from the best high school coach in Texas (Katy's Gary Joseph was their pick) to the toughest aspect of their job that people don't realize (dealing with parents). But at the end, there was a college question: Which of the 12 FBS coaches in Texas would you say you trust the most?
The top pick isn't surprising — TCU coach Gary Patterson has been around for 20 years. Whether you like him or not, you know exactly who he is. Sonny Dykes, Tom Herman and Seth Littrell also rank in the top five. Dykes is a Texas royalty, and both Herman and Littrell have quality years across the state.
However, No. 2 is unexpected: Baylor coach Matt Rhule. Rhule carried 21.5 percent of the vote, as much as the coaches at Texas, Texas A&M and Texas Tech combined.
Rhule has only coached in the state for two years — in many ways, he's a carpetbagger via New York City and Philadelphia. The closest he's ever coached to Texas was a short stint at Western Carolina, a cool 1,019 miles from Waco. In perhaps the most territorial state in America, there's no reason Texas high school coaches should vote for him.
"It's not easy for a guy like that to become accepted down here," said Rodney Webb, head coach at Rockwall High School and president of the Texas High School Coaches Association. "It's remarkable to me how a guy who has no roots in Texas has come to our state and ensconced himself in the culture down here.
"It's just amazing. It's just amazing that he's done that."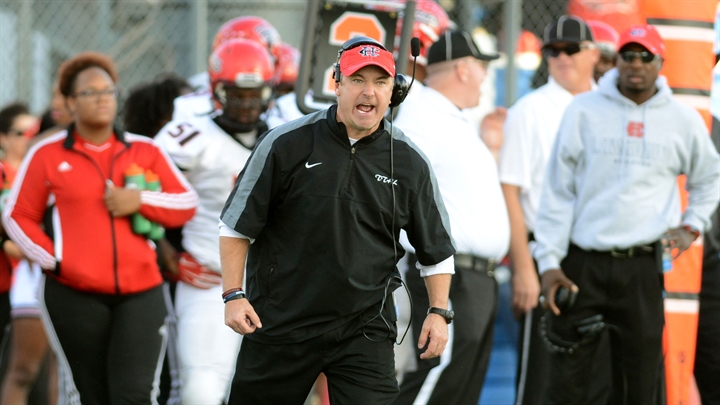 The Texan Trio
It's easy to forget just where Baylor was when Rhule took over the program. Just seven months earlier, Baylor fired a successful football coach and athletic director as part of a university-wide Title IX scandal. The next hire would be critical.
Rhule had offers from Baylor and Oregon in hand when he made the decision at a high-end New York restaurant. Instead of taking over a Ducks squad with seemingly limitless Nike resources and a College Football Playoff appearance just two years earlier, Rhule picked the private school in Waco. The move was, understandably, met with some skepticism.
"I think before anyone knew him, a lot of people were like me: They hired some guy from Temple who has no recruiting ties in Texas," Webb said. "I'm saying to myself, 'what in the world, they've lost their minds'."
Rhule knew exactly what he needed to do. He mentioned courting high school coaches eight times in his introductory press conference alone, and repeatedly talked about how recruiting Texas high schools was one of the top reasons Baylor was at the top of his list.
"I wanted to come to the great state of Texas, where high school football is better than anywhere else in the country," Rhule said at the introductory remarks. "I wanted to come be around the best high school coaches in the country."
Rhule reached out to the Texas High School Coaches Association soon after getting hired. It didn't take much consultation for him to find his first big hire: the THSCA president, David Wetzel.
Wetzel, a former Baylor football player, was one of the most respected high school coaches in the state. He spent 25 years as a head coach, including 13 successful years at San Antonio Reagan. Rhule brought him on as associate athletic director of football relations, though his responsibilities vary depending on the needs.
"I had a wonderful job at a wonderful place," Wetzel said. "I would not have left the coaching job at Reagan High School or the presidency of THSCA if it wouldn't have been for Baylor."
With barely more than a month left until National Signing Day and only one commitment, Rhule knew he had to get more connections with coaches on his staff. Wetzel and many others suggested Joey McGuire, a boisterous personality from Cedar Hill who turned a middling Longhorns program into a three-time state champion. Survey every high school coach in the state and you won't find many with a higher approval rating than McGuire. He was slotted as the tight ends coach to start.
The third member ended up being Shawn Bell, a former Baylor quarterback who was quickly becoming a star in the profession. According to Rhule, he first heard about Bell through a fan mentioning him on Twitter. After consulting Wetzel, he brought on Bell as a quality control coach.
"I think you saw a vision that he needed certain types of people," Wetzel said. "Shawn was really the right age coming in. You look at guys who are doing things in college football, he's the right age to enter in and really get it going.
"I know one of the first things we talked about is that we need to lock down DFW and we need to lock down the Houston area. It's a no-brainer to get Joey McGuire in there for DFW. Shawn coached a little in the Houston area. He was going to be a valuable asset as a football coach and a recruiter no matter what."
The three Texas high school coaches helped teach Rhule the landscape of the state, with a little help from Dave Campbell's Texas Football, which Rhule admitted to reading on the Jersey Shore.
Around the state, making the hires immediately turned heads and helped get the staff into living rooms and offices across Texas.
"It's genius – Shawn Bell, Joey McGuire, all of them are really good guys," said Jeff Riordan, who's in his first year at Tyler Chapel Hill after a successful run at Crosby. "It gets him into schools and in the door to build those relationships. They already have that fraternity and that network."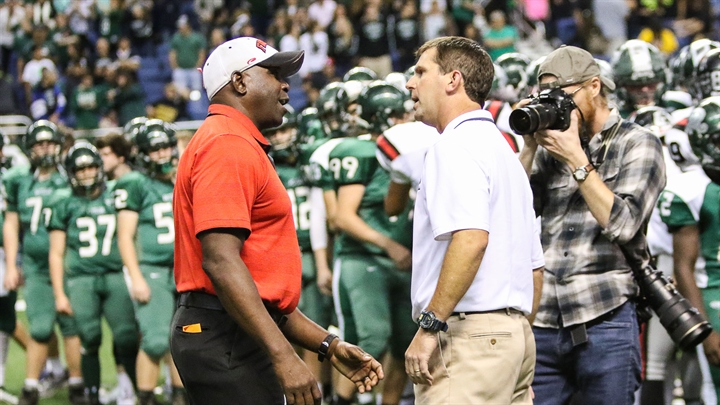 The Standard
Hiring some familiar names and faces helps get a new coach in the door. When those coaches met Rhule, it wasn't a hard sell.
"Texas high school football coaches, they're ball coaches," Wetzel said. "Well, he's a real ball coach. He's a real football coach. He loves the game, is extremely intelligent and cares deeply about players."
The game plan wasn't especially different from other staffs. Baylor has an open-door policy for high school coaches, like many other schools. They make sure and follow up with high school coaches when they've messed up. They focus on blanketing the whole state instead of just showing up when they need something. Everyone tries to make high school coaches feel valued; they've just done it more effectively than most schools.
"If we go to recruit, we try to recruit all the schools we can get to, not just the ones with big-time prospects," Rhule said. "We try to build relationships because at the end of the day, the high school coaches in the state of Texas, they love two things: football and working with young people."
The THSCA is perhaps the most important coalition of high school coaches in America. College coaches like Nick Saban, Tom Herman and Jimbo Fisher attend conferences to get in the good graces of high school coaches to recruit. Even among the coaches that involve themselves with the organization, Baylor's staff has set itself apart.
"He's been willing to come talk at regional meetings, talk at the state convention, anytime we need him, he's there for us," Webb said. "It's not borne from anything more than a sense of doing what's right and being an advocate for the game."
Look no further than the annual THSCA Coaching School and Convention, held in Houston this year — almost every member of Rhule's staff was in attendance, from coordinators to grad assistants. All of the staff had the interlocking BU on their chest while speaking to anyone who asked. High school coaches notice that kind of thing.
"It doesn't stop with him. It's everyone on that staff," Webb said. "The relationships they build with the high school coaches are intentional, they're real, they truly do mean something."
Webb said that former Baylor offensive line coach George DeLeone – who works as an offensive consultant now – sat in with him for two hours talking about offensive line play once. Riordan has a DeLeone story too — though it involves DeLeone injuring himself and needing an ambulance while the whole staff finished up recruiting Crosby running back Craig "Sqwirl" Williams. Still, he only came away impressed with the care that Rhule's staff put into recruiting Williams.
"You see a lot of coaches at that level that are in it for wins or success," Riordan said. "You've got some that are in it to change the lives of kids. Wins are a byproduct, but they come. For him to come and take the job at Baylor with everything they were going through at the time...anyone who is willing to do that is willing to go to work."
"They are the standard when it comes to the way things should be done at the collegiate level," Webb said.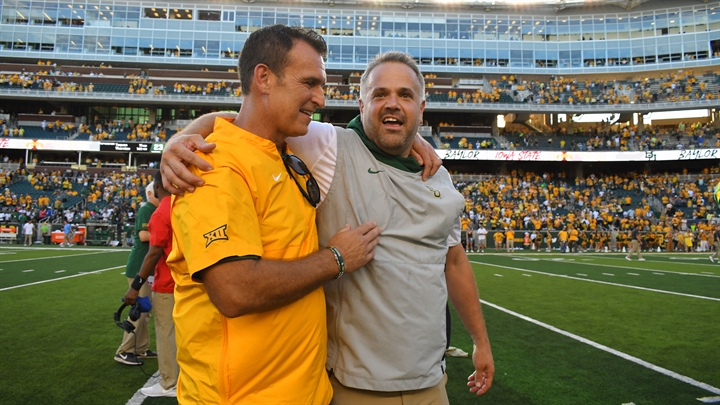 In for the Long Haul
Three years into his tenure at Baylor, Rhule is basically a Texan. He pays property taxes in McLennan County and drives a pickup truck. Wetzel even says he enjoys Texan country music.
The Texan staff is still rolling strong. McGuire is now defensive ends coach and associate head coach; there's chatter that he could be a head coaching candidate. Bell was promoted to offensive line coach after DeLeone retired from full-time coaching. Rhule also added former Lake Highlands and Texas star Frank Okam as defensive line coach, and former Hallsville and Texas offensive lineman Josh Cochran as a quality control coach.
Rhule has signed 75 players during his three years at Baylor. More than two-thirds of those players were from the state of Texas. All of Baylor's 13 commits in the 2020 recruiting class are from either Texas or Louisiana.
For his work at Temple and Baylor, Rhule has already been considered for other opportunities. After a 1-11 season, the Indianapolis Colts came calling, and last summer, the New York Jets were prepared to offer Rhule the coaching job, per reports. Both times, he chose to stay in Waco.
Earlier this week, Rhule committed long-term, signing a contract extension that will keep him at Baylor through the 2027 season. The contract is believed to include a hefty buyout for any teams that court Rhule for his services.
The message to high school coaches is clear: Matt Rhule wants to be here long term.
"It shows us that he's invested, that he's going to be sticking around and seeing that thing through," Riordan said. "To us, as high school coaches, it helps us push to a university like that because it feels like there'll be some stability there, that they're going to have some continuity and stability through their college years."
Baylor doesn't have a former Rockwall player on its roster, but that doesn't particularly matter to Webb. As president of the THSCA, Webb thinks the state is better with Rhule in it.
"I just think Coach Rhule is one of the good guys in the sport," Webb said. "There are a lot of people in the college game that high school coaches don't trust, I'll say that. Coach Rhule has just done a great job in establishing trust with the high school coaches and prioritizing his relationship with high school coaches.
"He's good for the game. I know he's really good for Baylor, but he's really good for the high schools of Texas."
This article is available to our Digital Subscribers.
Click "Subscribe Now" to see a list of subscription offers.
Already a Subscriber? Sign In to access this content.