SAN ANTONIO -- On Aug. 31, the Alamodome will play host to a game unlike any other in the history of San Antonio football. For the first time, the city will be split as the two Division I football programs face off in a battle for San Antonio.
The contenders could not be more different. UTSA is a massive public institution with more than 32,000 students. Incarnate Word, a smaller regional religious school, hosts barely 10,000 students. In the short football history of these two programs, they've never been peers. But on Aug. 31, those lines will be erased, and replaced by pylons.
"It's something that our city wanted, that we've adhered to to play this game," UTSA coach Frank Wilson said. "We're excited to play it and certainly giving our city something to look forward to is a big deal for us."
But for many of the players on the field, it's more than just about entertainment. It's about satiating a hunger that yearns in the belly of San Antonio for meaningful football.
"We're the only D-I programs in San Antonio right now," said UIW defensive end T.J. Wright, who starred at San Antonio Taft. "It's definitely a showcase. A lot of kids coming from Dallas, coming from Houston, say San Antonio kids can't ball. This is the time to show out."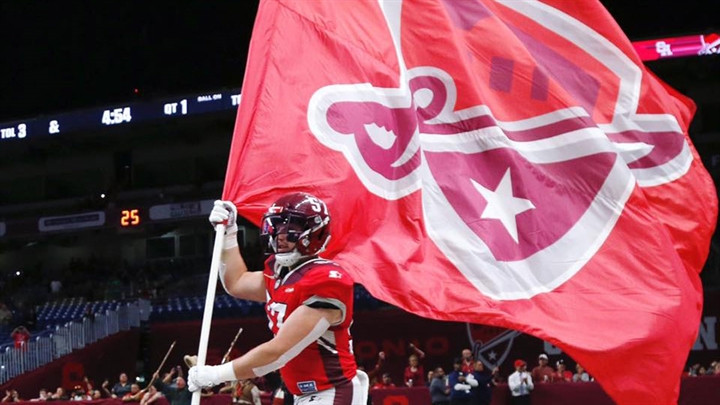 San Antonio's pro team
San Antonio ranks as the seventh-biggest city in America with more than 1.5 million people. There are more people in the city than Dallas, San Francisco, Denver and Washington, D.C. In fact, San Antonio is the biggest city in America to not field an NFL football team.
That's not for lack of trying. The Alamodome was originally built in the 1990s with the proclamation that it would someday house an NFL team. That day never came. However, that did nothing to satisfy the city's hunger for winning football.
"It's huge. It's everything. This is a football town," said Jason Minnix, a host at ESPN San Antonio radio and former voice of the San Antonio Commanders of the AAF. "I know there's always the chip on the shoulder from San Antonio types because you look at Houston and Dallas and they get all the publicity. But from high school football, college football, pro football when it's been here, San Antonio really is a football town through and through."
That was put on full display last season, when the San Antonio Commanders brought professional football to the Alamodome for 52 glorious days. More than 110,000 fans filed through the Alamodome turnstiles to watch the short-lived league. Nearly a quarter of the league's total attendance came at the Alamodome.
More people showed up each week for Commanders games than Los Angeles Chargers home games a season ago. If the league had lasted another week, Johnny Manziel was set to take the field in San Antonio. With an influx of Aggies, the numbers might have pushed above 40,000 fans at the game.
"I know there were people who were hyped and went every single week," said UIW defensive end T.J. Wright, a former San Antonio Taft standout. "It was definitely a good thing for the city of San Antonio and the football culture here. San Antonio, you can see it with the Spurs, is a very loyal fanbase, full of heart, always selling out games. Whatever sport you put here, we're going to sell out the stadium."
The AAF was a shining light, but it hasn't been the only time San Antonio has showed up for football. Several All-America games call the Alamodome home. The Dallas Cowboys used to hold training camp in San Antonio, and tens of thousands would flood to see. Converse Judson and Cibolo Steele constantly sell out games. That interest has not been lost on anyone.
"To see the support that the fans gave, this city is itching for great football," UIW coach Eric Morris said. "They don't care where it comes from."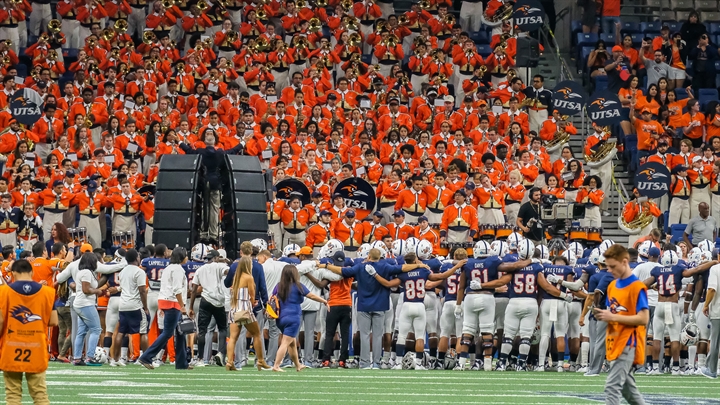 David and Goliath
The hunger that burned for football paid off in the form of two Division-I football programs created within the last decade. The beginnings couldn't have been more different.
UTSA started its program in 2011 to massive appeal. After hiring national championship-winning coach Larry Coker to lead the way, UTSA set the all-time record for attendance at a start-up FCS program with 56,743 fans at the opener against Northeastern State. By the end of the year, the Roadrunners had the all-time record for best average home attendance for a new football program with 35,521 fans per game.
Even through tough seasons, including a 3-9 campaign last year, the attendance has stayed strong. The Roadrunners led Conference-USA in attendance last year with nearly 25,000 fans per game. The only other programs that crossed the 22,000 mark were UNT, UAB and Marshall. Those teams went a combined 29-11 last year.
After the state's flagship programs, UTSA holds the right of first refusal when it comes to San Antonio players. Over the past two seasons, UTSA has offered 18 players from the city of San Antonio that signed with FBS schools. Ten of them signed with either a Power Five or AAC school. Six of the other seven stayed home.
UTSA safety Carl Austin put it succinctly: "UTSA is the backbone of football in San Antonio."
UIW's beginnings were much more humble. The program started in 2009 as a Division-II team against a Mexican team in front of 6,300 fans. In seven years in the Lone Star and Southland Conferences, the Cardinals posted a combined 17-41 conference record. In a city starved for quality football, UIW wasn't even a blip on the radar.
That all changed a year ago. The program hired former Texas Tech offensive coordinator Eric Morris to lead Incarnate Word into the future. Immediately, the tide started shifting. It started with a 31-7 win over Southland mainstay Stephen F. Austin to open conference play. Wins over Abilene Christian and Southeastern Louisiana only built the case.
Dominating No. 6 McNeese State 45-17 and beating Sam Houston State by three scores? No one really saw that coming. Eventually, UIW managed to steal a Southland Conference championship. And with the success came more attention.
"Everybody loves a winner, for sure," Wright said. "When I committed, a lot of people were like, U-I-what? Now I tell people I play defensive end at UIW and they're like, oh yeah, that school downtown, right? Everybody loves a winner."
But even with more recognition, the attendance hasn't yet come. Only 14,383 fans showed up total to UIW's four home games. There's a good chance that there will be more fans at the Alamodome on Saturday than every other home game UIW will play combined next year.
To many people around the state, Incarnate Word is a simple, small religious college, not a potential Division-I athletic power. That, of course, makes Saturday even more interesting.
"I think it's an opportunity," former UIW athletic director Brian Wickstrom said. "There's going to be a great crowd there. There are going to be a lot of people in that stadium who haven't been to our stadium and will be exposed to UIW football for the first time. I think it's a huge opportunity to show the community just how far UIW football has come under Coach Morris."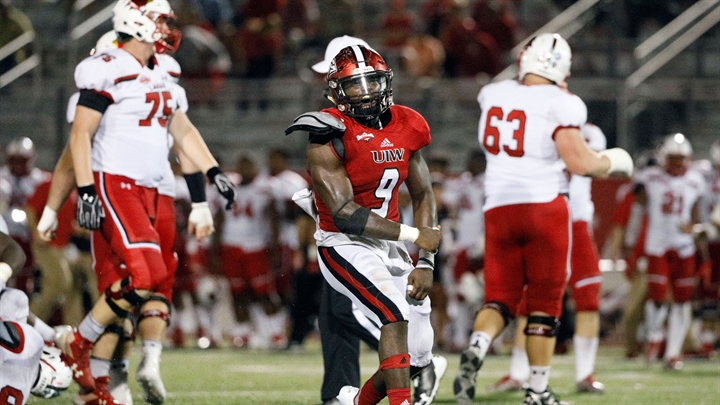 Battle of the Alamodome
One hundred and fifty-one days after the death of the AAF, tens of thousands of football fans will once again file through the turnstiles at the Alamodome. This time, the battle will be for the city.
The bonds that run between the programs at UTSA and UIW are deep. Thirty-three players combined on these rosters are from the city of San Antonio. UIW offensive lineman Terence Hickman played with UTSA safety Rashad Wisdom and running back Sincere McCormick at Judson. He grew up in the same circles with Wagner product Spencer Burford.
"It's a great time for the city to have two prestigious D-I programs playing against each other," Burford said. "It'll be a great opportunity for the city to come together and have a great time."
T.J. Wright's family will be at the game in the Incarnate Word cheering section. His twin brother Marcus – a UTSA student – agreed to join the family under one condition: he'll be wearing a UTSA shirt to the game.
"There's a big chip on my shoulder being an SA kid, which means I was in the city and they passed up on me," Wright said. "I got something to prove. Every SA kid on this roster has a chip on their shoulder, so we plan to come out swinging."
It's always a tough ask for an FCS team to beat an FBS team. It rarely happens. The FBS teams have 20 more scholarships and a mountain of extra resources to build their programs. But still, it's not inconceivable. Vegas favors the Roadrunners by just 5.5 points.
"UTSA shouldn't have all the glory of San Antonio," Hickman said. "We're here too, we don't want to get overlooked. Hopefully that will change."
Across town, the UTSA players know what this game means too. The FBS program of San Antonio isn't supposed to win three games in a season. That's not what anyone wanted. Opening the season with an in-city rival that wants to take them down more than anything helps focus the team early.
"It gives us a little more determination to go out and win," Austin said. "You want to be the No. 1 football team in your state and city. I think it's going to be really fun to go out there and compete."
In a city that has been teased with high-end football for so long, Saturday will be sweet release. The fact that it's putting brother against brother – even twin against twin? Even better.
"Most of the talk is what would happen if Incarnate Word wins this game, what it would do for UTSA, what it would do for Incarnate Word," Minnix said.
"I think most are hoping this becomes an annual tradition."
UTSA kicks off against UIW at 5 p.m. CT at the Alamodome in San Antonio. The game will be broadcast live on ESPN3.
This article is available to our Digital Subscribers.
Click "Subscribe Now" to see a list of subscription offers.
Already a Subscriber? Sign In to access this content.