AUSTIN — Texas quarterback Sam Ehlinger walks out onto the field at the historic Darrell K Royal Stadium as we begin our photoshoot for the cover of Dave Campbell's Texas Football magazine and looks to the heavens.
As one of a handful of people to ever appear on the cover of this magazine multiple times, Ehlinger knows the drill. He sits in a chair at the 50-yard line, stands up, grabs a football, holds a Longhorns helmet, makes sure the Longhorns logo at midfield is pointing the right direction, that the right details in the stadium can be seen.
He catches my eyes looking around the ninth-largest stadium in the world, and points to the grandstands where decals commemorate claimed national championships in '63, '69, '70 and '05, along with Big 12 championships in '96, '05 and '09.
"Hey, you looking up where they're going to put the numbers after next season?" Ehlinger asks playfully with a grin
Ehlinger is joking in this moment, but the pressure is real. After leading Texas to its first 10-win season in nearly a decade and a Sugar Bowl victory over Georgia, Ehlinger has become a household name in the college football world. He's now a Heisman candidate and poised to lead the Longhorns to their first top 10 preseason ranking since 2010.
He brushes all of it off — the pressure, the expectations, the hype — as just part of the job. It doesn't concern him. The only guarantee? When you're the quarterback at the University of Texas, people are going to talk about you. Growing up in Austin, Sam Ehlinger spent his whole life waiting for this opportunity. No one takes the job more seriously.
"When there's any disrespect towards Texas, I take it personally because it's always been within me," Ehlinger said. "I want the university to be respected and in the best position possible. I think it just has to do with the love I have growing up around it and growing up in Austin."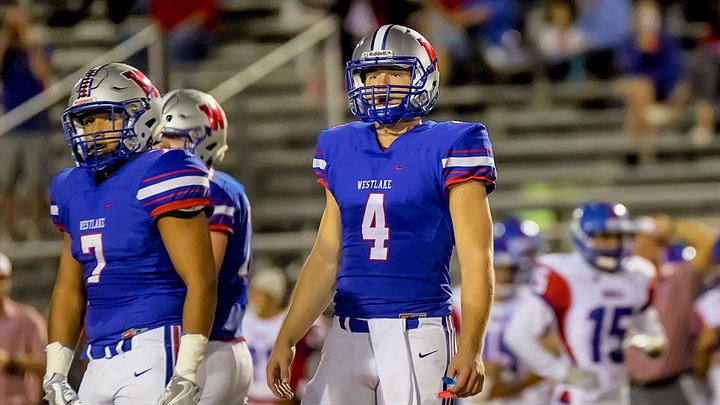 ———
Ehlinger doesn't necessarily believe that he was destined to play quarterback at Texas, but his life seems to have built to this moment.
The Austin native grew up in this house of football, albeit on the sidelines. He spent dozens of Saturdays in the lower bowl watching the Longhorns compete for national championships, dreaming of following the legends who played on Joe Jamail Field. To him, the University of Texas isn't just a college. It's a part of his identity.
"I was raised to where the University of Texas was my life," Ehlinger said. "It was another part of my family. It was always something that I loved."
When he was three years old, Ehlinger picked up a rock, ambled over to his mom's black Ford Expedition and proudly scratched a crude Longhorn logo and a football right into the paint — much to his mother's horror. Around the same time, his family snapped a photo of toddler Sam throwing double "Hook 'Em Horns".
His parents recognized his physical gifts almost immediately. After growing up in the Vandegrift region of Austin, Ross Ehlinger picked up his family and rented a house in the suburb of Westlake after Sam hit first grade. Even in the mid-2000s, Westlake earned a reputation of producing high-level athletes like Drew Brees, Chris Mihm and Nick Foles. Ross thought Sam had a chance to be one of them, and maybe even play at the big stadium down the road.
"It's so competitive to be the best [at Westlake] because there are so many great athletes," Sam Ehlinger said. "The expectation there is winning, it's always winning."
It wasn't even a decade before Ehlinger had his chance to take the field under legendary Texas high school football coach — and former Texas quarterback — Todd Dodge. He won the Westlake quarterback job as a sophomore, and posted nearly 3,000 total yards and 35 touchdowns in his first season with the Chaparrals. It was enough to earn the attention of his dream school, but he wouldn't get his coveted offer without a fight.
In June 2015, Ehlinger was invited to then- offensive coordinator Shawn Watson's Elite Quarterback Academy. The task was simple: if you win MVP of the quarterback camp, chances are you're getting an offer. The rising junior liked his chances. He was made for this.
Ehlinger wowed the coaches with his ability as a passer and won MVP of the camp. The next day, as Ehlinger relaxed at a friend's lakehouse after the grueling camp, Watson called and asked if Ehlinger wanted to quarterback the Texas Longhorns. He only waited about a month before committing.
"I wanted to be able to take in the moment of receiving a scholarship offer from them before I committed," Ehlinger said. "I always knew I was going to go there. I wanted to enjoy the recruiting process to an extent because it only happens once, but I always knew I was going to go there."
On July 28, 2015, Ehlinger pulled up the now-famous baby picture with the "Hook 'Em Horns" and announced his commitment to the University of Texas.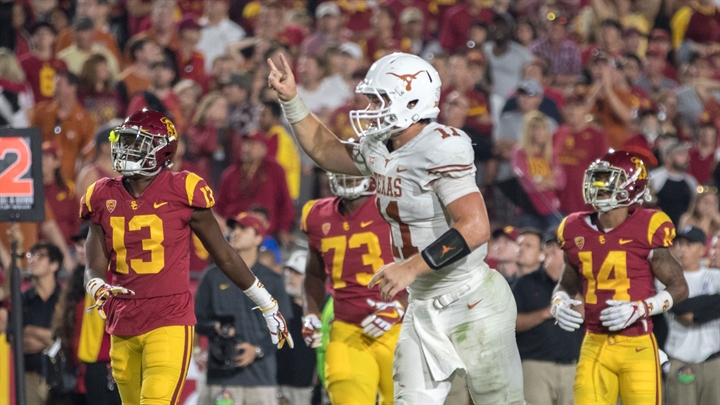 ———
Ehlinger played at a high-profile program at Westlake, but nothing quite prepares you to be the starting quarterback at one of the biggest colleges in America. His coach, former Texas quarterback Todd Dodge, gave him some prescient advice.
"He went through a lot here," Ehlinger said. "He said just with quarterback in general, when you win, they're always going to tell you that you're much better than you really are, and when you lose, they're always going to tell you that you're much worse than you really are. That was really good advice for me after my freshman year with all I went through."
He learned that lesson the hard way during a rocky freshman year. An injury to then-starter Shane Buechele thrust Ehlinger into game action on the road against No. 4 USC in just the second appearance of his career. Ehlinger faced off against the future Pac-12 champions and threw a pair of touchdowns in the final stretch of the game to force double-overtime.
"He basically carried our team that night," Texas head coach Tom Herman said. "We had a ton of injuries on the offensive line and our run game was not great. He singlehandedly kept us in that ball game. You saw the fire, the energy, the passion he plays with."
In the next three games, Ehlinger beat a burgeoning Iowa State squad on the road, hung on in double-overtime to top Kansas State and gave Baker Mayfield's Oklahoma everything it could handle. That stretch seemed to be the start of a coming-out party. But as quickly as the hype started, it ended.
Ehlinger played the worst game of his young career against No. 10 Oklahoma State, as the Longhorns mustered just 283 yards and 10 points in overtime against a mediocre Cowboys defense. The kicker was an inexplicable interception to end the game. A concussion kept him out the next few games, and forced a still-freshman Ehlinger to stew in frustration for nearly a month before getting his next start.
Being a 19-year-old freshman in college is hard enough. Spending time in class and around Austin, it was constant reminders of his struggles.
"No one's necessarily rude, but you can definitely sense it," Ehlinger said. "People just kind of look glaring at you. If you do something wrong in public and everyone knows that you just did something wrong, people are like, 'look at that guy.' That's evident."
In those moments, Ehlinger went back to the basics and found solace in his family, his high school coach and God.
"Obviously, that was a very low time, being thought of as the worst person in the state of Texas at that time," Ehlinger said. "Fighting that, you have to have something else to keep you sturdy."
In the first game of the 2018 season against Maryland, Ehlinger threw a bad interception down the stretch that ultimately cost the Longhorns their first win of the year. After that moment, Ehlinger responded by setting the Big 12 record for consecutive pass attempts without an interception.
"What Sam did post-Maryland game, I saw him grow up before my very own eyes," former Texas quarterback Colt McCoy said. "He played at a high level and it looked like he blocked out the noise. He played really good football the rest of the year. It looked like it finally just clicked for him. I've played the position, so that's a real thing, and it's cool to watch."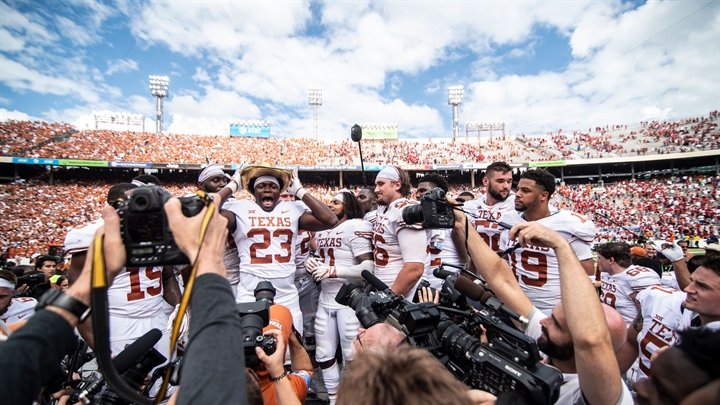 ———
Whether you love the University of Texas or hate it, it's impossible to deny its power. Texas is the one of the richest athletic departments in college sports. The Longhorn logo and hand sign are among the most recognizable symbols in sports. The university is the flagship program of the most football-crazed state in the country, and the quarterback is the figurehead.
"You're representing the whole state, in my opinion," Texas offensive coordinator Tim Beck said. "It's not just the university. It's the largest school in the state. It's one of the most recognizable programs in the country in athletics and academics.
"You're going to be the face of the football program, which in the state of Texas — because of how big football is — you become the face of the state."
It can be easy to forget, but college quarterbacks have the brightest lights on them during the most pivotal moments of their life.
"UT has whatever, 52,000 undergrads, and everyone loves football," McCoy said. "When you're the quarterback at UT, everyone knows who you are. Whether you think it's fair or not, everyone is watching."
While McCoy didn't arrive on the Forty Acres as a blue-chip recruit, the social transition was steep after joining the Longhorns from Tuscola — population 742. But even while leading the Longhorns to the winningest stretch in program history, McCoy remembers always having to be conscious of his surroundings.
"You want to be a student, you want to have fun, you want to have friends and have a college experience so you can't feel like you're walking on eggshells at all times," McCoy said. "But you have to understand that people are watching wherever you go. You're not going to know everyone in the room, but everyone in the room will know you and that can be hard."
Ehlinger specifically remembers after the Red River Showdown in 2018, he walked into class on Monday to his professor playing highlights of the game on their projector. Athletes are used to attention, but it still can be uncomfortable having everyone's eyes off the playing surface.
The immense pressure creates diamonds, but can also become too much for even the most talented players to handle.
Garrett Gilbert enrolled at Texas in 2009 as the second-best Longhorns quarterback recruit in the modern recruiting era, only behind Vince Young. The fellow Austin product — from rival Lake Travis — won Mr. Texas Football Player of the Year, Gatorade National Player of the Year and a pair of state championships. He could have played anywhere, but continuing the legacy at Texas was the easy choice.
"That was kind of it for me," Gilbert said. "It was the only place I wanted to go. It was certainly my dream school."
Not everyone gets the storybook career, though. Gilbert was thrust into action against Alabama in the 2010 national championship as a true freshman, and turned the ball over five times. During his sophomore year, after nine straight years of 10-win seasons, the Longhorns fell to 5-7. Gilbert struggled to deal with failure and criticism for the first time in his career.
"I was a young kid. I certainly wasn't great at avoiding that stuff, the positive and the negative," Gilbert said. "It was a learning experience for me. Dealing with all that noise is part of being a quarterback at Texas. It's something that you have to grow accustomed to."
For Ehlinger, social media only adds more complications. Growing up as a digital native, he's had a Twitter account since he was 13. After public failures, like the Oklahoma State loss, it's hard not to go down the rabbit hole.
"Obviously, that was tough because you're receiving all those tweets and messages," Ehlinger said. "You try not to let it get to you, but you're human it's like 'shoot, I'm that bad?' It was terrible."
Before his sophomore season, Herman shared an article that former Cowboys tight end Jason Witten wrote calling social media "NFL locker room poison."
"People actually buy into what people with six followers had to say and it actually affects how they act," Ehlinger said. "I deleted my social media. The way it transformed my game and my mentality was incredible."
After going through the frustration at Texas and reviving his career at SMU and in the NFL, Gilbert also learned that lesson.
"Focus on what you can control and try not to worry about the outside noise," Gilbert said. "But I don't know that I'd be sitting here where I am right now if I hadn't gone through that stuff and experienced all that I did at Texas. I'm not sure I'd trade it. But certainly the better you can block out that stuff, the better you're going to be."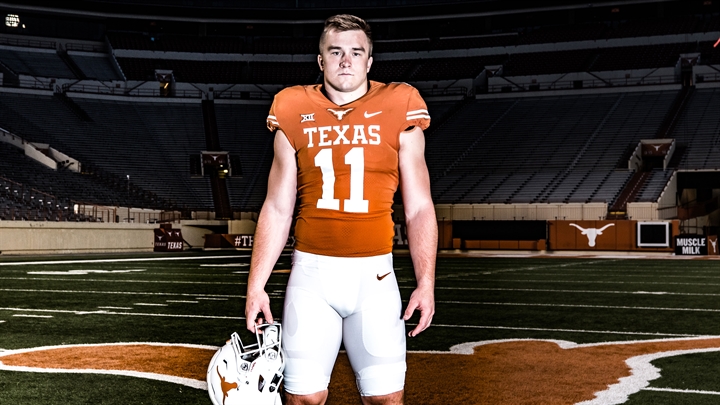 ———
Heading into his third season as a starter, Ehlinger is firmly taking control of what he can control.
Ehlinger deletes Twitter from his phone before the season. To limit a repeat of his turnover- prone freshman season, Ehlinger does drills to improve his accuracy and spends time watching film. He reads way fewer headlines than he used to.
"The one thing Sam has done of a great of is tuning out the noise, both good and bad," Herman said. "The only people whose opinion he cares about are his teammates and coaches."
His style of play has also unlocked the Texas offense. Ehlinger improved his completion percentage seven points from his freshman season and posted nearly 3,800 total yards and 41 touchdowns. Under his leadership, the Longhorns rose from 1-4 to 7-3 in one-possession games.
Since 2000, only six quarterbacks have thrown for 25 touchdowns and rushed for 15 touchdowns in the same season: Tim Tebow, Cam Newton, Johnny Manziel, Lamar Jackson, Marcus Mariota and Sam Ehlinger. The other five all won the Heisman Trophy. But to those around the program, his play isn't even his best asset.
"The biggest thing is his ability to rally the troops," McCoy said. "He fires up the team, everyone believes in him. His presence makes everyone better and that's a quality you can't really coach — you either have it or you don't."
Beck has coached at some of the biggest venues in college sports, including Ohio State and Nebraska. In his 30-year coaching career, he says only three other players have matched what Ehlinger brings to a game and a team: quarterback J.T. Barrett, running back Rex Burkhead and safety Mike Brown.
"They were self-motivated, self-driven and by God, they weren't going to lose," Beck said. "They were going to do whatever they could to do to will their team whenever they needed to. Like the other guys, he does it in such a class and team-first manner that the other players love it."
Being quarterback at Texas gives you a spotlight, but also comes with a target on your back. It's a running joke at this point the number of great quarterbacks who didn't get coveted offers from Texas — Robert Griffin III, Jameis Winston and Andrew Luck to name a few. In the Big 12 alone, Texan quarterbacks Charlie Brewer, Jalen Hurts, Spencer Sanders and Alan Bowman never got the call. They don't forget.
Ehlinger dreamed of running out of the tunnel and playing for the Texas Longhorns every day growing up. All he wants is to bring his beloved Longhorns back to the promised land. He's fine with all of the expectations. Bring it on.
"The pressures, the noise and the distractions of going to school in your home town and everyone knows who you are, I just can't imagine having to deal with all of that," McCoy said. "I think he's done an amazing job."
This article is available to our Digital Subscribers.
Click "Subscribe Now" to see a list of subscription offers.
Already a Subscriber? Sign In to access this content.