EL PASO -- To find the future of UTEP football, you have to drive Northeast up Highway 54, past the Biggs Army Airfield and into the shadow of the Franklin Mountains. There, around the corner from a local taco joint that's far more comfortable taking your order in Spanish, lies Parkland High School.
Deion Hankins is an 18-year-old kid still finishing up his high school degree when we sit down to talk in the weight room at Parkland High School on a warm March day. You wouldn't know it by looking at him. Hankins' natural curls add another few inches onto an already impressive 6-foot, 212-pound frame as he sits down on a bench in head coach Eric Frontz's office. He looks every bit the part of a seasoned college football player, and he has yet to take even a collegiate practice snap at this point.
Parkland is the "melting pot" of Northeast El Paso, as one local put it, mixing a heavy Hispanic population with a sturdy black population just miles up the road from Fort Bliss. The city of El Paso lives within Hankins, mixing both black and Hispanic heritage into a powerful frame.
Hankins is the pride of Northeast El Paso, and one of the best high school football players ever from the city. He rushed for 7,491 yards, averaged 202.5 yards per game and accumulated 83 all-purpose touchdowns in just 37 games for the Matadors. He had a laundry list of offers from some of the biggest schools in the country.
But playing at Arkansas or Oklahoma State didn't fit the plan that Hankins had for himself. It didn't fit the plan El Paso has for him. And as the city gains a spotlight with locals like singer Khalid, congressman Beto O'Rourke and Green Bay Packers running back Aaron Jones becoming national figures who bring El Paso to the world, Hankins embraces the chance to become a local hero too.
"He wanted to have an impact on the young people of El Paso," UTEP coach Dana Dimel said. "He wanted to be able to get out and have an impact on them and be an influence on them. That was a big part of why he wanted to stay home."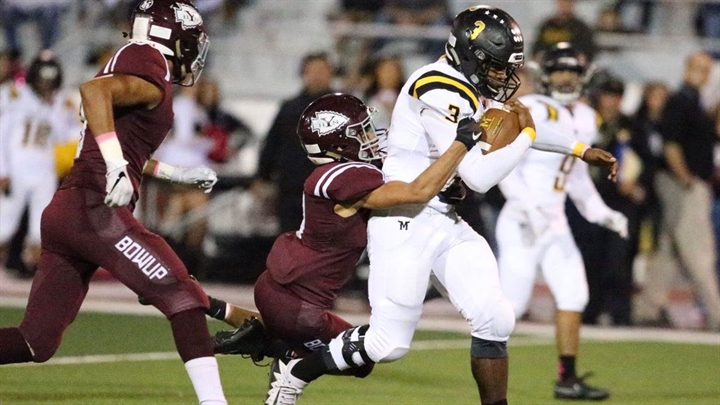 "I was just playing my hardest"
When Hankins entered his first Parkland High School football game as a wide-eyed freshman in 2015, the idea of being an athletic role model wasn't close to his mind. He barely knew anything about football. It took some badgering from a friend before he was even convinced to play varsity football as a freshman. Late in the year, he finally took his first carries.
Frontz, then the head coach at El Paso Riverside, faced off against Parkland in Hankins' second career game. The freshman Hankins lined up in the backfield, took the ball and broke off a 51-yard run against Frontz's defense.
"I just thought, 'who is that kid, we didn't see him on film,'" Frontz said. "We didn't even touch him I don't think. It was just, boom!"
Hankins finished with 122 yards and a touchdown on that day in a 30-18 win. A year later, Frontz celebrated when he took over as defensive coordinator at Parkland, knowing that he would never have to scheme against the freakish athlete Hankins ever again. But still, no one could foresee what would happen next.
Hankins was the starting running back in Parkland's season opener against Jefferson in 2016. He hadn't touched the ball more than nine times in a game before. He touched it 27 times for 231 yards and a touchdown in that game. Two weeks later, he posted 304 yards against Eastlake, his first of three straight 300-yard performances.
"I'm the type of person who doesn't really watch football, I just play it," Hankins said. "People would be like, 'Deion! You're the No. 3 rusher in Texas right now!' I was like, what even is that? They have that? I didn't really even know what yards were, I was just playing my hardest."
Hankins' running style has been compared to Ezekiel Elliott and Adrian Peterson. He has a strong lower body and does a good job of keeping his feet moving while looking for space while crossing the line. Frontz described Hankins as a "one-cut" guy as a sophomore, but now he's built some twitch and quickness in his game. Even with a relatively thick, heavy frame, he has home run ability.
As Hankins kept developing, the numbers just kept coming. He rushed for 2,812 yards and 23 touchdowns in 12 games as a sophomore, which ranked No. 3 in the state and quickly earned the attention of college recruiters. UTEP and Texas Tech offered on the same day in October 2016 after his sixth game of the year. Offers from Oklahoma State and Utah came later during the offseason.
"I was like, dang," Hankins said. "I could really go somewhere with this."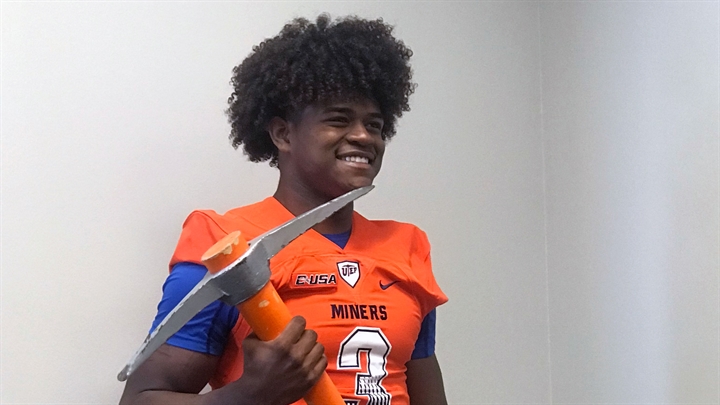 "Ain't have no role models"
To understand how Deion Hankins ended up at UTEP, you need to know Deion Hankins the man more than the player. The son of a single mother, Hankins watched his mom struggle every day just to provide for the family.
As a middle schooler, he found himself falling into bad habits and spending time with a rougher crowd. During this time, an uncle showed him a frightening YouTube video about the Illuminati and the devil, which scared Hankins. At that point, he made the decision to surround himself with his faith. He did everything he could to change his situation, even going as far as deleting all the music off his phone and replacing it with Christian music.
"Everything I've gone through has developed this character I have," Hankins said. "My mom was like, 'if you really want to fulfill all the plans God has for you, you have to put God first in everything that you do.' She bought me a Bible and I started reading it and attending youth services, and I started to really understand that my strength comes from Him."
When Hankins got to high school, he set the tone early. On Wednesdays, he leads youth group at his church. He told the coaching staff, if there were any practices or drills on Wednesday nights, he'd have to miss it, period. Frontz supported him.
As Hankins' star began shining brighter, his platform only grew. He began volunteering with the Fellowship of Christian Athletes, became more involved in his church and grew into a community leader. At that point, he began to understand what kind of power being a star football player can have.
"I don't think people have ever asked him for anything – talking to kids, signing autographs – that he's said no to. He just leads by example. And being this good a football player can't hurt."
UTEP's staff did its research when recruiting Hankins. They played gospel music in the car while showing him around campus, and promised to expand worship on campus. When Hankins gave a speech to a local chapter of the Fellowship of Christian Athletes, several UTEP players and coaches were there too. That always stuck with him.
"I really wanted to find a place where I could find people like me," Hankins said. "They encourage all that stuff. They really take it seriously."
Hankins takes the opportunity to be a leader in his church and community seriously. Even after enrolling at UTEP, Hankins still plans to be involved in his church youth group. His platform will only grow at the flagship university of El Paso.
"Growing up, I didn't really have many good influences to look up to," Hankins said. "There's this song that says, 'I ain't have no role models, now I gotta be one.' Just having these kids look up to me means a lot."
You mean the certified platinum J. Cole song, No Role Modelz?
"Nah, a Christian rapper, Andy Mineo."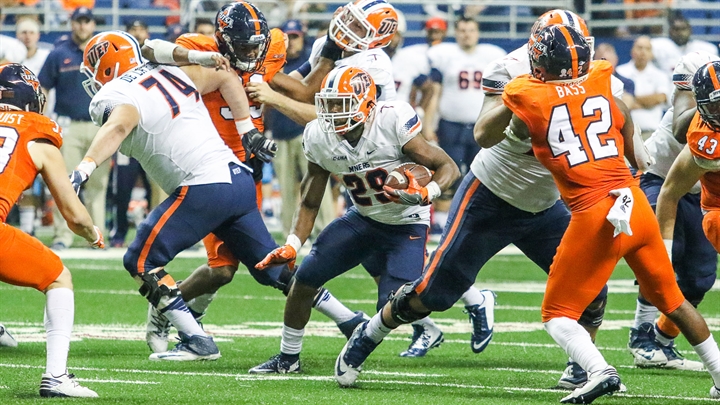 Calling in reinforcements
After Hankins' junior season, Dimel led a new staff from Kansas State into El Paso. Immediately, their eyes shifted Northeast to the biggest star in the city. The potential to create a hometown superstar – and an off-the-field leader for the football team – immediately became top priority.
"I think any local talent like him is a priority," Dimel said. "Once you have a talent like that in your backyard, it's important to try and get them to stay, and sends a great message."
Luckily, UTEP had an ace in its back pocket: Aaron Jones. Jones starred at El Paso Burges before rushing for more than 4,000 yards and 40 touchdowns at UTEP. Now, he starts next to future Hall of Fame quarterback Aaron Rodgers with the Green Bay Packers.
Few celebrities have a relationship with El Paso quite like the Burges product. During his first year in the league with the Packers, he reached out to Hankins through Twitter. The pair bonded as Hankins recovered from a torn MCL, which Jones suffered earlier in his career.
"I saw what kind of running back he was and saw he had the potential to play at this level if he took the right first steps," Jones said. "That's something any player wishes they had, someone who's been in their shoes talking to them."
As the offers kept rolling in – and UTEP lost a coaching staff – Jones continued to remind Hankins of all the benefits that UTEP and their shared hometown of El Paso could provide.
"There's no other feeling like the support you get [in El Paso]," Jones said. "Your mom will be able to watch you play in a lot of games, your friends, the kids you grew up with, everybody. And UTEP needs running backs as well. Just because you go to UTEP doesn't mean it stops here, you can make it to the league if you want to, they're going to find talent."
When the new coaching staff came in is when Hankins' recruitment got complicated. He had big-time offers from both high-profile Power Five and Group of Five schools, but Hankins didn't want to rush. Spots in other classes started disappearing. Instead of being a joyful time of opportunity, it became a stressful time.
Throughout, even while Jones transformed from fifth round pick into eventual starter in Green Bay, the pair stayed in touch.
"Me and [Aaron] have so much in common," Hankins said. "Him being successful over there gave me confidence that I could play at the next level."
Perhaps more importantly, Hankins felt the impact that Jones had on him, a young, mixed-race kid from Northeast El Paso. Getting to build a relationship with Jones, and see him succeed at the highest level, was an inspiration. Hankins wanted that.
"UTEP is my family," Jones said. "I wanted him to be part of my family as well."
Almost one year ago to the day, on July 31, Hankins officially joined his family, and committed to become a UTEP Miner.
"I actually felt like that was God's plan for me," Hankins said. "Here, I could reach more people. I could use that platform to glorify God and also be part of a big change. The new coaching staff at Parkland flipped the whole program around – I thought we could do that here."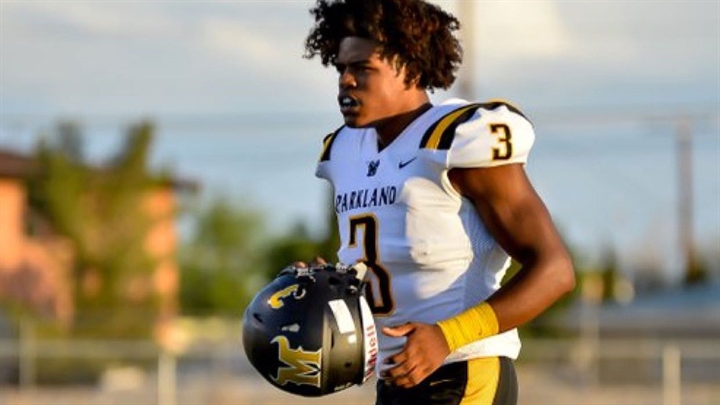 Clearing the way
When Hankins committed to UTEP, part of the appeal was that he could earn early playing time. But at the end of July, that timeline moved up significantly.
Star running back Quardraiz Wadley suffered a season-ending toe injury during summer drills, which leaves the Miners starved for depth at the position. Backup Joshua Fields just opted to transfer to Georgia Southern. That leaves the Miners with only one returning running back, senior Treyvon Hughes, along with Ronald Awatt, who has played linebacker and defensive back for the Miners too.
It gets even dicier after that. The second-leading rusher on UTEP's roster a season ago was quarterback Kai Locksley. He's currently serving an indefinitely suspension following an arrest on charges of driving while intoxication, unlawful possession of a firearm and marijuana possession. Even if he's back, it's unclear what role Locksley will play on this team.
UTEP's staff was undecided about whether Hankins would even play this season. The injuries and transfers put those thoughts to rest. By the time the Miners take the field on Aug. 31 against Houston Baptist, Deion Hankins could be the starting running back.
"We're going to give him every chance to play as a true freshman, but he's going to have to go through and evaluate himself," Dimel said. "If he plays, he's going to play a lot. If he thinks he's ready, we're going to play him."
There's no question, Hankins wants to play. He wants to play a lot. The leading rusher in El Paso history will have his chance. And with it, his platform has a chance to grow too.
"That's what El Paso is all about," Dimel said. "We're all about having pride in the community. There's a ton of pride to see what Deion has accomplished."
This article is available to our Digital Subscribers.
Click "Subscribe Now" to see a list of subscription offers.
Already a Subscriber? Sign In to access this content.