ARLINGTON – The celebration hadn't officially begun on Duncanville's sideline Saturday night at AT&T Stadium, but the bottled-up joy was pulsating.
One more play until the Panthers could claim their first state title in 20 years. North Shore stood 45 yards away with only a last-ditch Hail Mary to decide the Class 6A Division I championship.
By now you know what happened next. Dematrius Davis flung the football into the into the air on a dead sprint and players from the two best high school football teams in the state jostled for position in the corner of the south end zone.
Somehow A.J. Carter came down with it. And while the Mustangs' sideline erupted in elation and erupted again when instant replay confirmed the miracle, many on the Duncanville sideline sank to their knees.
They were dumbfounded. Staggering. Shocked.
It was heartbreaking to watch even to those who didn't have a dog in the fight. Panthers sunk to their knees, consoled by teammates and coaches. A good 10 minutes from the Hail Mary wasn't enough to soften the crushing blow.
After Duncanville coach Reginald Samples conducted multiple interviews answering questions asked by stunned reporters, he walked by senior defensive back Sh'Raud Holmes, who was laying face-down in front of the Panthers' bench.
"Get up," Samples said softly.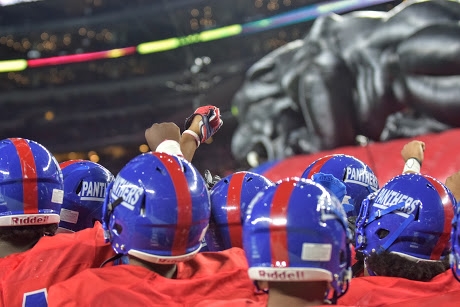 It's going to be difficult for Duncanville to get up after this one, after the Panthers gashed North Shore for 445 rushing yards and held the high-powered Mustangs scoreless for the first 18-plus minutes of the second half as they erased a nine-point halftime deficit.
But dynamic running back Trysten Smith believes they will. The junior delivered a memorable performance, rushing for 152 yards and three touchdowns. Between him and quarterback Ja'Quinden Jackson (226 yards, one TD), the Panthers moved the ball at will on the ground.
"This right here, it's going to push us to work harder, lift weights harder and everything," Smith said. "We worked so hard and got so far. We just wanted to win this game right here. Duncanville hasn't won a state championship in 20 years and we thought we could take it all."
Samples admitted he had full confidence in his defense to deliver a stop once Jackson's 5-yard touchdown with 1:02 remaining gave Duncanville a 36-35 advantage. Then it appeared if North Shore was going to win this game, it'd need a field goal after a few short passes took the Mustangs to the 35-yard line.
A holding call instead left North Shore time for a deep pass. Davis' heave will live on in high school football lore.
It was a sad sideline with wounds that won't heal for a long time, but at some point Duncanville's players and coaches will take a step back and realize all it accomplished in 2018 in winning its first 14 games, including a thrilling semifinal victory over Allen.
"I'm proud of them. They played hard and you can't take that back," Samples said. "This happens at every level of the game."
It was a thrilling end to a 12-game slate of title games at AT&T Stadium that included several blowouts in the first couple days and two unforgettable finishes in the 6A games.
The last time both championships in the state's biggest classification ended with single-digit margins was 2010. It felt like those who flooded AT&T Stadium were due to witness greatness with a pair of titanic battles between Longview-Beaumont West Brook and North Shore-Duncanville.
Both of those showdowns delivered, and while West Brook's players trudged off the field in tears after a heck of a fight, it wasn't quite as cruel as Duncanville's fate.
"It's heartbreaking, that's all I have to say," Smith softly admitted.
It's all that needed to be said.
This article is available to our Digital Subscribers.
Click "Subscribe Now" to see a list of subscription offers.
Already a Subscriber? Sign In to access this content.