GAME PREVIEW
Pleasant Grove is looking for their second straight state title after the Hawks and their Wing-T offense punished Iowa Park in a 49-14 victory. The Hawks ran for 341 yards on the night with Bruce Garrett leading the way with 108 yards and QB Ben Harmon who was deadly efficient with 150 passing yards and three touchdowns on just six pass completions. The Hawks defense led by talented sophomore DE Marcus Burris who anchors an outstanding defensive line was stout as well keeping Iowa Park scoreless in the first half while PGHS rolled out to a 35-0 halftime lead. DB Tyler Kelly also nabbed an interception for the second straight game as well.
Cuero is playing for their first state title since 2004 and the Gobblers had to win a tough slugfest last week 29-24 over Silsbee. Texas commit Jordan Whittington did a little of everything for the Gobblers as he ran for 38 yards and a touchdown, had 60 receiving yards and also tossed a touchdown pass in the win. The Gobblers had to overcome some miscues on the offensive side of the ball along with three turnovers, one of which was returned by Silsbee for a touchdown.
Cuero's defensive line is going to have to control Pleasant Grove at the point of attack, the way to stop the Hawks attack is to get in the backfield and be disruptive with their timing. Cuero's got the edge at the skill positions, but is that enough to offset what looks to be a big edge in the trenches on both sides of the ball for Pleasant Grove?
– Matt Stepp
Tepper's Preview & Prediction
PLAYERS TO WATCH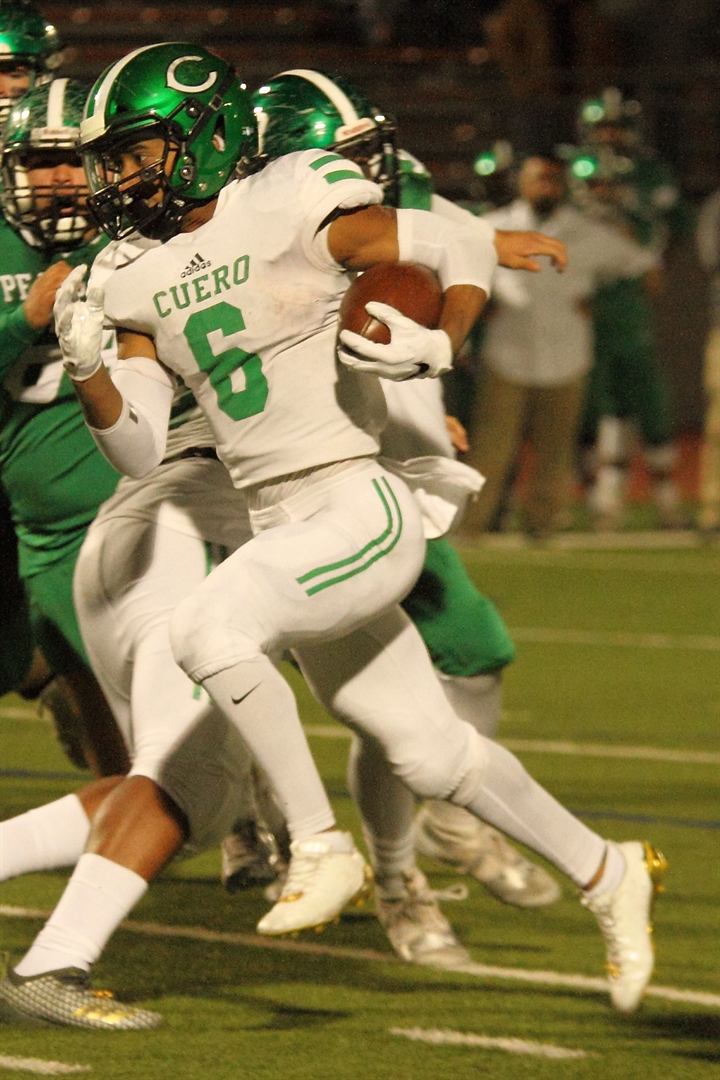 Landon Jackson, DE (HUDL): The Hawks' star sophomore defensive end is a monster athlete that might drop into a linebacker role occasionally, but no matter what, he'll make his presence felt. Jackson has 42 tackles on the year and a team-high six sacks.
Bruce Garrett, RB (HUDL): Pleasant Grove's ground attack is led by Garrett, a near 1,800-yard rusher who averages close to a first down per carry. Garrett has 17 touchdowns on the ground this year.
Ben Harmon, QB (HUDL): Josh Gibson's Wing-T isn't your average run-oriented attack. The Hawks will hit teams over the top when they least expect it and Harmon's effective throwing ability is a big reason it works so well. He has 30 passing touchdowns to just five picks this season.
Jordan Whittington, WR (HUDL): One of the best athletes in the state is a matchup nightmare for any defense and one of the best receivers running after the catch. The Texas-bound wideout missed a couple of games and still leads the team with 845 receiving yards and 12 touchdowns.
Keiran Grant, RB (HUDL): Cuero's other elite athlete on offense is its smooth running, second leading rusher and an unfair complement to Chance Albrecht. Grant has over 1,300 yards on the ground this season.
Trey Moore, DL (HUDL): The Gobblers' best defensive lineman and sack leader will absolutely make an impact against PG's rushing attack for 60 minutes. He recovered the game-sealing fumble against Silsbee in the state semifinals.
– Ishmael Johnson
HOW TO WATCH
The game can be viewed on FOX Sports Southwest and will be streamed on the Fox Sports Go app.
*FOX Sports Southwest Plus is used by FOX Sports Southwest to simultaneously show multiple events on two channels and is available to all TV providers that carry FOX Sports Southwest.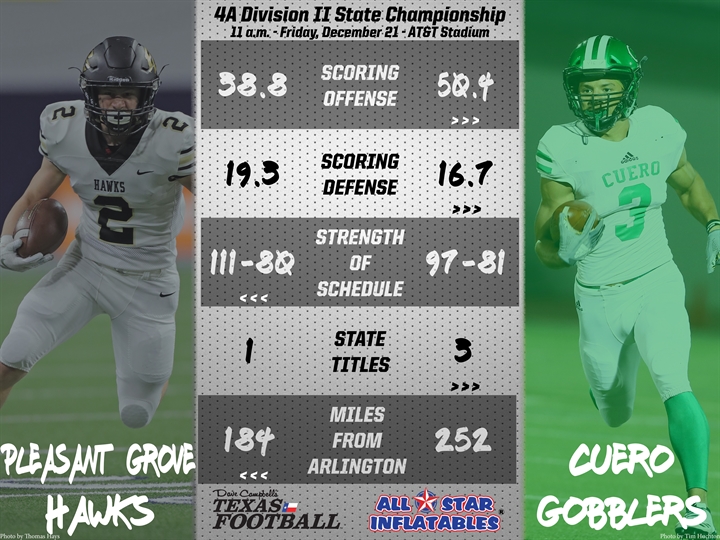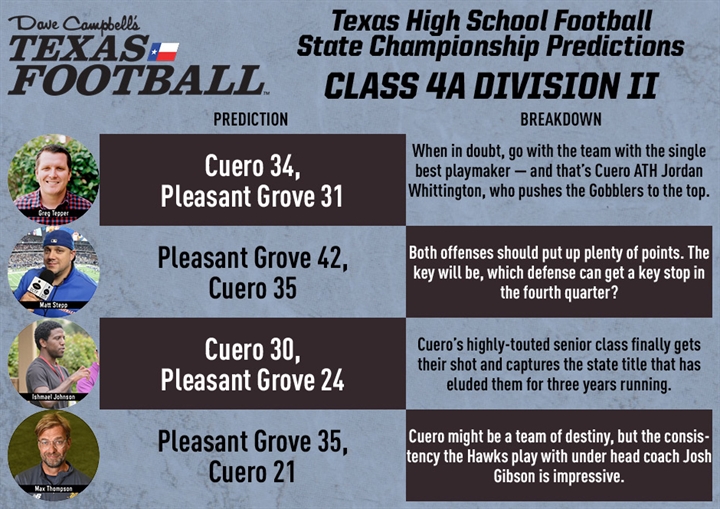 This article is available to our Digital Subscribers.
Click "Subscribe Now" to see a list of subscription offers.
Already a Subscriber? Sign In to access this content.