GAME PREVIEW
The McLean Tigers are the lone undefeated team in class 1A and seem to be the team of destiny this season as they look for their first state championship. In their way stand the Milford Bulldogs, who will be making their sixth state title appearance looking for their first championship since 1980.
Both teams have size, but McLean top to bottom has the overall size advantage. Both teams have speed, but Milford has the edge in overall team speed with an excellent backfield and speedy receivers. Both teams feature legit Player of the Year candidates with McLean's RB Ben Crockett and Milford's SB Taron Smith. McLean favors the run, but can throw the ball well with QB Cayden Mann. Milford's Smith, with his receiving core, favors the passing game, but Smith can run with the best and RB Ricky Pendleton is just as dangerous running the ball. Needless to say I LOVE this matchup! While the playmakers are going to be great to watch in this game, I think this matchup comes down to who wins out in the trenches, McLean's offensive line or Milford's defensive line.
Milford's defensive front is anchored by firecracker all-stater DE Corbin Schrotke (5-7, 160) and big man Jasean Brooks (6-2, 230) at the nose guard position, with Jaylon Davis (5-8, 175) and Ricky Pendleton (6-3, 230) also playing on the defensive line. With their speed off the line they do a great job at getting contact in the backfield, pressuring quarterbacks, and forcing turnovers.
McLean's offensive line is the best in class 1A. They have been wearing down defenses all season simply due to their great size advantage. Their starters, Bradley Hannon, Kade Reichman and Kater Tate, are 6'0, 6'2, 6'5 averaging 200 pounds.
Milford's pure play making ability offensively with Smith and Pendleton will keep them in this game undoubtedly, however I don't think over the course of the game the Bulldog's defensive front can withstand the constant barrage of the McLean offensive line and beating from their big powerful backs, namely Crockett. I think McLean claims their first title in an epic game.
– Leman Saunders
Tepper's Preview & Prediction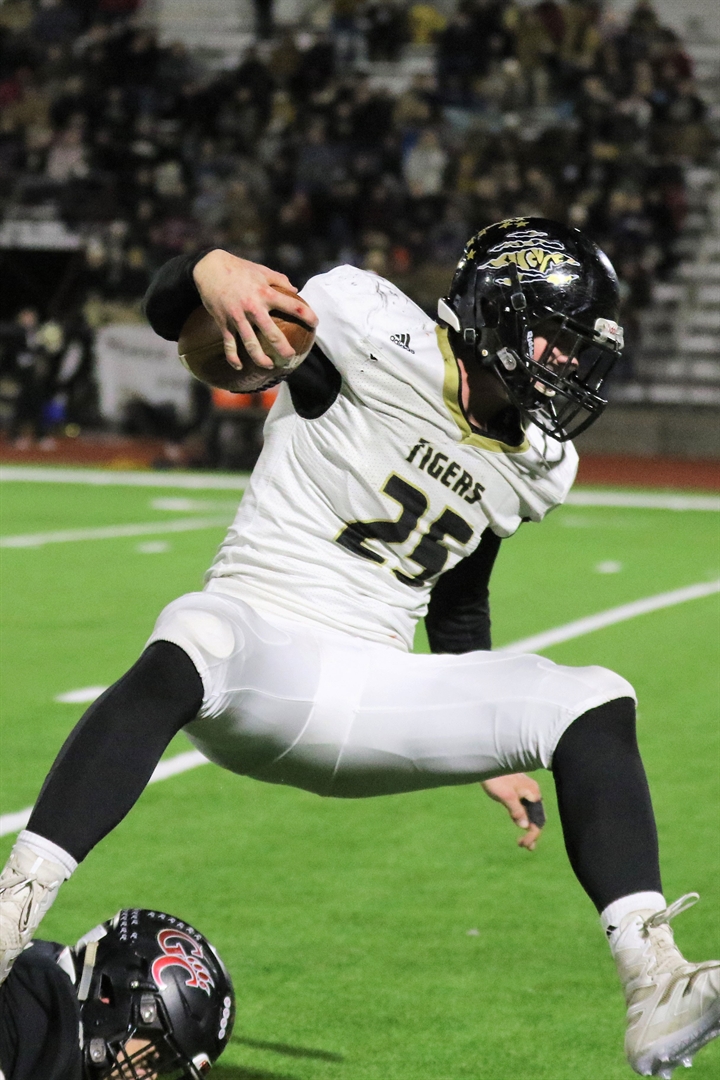 PLAYERS TO WATCH
McLEAN
Ben Crockett, RB/LB – Crockett, 182-2,383, 50 TDs rushing, is a punishing running back with the deadly combo of size and speed. Defensively he is a hard hitter with a team best 122 tackles and 5 INTs.
Chism Henderson, RB/DL – The lead blocker for Crockett with good hands out of the backfield. Henderson is a big playmaker on defense as well having logged 81 tackles, 27 for a loss and 10 sacks.
Kater Tate, OL/DL – The big man on the line at 6'5 225 Tate will be very tough to get around and helps path the way for the backs to run free.
MILFORD
Taron Smith, SB/S – Electrifying playmaker for the Bulldogs with amazing moves and a remarkable arm: 104-165 for 1,850 yards, 46 TDs passing; 78-1,473 yards, 23 TDs rushing.
Corbin Schrotke, DE/B – Corbin is the defensive linchpin for the Bulldogs as he leads the team in tackles with 165. Offensively, when called upon to run the ball he does an excellent job on limited touches.
Ricky Pendleton, RB/DL – The 6-3, 230lb back is just as dangerous offensively as Taron Smith. He makes big plays on offense (67-956, 20 TDs rushing; 26-403, 8TDs receiving) and defense (124 tackles) seemingly at will.
HOW TO WATCH
The game will be streamed on the Fox Sports Go app.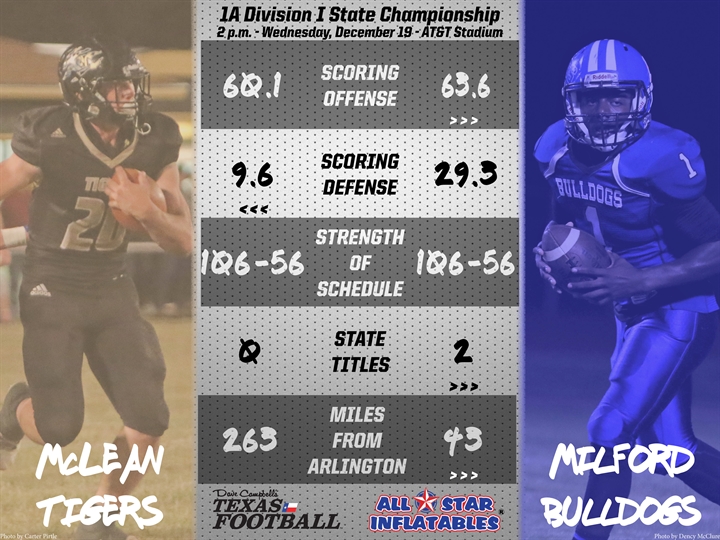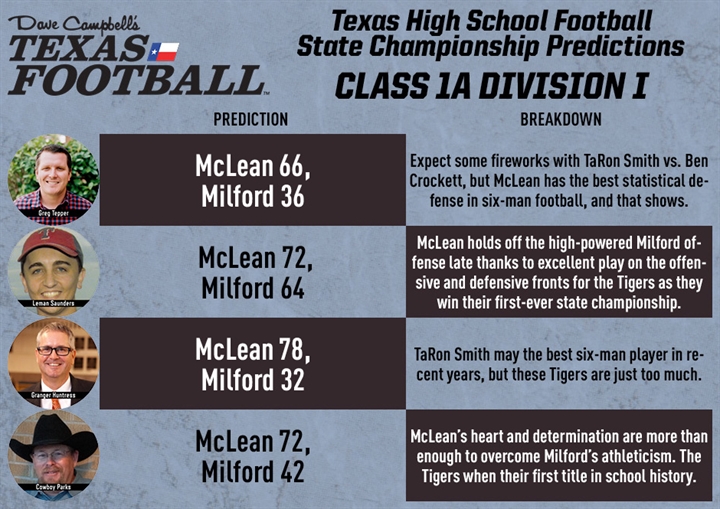 This article is available to our Digital Subscribers.
Click "Subscribe Now" to see a list of subscription offers.
Already a Subscriber? Sign In to access this content.