GAME PREVIEW
Gruver is making its first state title game appearance after knocking off Albany 30-17 last week. The Greyhounds had to contend with a red hot Lions squad along with a brutal wind that certainly impacted both offensive units on Thursday night. After falling behind 10-0 after an interception return for a score, Gruver's underrated defense stepped up and held Albany to just a single score with three minutes remaining in the game. The offense led by WR Jalin Conyers, who had a touchdown reception in the third quarter and then iced the game in the fourth with a sensational 29-yard touchdown run in which he hurdled a defender en route to the end zone, for good measure after the final touchdown Conyers ended any hopes of an Albany comeback with an interception.
Mart got pushed for the first time in several weeks as the Panthers held a tenuous 20-13 lead over unbeaten Falls City early in the fourth quarter, but the defending 2A Division I state champions showed that championship mettle scoring 20 straight points down the stretch to pull away for a 40-13 victory. Sophomore QB Roddrell Freeman in just his second career start scored his third touchdown of the night to put Mart up 27-13, after a Falls City fumble Shatydrick Bailey put the game away with a 68-yard scoring run, while Tyrek Horne concluded the MHS run with a 33-yard for the final margin. The Mart triplets combined to run for 399 yards and all six Panthers touchdowns on the evening.
Mart's defense will be tested by Gruver's passing game, which should thrive in the controlled environment of AT&T Stadium, but with the status of starting RB Brice McLaughlin in doubt (McLaughlin finished the game against Albany on the sidelines on crutches) expect Mart's defensive line led by Elijah Green to pin their ears back and put pressure on the QB. Expect a high scoring game, but Mart's speed and firepower will be too much as the Panthers get state title number seven.
– Matt Stepp
Tepper's Preview & Prediction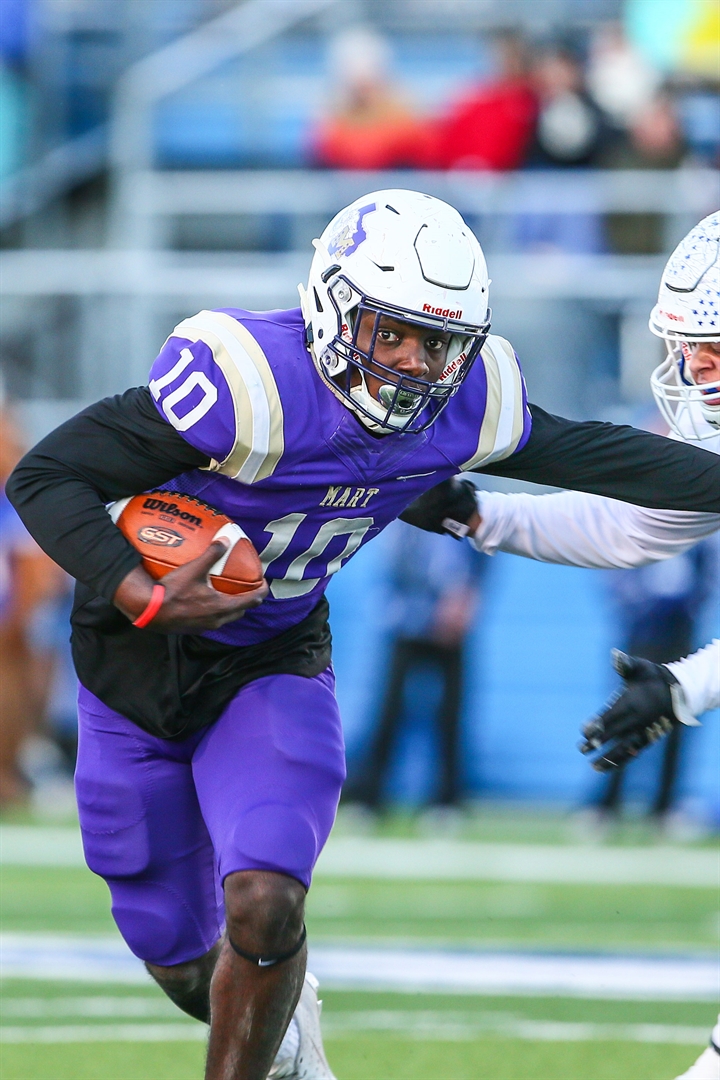 PLAYERS TO WATCH
Hunter Haynes, WR/FS (HUDL): Not many teams can match Mart's size straight up, so Hunter Haynes' ability and shiftiness in the screen game will be key in spreading the Panther defense out and creating big-play chances for Gruver.
Fernando Villalobos, T/DT (HUDL): Gruver needs to be able to have a physical presence against Mart's running attack and that's where Villalobos will have to be sturdy in the middle. Offensively, he'll be tasked with protecting Keegan Kelp against a strong DL.
Keegan Kelp, QB/DE (HUDL): More so than his ability as a QB, Kelp might be even more important to his team defensively against Mart's outside speed and slowing down the explosive backfield. Offensively, he'll still be counted on to keep the game moving.
Tyrek Horne, RB/DB (HUDL): Mart's three-headed running attack starts with one of the best running backs in the small school ranks. Horne's combination of speed and size would make him a handful at any level, especially in 2A.
Shatydrick Bailey, RB/DT (HUDL): Mart's cannonball running back is the perfect complement to Tyrek Horne and is almost a guaranteed explosive run waiting to happen. Defensively, he's difficult to pin down on a block and often finds himself in the backfield.
Roddrell Freeman, QB/DE (HUDL): With Kyler Martin hurt, head coach Kevin Hoffman embraced an all-out triple-headed running attack and Freeman's big frame makes him a nightmare addition to the Panthers' RB-tandem. Freeman's athleticism on defense has him as the team's third leading tackler and leading sack master at defensive end.
– Ishmael Johnson
HOW TO WATCH
The game can be viewed on FOX Sports Southwest/FOX Sports Southwest Plus* and will be streamed on the Fox Sports Go app.
*Available on FOX Sports Southwest Plus in select markets with NBA broadcasts on FOX Sports Southwest: The 2A Division I game on Dec. 19 at 7:00 p.m. will air on FOX Sports Southwest Plus in the San Antonio Spurs viewing area.FOX Sports Southwest Plus is used by FOX Sports Southwest to simultaneously show multiple events on two channels and is available to all TV providers that carry FOX Sports Southwest.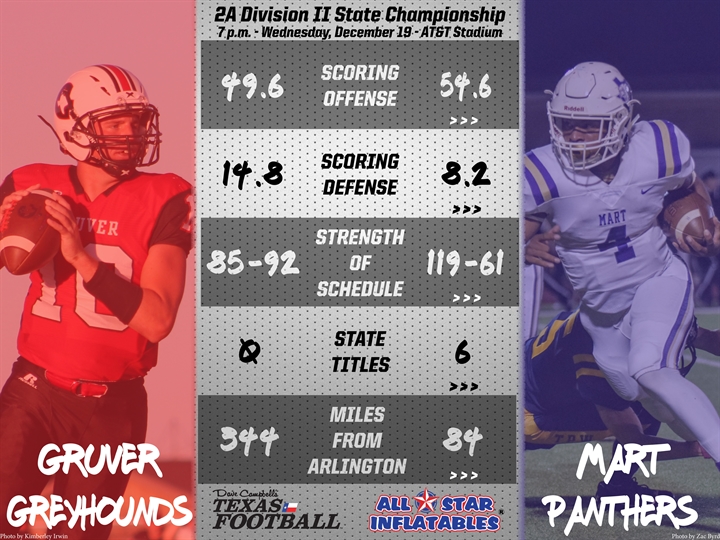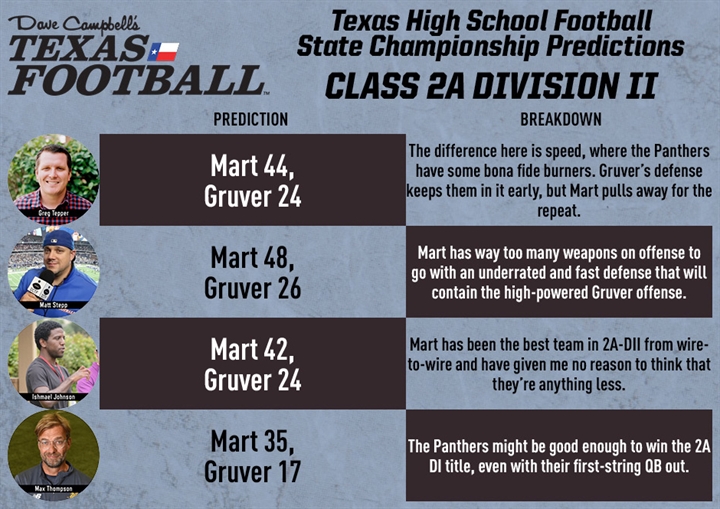 This article is available to our Digital Subscribers.
Click "Subscribe Now" to see a list of subscription offers.
Already a Subscriber? Sign In to access this content.