Ivary Cooks, a barber at Classic Hair Design in Dallas, knows exactly who his first customer will be every Friday morning during football season.
By now it's become ritualistic for Cooks' younger brother, Lancaster coach Chris Gilbert, to make the short drive to the salon on game days. While the tradition brings the two closer together, it also gives Gilbert a chance to discuss strategy with the Tigers' unofficial assistant coach.
Cooks isn't employed by Lancaster ISD, but he is on the sideline for all the team's games, pacing up and down the field while uttering words of encouragement or advice to Gilbert from time to time. Some coaches would scoff at the idea of someone outside the staff vocalizing their opinion – but Cooks' input is welcomed, and useful, for Gilbert.
And it all starts on Friday morning.
"We talk about game planning – I give him strategies, even down to the coin flip," Cooks said. "You shouldn't take heads this week, don't take the ball first, put it on the defense this week, you know. I'm right there every Friday night at the end of my day and most of those things come out in my favor after we talk about it in the morning."
Cooks plays a key role in helping Gilbert settle into his comfort zone every Friday during the season and he was also important in helping the Lancaster coach bounce back from one of the lowest points of his career with the Tigers in 2012.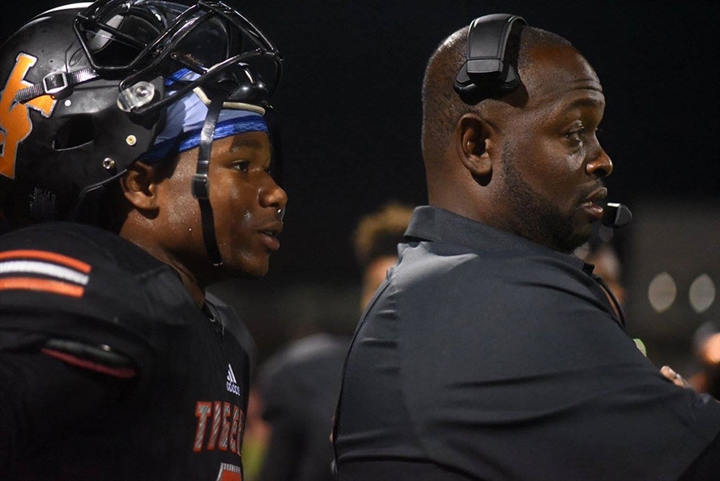 Gilbert, who will enter his eighth season at the helm of the Lancaster program, took the team to the Class 5A state championship in his second year as its head coach. It was a breakthrough moment for a program that always seemed on the cusp of greatness – but the Tigers fell just short.
Cedar Park and its suffocating defense kept Lancaster quiet on its way to a 17-7 win, leaving Gilbert one step short of his first state title as a head coach.
"Losing a state championship game, it's almost like you lost a limb," Gilbert said. "It's a bottomed out feeling. You lose that game and it's just so hard to get there. Ivary and my wife, Belinda, helped get me back going and said you got to go and you have to start over. We had to keep reminding ourselves to keep pressing forward."
Gilbert did just that and has gone on to become the all-time winningest coach in Lancaster history after recording his 59th win with the school against Mansfield Summit on Oct. 13 last season. He is now 60-28 through seven years at Lancaster and has come a long way since his playing days at South Oak Cliff High School.
After graduating from Angelo State University, Gilbert spent most of the early part of his coaching career as an assistant at Dallas Carter, Greenville, and Bryan before taking his first head coaching job at his alma mater in 2006.
He was an assistant under Marvin Sedberry Sr., who retired in 2016 after a 42-year run in the coaching profession. Sedberry hired Gilbert as a young offensive line coach without much experience at Carter and brought him along the way to both Greenville and Bryan.
"He took a chance on me," Gilbert said. "His influence on me was tremendous. He would let me sit in meetings and let me be around things I probably didn't need to be around, but he was schooling me up. He was grooming me and I wasn't aware of it – he took a lot of time with me."
While making the move from Carter to Greenville eventually opened the door for bigger and better opportunities down the road, Gilbert was at first hesitant to leave the big city again after returning to Dallas from the San Angelo area.
"We were all like, 'Hey man, this is going to be the best decision of your life right here,'" Gilbert's childhood friend and fellow assistant coach Jamal Adams said. "'You're getting a chance to get out and see real Friday night lights here.' That winded up being the best decision of his life."
The decision allowed Gilbert to learn under Sedberry as he prepared to start his own program. But his path to the head coaching ranks was a unique one. Gilbert was never a coordinator in his days as an assistant and accepted the head job at South Oak Cliff as a 29-year-old in 2006.
There was a steep learning curve, but Gilbert adjusted quickly and found a lot of success with the school he suited up for more than a decade earlier. The Golden Bears went 4-6 in his first season before bouncing back with a 6-5 year in 2007 and a 9-3 season in 2008.
"I started off trying to be the mirror or spitting image of what Coach Sedberry did, just like a lot of young coaches would," Gilbert said. "But I quickly found out my personality was different in coaching. I probably wasn't as strict on some things as coach had been, but I held the pillars of the program – relationships, investment and giving kids a start after they leave high school – to a high standard. The roots of the program are still the same exact thing to this day."
The breakout season in 2008 helped open the door for a new opportunity in Terrell, where Gilbert continued his success with an eight-win season in 2009. He went 5-5 in 2010 before making the jump to Lancaster – a job he had his eye on from afar for several years.
Gilbert was already living in Lancaster before getting the job, which made it an easier decision despite the success at Terrell.
"We were competing against Lancaster and I had competed against them at SOC and as well," Gilbert said. "The job came open and one of my buddies, coach Ron Wagner, said 'Coach, if you don't go apply for the Lancaster job, we'll never beat them. The talent there is unbelievable.'
"It was known as a school with some really great athletes and they had some good years, but they hadn't gotten over the top. I just had to take a chance and see what I could do with these talented kids."
It took a while for the kids in Lancaster to buy what Gilbert was selling as a newcomer. The kids saw him just as the coach from Terrell, a team Lancaster had beaten by 40 points the year before.
But things began to turn the corner near the end of the 2011 season as Gilbert guided the program to its first nine-win season since 1940. That set the stage for an even bigger year in 2012, when Lancaster won 14 games, including 10 against teams with 10 or more wins, and advanced to the state championship for the first time in school history.
After reaching the pinnacle of the state title game, things dropped off a bit in 2013 as the Tigers went 4-6 and missed out on the playoffs. Gilbert used that as a learning experience for his program.
"It taught me a new lesson," Gilbert said. "It taught me a lesson of what I like to call entitlement expectation. That is probably the toughest thing to battle when you've had some success. The kids became rock stars and everyone was telling them how good they were. That taught me about pushing the gas on them and keeping them going."
With two more quarterfinal appearances to his name, Gilbert has turned a once underachieving program into a perennial contender at the Class 5A level. And while the wins on the field grab the headlines, Gilbert has also had a lot of success developing his assistant coaches into head coaches and administrators over the years.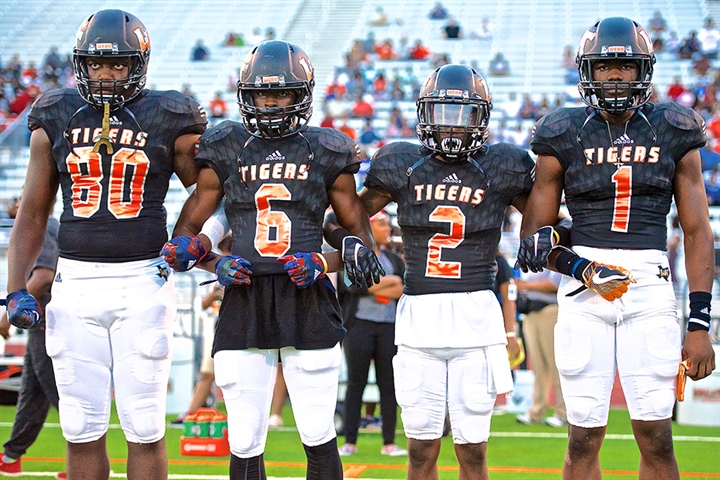 Adams was named the head coach at Dallas Lincoln in 2016 and has led the team to back-to-back playoff appearances. Courtney Allen, another former assistant, was named the head coach at North Crowley this season. William Paul left Gilbert's staff to take a principal job in Lexington ISD, Braylon Linnear is an assistant principal at a charter school in Dallas and Joey Foster is now the head track coach at Midlothian High School.
"It's the formula," Adams said. "If you don't stray too far from the formula, you'll be alright. It's a quality he really didn't realize he had until not too long ago. When you're working for Gilbert, he'll assign you a bunch of meaningful things that aren't just football related. That empowers coaches to go above and beyond."
Gilbert has built a close relationship with his coaches by treating them like family in the office, on the field and away from school. It's an important part of the culture of the program and has contributed to the success seen on the field in the fall.
Those relationships have led to a bit of friendly competition – especially between Adams and Gilbert – when it comes to a growing hobby outside of football. The two have developed a passion for barbequing and spend a lot of their free time around the grill.
"I had to find some type of hobby because every single thing was football," Gilbert said. "Of course, I like spending time with my family and watching my kids play soccer. But I'm trying to be a pit master. I'm serious about being good at smoking meats. Everyone who knows me knows that's kind of my favorite thing to do.
"I think I'm pretty dang good now. I've got it down. I'll bring the leftovers up for the coaches. It's been pretty cool."
As Lancaster continues spring practice leading up to the May 24 spring game, the Tigers are doing so coming off just their second losing season under Gilbert. The team went 4-7 last year, but the blueprint of bouncing back from past struggles is already in place.
Gilbert is excited about what the team has in store for this season, which will officially kick off with a big showdown against Duncanville at 7:30 p.m. on Aug. 31.
Lots of things may change between now and then for Lancaster, but one thing is sure to be the same when the regular season rolls around. Gilbert will be in Cooks' barber chair getting his haircut first thing Friday morning in August.
"The thing about [Ivary] is he's always wholeheartedly supported everything I've done since I was a player," Gilbert said. "I can tell he's very proud of me. The haircut is just like therapy. When it comes to game time, all the security knows him here. He's like the Jerry Jones of Lancaster football."
This article is available to our Digital Subscribers.
Click "Subscribe Now" to see a list of subscription offers.
Already a Subscriber? Sign In to access this content.