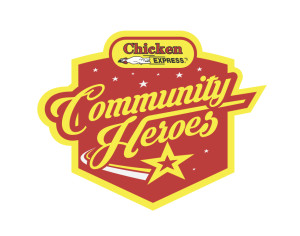 Chicken Express and Dave Campbell's Texas Football are partnering to honor the heroes in your community. Male and female student-athletes that lead by example on the field of play and in the classroom can be honored as Chicken Express Community Heroes and receive scholarship money to continue their education beyond high school. Athletes can be nominated at TexasFootball.com/ChickenExpress.
---
Hannah Allred, Mansfield
Hannah Allred wasn't a standout athlete growing up and said a lot of people were surprised when she signed up for athletics in middle school.
That seems like a lifetime ago now for the Mansfield High School senior, who advanced to the regional cross country meet four consecutive years and is also a back-to-back area qualifier in track.
Allred credited the coaching staff at Mansfield for helping develop her one of the top runners in the program as she went from running a 7:50 mile in middle school to clocking a 5:28 mile at the high school level.
"Sports have always been a part of my life because I grew up with a mom who was a teacher and a coach and later a stepdad who is a football coach," Allred said. "I played soccer and basketball when I was younger but wasn't all that great.
"I used to run with my mom all the time before middle school – However, once I got into high school, my career really took off."
In addition to growing into a standout runner, Allred has recorded the highest GPA on the cross country team for four straight years and earned Academic All-State honors as a senior. She is ranked 11
th
in a class of 564 students.
Allred has been the class president for three years, is involved in student council at the state level, is a member of the National Honor Society and is very involved in the youth group at First Methodist Mansfield.
Allred spends the majority of her summers working at YMCA Camp Grady Spruce, a camp she also attended as a kid.
"I can't stress enough the importance of athletes getting involved in their communities during high school," Allred said. "The way I see it, anyone can throw a ball, anyone can run laps, but it takes a truly dedicated athlete to take that talent and share it with their community through service. The community backs its athletes 100 percent and I think it's important that athletes show the same respect back to the community."
After graduating in May, Allred will attend the University of Arkansas and plans on majoring in Spanish. She hopes to teach high school Spanish in the future while also coaching cross country and track.
Morgan Allen, Denton Guyer
Balancing class and athletics with a part-time job is easier said than done, but Denton Guyer senior Morgan Allen has found a way to make it work over the last four years.
Allen, who plays shortstop for the Wildcats baseball team, also works at Diamond Baseball Incorporated in Denton. He is a star in the classroom as well, ranking in the top 1% of his class as a Valedictorian candidate at Guyer.
Allen said he gets his motivation from his grandpa, John Allen, who's health has started to deteriorate over the last few years. John Allen is a die-hard Red Sox fan, which helped spark Morgan's love for baseball.
"Although he has inspired many people in his life, his one wish is to see one of his grandsons play for the Red Sox," Morgan Allen said. "Although it is a long stretch, I've always pushed myself with that goal in mind. As he slowly grows older, I know I have less time to achieve this dream of his and it just fuels my motivation to want to get there one day."
Allen currently leads the Guyer with a .420 batting average and has scored a team-high 20 runs to lead the Wildcats to a 2-1 start in District 6-6A play. He was a second team all-district short stop last season.
On top of his academic and athletic success, Allen is the co-founder of the Students Against Destructive Decisions club at Guyer and has participated in serveral community service campaigns for the Student Athletic Community Service Network.
He is a member of the National Honor Society and is the Vice President of Collections for North Texas at Gloves for Good, a non-profit organization that collects and distributes used baseball and softball equipment to South America and small towns in the United States in need.
"I love to give back to the community because it makes me feel like I'm bettering the world," Allen said. "My goal for my life is to affect as many people as I can and help as many people as I can. I feel like every time I help out in the community I start on the journey of affecting people in my life."
Allen will attend St. Edward's University in Austin on an academic and baseball scholarship after graduating in May and plans on studying computer science.
"My high school experience has been a lot of fun," Allen said. "I've been on varsity since I was a sophomore and having the opportunity to be recognized in the paper and noticed for my athletic ability has been a big deal. I have had teachers save newspapers because I'm in a picture on the front page.
Off the field, I have made some of my best friends and learned a lot about life in the process. I will remember my time as a fun experience where being a student-athlete began to define who I was."
This article is available to our Digital Subscribers.
Click "Subscribe Now" to see a list of subscription offers.
Already a Subscriber? Sign In to access this content.