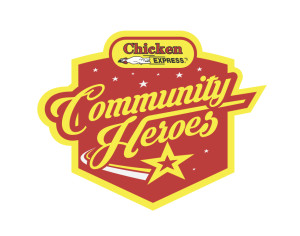 Chicken Express and Dave Campbell's Texas Football are partnering to honor the heroes in your community. Male and female student-athletes that lead by example on the field of play and in the classroom can be honored as Chicken Express Community Heroes and receive scholarship money to continue their education beyond high school. Athletes can be nominated at TexasFootball.com/ChickenExpress.
---

TJ Rogers
New Diana High School
The transformation New Diana High School made on the football field over the last few years is a remarkable one. After going 0-10 in 2015 and 3-7 in 2016, the Eagles advanced to the state quarterfinals under coach Robbie Coplin this season and finished with a 10-4 record.
Senior TJ Rogers played a big role in the team's record-setting year as he caught 104 passes for 1,713 yards and 23 touchdowns in Coplin's fast paced offensive attack.
While his play on the field earned Class 3A first-team all-state honors, Rogers is also an important member in the community. He is a member of a group called PALS, which gives him a chance to get involved as a role model for younger students in the school district.
"He is a mentor to elementary and middle school students in our district and he volunteers with the Special Olympics," teacher Teresa Aguilar said. "TJ is an outstanding young man on and off the field and he deserves to be recognized for his combined efforts."
Rogers also ranks near the top of his graduating class at New Diana and was named the Student of the Month in December. He attributes his success on and off the field to a competitive family background, pointing to his older sister's success as a motivating factor.
"My sister and I always joke about who is the better athlete in the family because she was really good and could have played in college," Rogers said. "But after the year I had in football, I always have to remind her that I'm the better athlete in the family."
Rogers plans to attend Stephen F. Austin University after graduating in the spring where he wants to study to become a dentist. Rogers is also considering walking on to the football team.
"My experience at New Diana has been life changing," Rogers said. "I think my favorite thing about the town is its loyalty. After going 0-10 as a sophomore and 3-7 as a junior, the fans and community never gave up or stopped going to football games. They supported us and I enjoyed giving them the season we had this year.
"I will never forget my time here or the many blessings that New Diana has given me."
Jacie Lance
Queen City High School
Jacie Lance has a tremendous impact by getting involved with younger students in the community. Lance, who is a standout athlete in volleyball, basketball, softball and track, implemented a playground program for middle school students through organized games to help reduce bullying during recess.
It's one of the many ways Lance is involved off the field, as she is a well-known member of the Queen City community.
"Jacie sets high goals for herself and has proven herself dedicated in all aspects of life," teacher Mandi Stringer said. "Being from a small town, her presence is known through the community and school as a student-athlete and leader."
In addition to her involvement with playground program, Lance has continued to take on a bigger role in the community as a senior this year.
She joined other members of the National Honor Society in cooking and serving breakfast to local veterans, helped create awareness of the dangers of texting and driving through a Thumb Wars campaign, and works with elementary school students as part of the QCHS leadership team.
"Through the leadership team, I have been able to work with my peers in many ways to serve our community and school," Lance said. "My favorite service is working with the elementary students and seeing how they achieve their goals after we've helped them. It's very rewarding to have a younger child look up to you.
As a member of several varsity sports teams, Lance also serves as a PE assistant on a volunteer basis throughout the year to help younger students develop a passion for sports.
She hopes to continue her basketball career at the collegiate level while pursuing a degree in kinesiology to eventually become a high school coach.
Lance, who was a captain and first-team all-district volleyball player, is averaging 16.7 points, 7.3 rebounds and 4.4 assists per game on the basketball team. The Lady Bulldogs are unbeaten in District 14-3A play so far this season.
"I have so many memories I'll take with me from Queen City High School and participating in athletics," Lance said. "I will miss my teammates, who have become more like family. Playing sports here feels like everyone is a fan and wants us to succeed."
This article is available to our Digital Subscribers.
Click "Subscribe Now" to see a list of subscription offers.
Already a Subscriber? Sign In to access this content.