In his third year as the president of Royse City High School's booster club, Mark McCoy is enjoying himself as much as ever "I started out four years ago when my daughter was on the golf team" McCoy says. Out of Mark's three children to come through Royse City High, only his golf playing daughter was involved in athletics. However, that does not stop him from wanting to stay involved in Royse City's athletic community. "We have a long standing tradition here in Royse City. It was built long before I got here, and we are proud to continue that tradition."
Royse City's annual golf tournament is the booster club's biggest fundraiser of the year, and it always brings out the Bulldog community. "We're a single high school town, so the community rallies around us." The community is also key to the booster club running efficiently. McCoy states: "The booster club would be nothing without our volunteers. The superintendent and coaches push involvement in the booster club early on." Those volunteers help to work the concession stand during football games, a big source of income for the booster club every year.
The booster club has set goals to accomplish this year, the most important of which is adding to the four $1,000 scholarships they give out each year. "We want to increase the amount of scholarships we give out, and the amount of money we put in those scholarships," McCoy says. A new inflatable run-through for the football team is also a goal for the booster club, a goal that will be easier to achieve now thanks to the $1,000 gift certificate awarded by All-Star Inflatables for being our Booster Club of the Week. Finally, McCoy wants to make sure that Royse City can count on their booster club. "We want to support each sport with what they need. We will be there to support anything the Royse City athletic program does not have in their budget."
---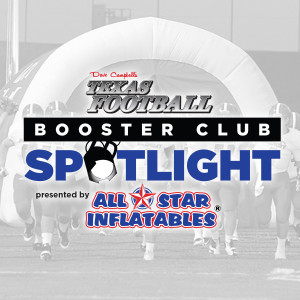 Special Message from All-Star Inflatables:
Every sports team wants to run through an inflatable, but how do they afford them?
Teams have been using inflatable entrance tunnels, helmet replicas, and larger than life mascots for over 25 years. The number one question is "How do they afford them?" It's simple…Stop looking at the cost and look at how much money your sports organization can raise with our team entrances. 
Many schools purchase their inflatable entrance with local business funds. During the manufacturing process we sew velcro on each side of the tunnel or archway, then the teams can sell to their local companies signage spots to provide revenue.  The benefit to velcro is this sponsor spot can be sold year after year to not only help pay for your inflatable, but also aid in purchasing power for other necessities such as weight room equipment, headsets, and new team equipment.  
As the teams come roaring out on the field in front of thousands of fans; both at home and away; your team sponsors will be highlighted every week. With this kind of attention every business owner will do anything to have there name on the inflatables. This is how even our smallest organization can afford an incredible team entrance.
This article is available to our Digital Subscribers.
Click "Subscribe Now" to see a list of subscription offers.
Already a Subscriber? Sign In to access this content.