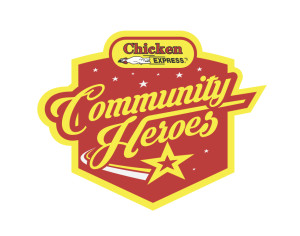 Chicken Express and Dave Campbell's Texas Football are partnering to honor the heroes in your community. Male and female student-athletes that lead by example on the field of play and in the classroom can be honored as Chicken Express Community Heroes and receive scholarship money to continue their education beyond high school. Athletes can be nominated at TexasFootball.com/ChickenExpress.
---

Seth Hendrickson
Cedar Ridge High School
Many times coaches discuss the importance of coaching an athlete who is a team player, and in the case of Seth Hendrickson, that term could not be more fitting. The junior, single-sport athlete from Cedar Ridge High School has spent countless hours on and off of the field dedicating time and effort to the people around him.
"I volunteer in my community," said Seth. "I have worked with Mission-U-Too, Texas Marching Classic, Round Rock Serving Center, and I have volunteered at Forest Creek Elementary, Ridgeview Middle School, and Cedar Ridge High School."
"I have helped serve meals to those less fortunate, created birthday bags for those that might not be able to have a party otherwise, and I do peer tutoring. Helping out around my community gives me a chance to give back to those in need."
While Seth makes community service a major part of his life, he also sacrifices many hours in the classroom and in athletics.
"I am currently a National Honor Society member and a member of the A/B Honor Roll. Since freshman year, I have been taking advanced courses and dual credit classes. By the time I graduate high school in 2019, I have the potential to leave with 36 college credits, thus leaving high school as a college sophomore."
"In eighth grade, I received the Aaron Williams Athlete of the Year award. This award recognizes a student-athlete that displays leadership and hard work on the field and in the classroom," explained Seth. "I work hard to maintain a high GPA, and this award was important to me because it showed me that my coaches saw that I was a team player and that I was successful both on the field and in the classroom."
While Seth is only a junior and has time to make up his mind on his college decision, he has expressed interest in attending a four year university; specifically Northwestern University in Evanston, Illinois. Given the dedication he has shown through his high school career, this goal seems easily attainable.
Jacob Wienecke
Fredericksburg High School
Eight years ago, Fredericksburg's Jacob Wienecke was diagnosed with Type 1 Diabetes. Despite the challenges that arise from such a diagnosis, Jacob embraced the opportunity, and continues to succeed both on the field and in the classroom.
"Over the course of my athletic career, I've faced a lot of adversity. I have to really micromanage on a minute by minute basis and keep an understanding of my ability, and to know what I need to do to keep myself healthy. It's been a challenge but it has made me who I am."
Along with managing his health, the three-sport athlete has managed his time in school, in athletics, and doing volunteer work around the community very well. He volunteers regularly at St. Francis Xavier Church, and has been an Academic All District football selection all three seasons of high school, as well as a Second-Team All District Defensive End selection for his junior football season.
"It was big [Second Team All-District] because it made me realize that I was on the radar. I didn't have the best sophomore year so having my junior year end like that, and feeling like I accomplished something made me really motivated to go into this year."
Going into his senior season, Jacob has already received an offer from the Colorado School of Mines – a place he had already considered for academia.
"If I were to not continue a career in football, I would really like to attend Texas A&M University and go into the engineering program; but I would like to consider other options such as the Colorado School of Mines."
Although he seemed eager to begin his degree, Jacob made no secret that Fredericksburg was the community he loved.
"Fredericksburg is just a great overall community. I really love the whole sports scene in Fredericksburg and having a team that I can represent. Personally I was built to stay in Fredericksburg my whole life."
This article is available to our Digital Subscribers.
Click "Subscribe Now" to see a list of subscription offers.
Already a Subscriber? Sign In to access this content.