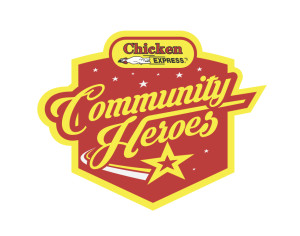 Chicken Express and Dave Campbell's Texas Football are partnering to honor the heroes in your community. Male and female student-athletes that lead by example on the field of play and in the classroom can be honored as Chicken Express Community Heroes and receive scholarship money to continue their education beyond high school. Athletes can be nominated at TexasFootball.com/ChickenExpress.
---

Brady Tackett
Windthorst High School
In the small town of Windthorst, just 25 miles south of Wichita Falls, it's safe to say that everyone knows each other. According to the U.S Census bureau, only 390 people live in the North Texas town.
This is especially true for Windthorst High School senior Brady Tackett. His Father Chris is the head football coach, and his mother Darla is the principal of Windthorst Junior High and a district counselor.
Brady now has his chance to stand out. An all-state baseball and football player, Tackett already knows what his true calling is, he wants to coach and pass on lessons that his father and coaches have instilled in him.
"They've taught me to be a good man, father and husband," he said. "They're all about teaching us and learning from our mistakes and making us mentally tough."
Brady has begun learning those skills, helping his community by volunteering in preschool classrooms and coaching his sister's basketball league. He plans to use that coaching knowledge and hopes to one day become a coach just like his father.
"I love getting to work with these young kids with all their activities," Tackett said. "I wasn't so sure about it at first, but now I am so glad I did it."
After he graduates, Tackett plans on playing college baseball, however he has not decided on which college he wants to attend.

Makayla Overton
Coahoma High School
For Makayla Overton, sports are more than just going to and playing in games. They are experiences, and some are better experienced with others.
Overton's father John is the head athletic trainer and they have gotten to experience success together. Kayla was there with her father to see the Howard baseball team win the NJCAA Division I World Series in 2009, and in 2010, she traveled with the basketball team to Kansas to see them win a national title.
"It was a very emotional experience for me and I got to share this with my Dad," she said. "My Dad has always been real quick to demonstrate life lessons through sports."
Overton is a junior at Coahoma High School, a 3A school 50 miles to the northwest of Midland. She is a varsity athlete who plays volleyball, basketball, track and softball – and she is also the varsity football manager.
Her freshman year, she received the "Newcomer of the Year" award. As a junior this year, Overton was named second-team all-district in both volleyball and basketball. She was also first-team all-district in softball her sophomore year.
Aside from sports, Overton is also an active member of the FFA and enjoys helping serve meals to the elderly. She also leads an "I am Second" bible study group at her church.
Overton wants to become an accountant, but has not decided where she wants to go to school.
This article is available to our Digital Subscribers.
Click "Subscribe Now" to see a list of subscription offers.
Already a Subscriber? Sign In to access this content.