Argyle High School is known for having one of the most successful athletic programs in the state of Texas. With several state championship appearances and titles across many of their sports, it's clear that they are doing something right.
With all of their success, the Argyle Athletic Booster Club has become a well-oiled machine. Ken Frazier is a big part of that and is in his second year as the club's president. He has been a member for the past five years, and has served in various roles such as treasurer and vice president.
"I was interested in being involved so I could see the athletic department at work and be closer to it than just a parent in the stands," Frazier said. "Once I got involved I got to see more of what we do, what we provide back to the school, and the opportunities we have to help the student athletes."
As an all sport booster club, Mr. Frazier and his team contribute substantial amounts of money to the school to ensure that the athletes have everything they need to succeed.
So, how are they able to do all of this? According to Mr. Frazier, it all starts with having a great board and awesome volunteers.
"I have an excellent officer group, CFO, treasurer, secretary, vice president, and sports directors," Frazier stated. "Then we also have a bunch of parent volunteers who do a tremendous job making all of this stuff happen."
Because of all the wonderful people helping the Eagles, the club is able to raise money each year through various endeavors. These include, membership sales, concession sales, spirit wear sales, and corporate sponsorships (including Nike as their official gear sponsor). Last year alone the club accumulated over $105,000 for the school, with goals to reach $130,000-$150,000 next year, and the years following. They also participate in the "Argyle Eagle Golf Classic" every summer, which is an event that benefits the athletic and band booster clubs, and features many sponsors and celebrity guests.
One of the most unique aspects of the club is their concession stand. They have a man, Anthony Calabrese, who grew up in a deli in New Jersey that cooks all of their food, and came up with a tasty menu that the Eagle fans absolutely love.
"We've set a new tone there with having really good food at the concessions," Frazier stated. "People now don't go eat before the game, they come to the game to eat."
There are a lot of people behind the scenes that are making things happen. The families from each sport work together, and do whatever they can to make sure everything works.
In addition, Mr. Frazier, the athletic director, and the booster club board, give out $500-$1,000 scholarships to deserving athletes every year.
With his son Jaxon as a senior, Mr. Frazier will unfortunately not be returning as president of the booster club. However, he plans to stick around as past president next year and help out where he can.
"I've been doing this a long time and it's been a lot of fun. It's going to be almost like a semi-retirement when I leave, working 20 plus hours a week, but I wouldn't trade it for anything."
---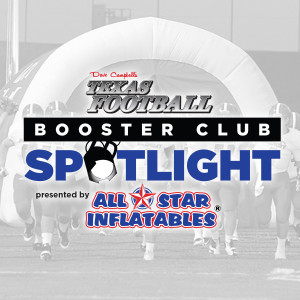 Special Message from All-Star Inflatables:
Every sports team wants to run through an inflatable, but how do they afford them?
Teams have been using inflatable entrance tunnels, helmet replicas, and larger than life mascots for over 25 years. The number one question is "How do they afford them?" It's simple…Stop looking at the cost and look at how much money your sports organization can raise with our team entrances. 
Many schools purchase their inflatable entrance with local business funds. During the manufacturing process we sew velcro on each side of the tunnel or archway, then the teams can sell to their local companies signage spots to provide revenue.  The benefit to velcro is this sponsor spot can be sold year after year to not only help pay for your inflatable, but also aid in purchasing power for other necessities such as weight room equipment, headsets, and new team equipment.  
As the teams come roaring out on the field in front of thousands of fans; both at home and away; your team sponsors will be highlighted every week. With this kind of attention every business owner will do anything to have there name on the inflatables. This is how even our smallest organization can afford an incredible team entrance.
This article is available to our Digital Subscribers.
Click "Subscribe Now" to see a list of subscription offers.
Already a Subscriber? Sign In to access this content.