There is no time to rest during the fall for the Edgewood Booster Club. With numerous sports going on, they have their hands full with all of the games, events, and fundraisers taking place.
Mike Davis is in his third year as president of the club, and fifth year as a member, with his youngest son on the basketball and cross-country team. He helps keep the Edgewood Booster Club organized by holding monthly meetings, communicating with school officials, assisting the "Tunnel Team", picking up food orders whenever needed, and helping with concessions, just to name a few. He describes it all as a true team effort.
"There are many things that get divided among all the board members," Davis said. "We all have a part and responsibility that sometimes over lap each other. It takes more than just one person in order to do all of this!"
In addition, they have great support from parents and family members who help care for the teams, and volunteer their time. They, along with the club's board members, make sure the students have everything they need to help them succeed.
"We want them to have little to no worries on equipment and resources," Davis stated. "So that they can focus on achieving the best ability in their performances both on and off the fields/courts."
Their biggest moneymaker is concession sales at home football games and track meets. However, that is not the only thing the club does throughout the year to raise funds. The Edgewood Booster Club sponsors the Homecoming parade and Sports Banquet, as well as participates in the Halloween Carnival. This past year, they were responsible for KMOO, a local radio station, coming out and hosting their locker room show.
They also aim to get more community involvement, and sponsors to help out as well.
"I would like to get the community more involved with the booster club, so that we can provide more support to the schools." Davis stated.
"Our main goal is to help out the entire athletic department to get what they might need in order to achieve their goals."
---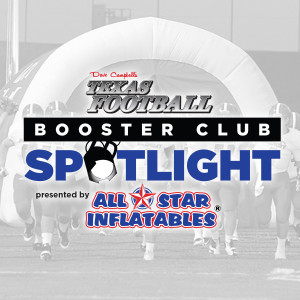 Special Message from All-Star Inflatables:
Every sports team wants to run through an inflatable, but how do they afford them?
Teams have been using inflatable entrance tunnels, helmet replicas, and larger than life mascots for over 25 years. The number one question is "How do they afford them?" It's simple…Stop looking at the cost and look at how much money your sports organization can raise with our team entrances. 
Many schools purchase their inflatable entrance with local business funds. During the manufacturing process we sew velcro on each side of the tunnel or archway, then the teams can sell to their local companies signage spots to provide revenue.  The benefit to velcro is this sponsor spot can be sold year after year to not only help pay for your inflatable, but also aid in purchasing power for other necessities such as weight room equipment, headsets, and new team equipment.  
As the teams come roaring out on the field in front of thousands of fans; both at home and away; your team sponsors will be highlighted every week. With this kind of attention every business owner will do anything to have there name on the inflatables. This is how even our smallest organization can afford an incredible team entrance.
This article is available to our Digital Subscribers.
Click "Subscribe Now" to see a list of subscription offers.
Already a Subscriber? Sign In to access this content.