The booster club at Malakoff High School is going the distance to help their student athletes. They are an all-sport booster club that supports every sport at their school, financially and spiritually.
With all of that responsibility, you have to have a great leader to help make sure every sport and athlete is taken care of throughout the year. Duana Busch is in her first year as President of the Malakoff Athletic Booster Club, and she is doing just that.
According to her, the job of the booster club is to make sure if any of the sports have needs regarding their specific program, they are the go-to people. Whether it is equipment for the team, or volunteering their time for concessions, they will get together and formulate a plan as to how they can provide for each sport.
"We act as support for the different athletic programs at the school," Busch said. "Our goal is to do everything we can financially for them throughout the year and to provide scholarships to the seniors."
The scholarship program is the main reason the club fundraises and dedicates so much of their time. Busch stated that, "It is what we strive for all year, to try and raise enough money to be able to give out as many scholarships as we can."
They use an incentive based approach, which gets the student athletes active and involved with the booster club and the community. The athletes and parents are required to work a certain amount of quarters at a concession stand of any other sport's home game or any middle school game. The idea is that they want the students to show willingness to put in the work to receive that scholarship at the end of the year.
"We want to take the money we raise and put it back into the kids, " Busch said. "So then we are encouraging them to go on to that next level."
Most of the money that the booster club raises comes from spirit wear and concession sales. Furthermore, each specific sport will do their own fundraising, and the booster club then will host little fundraisers throughout the year based on the left over financial need for each sport, and to increase participation from the community.
"Our main goal every year would definitely be to get more people involved," Busch said. "It's important to get that community support so that these kids are recognized for the hard work that they put in. We want them to know that they have that support and that everything we do is for them."
Along with being a dedicated member of the Malakoff Athletic Booster Club, Duana Busch is also running for school board this year. In addition, she has a sophomore and senior who both play for the Tiger's football team. Because the spirit and support of the Malakoff community is so incredible, she mentions that she will always do everything she can to help out the booster club.
"Even though we may not be financially ahead of a lot of communities, I wouldn't trade the support we have here for anything."
---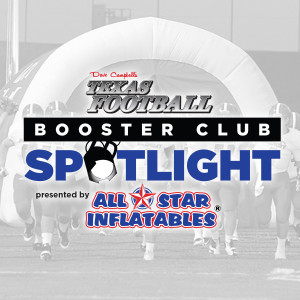 Special Message from All-Star Inflatables:
Every sports team wants to run through an inflatable, but how do they afford them?
Teams have been using inflatable entrance tunnels, helmet replicas, and larger than life mascots for over 25 years. The number one question is "How do they afford them?" It's simple…Stop looking at the cost and look at how much money your sports organization can raise with our team entrances. 
Many schools purchase their inflatable entrance with local business funds. During the manufacturing process we sew velcro on each side of the tunnel or archway, then the teams can sell to their local companies signage spots to provide revenue.  The benefit to velcro is this sponsor spot can be sold year after year to not only help pay for your inflatable, but also aid in purchasing power for other necessities such as weight room equipment, headsets, and new team equipment.  
As the teams come roaring out on the field in front of thousands of fans; both at home and away; your team sponsors will be highlighted every week. With this kind of attention every business owner will do anything to have there name on the inflatables. This is how even our smallest organization can afford an incredible team entrance.
This article is available to our Digital Subscribers.
Click "Subscribe Now" to see a list of subscription offers.
Already a Subscriber? Sign In to access this content.