There's a mantra associated with Liberty football, #PFD, in which the team not only plays by, but also lives by on a daily basis. PFD stands for "Passio (Passion), Famulus (Servanthood), and Ductus (Leadership)." This is something that the team uses to be successful in everything they do.
Another facet to the team's success is the incredible support demonstrated by the Liberty Quarterback Club. The current president of the club attributes much of the praise to the parents and community, but his dedication to the club and the players is undeniable.
"As parents, we want to be involved in our kids' lives as much as we can, for as long as we can," McHenry stated. "Being a part of the booster club allows me to be a part of, and make a big difference in, not only my son's high school experience, but the experience of 100 other kids."
As president, he is responsible for the day-to-day activities of the club. Starting in the summer, McHenry get's to work on their plans for the fall. But of course, none of those plans could relay into action without the help and support of the club's volunteers.
"Most of our volunteer support comes from the same 10-15 parents," McHenry said. "The amount of work and commitment from these parents is nothing short of miraculous."
Together, they work diligently on their biggest revenue generator, the Game Day Programs. Additionally, the club raises money through spirit wear sales, banquet sales, membership dues, and concessions. They also host an annual kickoff event called the "Redhawk Rally".
So, what do all of these fundraising efforts help source? The Liberty Quarterback Club provides game day meals and half-time drinks for all teams, brings spirit wear and the run-through tunnel to all high school games, maintains the team website, throws the annual football banquet, gives out scholarships, and much more.
"We exist to support the Redhawk Football team, but we have two main goals," McHenry stated. "Throw the best banquet they could ever imagine, and give scholarships."
His son is a senior this year, and there's no doubt his football experience was even greater with his parents by his side. When asked how he (McHenry) wants the players and coaches to benefit from the club each year, his response was simple.
"Actually, I think the parents are the ones that get the biggest benefit," he said. You are in the last few years of your kid living at home, so this is a very important time of their life. Come live it with them."
---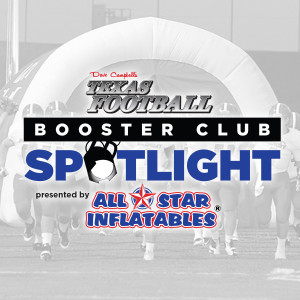 Special Message from All-Star Inflatables:
Every sports team wants to run through an inflatable, but how do they afford them?
Teams have been using inflatable entrance tunnels, helmet replicas, and larger than life mascots for over 25 years. The number one question is "How do they afford them?" It's simple…Stop looking at the cost and look at how much money your sports organization can raise with our team entrances. 
Many schools purchase their inflatable entrance with local business funds. During the manufacturing process we sew velcro on each side of the tunnel or archway, then the teams can sell to their local companies signage spots to provide revenue.  The benefit to velcro is this sponsor spot can be sold year after year to not only help pay for your inflatable, but also aid in purchasing power for other necessities such as weight room equipment, headsets, and new team equipment.  
As the teams come roaring out on the field in front of thousands of fans; both at home and away; your team sponsors will be highlighted every week. With this kind of attention every business owner will do anything to have there name on the inflatables. This is how even our smallest organization can afford an incredible team entrance.
This article is available to our Digital Subscribers.
Click "Subscribe Now" to see a list of subscription offers.
Already a Subscriber? Sign In to access this content.