The football booster club at Rowlett High School is doing whatever they can each year to provide for their players and coaches.
Zack Watts is in his fifth year as a member, but first year as booster club president. Over the past couple of years he has dipped his hands into managing the website, social media, and even vice presidency, while still giving most of the praise to the 100 plus members they have.
"We really appreciate the support we get," Watts stated. "The booster club cannot and will not function without the great support from our volunteers that are in place."
According to Watts, the club meets constantly to plan and promote their upcoming fundraising efforts. They put these together, not only to ensure they get enough money each year, but to also raise awareness around the football program and what the club is doing to meet the team's needs.
"First of all, we are a year-round booster club." Watts said. "We meet every Monday during the season and once a month during the off-season to prepare for fundraising events, and everything else we do to raise money throughout the year."
The needs of a high school football team are endless. For the Rowlett Eagles this includes providing meals to the team and coaches every week (pregame, breakfasts, and postgame), locker room and field house renovations, custom transportation for long-distance games, and any equipment that will help the program succeed.
"Just over the last two years alone we have been able to provide $40,000 in field house improvements and renovations," Watts stated. "In addition, we've probably spent another $10,000 - 12,000 on meals, and also equipment including a new high tech video camera and physical equipment we have provided as well."
So, how do they raise enough money each year to do all of this? The booster club works diligently every year to make sure their answer is always yes to things the team's needs. Their biggest fundraising effort is their football program. It includes sponsored advertisements, personal ads purchased mostly by parents, spirit group spotlights for the band, cheer and dance team, and senior highlights. They also have a program that one of their coaches puts together called "Eagle Partners", where local businesses partner with the players and make donations.
"Our goal every year is to provide the boys anything they need and we have not had to say no to them yet," Watts said. "As long as I have been involved with the booster club, we have not had to say no to the boys because of money. And again, that money comes from donations of businesses, program ad sales, Eagle Partners, and parent volunteers. "
Although his oldest son is a senior wide receiver, Watts also has a freshman on the team, and will be helping out for at least three more years.
So, it sounds like the Rowlett football booster club will continue to say yes.
---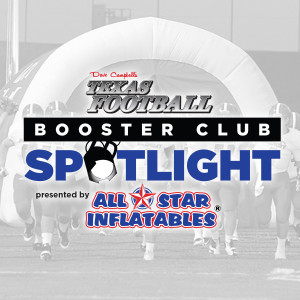 Special Message from All-Star Inflatables:
Every sports team wants to run through an inflatable, but how do they afford them?
Teams have been using inflatable entrance tunnels, helmet replicas, and larger than life mascots for over 25 years. The number one question is "How do they afford them?" It's simple…Stop looking at the cost and look at how much money your sports organization can raise with our team entrances. 
Many schools purchase their inflatable entrance with local business funds. During the manufacturing process we sew velcro on each side of the tunnel or archway, then the teams can sell to their local companies signage spots to provide revenue.  The benefit to velcro is this sponsor spot can be sold year after year to not only help pay for your inflatable, but also aid in purchasing power for other necessities such as weight room equipment, headsets, and new team equipment.  
As the teams come roaring out on the field in front of thousands of fans; both at home and away; your team sponsors will be highlighted every week. With this kind of attention every business owner will do anything to have there name on the inflatables. This is how even our smallest organization can afford an incredible team entrance.
This article is available to our Digital Subscribers.
Click "Subscribe Now" to see a list of subscription offers.
Already a Subscriber? Sign In to access this content.