Booster club members often come and go, but not in Ron Somers' case. For almost a decade, he has been moving and shaking the Panther Booster Club, to help make it what it is today.
"The club was originally a ton of little organizations," Somers said. "My goal was to get it all together!"
For nine years he has been dedicating his time to Princeton athletics, and for all but three of those years he has held the title of President. Along with the help of the Executive Board, the booster club is able to provide all types of financial aid throughout all sports. Their main goal is to alleviate some of the expenses that come up, so that each sport can focus on getting new gear and equipment for their team.
"All of the money we collect we try to give back to the kids during the season," Somers said. "If they go out of town for a tournament, we help with the hotel stays for the whole team. By taking care of things like banquets and hotel fees, we take an expense off of the coaches, so they can use their budget for other things."
Some of the things they do to raise money include events like Parents Night Out and the Homecoming Parade. Parents Night Out allows people from the community to drop their kids off at their indoor facility for a night of fun and games. Members of the booster club, the board, and even student athletes help make that a success. Other fundraising endeavors include game programs, coupon cards, and their biggest moneymaker, concessions.
So, how is all of this possible? Somers explained that their Athletic Director, Coach Dillard, was instrumental in making the club what it is today. In addition, the booster club has about 25-50 members, but essentially 10-12 are the ones really making things happen. The club also gets volunteers from local elementary schools, churches, dance groups, and the community as a whole. They are able to exchange donations for their help during the season, so everybody wins, and it is a true community effort.
The main goal of the Princeton Booster Club is to give as much money out as they can to assist the coaches every year. Everything that is left over goes to giving out up to 10 scholarships to student athletes, a year, most totaling $500-$1,000.
When asked why he continues to be a part of the booster club all these years, Somers' answer was simple. "It's a great way, not to just get to know the kids, but to get to know the families," he stated.
"If you are involved with community activities like this, you get to meet people that you normally wouldn't meet otherwise, which makes the community closer, and that's why I keep doing what I do."
---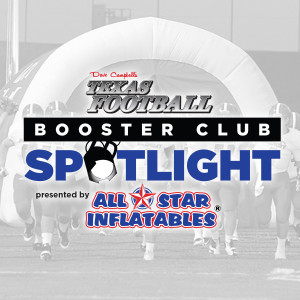 Special Message from All-Star Inflatables:
Every sports team wants to run through an inflatable, but how do they afford them?
Teams have been using inflatable entrance tunnels, helmet replicas, and larger than life mascots for over 25 years. The number one question is "How do they afford them?" It's simple…Stop looking at the cost and look at how much money your sports organization can raise with our team entrances. 
Many schools purchase their inflatable entrance with local business funds. During the manufacturing process we sew velcro on each side of the tunnel or archway, then the teams can sell to their local companies signage spots to provide revenue.  The benefit to velcro is this sponsor spot can be sold year after year to not only help pay for your inflatable, but also aid in purchasing power for other necessities such as weight room equipment, headsets, and new team equipment.  
As the teams come roaring out on the field in front of thousands of fans; both at home and away; your team sponsors will be highlighted every week. With this kind of attention every business owner will do anything to have there name on the inflatables. This is how even our smallest organization can afford an incredible team entrance.
This article is available to our Digital Subscribers.
Click "Subscribe Now" to see a list of subscription offers.
Already a Subscriber? Sign In to access this content.