The football booster club at Forney High School, formally known as the Jackrabbits Quarterback Club, has big plans to meet their goals this year.
The club's volunteers consist mostly of parents of players, and is very well organized with board members, and four different committees that all work together to support the team and coaches.
Matt Rooney is in his second year as booster club president and seems to have his position down to a T. Along with his team, he organizes meetings, sets up fundraising events, and makes sure all of his committees are up to speed so that the players have everything they need.
The duties of the Quarterback Club are extensive, but absolutely necessary to get the boys ready for their games. The locker room committee decorates the player's lockers each week in support of their upcoming game, the breakfast committee cooks every Saturday morning to feed them before they watch film, and the Banquet and Parade committees work all season long to make sure their events become a reality.
But the work doesn't just start in the Fall. Every June the Quarterback Club hosts a golf tournament, which is one of their biggest fundraising events of the entire year. The other event is a telethon which get's the players involved, and has shown tons of success over the last couple of years.
"The season starts with our golf tournament in June, then we host a telethon. " Rooney said. "Basically, all of the boys call parents, grandparents, friends and family to raise money."
Since the club is only allowed two fundraisers a year, they have gotten creative on tying in other money-raising opportunities. The club sells advertisements including field signs that are placed on the track during home games, place art on the football trailer, 15 – 30 second spots on the radio show, and they host a power lifting meet every February with around 15-20 schools in attendance.
All of this allows the Jackrabbit Quarterback club to provide the players with the meals, gear, and equipment they need to be successful each year.
"We always buy the gym suits the boys work out in, undershirts that go under the jersey, helmets and shoulder pads, and new work out equipment for the weight room." Rooney stated. "So, we have to do everything we can to have those funds each year."
With Rooney's son, Brock, as a senior receiver he will not be returning as president. However, there is no doubt that the Quarterback Club will continue to go above and beyond the call of the duty for the Jackrabbits in the years to come.
---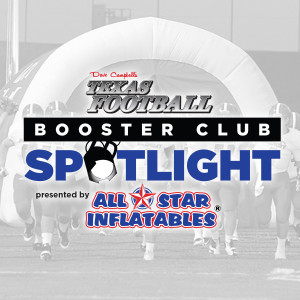 Special Message from All-Star Inflatables:
Every sports team wants to run through an inflatable, but how do they afford them?
Teams have been using inflatable entrance tunnels, helmet replicas, and larger than life mascots for over 25 years. The number one question is "How do they afford them?" It's simple…Stop looking at the cost and look at how much money your sports organization can raise with our team entrances. 
Many schools purchase their inflatable entrance with local business funds. During the manufacturing process we sew velcro on each side of the tunnel or archway, then the teams can sell to their local companies signage spots to provide revenue.  The benefit to velcro is this sponsor spot can be sold year after year to not only help pay for your inflatable, but also aid in purchasing power for other necessities such as weight room equipment, headsets, and new team equipment.  
As the teams come roaring out on the field in front of thousands of fans; both at home and away; your team sponsors will be highlighted every week. With this kind of attention every business owner will do anything to have there name on the inflatables. This is how even our smallest organization can afford an incredible team entrance.
This article is available to our Digital Subscribers.
Click "Subscribe Now" to see a list of subscription offers.
Already a Subscriber? Sign In to access this content.