The North Garland Raiders have a new Booster Club President in town, and she has plans to take the club where it's never been before. Christina Parker is a second-year member of the North Garland Booster Club, and is already taking new strides to better the program.
"This is my first year (as president) so I'm trying to take it a step above what we did last year, and if we keep doing that, the club will be amazing in a couple of years," Parker stated.
There are around seven or eight members of the booster club as of now, and one of their goals is to increase support from parents and the North Garland community. Since they are responsible for providing the football team with the things they need to be successful, it is imperative to continuously gain membership, volunteers, and communication throughout the school.
"We are trying to make the communication between the school and the players better than it has been in the past," Parker said.
One of the ways the booster club plans on bridging the gap between the school and the Raider football team is through social media. Parker has been upping her game on the booster club's Twitter and Facebook accounts, and even created a SnapChat profile to be more interactive with the community.
"We promote the players and their games as much as we can." Parker stated. "That is one of things I'm trying to pull in a little bit more, having more people aware of what we have going on for them and the fundraisers we do."
Fundraising is probably the most important function of any booster club, for any sport. The biggest thing the North Garland booster club is doing for their football team is a sports program. They get local businesses to purchase advertisements within the program, then turn around and sell those programs for fans to enjoy during the game.
Another fundraiser they add to the agenda every fall and spring is a Raider Car Wash. This allows the players to be interactive with the people that come out to support them every Friday night, and also have fun while raising money that will go right back to their team. Other moneymakers include t-shirt sales, concessions, and a North Garland Market which includes a variety of vendors from the community and the state of Texas.
"Our goal is to do more for the boys, and show them how much we appreciate them going out every time and doing the best that they can. " Parker said. "We want to make sure these boys to know that all of their hard work is paying off and people are paying attention to them!"
With her son as a junior on the varsity team, Christina Parker has a few more years as a part of the North Garland Booster Club. With a great team and community behind the Raiders, there's no doubt their goals can become a reality.
---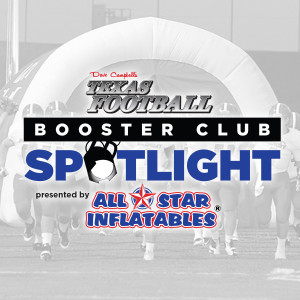 Special Message from All-Star Inflatables:
Every sports team wants to run through an inflatable, but how do they afford them?
Teams have been using inflatable entrance tunnels, helmet replicas, and larger than life mascots for over 25 years. The number one question is "How do they afford them?" It's simple…Stop looking at the cost and look at how much money your sports organization can raise with our team entrances. 
Many schools purchase their inflatable entrance with local business funds. During the manufacturing process we sew velcro on each side of the tunnel or archway, then the teams can sell to their local companies signage spots to provide revenue.  The benefit to velcro is this sponsor spot can be sold year after year to not only help pay for your inflatable, but also aid in purchasing power for other necessities such as weight room equipment, headsets, and new team equipment.  
As the teams come roaring out on the field in front of thousands of fans; both at home and away; your team sponsors will be highlighted every week. With this kind of attention every business owner will do anything to have there name on the inflatables. This is how even our smallest organization can afford an incredible team entrance.
This article is available to our Digital Subscribers.
Click "Subscribe Now" to see a list of subscription offers.
Already a Subscriber? Sign In to access this content.