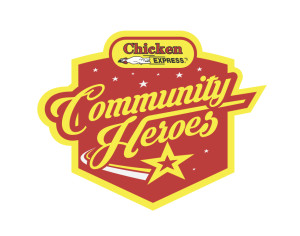 Chicken Express and Dave Campbell's Texas Football are partnering to honor the heroes in your community. Male and female student-athletes that lead by example on the field of play and in the classroom can be honored as Chicken Express Community Heroes and receive scholarship money to continue their education beyond high school. Athletes can be nominated at TexasFootball.com/ChickenExpress.
---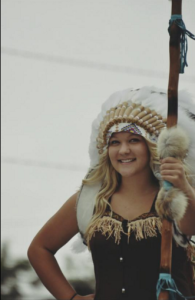 DARBY SPARKMAN
Quanah High School
Darby Sparkman has been involved in a variety of sports at Quanah High School. She's been on varsity for the volleyball, softball and track & field teams, as well as participating on the school's junior varsity basketball and cross country teams. When she isn't playing for either of these teams, she is also the school's mascot.
As if that's not enough, Sparkman does just as much in the community. When a player in Quanah's district broke his neck, Sparkman organized a fundraiser to raise money to help that player and his family. She is also a member of the Quanah's 1904 Juniorettes Community Service Club; in order to join one must be nominated to be a member in order to become a Juniorette. On Halloween, Sparkman also went door-to-door collecting donations for her Quanah's local food pantry
English teacher Robbie Hale has said Sparkman is "a hardworking go-getter who is very philanthropic". Hale also said that Sparkman is a talented singer who sings for various events in the community and in church.
Darby is hard-working student who is on track to graduate a full year early this May. She plans to attend West Texas A&M University where she wants to major in agricultural media and communication. She wants to start up her own photography company her freshmen year of college so by the time she graduates college, she'll have a full list of clientele.
---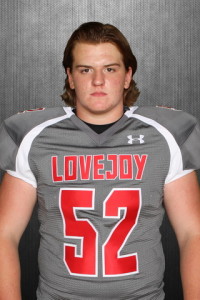 BO BIEDLEMAN
Lucas Lovejoy High School
Lovejoy High School senior Bo Biedleman excels athletically as well as in the classroom. Biedleman is on the football team and wrestling team, but he's not just your average participant on either. He has received several football awards recognizing his exceptional performance and is captain of the wrestling team.
Biedleman was recognized as an honorable mention all-district lineman during his junior year, and this year he was first-team all-district. He received educational recognition this year as well. As an athlete who is also dedicated to his studies, he was awarded academic all-state second team.
Lovejoy is also finding ways to recognize his academic success. Biedleman was invited to join his high school's National Honor Society as well as the Hispanic Honor Society. He accepted both and is now an active member for these organizations. Lovejoy's AP Program further awarded his academic excellence by honoring him as an AP Scholar with Distinctions. This award is given to students who receive an average score of at least 3.5 on all AP exams taken, and scores of 3 or higher on five or more of AP exams.
When Biedleman isn't winning football awards or leading his wrestling team to victories, he focuses on giving back to the community. He helps others with their football and wrestling goals by volunteering at the high school's football and wrestling camps over the summer. Being involved in church is also an activity Biedleman considers crucial and makes a priority. He stays engaged with church throughout the year, and goes on mission trips during the summer.
Bo Biedleman is a source of pride for Lovejoy High School, demonstrating excellence in athletics, academics and community service.
This article is available to our Digital Subscribers.
Click "Subscribe Now" to see a list of subscription offers.
Already a Subscriber? Sign In to access this content.