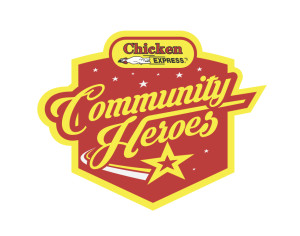 Chicken Express and Dave Campbell's Texas Football are partnering to honor the heroes in your community. Male and female student-athletes that lead by example on the field of play and in the classroom can be honored as Chicken Express Community Heroes and receive scholarship money to continue their education beyond high school. Athletes can be nominated at TexasFootball.com/ChickenExpress.
---

JONATHAN CASILLAS
Keller Fossil Ridge High School
Jonathan Casillas is a three-year starter on the varsity football team at Timber Creek, but his volunteerism separates him from the average high school athlete. He has served the different populations around the Keller community, and that's why his efforts away from the gridiron are so important. One of the things he does is answer his teammates' academic questions. They come to him regularly because he's ranked sixteenth in his class. He also served some of his classmates at a food pantry last Thanksgiving. The experience humbled him because he didn't expect to see them there.
Football coach Kevin Golden said Casillas is always available to serve others, and that's why he has chosen him to visit the district's schools on multiple occasions. The most notable is his trips to Caprock Elementary. Its students come from economically disadvantaged families, and he always wants to lighten their mood when he arrives. He greets the students on game days, opens the doors for them, and gives them high fives. He also hands out Gator bucks, so they can buy things at the school store. Coach Golden is also organizing a role model program for Caprock, and he plans to have Jonathan there when the reading program gets underway.
"If I need somebody that's going to take care of business, if I want a volunteer to go to another school, he's one of the first guys that I think of," said Golden.
Casillas serves the community's younger population on a regular basis. He volunteered at the Keller ISD Punt, Pass and Kick Competition, and helped the Special Olympics athletes that played flag football.
He also meets the needs of the town's older citizens. He works at Texas Health Alliance during the Keller ISD Health Fair, and directs the visitors where to go. The event offers free services, such as eye and blood tests. Jonathan wants to become a biomedical engineer, so he is getting exposed to the profession's culture while still in high school.
---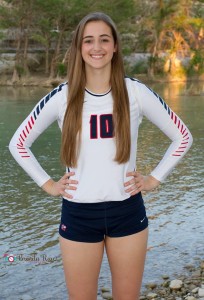 MAGGI LINKER
Wimberley High School
Maggi Linker is a four-year varsity player on her high school basketball and volleyball team, but she also serves the people in her community. That includes giving back to the sports she plays. She wants to be a role model on and off the court, so she can show the community's future stars the lay of the land. She coaches elementary-aged athletes through the Little Diggers program at Wimberley Athletic Club, and she helped with Little Dribbles in middle school. She participated in both organizations growing up, and that's where she found her love for the two sports she plays.
As a top student in her class, she helped the freshmen who did not do well on the STAAR test in eighth grade. She explained concepts and helped them with homework during their Algebra Extended Class last school year. She also tutored a freshman after school on Mondays. She met the student at Young Life, and performed many of the same duties during their hour and a half session. She's a student leader at Young Life and a Huddle leader in FCA because her Christian faith is important to her.
She wants to install hope back into the Wimberley community after this spring's floods destroyed the homes of some of her classmates and coaches. The tragedy really affected her, and that's why the Wimberley on her jersey will mean a lot more this year.  She wants to play for the locals because they've always supported her teams. That's why the volleyball players are competing under the motto, "Our tradition, our legacy, our town", this season. She created the slogan, and said the basketball team's motto will also honor the community.
"The fact that her moto was 'our tradition, our legacy, our town', really just speaks volumes about that it's more than her," volleyball coach Thomas Kane said. "It's about those around her."
"She takes so much pride in the town of Wimberley and the community of Wimberley."
This article is available to our Digital Subscribers.
Click "Subscribe Now" to see a list of subscription offers.
Already a Subscriber? Sign In to access this content.