There's a one-stop shop for athletic needs in Crandall. Athletes from the seventh grade through seniors are served by the Crandall Booster Club, and Marie Ryan is the leader of the pack. She really enjoys serving the community's athletes.
"It's an honor to watch, and see them excel in a sport they love."
Ryan was one of 13 members on the board the last three years, and this is her first year as president. The booster club receives requests for equipment and uniforms, and helps with concession stands at football and soccer events. It recently provided a screen for the softball team, practice goals for the soccer team, and fan misters for the entire athletic department.
The booster club's biggest drive is the scholarships for senior athletes. A combined $10,000 is up for grabs every year, but Ryan expects that number to increase as the student body continues to grow. Last year, 14 seniors earned a piece of that, and 30 seniors are eligible on this year's football team. The money is raised by merchandise sales, and that includes the popular Blackout Game T-shirt. The game is played every year, and this year's event was played on August 28
th
.
Two criteria must be met if an eligible candidate is going to win. A senior's essay is the biggest factor, but their parents must also meet a volunteer hour quota for the booster club. 20 hours are assigned to senior parents, and 10 hours are assigned to junior parents. Currently, this is no requirement for underclassmen parents, but there has been talk at meetings that this could change in the future. The booster club never wants to hold a difficult situation against a deserving student, so families can be excused for a medical concern. Their hours will be picked up by other members, and many times it's the freshman and sophomore parents.
---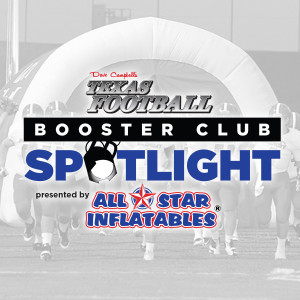 Special Message from All-Star Inflatables:
Every sports team wants to run through an inflatable, but how do they afford them?
Teams have been using inflatable entrance tunnels, helmet replicas, and larger than life mascots for over 25 years. The number one question is "How do they afford them?" It's simple…Stop looking at the cost and look at how much money your sports organization can raise with our team entrances. 
Many schools purchase their inflatable entrance with local business funds. During the manufacturing process we sew velcro on each side of the tunnel or archway, then the teams can sell to their local companies signage spots to provide revenue.  The benefit to velcro is this sponsor spot can be sold year after year to not only help pay for your inflatable, but also aid in purchasing power for other necessities such as weight room equipment, headsets, and new team equipment.  
As the teams come roaring out on the field in front of thousands of fans; both at home and away; your team sponsors will be highlighted every week. With this kind of attention every business owner will do anything to have there name on the inflatables. This is how even our smallest organization can afford an incredible team entrance.
This article is available to our Digital Subscribers.
Click "Subscribe Now" to see a list of subscription offers.
Already a Subscriber? Sign In to access this content.