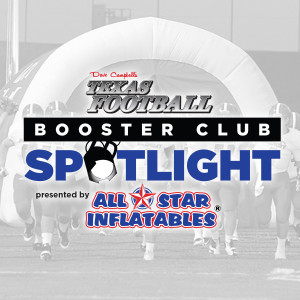 Jeff Burge is in his second year with the Van Alstyne Booster Club, and became president in July. He has always been a supporter of youth athletics and jumped at the opportunity to join the booster club as vice president last year.
"I'm a strong believer in the importance of student athletics and the things that build into the student: the character traits, leadership, and teamwork," he said. "I wanted to give back a little bit of what the school district provided my boys through the school's athletic program."
The booster club sells memberships, ad space and sponsorships in its fundraising efforts. There is ad space available in the fall, winter and spring programs, as well as stadium signs. They can also buy an advertisement over the PA system at a sporting event. Sponsors like supporting Van Alstyne, so many of the ads will feature the school's athletes in front of their storefront or sign. Gallagher Construction, Grayson-Collin Electric Co-Op, Navasota Energy, Texas Farm Bureau Insurance and Texas Star Bank are the booster club's main sponsors.
The booster club provides uniforms for the school's sports teams on a three year rotation. The first year is the most expensive because football is a major purchase. Football uniforms have a higher price tag than other sports and there's more people playing it. The booster club also provides uniforms for a sport like golf or tennis in year one. It has an annual budget based on the past needs of coaches, and it's always cheaper in years two and three. It also provides eight $500 scholarships each year.
Last year, the booster club provided starting blocks for the track team, a batting cage net for the baseball and softball teams, new sideline benches for the athletic field, and track uniforms. This year, the basketball team will play at the American Airlines Center before a Mavericks game. Money was needed upfront so athletic director Mikeal Miller asked the booster club to write a $4,300 check. The booster club will receive some of that back when the players sell tickets themselves.
---
Special Message from All-Star Inflatables:
Every sports team wants to run through an inflatable, but how do they afford them?
Teams have been using inflatable entrance tunnels, helmet replicas, and larger than life mascots for over 25 years. The number one question is "How do they afford them?" It's simple…Stop looking at the cost and look at how much money your sports organization can raise with our team entrances. 
Many schools purchase their inflatable entrance with local business funds. During the manufacturing process we sew velcro on each side of the tunnel or archway, then the teams can sell to their local companies signage spots to provide revenue.  The benefit to velcro is this sponsor spot can be sold year after year to not only help pay for your inflatable, but also aid in purchasing power for other necessities such as weight room equipment, headsets, and new team equipment.  
As the teams come roaring out on the field in front of thousands of fans; both at home and away; your team sponsors will be highlighted every week. With this kind of attention every business owner will do anything to have there name on the inflatables. This is how even our smallest organization can afford an incredible team entrance.
This article is available to our Digital Subscribers.
Click "Subscribe Now" to see a list of subscription offers.
Already a Subscriber? Sign In to access this content.