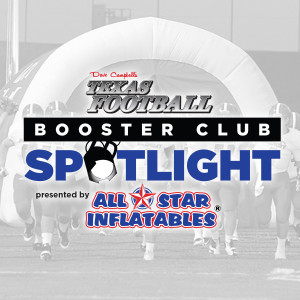 Dave Campbell's Texas Football, in partnership with All Star Inflatables, is recognizing booster clubs across the state of Texas to be featured under our Booster Club Spotlight. This week's story is featuring the JJ Pearce High School Booster Club in Richardson.
The concept of family is very important to the Pearce booster club; that's why couples will sometimes share a position. Now co-presidents of the school's booster club, John and Andre Roberts have been involved in the program over the past 20 years. Their working history includes membership, spirit and secretary positions before being named the presidents-elect last year.
The Pearce booster club is doing some great things, and the co-presidents are at the forefront. Their main strategy is to reach students in the feeder schools so they can spread the high school's great school spirit. According to Andre, it was a priority to get the word out about last weekend's kickoff barbecue, so fans could get excited about the Mustangs' upcoming season. Andre said the booster club gave away more than 2,500 hot dogs in two hours, plus chips and drinks on the side. Athletes from the school's 19 teams spoke at the kickoff event and were accompanied by a performance from the school band.
The booster club is already gearing up for their next event, as they will be hosting a tailgate party prior to this Friday's home game against South Garland. There will be games for all in attendance and local restaurants will provide food. The school spirit will be alive and well in what is sure to be another successful JJ Pearce High School booster club event.
Congratulations to John and Andre Roberts and the entire Pearce Booster Club on being recognized under the Dave Campbell's Texas Football Booster Club Spotlight presented by All-Star Inflatables.
---
Every sports team wants to run through an inflatable, but how do they afford them?
Teams have been using inflatable entrance tunnels, helmet replicas, and larger than life mascots for over 25 years. The number one question is "How do they afford them?" It's simple…Stop looking at the cost and look at how much money your sports organization can raise with our team entrances. 
Many schools purchase their inflatable entrance with local business funds. During the manufacturing process we sew velcro on each side of the tunnel or archway, then the teams can sell to their local companies signage spots to provide revenue.  The benefit to velcro is this sponsor spot can be sold year after year to not only help pay for your inflatable, but also aid in purchasing power for other necessities such as weight room equipment, headsets, and new team equipment.  
As the teams come roaring out on the field in front of thousands of fans; both at home and away; your team sponsors will be highlighted every week. With this kind of attention every business owner will do anything to have there name on the inflatables. This is how even our smallest organization can afford an incredible team entrance.
This article is available to our Digital Subscribers.
Click "Subscribe Now" to see a list of subscription offers.
Already a Subscriber? Sign In to access this content.