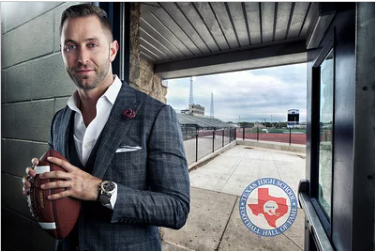 Kliff Kingsbury
New Braunfels High School
_
Inducted in 2018
Kliff Kingsbury began his football career playing at New Braunfels High School, under the tutelage of his father, coach Tim Kingsbury. During high school, Kingsbury threw for 3,009 yards and 34 touchdowns; he also lead his team to the Class 5A Division II semifinals with a 13-2 record. Post high school, Kingsbury went to Texas Tech and played for the Texas Tech Red Raiders 1998-2002. He was coached by both Spike Dykes and Mike Leach. Kingsbury played 43 games at Texas Tech, completing 1,229 of 1,881 passes for 12,423 yards with 95 touchdowns and 40 interceptions overall.
Kingsbury's NFL career started when he was selected by the New England Patriots in the 2003 NFL draft, however he did not play for them for a season due to an injury, and in 2004 he signed on with the New Orleans Saints as part of their practice squad. He would do the same for the Denver Broncos, playing for their practice squad but not as part of a formal game. Kingsbury would finally make his NFL debut in 2006 with the New York Jets against the Denver Broncos.
As a coach, Kingsbury started coaching in 2008 for the University of Houston's Cougars. He worked as quality control co-ordinator before being moved up to co-offensive coordinator and quarterbacks coach. He stayed with Houston up till the 2012 season, where he was brought in by the Texas A&M Aggies to be the offensive co-ordinator.At the end of the season, Kingsbury exited as offensive co-ordinator for A&M and signed on with his alma mater, Texas Tech Red Raiders, as the current full-time head coach. At time of signing on (2012) Kingsbury is the second youngest to hold the position of head coach of a team in an AQ Conference at age 33.