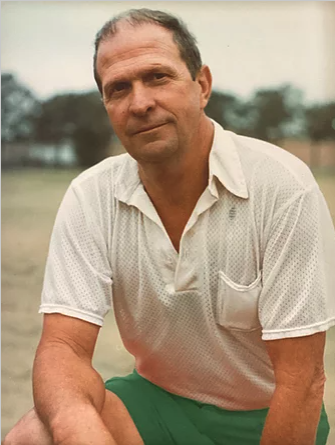 Buster Gilbreth
Cuero (Coach)
_
Inducted in 1996
Buster Gilbreth's coaching career spanned a total of 34 years. He spent 29 years as a Head Coach where he posted a 224-92-4 record and advanced to the playoffs in 18 of 29 seasons. The Smiley, Texas native, Korean War Veteran, and Southwest Texas State graduate made stops at Freer, Poteet, Cotulla, San Antonio Kennedy, Cuero, Galena Park, Pasadena Dobie and Fort Bend Clements before retiring in 1990.
It was his 11 years with the Cuero Gobblers that left an indelible mark on Texas high school football. Gilbreth compiled a record of 107-22-4, of which 50 were shutouts. The Gobblers advanced to the playoffs nine times and made four State 3A Finals appearances in 1970, 1973, 1974 and 1975. The Gobblers won back to back Championships in 1973 and 1974, both of which were undefeated seasons.
In Gilbreth's second season he took the 1970 Gobblers to State, the first trip for Cuero. Advancing to the playoffs from a 3-way district tie that was decided by the flip of a coin, the Gobblers were dubbed "Cinderella" by the Press and were never picked to win during the playoffs but prevailed. The State game, a matchup against defending champs, Brownwood, ended 0-13, but the '70 Gobblers charted a course which continues five decades later.
The Gobblers of 1973 began a steamroll that lasted until the State game of 1975. Cuero won 44 consecutive games from 1973 to 1975. The Gobbler Defense was one to reckon with, shutting out the opponent in 27 games and allowing a total of only 161 points during the winning streak. In 1974, Harris Ratings Weekly selected Gilbreth Coach of the Year and the Cuero Gobblers Team of the Year, stating that "the Gobblers avoided upsets by sticking with a methodic and precision fashion, one that had been labored many times over until it ran like clockwork come Friday night." The 1975 State game, a 10-13 loss to Ennis, ended the winning streak that still ranks in the top ten for Texas high school football.
In 1975, Buster was selected to coach the THSCA All-Star game for the south, a 14-0 win. Gilbreth was inducted into the Greater Houston Coaches Hall of Honor in 1992,
the Texas High School Coaches Association Hall of Honor in 1993, and the Coastal Bend Coaches Hall of Honor in 1996. Gilbreth served on the THSCA Board of Directors from 1982-1985 and their Hall of Honor selection committee from 2007-2010. In 2012, the Cuero Education Foundation honored Gilbreth with an Excellence in Education Grant to be awarded yearly in his name.