Assistant Coach of the Week Archive
Dairy Max and Dave Campbell's Texas Football are proud to team up again this year to honor excellence in coaching, and the hard work that assistant coaches put in on behalf of their teams. Each week, the Texas Football staff will nominate four deserving assistant coaches across the state, and let fans decide the winner via Twitter poll.
It all leads up to the Dairy Max Built by Nature Assistant Coach of the Year, decided at the season's end.
Do you have an assistant coach you feel should be nominated for the Assistant Coach of the Week presented by Dairy Max? Click the graphic below to fill out the information and we'll consider them for our weekly award!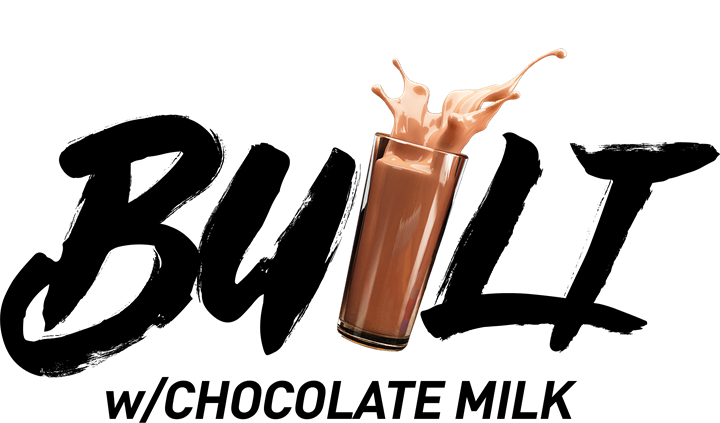 2021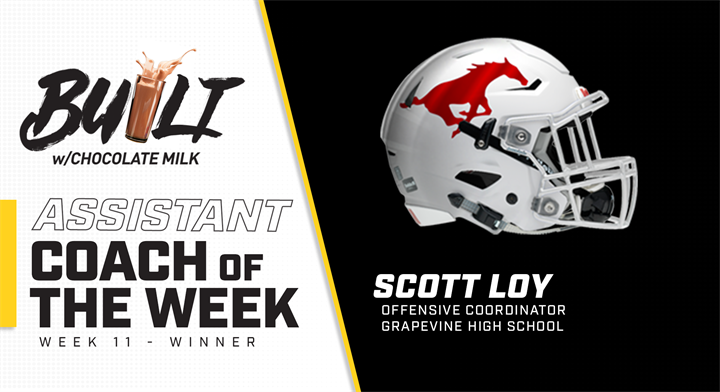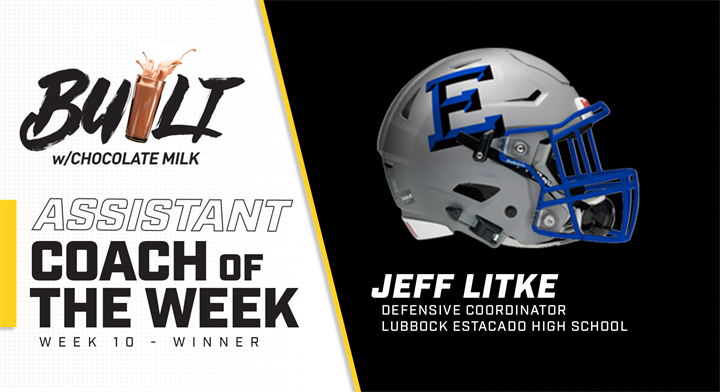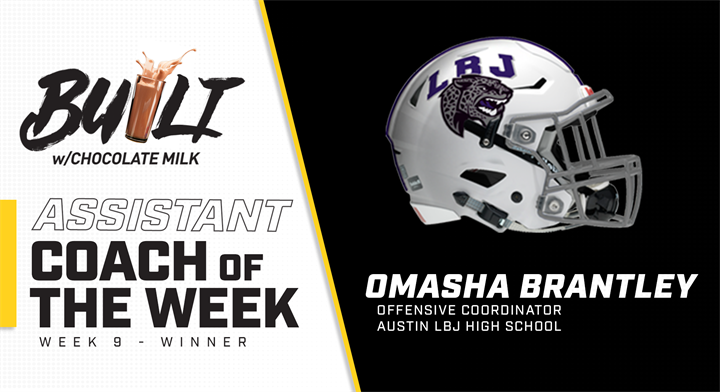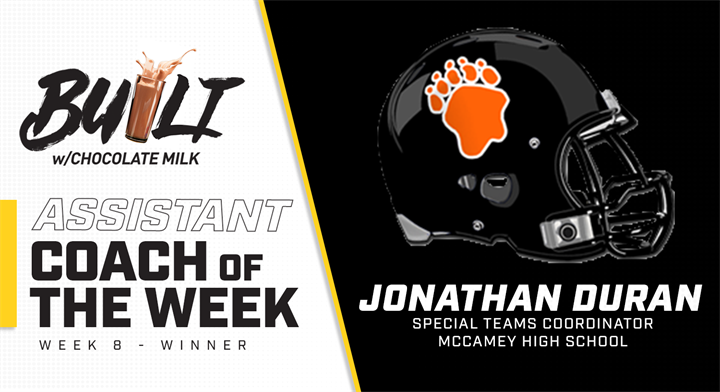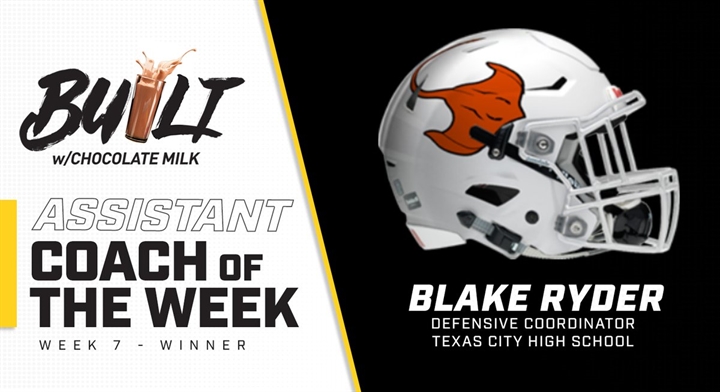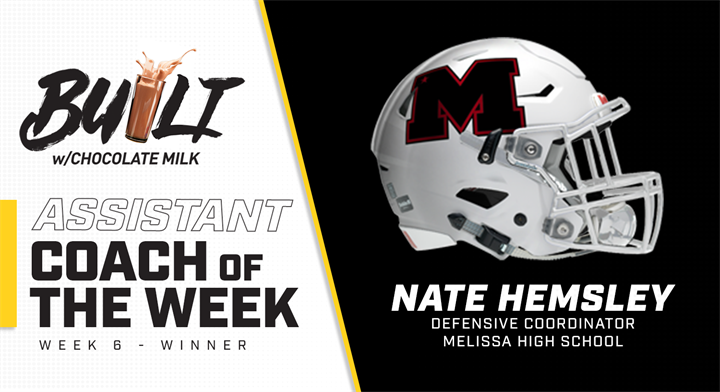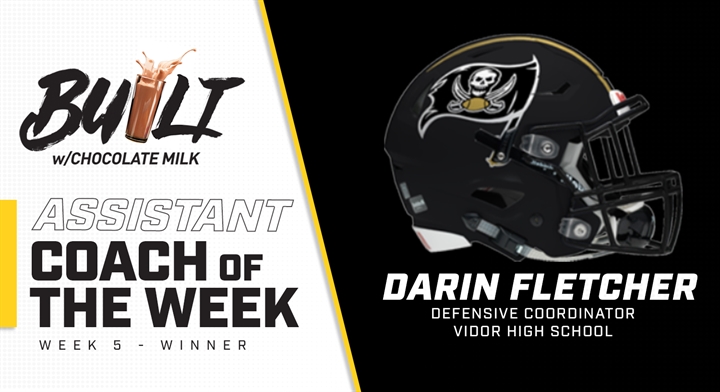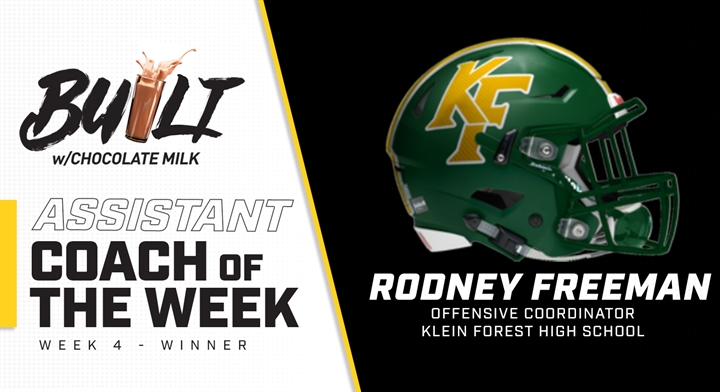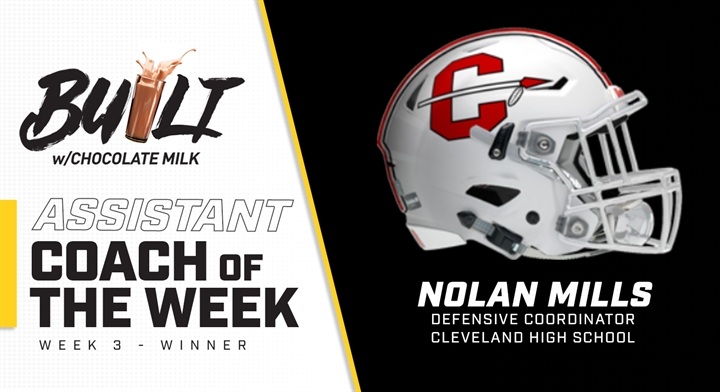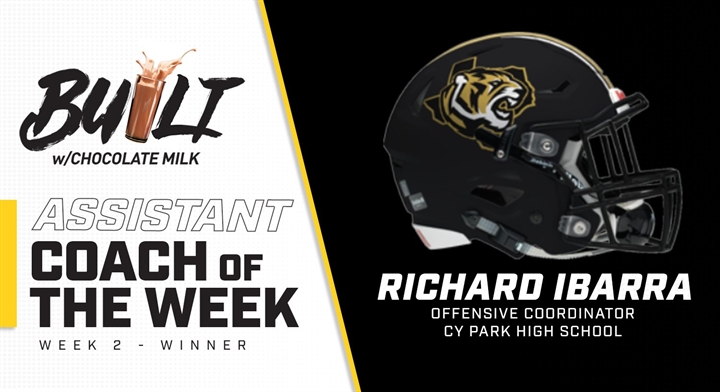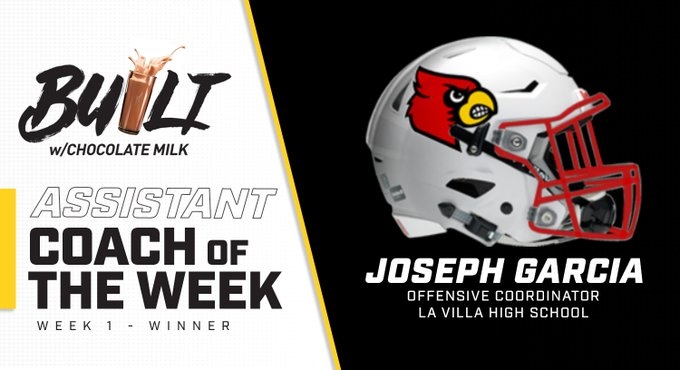 2020
Week 1: Richmond Foster OC Kenneth Johnson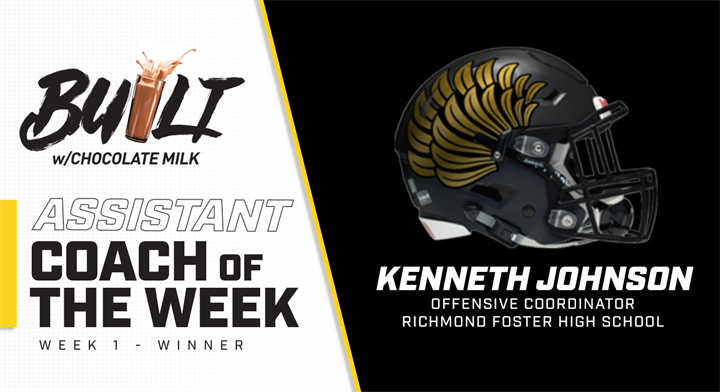 Week 2: Eastland OC Damon Rodgers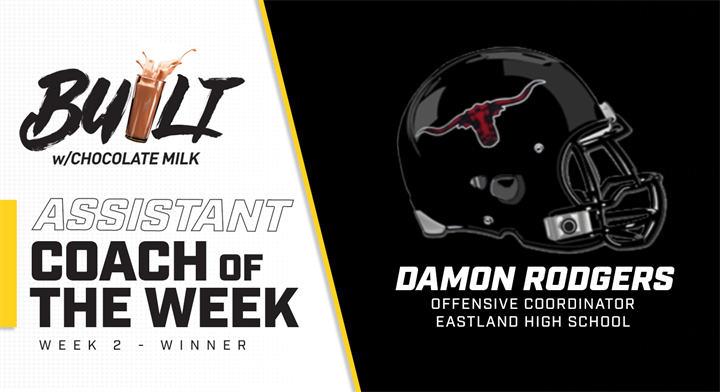 Week 3: Perryton DC Josh King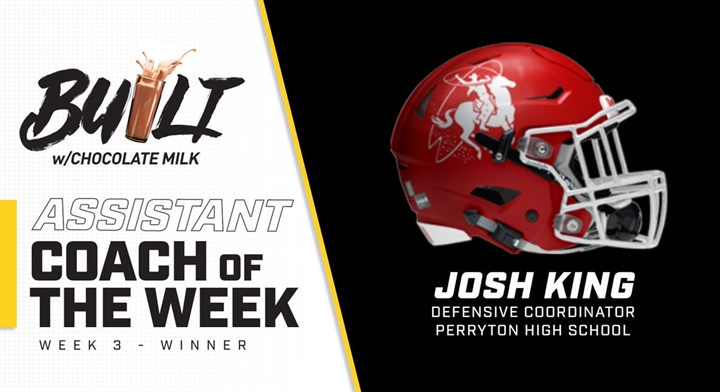 Week 4: Pearland Dawson DC Trae Grimes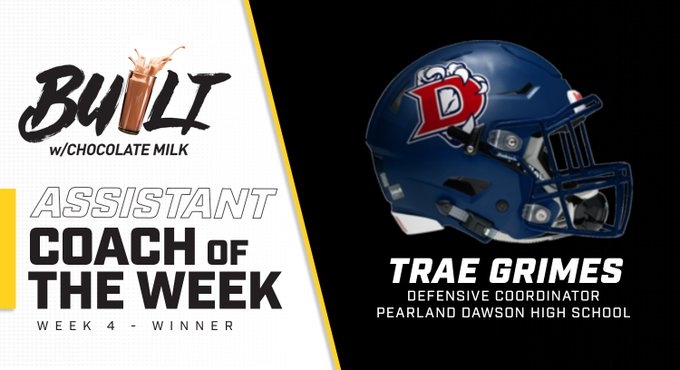 Week 5: Daingerfield OC Demond Horsley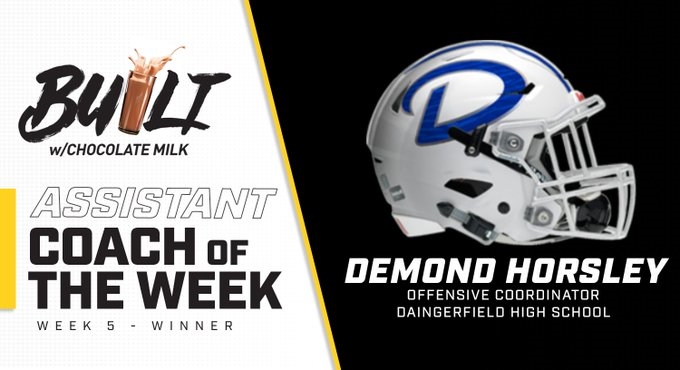 Week 6: Mission DC Chris Castillo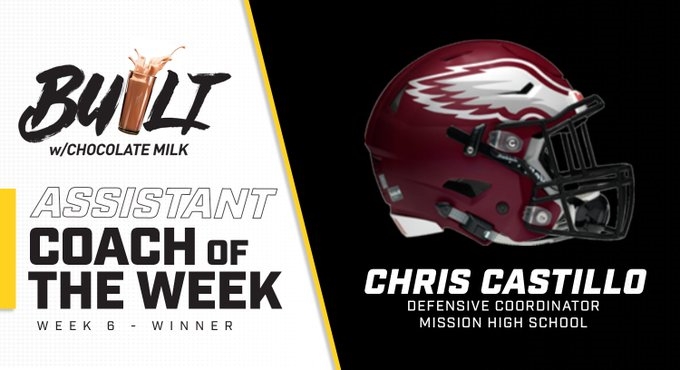 Week 7: Brock OC Cody Worrell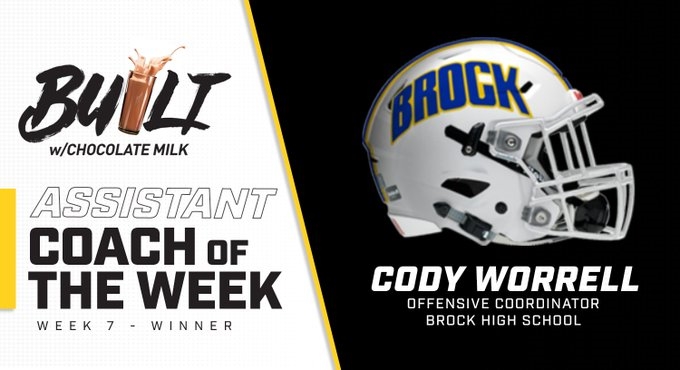 Week 8: Shadow Creek DC Ray Garza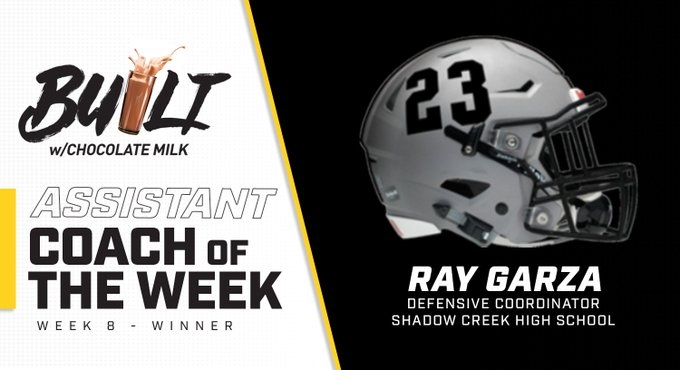 Week 9: Clint Horizon OC John-Braden Frontz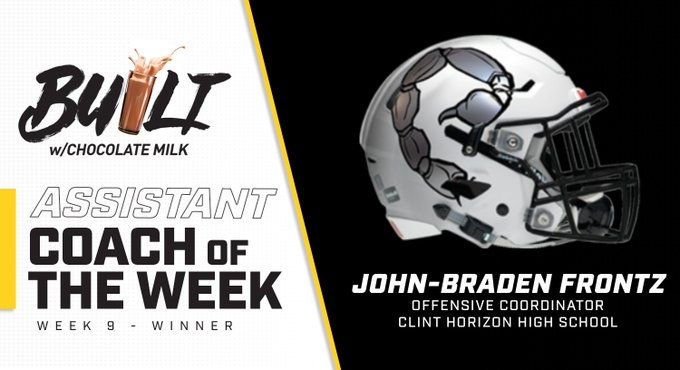 Week 10: Post DC Beau Riker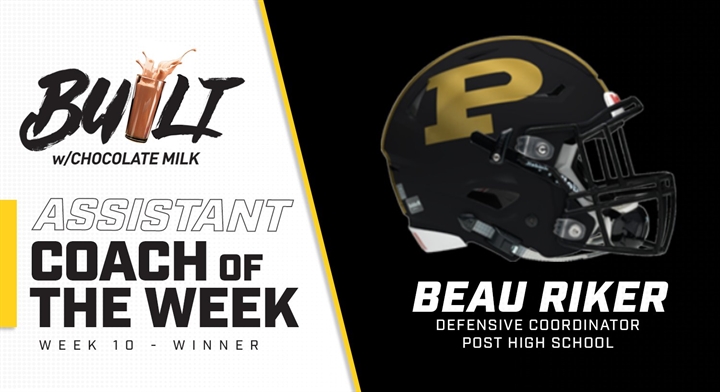 Week 11: Donna DC Danny Salinas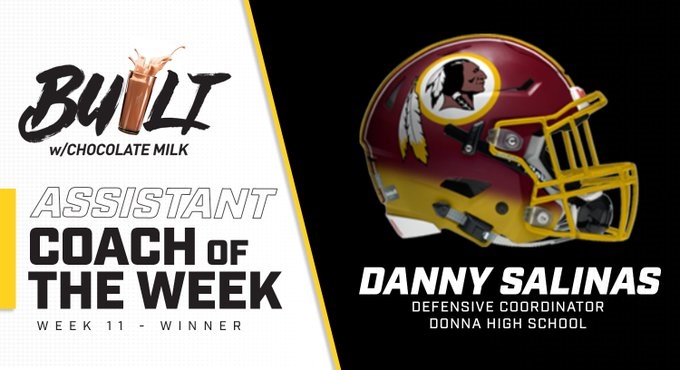 _____
2019 Season BUILT By Nature Assistant Coaches of the Week Winners:
For the 2019 season, we are proud to recognize Trey Brooks, former Offensive Coordinator for
Rockwall High School with the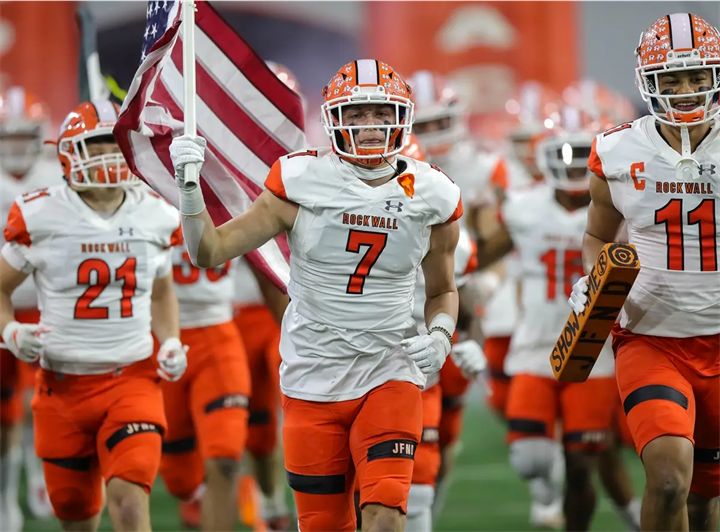 Assistant Coach of the Year award! Coach Brooks continues to serve as an integral part of Rockwall High School's highly successful football program and staff. When he first began at Rockwall High School, Coach Brooks was the Wide Receivers Coach and later promoted to Offensive Coordinator and Quarterbacks Coach in 2015. Coach Brooks also leads the Physical Education Department and teaches Team Sports. In April, Coach Trey Brooks was named the Athletic Coordinator and Head Football Coach at Rockwall High School. Congratulations to Coach Trey Brooks for his recent achievements and good luck in the coming season!
Week 14: Lampasas OC Heath Naragon
Week 13: Corpus Christi Miller DC Eric John
Week 12: Victoria West DC Trey Aley
Week 11: San Antonio Brennan DC Matthew Arrufat
Week 10: Keller Central DC Mike
Week 9: Beeville Jones DC Zane Brown
Week 8: El Paso Eastlake DC Javier Escobedo
Week 7: Laredo United South OC Edwin Garcia
Week 6: Pasadena Dobie DC Cody Blanchard
Week 5: Melissa OC Jason Russell
Week 4: Tomball Memorial DC Scott Herman
Week 3: Wolfforth Frenship OC Caleb Holt
Week 2: Malakoff OC Scott Lane
Week 1: San Antonio MacArthur High School DC Kevin Hirst
_____
2018 Season BUILT By Nature Assistant Coaches of the Week Winners:
Congratulations to San Antonio Wagner offensive coordinator Jason Starin for being selected by the fans as the Built By Nature Assistant Coach of the Year! The Thunderbirds were one of the state's most improved and most potent offensive attacks, scoring a staggering 56.7 points per game in 2018, up from 23 points per game in 2017. The remarkable turnaround helped propel Wagner all the way to the 5A DI state semifinals after being crowned Region IV champions. The honor was well deserved, especially against the likes of Mason defensive coordinator Michael McLeod, Duncanville defensive coordinator John Towels and Pleasant Grove offensive coordinator Justin Gibson.
2018 BUILT By Nature Assistant Coaches of the Week
Week 14: W.F. Rider DC Ross Dillard
Week 13: Edinburg Vela OC Sean Van De Merghel
Week 12: Goliad DC Kevin Salazar
Week 11: Hamilton OC Sonny Delagarza
Week 10: Sudan DC Erik Edwards
Week 9: Roma DC Gerardo Canales
Week 8: Clear Springs DC Anthony Renfro
Week 7: Collinsville DC Jason Burnett
Week 6: Cy Woods OC Curtis Neill
Week 5: Laredo Alexander DC Bo Gonzalez
Week 4: Midland Lee OC Frank Maldonado
Week 3: Mason DC Michael McLeod
Week 2: CC Moody DC Richard Diaz
Week 1: Fort Worth Paschal DC Alton Widemon
_____
2017 Season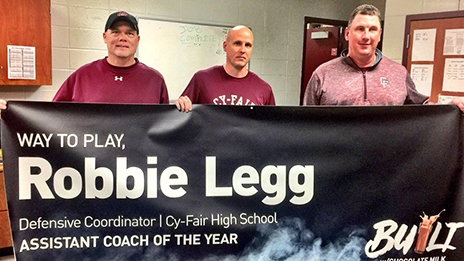 Congratulations to Cy-Fair defensive coordinator Robbie Legg, the 2017 Built By Nature Assisitant Coach of the Year. Coach Legg's Bobcats suffocated opponents en route to the 6A DII state championship, surrendering a paltry 12 points per game. It culminated in a 51-35 thumping of Waco Midway at AT&T Stadium. The Bobcats, which entered the night with the No. 6 ranked defense in 6A, put on a defensive clinic one final time against one of the better offensive units in the state. Legg's unit held Midway to just seven points through three quarters before the Panthers narrowed the margin with the game already well in hand. Midway finished with just six yards rushing in the loss, and the Bobcat defense forced 4 turnovers that led to 24 points. It was a fitting end to an outstanding season, and just another reason Legg was an obvious choice for the annual award. Legg follows 2016 winner Michael Wall who – as offensive coordinator – guided the Lake Travis Cavaliers' explosive offense to the 6A DI state championship.
About the award:
Beginning in 2014, Dairy Max and Dave Campbell's Texas Football partnered to create the BUILT By Nature Assistant Coach of the Year award – honoring the hardest working, most dedicated and successful assistant coaches at high schools across Texas. Every season, we place a form at the bottom of this page to nominate a deserving coach each week. Come back when the season kicks off to nominate your favorite coach!
2017 BUILT By Nature Assistant Coaches of the Week Winners:
Week 1: Corsicana defensive coordinator Joey Rivera
Week 2: El Paso El Dorado offensive coordinator Polo Gonzalez
Week 3: Canadian defensive coordinator Andy Cavalier
Week 4: Conroe Oak Ridge defensive coordinator Mack Malone
Week 5: Odessa Permian offensive coordinator Thad Fortune
Week 6: Cy Ridge defensive coordinator Brad Beerwinkel
Week 7: Frisco Centennial offensive coordinator Jeff Jackson
Week 8: Dumas defensive coordinator Aaron Dunnam
Week 9: San Angelo Central defensive coordinator Mark Chester
Week 10: Laredo Nixon defensive coordinator J.J. Solis
Week 11: El Paso Eastlake offensive coordinator Ruben Rodriguez
Week 12: Mansfield Summit defensive coordinator Harry Zambrana
Week 13: Argyle offensive coordinator Shay Nanny
Week 14: Graham offensive coordinator Casey Dacus