Prospect Top Performances
2024 ATH Will Henderson - Gilmer - 10.45 100-meter - First Place (Div I)
2024 WR Mason Dossett - Fort Bend Ridge Point - 13.66 110-meter hurdles - 3rd Place (Div II)
2024 QB Karson Gordon - Bellaire Episcopal - 15.69 Triple Jump - 1st Place
2025 WR Dakorien Moore - Duncanville - 7.18 Long Jump - 3rd Place
Henderson (10.45 final) and Duncanville 2024 RB Caden Durham (10.44 prelim) were the two fastest 2024 TXHSFB prospects at the event. Durham is a known commodity (see recruiting notes below), and Henderson is a prospect on the rise with good tape to back up his blistering speed. Stock up.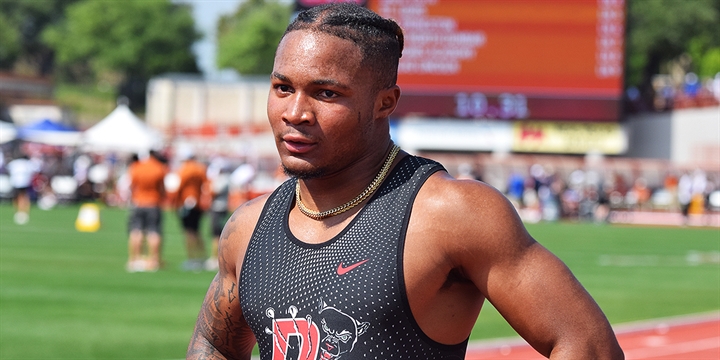 2025 WR Daylon Singleton helped DeSoto edge Red Oak for the 4x200 (Div II) crown with a 1:24.75. 2026 WR Brayden Robinson helped power Red Oak to a second-place finish with a 1:25.00.
Dossett and 2024 WR Ashton Bethel-Roman helped Fort Bend Ridge Point win first-pace in the 4x200 (Div II) with a 1:24.39.
Henderson and TCU 2023 WR signee Rohan Fluellen powered Gilmer to a first-place finish in the 4x200 (Div I) with a 1:27.71.
Durham and Moore led Duncanville to a second-place finish in the 4x100 (Div II) with a 40.61.
Rice got a steal in 2023 Georgetown WR signee Drayden Dickmann who ran a 10.43 in the prelims.
Recruiting News and Notes
McKinney 2024 S Xavier Filsaime (6'1, 180) confirmed that he would return to Florida for the spring game on April 13. He named the Gators in his top five alongside LSU, Oregon, Georgia and USC. Filsaime said a recent visit to UGA, "Really showed me why they won a championship too, back-to-back."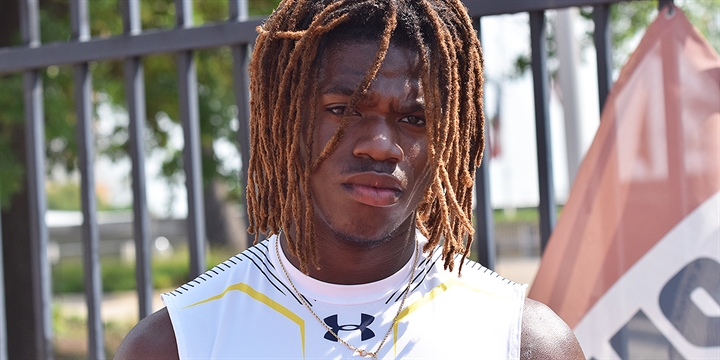 Fort Bend Ridge Point 2024 WR Mason Dossett (6'0, 180) reports a current top three of Baylor, Purdue and Duke. The Baylor legacy has plans to be at a Baylor practice next week, and he will be at the BU Spring Game.
Timpson 2024 ATH Terry Bussey (5'11, 175) worked in an unofficial visit to Texas. The Longhorns remain a solid figure in his recruitment alongside Texas A&M. He is looking strongly at schools like Oklahoma, LSU, Arkansas, Alabama and Tennessee and makes it known there is a strong chance he could leave the state to play his college ball.
Timpson 2024 WR Vosky Howard (6'0, 170) has strong family connections to Texas Tech, which has him high on the Red Raiders, but he also likes the solid academic backgrounds of Duke and Vanderbilt. He has plans to try and make visits to all three schools later in the spring/summer. He will be taking an unofficial visit to SMU soon.
Lake Belton 2024 WR Micah Hudson (6'1, 195) was the center of the media's attention on Friday, but not much has changed in his recruitment. He took a recent unofficial visit to Texas Tech and the Red Raiders continue to be a factor in his recruitment. So is Texas. He has plans to try and make a trip to Alabama soon.
The hottest schools on Fort Worth All Saints WR Dozie Ezukanma (6'3, 185) are TCU, Miami (FL), Arkansas, and Oregon. Relationships are setting these schools apart from the pack. TCU has a strong pitch based around location and helping Ezukanma to envision himself in the Quentin Johnson role of the offense.
Katy Paetow 2024 DE Loghan Thomas (6'4, 210) confirmed that he now has official visits locked in with Texas Tech and Notre Dame on back-to-back weekends in June (6/9 and 6/16).
Shadow Creek 2025 WR Jacorey Watson (5'11, 175) hears the most from Houston, Texas, Ole Miss, Michigan and LSU. A significant takeaway from his interview was the Big 12 factor for Houston and how much it resonates with prospects in the younger classes in the Houston area. Watson believes the P5 bump will provide a recruiting boost in H-town.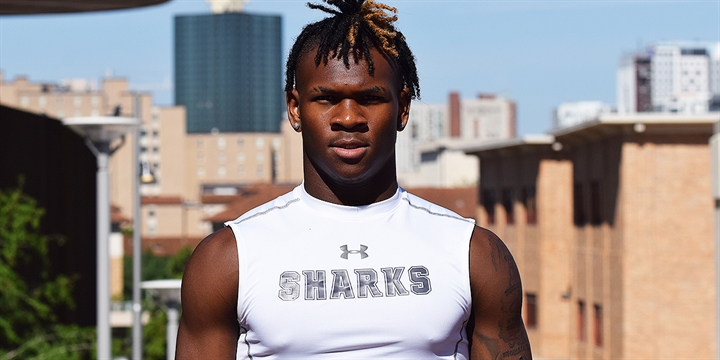 Duncanville 2025 WR Dakorien Moore (5'11, 170) is trying to work in visits to Penn State, Colorado and Oregon this spring/summer. He wants to attend the Colorado spring game. He took a recent unofficial visit to Oregon, and the Ducks really opened his eyes.
Conroe Oak Ridge 2024 RB Frankie Arthur (5'10, 200) reports that he is in strong communication with Texas, Alabama and Penn State. Oregon is an offer that is at the forefront of his thought process. He's trying to work in visits to Oklahoma, Alabama, and TCU in the near future.
Stanford was a big offer for Schertz Clemens 2024 S Paul Mencke (6'2, 175), and he is taking an unofficial visit to see it on April 7th. Notre Dame also recently offered, and he hopes to visit there too. Duke and Kansas visits were both influential.
In June, Lancaster 2024 CB Corian Gipson (6'1, 175) has four official visits locked in with Clemson, Ohio State, Alabama and Texas. But could a decision come quicker than that?
Schools like UNC, USC, Arkansas and Oregon are standing out to Decatur RB Nate Palmer (5'10, 175). Palmer was the first RB that Mack Brown and the UNC staff offered in Texas in the Class of 2024, and they have made him a priority.
This article is available to our Digital Subscribers.
Click "Subscribe Now" to see a list of subscription offers.
Already a Subscriber? Sign In to access this content.